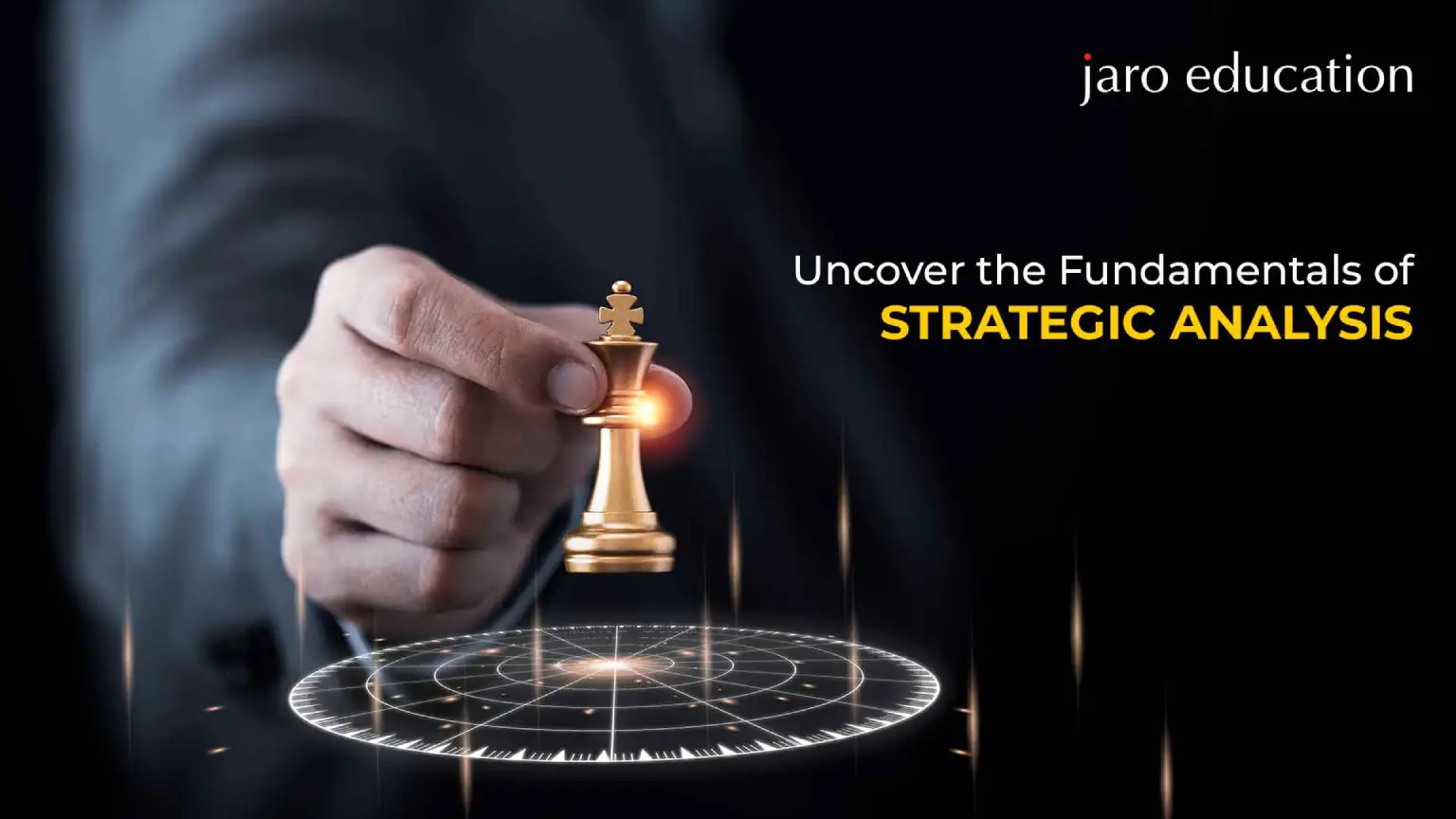 Strategic analysis is a method of analyzing a company's business environment within which it operates. For the smooth operation of an organization, strategic analysis develops strategic plans for decision-making. The organization's objectives or goals can be met with strategic planning. If a company has a purpose or mission, strategic analysis is essential. It is a long-term task that requires ongoing and methodical planning besides resource commitment. To conduct a better analysis of the business environment, strategic analysis tools are implemented by organizations. These tools are used to make operations more effective and efficient. From creating a better understanding of the budget to developing efficient project timelines, these tools can help achieve it all. 
The demand for strategic analysis in organizations is increasing day by day. Strategic analysis is a crucial topic in the field of executive and management in the world of business. So, if you want to build a career in the corporate realm, consider applying for the Executive General Management Programme from IIM Tiruchirappalli. This programme will provide experimental and case-based learning, cross-industry peer networking and top-notch industry experts who will help you get leadership roles in world-class organizations. To know more about this course, consult the expert at Jaro Education.
Strategic Analysis and Its Types
Strategic analysis is an assessment of an organization's work environment. This work environment largely defines how the organization conducts its operations. Strategic analysis helps to determine the expected aims and objectives will be achieved or not. Plus, it can assist in identifying areas that require revisions and improvements. 
Ever-expanding organizations employ strategic planning at various stages of their operations. The analysis is a component of business planning that includes a systematic approach and proper resource investment and may assist you in reaching the organization's goals. One of its primary qualities is that it forces company owners to consider their rivals and helps them analyze their company tactics in order to stay ahead of the competition.
With strategic analysis, businesses exercise different approaches to get insights into their internal workings and external factors by determining their operations. 
Ideally, there are two types of strategic analysis:
Internal Strategic Analysis
The internal strategic analysis focuses on delving deep into the organization's core structure. It entails a thorough analysis of the organization's strengths, weaknesses, resources, and capabilities. Businesses may find areas of competitive advantage, possible bottlenecks, and possibilities for development by performing a thorough review of these elements.
External Strategic Analysis
On the other hand, external strategic analysis focuses on the larger business environment. This includes market research, trend analysis, and an awareness of customer behaviors, legislative changes, technical improvements, and competitive factors. Organizations may foresee possible risks and unearth opportunities by understanding these external dynamics, which can have a substantial influence on their strategic decision-making.
8 Strategic Analysis Tools
There are a large number of strategic analysis tools that companies utilize to assess their business environment. The popular 8 tools are as follows: 
The abbreviation 'SWOT' stands for strengths, weaknesses, opportunities and threats. It is a straightforward yet effective technique for evaluating the internal and external elements in an organization that influence your strategic position and performance. A SWOT analysis may help you discover an organization's potential growth prospects, competitive advantages and potential hazards. To do a SWOT analysis, professionals must first identify and analyze the four factors that apply to your present condition or future objective and then utilize them to produce and prioritize strategic solutions.
This is a valuable resource evaluation tool used internally. It identifies organizational resources that have the potential to provide the organization with long-term competitive advantages. This analytical framework provides a method for categorizing resources in their organization depending on whether they are valuable, rare, inimitable and organized.
The framework then recommends business leaders to think about those resources as the "next step" in order to eventually turn those resources into competitive advantages.
Any organization will typically have a past plan that must be considered during a strategic analysis. Unless it is a brand new start-up, the organization will have some type of strategy, whether explicit or tacit. This is where a strategy assessment comes in. The preceding plan should not be ignored or abandoned even if professionals believe it was not the best route or course of action. Analyzing 'why' behind choosing  a certain route or course of action will influence business decisions. A Strategic Evaluation examines the plan that was previously or is currently being implemented throughout the organization to determine what went well and what not, what are the problem areas, and how to approach them. 
The Gap analysis is an excellent internal analytical method for identifying the gaps in your organization inhibiting your progress towards your goals and vision. The analysis provides a method for comparing your organization's present condition to its anticipated future state in order to identify current gaps. From this, you can then develop a sequence of actions to bridge the discovered gap. The gap analysis method to strategic planning is one of the most effective approaches to begin thinking about your objectives in an organized and meaningful manner, focusing on improving a specific process.
PESTEL is an acronym for Political, Economic, Social, Technological, Environmental and Legal. Essentially, the study scans the various aspects included in the PESTEL analysis to determine their present condition and how they may affect the sector and, hence, the organization. PESTEL provides businesses with a 360-degree perspective of the macro-environmental issues and extra attention to particular components that may have a wide-ranging influence.
Another strategic analysis method that focuses on an organization's fundamental competencies is the Four Corners Analysis approach. What sets this instrument apart from the rest is its long-term emphasis. To be more specific, most other tools measure an entity's present situation, but the Four Corners Analysis assesses the company's future strategy, which is more exact because it puts the firm one step ahead of its competition. Businesses may learn about their rivals' motivations and current plans using the Four Corners based on their skills. This study will assist you in developing a trend or forecast a plan of action for the company.
In 1980, Michael Porter created the Five Forces Model. Michael Porter's Five Forces model is a prominent competitive analysis technique for determining a market's primary competitive influence. It is a widely used business model that refers to the five key variables that drive a firm's competitive position within an industry. Leaders can rapidly analyze the strength of the position and their capacity to create a sustainable profit in the business by considering how each factor impacts them and determining the intensity and direction of each force. Thus, the Five Forces Analysis assists businesses in remaining competitive by:
Knowing the strength of these five factors (bargaining potential of buyers, bargaining power of suppliers, the threat of new entrants, competitive rivalry and the potential threat of new substitutes) allows them to design plans that will assist the company in becoming more competitive and lucrative.
In terms of opportunities, you may increase your organization's position in comparison to the other players to reduce competitive pressure and gain a competitive advantage.
Value Chain Analysis is an excellent technique for identifying and establishing a competitive edge for a company. The Value Chain framework assesses various company processes to determine the value each adds to the end product or service. The idea behind this strategy tool is that each operation should bring value to the ultimate product or service, either directly or indirectly. Business leaders should be able to charge more than the entire cost of adding that value if they are running efficiently.
Thus, strategic analysis is essential to understand the effective working of an organization's business environment. By incorporating different strategic analysis tools, companies can determine their capabilities, strengths and weaknesses and improve their performance.