Post Graduate Certificate Programme In Strategic Human Resource Management - IIM Trichy
Saturday
6:00 pm. to 9:15 pm.
IIM Tiruchirappalli's Strategic Human Resource Management (e-SHRM) programme is intended to further the executive education mission of making quality management education accessible to all participants. This interactive programme offers a blended learning approach that provides easy accessibility and campus connect — via an online mode of delivery and campus immersion modules (subject to conditions prevailing due to COVID-19). Through its impactful modules spread over a year, it assists participants in gaining a broader perspective of the different functional dimensions of SHRM.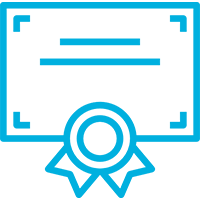 Post Graduate Certificate from IIM Tiruchirappalli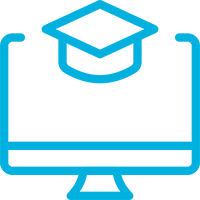 Interactive Online Lectures

Alumni Status of IIM Tiruchirappalli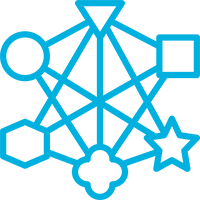 Cross Industry Peer Networking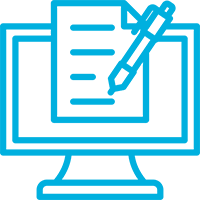 Experiential and Case Study Based Learning

Complete understanding of the Strategic HRM process
Minimum 50% in Graduation or Post-graduation whichever is higher from a recognised national or international university. (marks can be rounded off as 50% if it is above 49.50%)
Minimum 45% in Graduation for SC/ST Applicants.
Minimum 3 years of work experience.
Selections will be based on the detailed profile of a candidate in her/his own words elaborating her/his academic record, and a Statement of Purpose.
Introduction to Business Context

Understanding Financial Perspectives for HR

Managing Organisation

Managing People 

Foundations of HRM

 Strategic HRM: Introduction and Frameworks

 Strategic Alignment of Talent Management 

 Strategic Alignment of Training & Development

 Strategic Alignment of Performance Management

 Strategic Alignment of Compensation & Benefits

 Strategic Alignment of Technology & HRIS

 Strategic Alignment of Employee Relations

 Strategic Alignment of CSR & Ethics

 Strategic Alignment of HR Analytics

 Employee Value Proposition & Employer Branding

 Managing SHRM for different Stakeholders

 Managing SHRM in different Industry Types

 Managing SHRM for Strategic Renewal

 Managing SHRM for Internationalisation

Hybrid mode with two
in-campus modules

171 hours of
Interactive Learning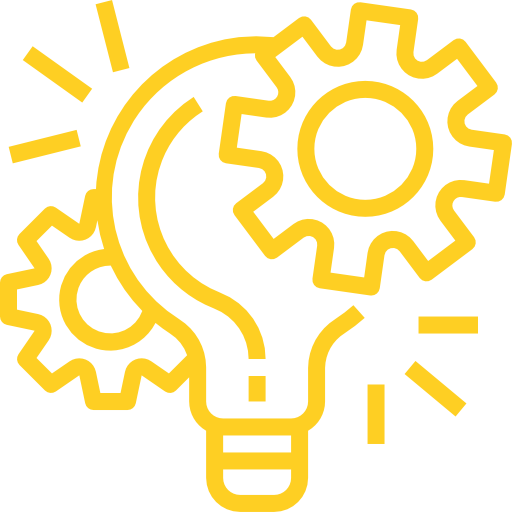 Experiential Learning through Project and Lectures

Note : *The in person sessions such as Virtual Live Classrooms and Campus immersions are subject to prevailing government rules pertaining to the pandemic. Jaro Education / Institute will keep all candidates updated accordingly.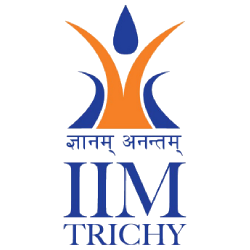 IIM Tiruchirappalli (IIMT) is one of the fastest growing second-generation IIMs with a full-fledged state-of-the-art campus spread over 176 acres. Started in 2011, the institute has established its name as one of the premier management institutions with capabilities in creating and disseminating management knowledge. IIM Tiruchirappalli was conferred with the Leadership & Innovation Award: 2020 in the Business School Category by the Higher Education Forum (HEF) at the 11th HEF Annual Convention. The Institute is placed 7th among the top B-Schools in Outlook-ICARE India MBA Rankings 2020.
IIM Tiruchirappalli has been placed at 18th rank by the National Institutional Ranking Framework, Ministry of Human Resource Development, Government of India (2022) in the category of Management Institutions. The e-learning programmes enable IIMT to foray into the online Executive Education space with a single-minded focus to make quality management education contemporary, conveniently accessible and affordable.
7th
Position in Outlook
ICARE 2021 rankings
11th
HEF Annual Convention
18th
India Today
MDRA 2020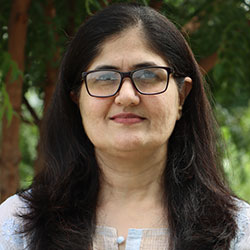 Prof. Upam Pushpak Makhecha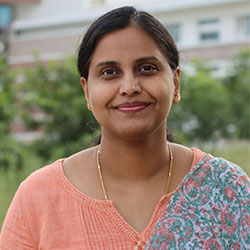 Prof. Smita Prashant Chattopadhyay
Candidates who successfully complete the prescribed course of study and fulfill all other academic requirements will receive certification for "Post Graduate Certificate Programme in Strategic Human Resource Management"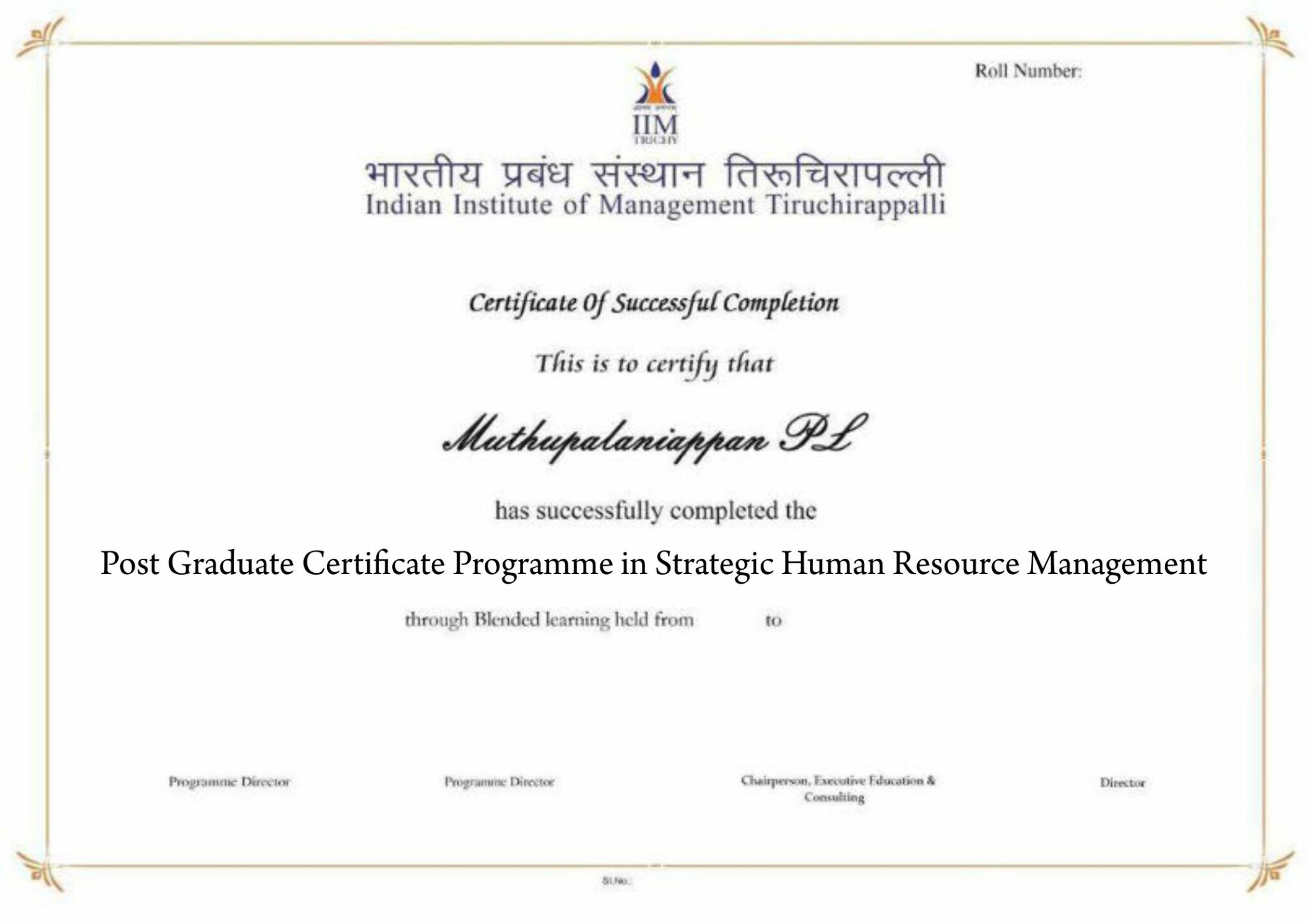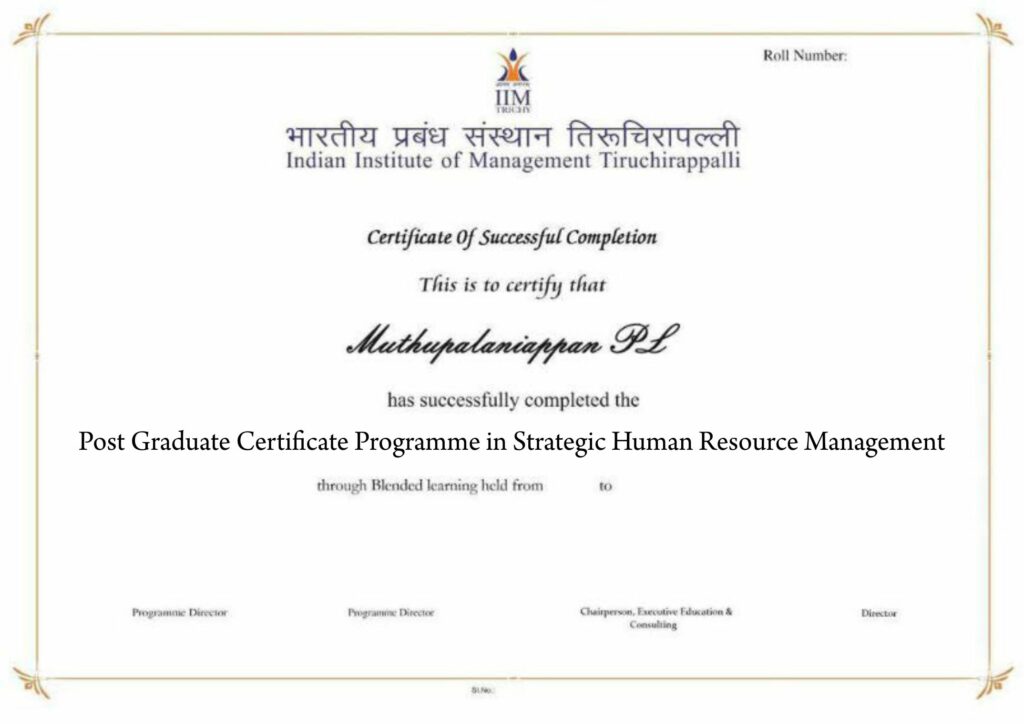 Application Fee
INR 2,500/- + GST
Total Programme Fee
(Exclusive of application fees)
1st Installment
INR 75,000/- + GST
3rd Installment
50,000/- + GST
4th Installment
50,000/- + GST
Fees mentioned above are exclusive of GST. *GST will be charged extra on these components, as applicable from time to time.

Any change in any of the applicable taxes during the tenure of the programme, to be borne by the participants.
"Because my current profile is in strategy, I decided to enroll in a programme that would provide me insights into business and HR strategy. I was exposed to many concepts, frameworks, and case studies from a multitude of industries and organisations, which gave me a completely new perspective on strategy. I have already begun utilising many organisational tools and mechanisms and feel more empowered. Future aspirants must pursue this programme as it gives exposure to global human resources issues, concepts, frameworks, tools, insights, and much more. This programme not only exposes the individual to global HR practices but also assists in delving into the fundamentals of HR strategy. Moreover, Jaro Education's team's response and support were commendable and fantastic."
"Without an MBA, there was always a constant desire to eventually seek a higher education degree, especially from a prestigious institution like IIMs. Believe me, an executive PG programme seems like a practical option, and just then, when Jaro's team informed me that I was eligible for the Strategic Human Resource Management programme, I immediately opted for it. Pursuing this learner-centric programme gave me an opportunity to interact with eminent faculty and get exposure to their teaching methodologies. Through carefully curated case studies and pedagogical approaches, this programme significantly increased my learning level and enhanced my profile. It was definitely a good experience, as I secured a third-rank in merit and achieved a career advancement from a senior executive to an assistant manager profile after completing the programme."
Jaro Expedite - Career Booster
Rigorously building the candidate's profiles and resume scrutinizing their LinkedIn profiles. Jaro Education enables personalised feedback to boost overall virtual presence.
Moving forward with carefully curated resume reviews that ensures you are interview-ready for the workplace of tomorrow.
Get career assistance as per the profile and preferences. On average, get 5-6 job recommendations to enhance quality employment opportunities.
Career Enhancement Sessions
Bridging connectivity to link the best talent with organizations through eminent sessions from top-class industry speakers.
Note: IIM Trichy or Jaro Education do not guarantee or promise you a job or advancement in your existing position. Career Services is simply provided as a service to help you manage your career in a proactive manner. Jaro Education provides the Career Services described here. IIM Trichy is not involved in any way with the Career Services described above and offer no commitments.
Build 21st-Century Skill set to Gain Career Edge in the VUCA World
Learn from the best minds and eminent faculty to become the next industry expert.
By clicking Start Application, you agree to our terms and conditions and our privacy policy.
Frequently Asked Questions