Post Graduate Certificate Program in Blockchain Technologies and FinTech
Every Sunday,
10:00 AM to 01:00 PM
Ever-evolving FinTech industry in India is expanding at a higher pace with new-age technologies like Blockchain, Cloud Computing, Artificial Intelligence, Machine Learning, Internet of Things (IoT), etc. With this expansion, professionals can easily widen their career horizons in the financial sector.
So, with a view to equipping professionals with new-age skills and technologies, 'Post Graduate Certificate Program in Blockchain Technologies and FinTech' by IIM Visakhapatnam covers the intersection between finance and technology. It is designed to provide working professionals with a comprehensive understanding of the various technologies used to disrupt the financial industry with real-world examples, case studies, on-campus modules and a capstone project, which in turn, would help them become an up-to-date leader in the financial sector.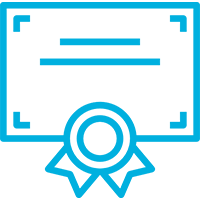 Executive Alumni Status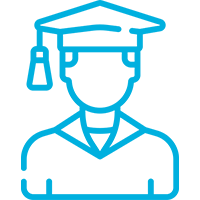 3 days of Campus Immersion (at the end of the program)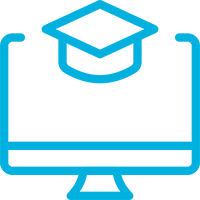 Certification of Completion from IIM Visakhapatnam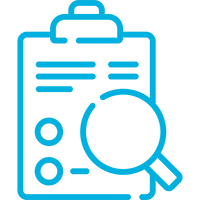 Capstone Project

Rigorous Pedagogy

Real-World Case Studies
Selections will be based on a detailed profile of the candidate in his own words elaborating on his Academic record, Profile, Designation, Salary, Roles, Responsibilities, Job Description, and a write-up on "Expectations from the Program".
Diploma (10+2+3)/Graduate (10+2+3)/Post Graduate degree in any discipline from any recognized University.
Work experience of 1 year or above is required.
Note : The above content of the courses is indicative and is subject to IIM Visakhapatnam's discretion.
Modern FinTech Technologies to be covered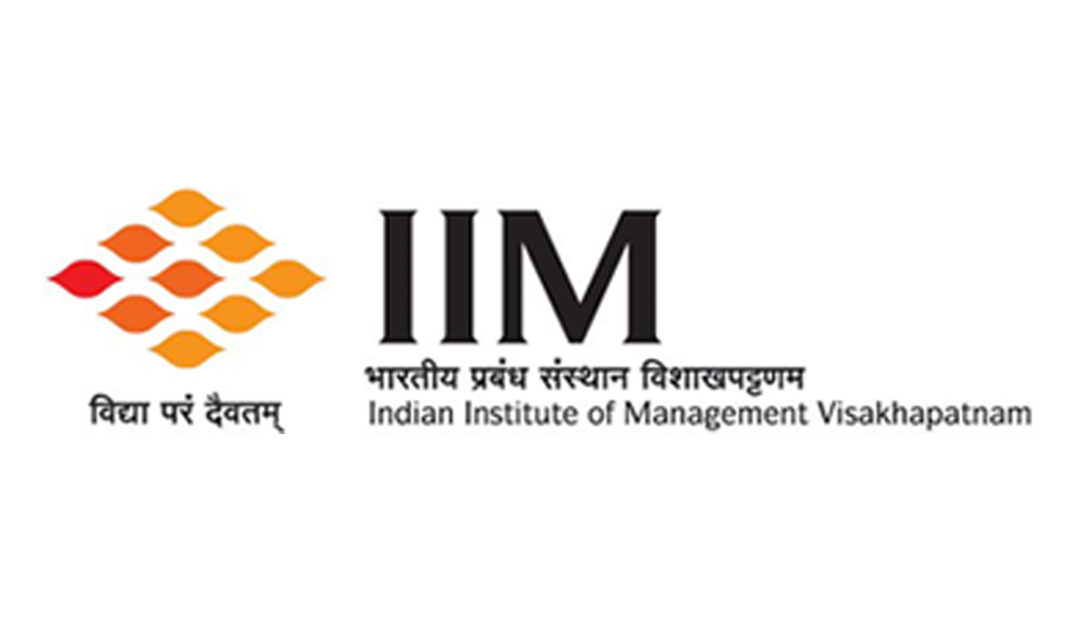 Indian Institute of Management Visakhapatnam (IIMV) belongs to the prestigious IIM family of business schools. It is a new generation IIM, set up by the Government of India in September 2015. The Indian Institutes of Management Act 2017 declares IIMs as Institutions of National Importance, empowered to attain standards of global excellence in management, management research and allied areas of knowledge. Continuing its journey towards steady progress and growth since its inception, IIM Visakhapatnam has already carved out for itself a niche among IIMs, crossing several milestones and maintaining a distinct lead in:
Having rich knowledge resources and modern infrastructure conducive to learning outcomes of high impact.
Having a vibrant student cohort with national character (representing 22 states) that excels in academics and co-extracurricular activities and regularly wins competitions pan-India.
Recording top placements among 10 IIMs. Enjoying excellent linkage with apex industry bodies like CII.
All faculty with PhDs from top-notch institutions of India and abroad, such as IIMs, IITs, and reputed foreign universities.
Hosting the largest cohort of women entrepreneurs after IIM Bangalore (Mentor Institute) under a special initiative called the Women Startup Program.
4.3
Star Rating by Shiksha.com
28th
Outlook ICARE Rankings 2021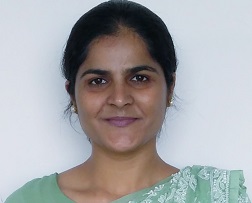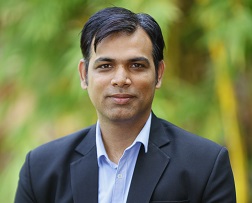 Note: The above given is an indicative list of programme faculty members and is subject to change as per IIM Kozhikode's discretion.
Participants who successfully meet the evaluation criteria and satisfy the requisite attendance criteria will be awarded a 'Certification of Completion' – "Post Graduate Certificate Program in Blockchain Technologies and FinTech"
Participants having 70% attendance and 50% score in the assessment will get a certificate of completion. Those who do not meet the prescribed program criteria will only get a 'Certification of Participation'.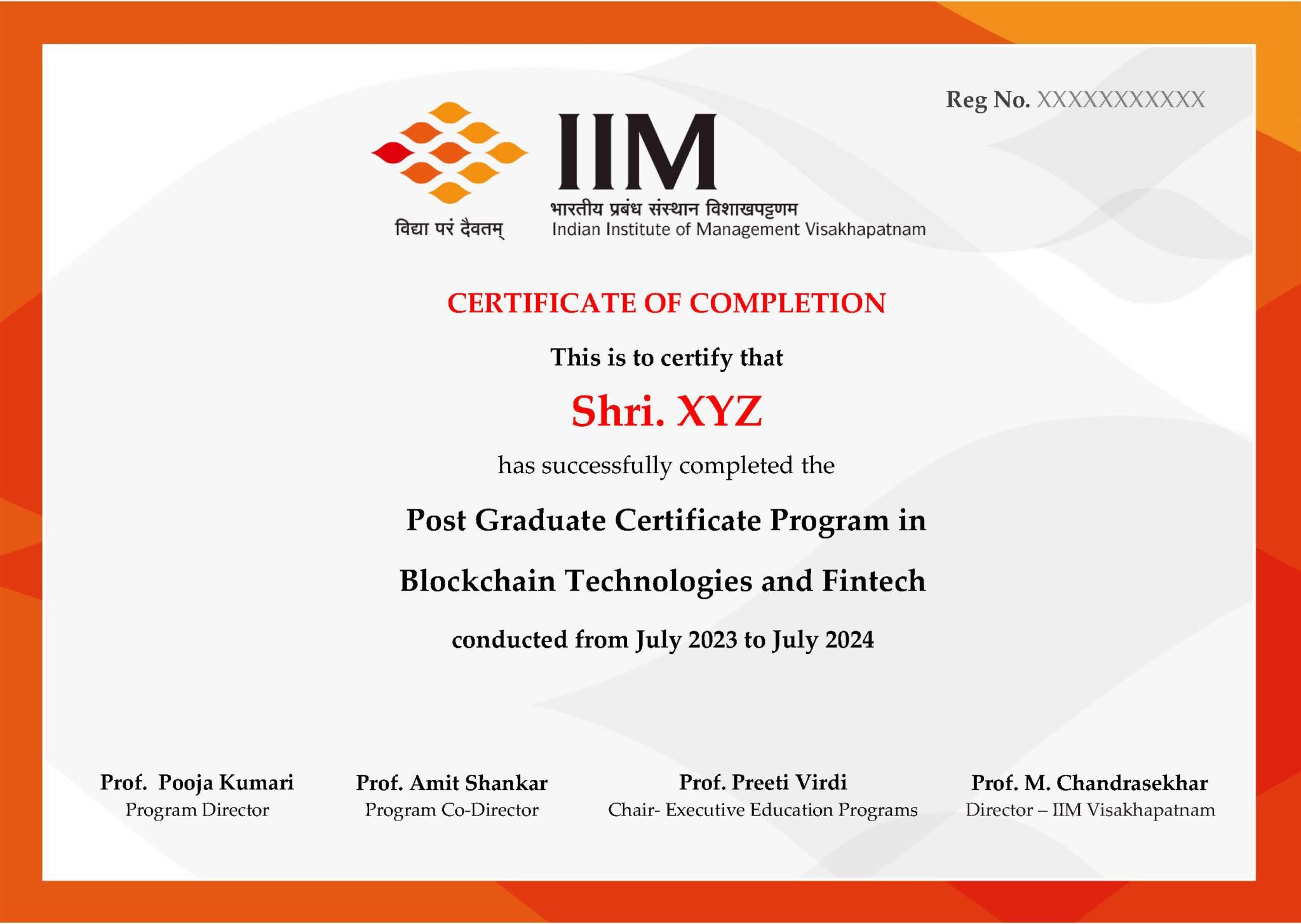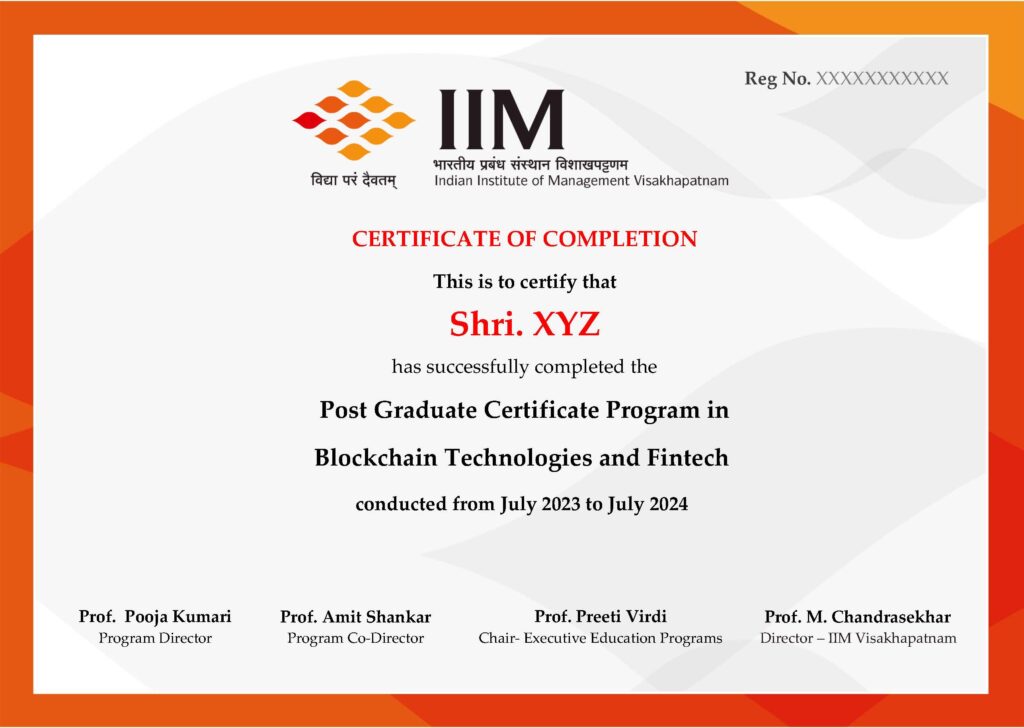 Application Fee
INR 1500/- + GST
Total Fee
(Excluding application fees)
IINR 1,60,000/- + GST
Instalment 1
INR 80,000/- + GST
(7 days from the offer release)
Instalment 2
INR 40,000/- + GST
Instalment 3
INR 40,000 + GST
Any change in any of the applicable taxes during the tenure of the programme, to be borne by the participants
Application fee is not included in the Installment pattern
Jaro Expedite - Career Booster
Rigorously building the candidate's profiles and resume scrutinizing their LinkedIn profiles. Jaro Education enables personalised feedback to boost overall virtual presence.
Moving forward with carefully curated resume reviews that ensures you are interview-ready for the workplace of tomorrow.
Get career assistance as per the profile and preferences. On average, get 5-6 job recommendations to enhance quality employment opportunities.
Career Enhancement Sessions
Bridging connectivity to link the best talent with organizations through eminent sessions from top-class industry speakers.
Note:
IIM Kozhikode or Jaro Education do not guarantee or promise you a job or advancement in your existing position. Career Services is simply provided as a service to help you manage your career in a proactive manner. Jaro Education provides the Career Services described here. IIM Kozhikode
 is not involved in any way with the Career Services described above and offer no commitments.
Build a 21st-Century Skill Set To Gain Career Edge In The VUCA World
Learn from the best minds and eminent faculty to become the next industry expert.
By clicking Start Application, you agree to our terms and conditions and our privacy policy.
Frequently Asked Questions