Advanced Professional Certification Programme in Cybersecurity and Ethical hacking
Sunday,
2.00 PM to 5.00 PM
Combat cyber heist challenges and eliminate security threats. Upskill and transform into well-suited and skilled Cyber Security Experts by learning to prevent organisations' cybersecurity mesh by developing security architecture with India's top IIT. Unlock fundamental concepts in cybersecurity, ethical hacking, and their applications to reimagine organisational goals. Explore IIT's cutting-edge curriculum, which includes a mix of theory, capstone project, case-based learning, and much more. Join E&ICT's, IIT Guwahati's revolutionary Advanced Professional Certification Programme in Cybersecurity and Ethical hacking to help you establish a benchmark in your cybersecurity career.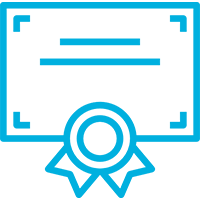 Certificate of Completion from E&ICT, IIT Guwahati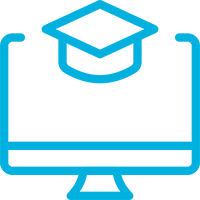 Live Classes by Highly Experienced Faculty Members from IITs & Industry Experts

3 Days of Intensive Campus Immersion Modules

Pedagogy includes Case Discussions

Hands on Training and Project Work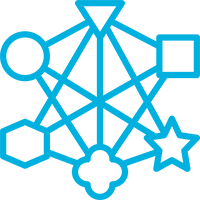 Peer-to-peer Learning and Industry Experts Mentorship
Graduates (10+2+3 or equivalent) in any discipline recognised by UGC/AICTE with minimum 50% aggregate marks at either UG/PG level.
Minimum 2 years of work experience is desirable.
*The above given is an indicative list of modules and is subject to change as per E&ICT, IIT Guwahati's discretion.
Indian Institute of Technology Guwahati is the sixth member of the IIT fraternity. The academic programme of IIT Guwahati commenced in 1995. The Institute has eleven departments, five inter-disciplinary academic centres and four schools covering all the major engineering, science and humanities disciplines, offering BTech, BDes, MA, MDes, MTech, MSc and PhD programmes. This IIT fraternity is ranked among the top 100 world universities—under 50 years of age—by the London-based Times Higher Education in 2014. It continues to maintain its superior position even today in various international rankings.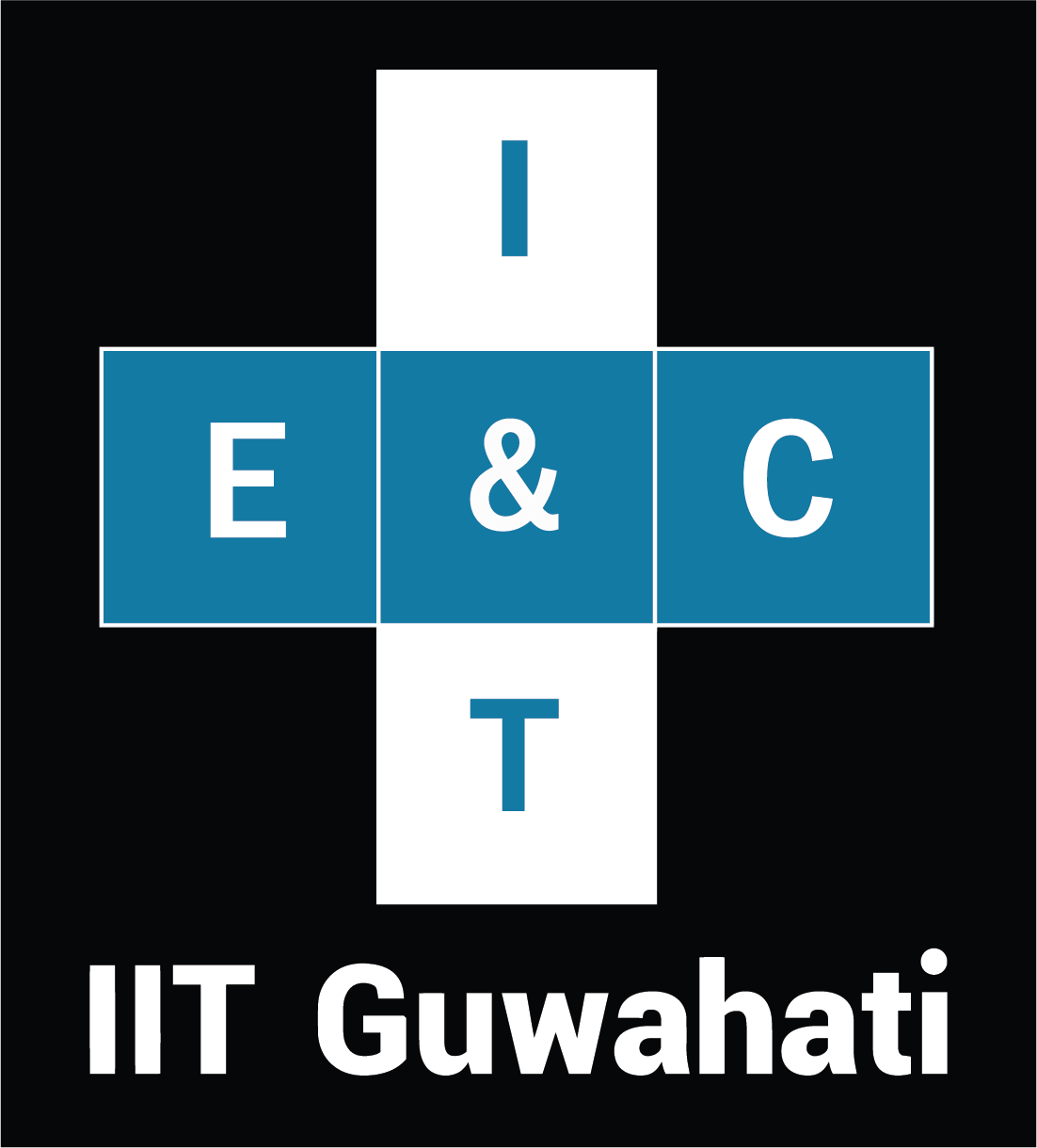 IIT Guwahati's E&ICT Academy (An initiative of the Ministry of Electronics & Information Technology, Government of India) aims to provide specialised training to the faculties of Engineering, Arts, Commerce & Science colleges, Polytechnics, etc. by developing state-of-the-art facilities. Academy has planned short term training programmes on fundamental and advanced topics in IT, Electronics & Communication, Product Design, Manufacturing with hands on training and project work using the latest software tools and systems.
Furthermore, the Academy will provide specialised/customised training programmes as well as research promotion workshops for the corporate sector and educational institutions. The Electronics and ICT Academy is intended to serve as a central hub for training, consulting, and entrepreneurship programmes.
41st
globally in the 'Research Citations per Faculty'
395th
Overall in the QS World University Rankings 2022
Learn Live From Top IIT Guwahati's Faculty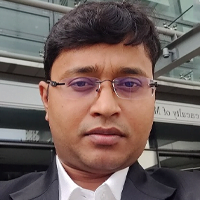 Dr. Ferdous Ahmed Barbhuiya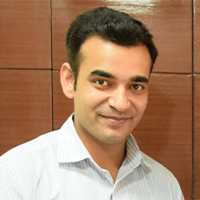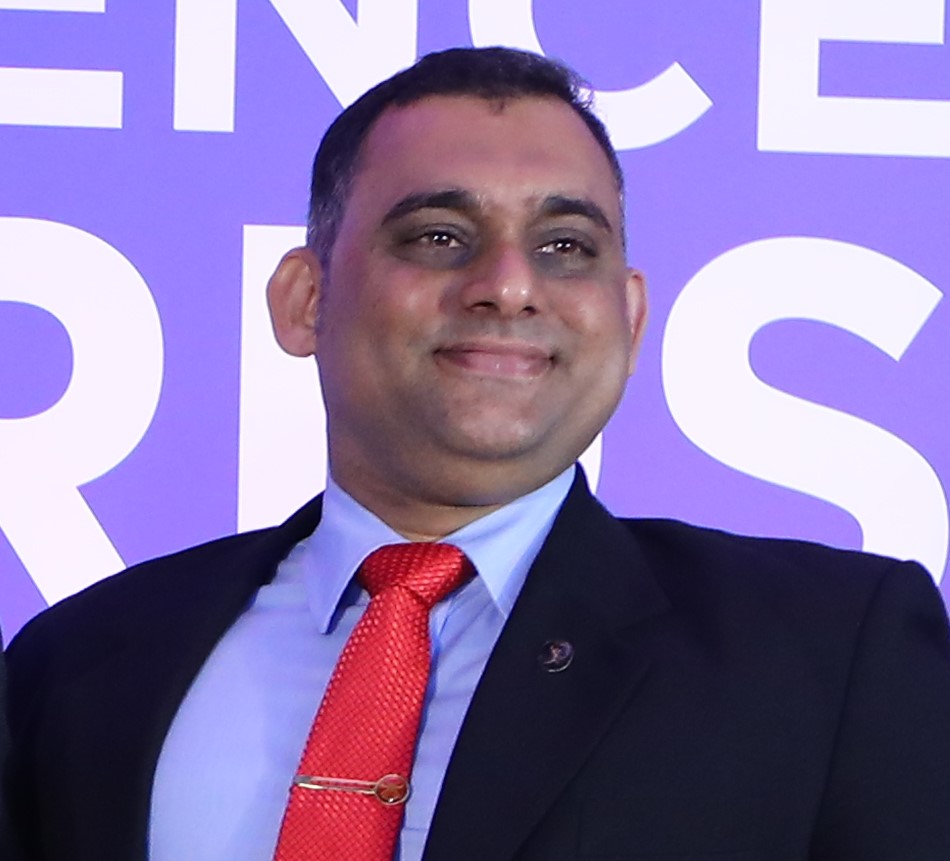 *The above list of faculties is indicative and partial and is subject to change or update as per E&ICT, IIT Guwahati's discretion.
Upon successful completion of the "Advanced Professional Certification Programme in Cybersecurity and Ethical Hacking" programme and meeting all other academic requirements, participants will be awarded a certificate from E&ICT, IIT Guwahati.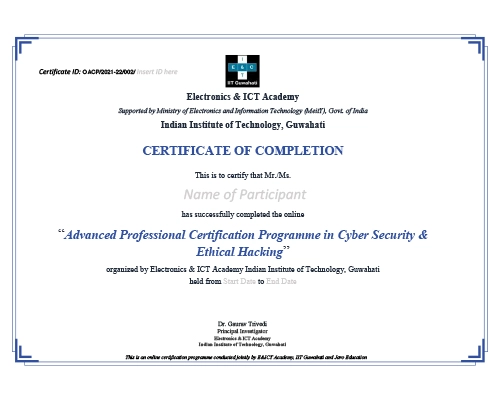 Total Programme Fee
INR 1,80,000/- + GST
Easy EMI options available
Initial Payment
INR 80,000/- + GST
1st Instalment
(Payable – April 10th 2023)
INR 50,000/- + GST
2nd Instalment
(Payable – July 10th 2023)
INR 50,000/- + GST
Easy EMI options available
Jaro Expedite - Career Booster
Rigorously building the candidate's profiles and resume scrutinizing their LinkedIn profiles. Jaro Education enables personalised feedback to boost overall virtual presence.
Moving forward with carefully curated resume reviews that ensures you are interview-ready for the workplace of tomorrow.
Get career assistance as per the profile and preferences. On average, get 5-6 job recommendations to enhance quality employment opportunities.
Career Enhancement Sessions
Bridging connectivity to link the best talent with organizations through eminent sessions from top-class industry speakers.
Note: E&ICT, IIT Guwahati or Jaro Education do not guarantee or promise you a job or advancement in your existing position. Career Services is simply provided as a service to help you manage your career in a proactive manner. Jaro Education provides the Career Services described here. E&ICT, IIT Guwahati is not involved in any way with the Career Services described above and offer no commitments.
Build 21st-Century Skill set to Gain Career Edge in the VUCA World
Learn from the best minds and eminent faculty to become the next industry expert.
By clicking Start Application, you agree to our terms and conditions and our privacy policy.
Frequently Asked Questions
Program Counsellor Number
Program Counsellor Email Id