Executive Programme in Marktech and AI Driven Marketing
Saturdays, 7:00 pm to 9:45 pm
The Executive Programme in Marktech and AI-Driven Marketing offers learners a comprehensive understanding of Marktech and AI tools, enabling them to effectively apply these technologies in the field of marketing. Designed for individuals aiming to stay ahead in the ever-evolving marketing landscape, this program equips participants with practical knowledge and skills to leverage technology and AI for gaining a competitive edge. By delving into topics such as acquisition, automation, customer lifecycle, and digital transformation strategy, learners gain insights into how to optimize marketing strategies using cutting-edge tools. With a focus on practical application and industry relevance, this programme empowers marketing professionals to navigate the digital era and maximize marketing success.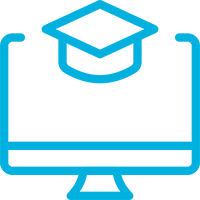 Executive Education Alumni status of IIM Indore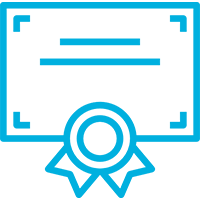 Certificate of Completion from IIM Indore

6 Days On Campus Module (Mumbai- Non-residential and IIM Indore Campus)

Live Classes by Highly Experienced IIM Faculty

Holistic Curriculum

Focus on Real Business Use Cases

125 Hours of Interactive Learning
Diploma (10+2+3)/ Graduate/ Post Graduate from Universities recognized by the Association of Indian Universities with minimum 50% marks in either diploma or graduation or post-graduation (or its equivalent) with at least five years of work experience.



*Internships and Trainee experiences are not considered Full-time work.
Management at the middle and upper levels, as well as senior functionaries in civil society organisations. This programme is primarily for those in Strategy and International Business, as well as those in other senior positions. Furthermore, participants with experience in Legal professionals in organisations, Economists & Research Scholars, C-Suite Professionals, Consulting Professionals, Political Leaders, Government roles, Defense Leaders, and so on are welcome to attend.
Marketing in a Digital World
Introduction to AI & ML in Marketing
Understanding Customer Lifecycle – Acquisition, Management and Retention
Marktech and AI in Customer Acquisition: STP, Email, Digital Marketing, Social Media and Programmatic Advertising
Marktech and AI in Customer Management: CRM, Predictive Analysis, Customer Service, Customer Experience and Personalization
Marketing Analytics and Decision Making
Content Generation, Digital Assets, AR/VR/XR and UI/UX Elements of Customer Experience
Ethics and Legal Aspects of Marktech Applications
Digital Transformation Strategy
Note : *Courses are subject to change at IIM Indore's discretion.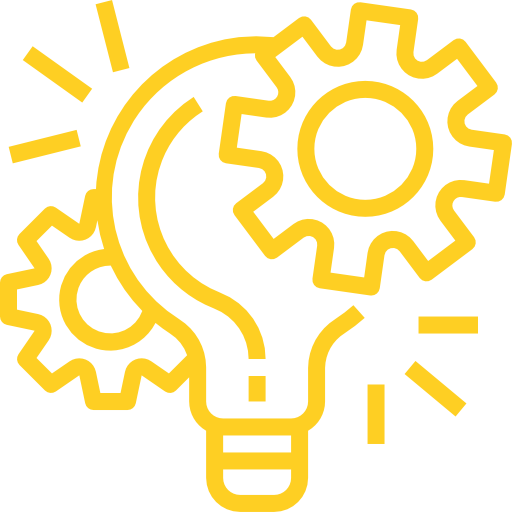 Term papers and Assignments

IIM Indore is in the forefront of providing carefully curated programmes which cater to the needs of executives. IIM Indore is renowned for its focus on academic excellence which is reinforced by the Triple Crown accreditation that IIM Indore has achieved. Being the second IIM to receive this achievement and being among the top 1% of business schools globally to have the Triple Crown accreditation, our executive education programmes are contextually relevant to meet the demands of contemporary business challenges. The institute has also ranked among the Top 100 business schools globally, as well as among the top institutions in India.
39th
FT Executive Education Rankings Business Standard 2022
1st
NIRF – Management Category 2022
Participants who successfully meet the evaluation criteria will receive the prestigious 'Certificate of Completion' from IIM Indore.
*The sample certificate is indicative. The Institute reserves the right to revise it.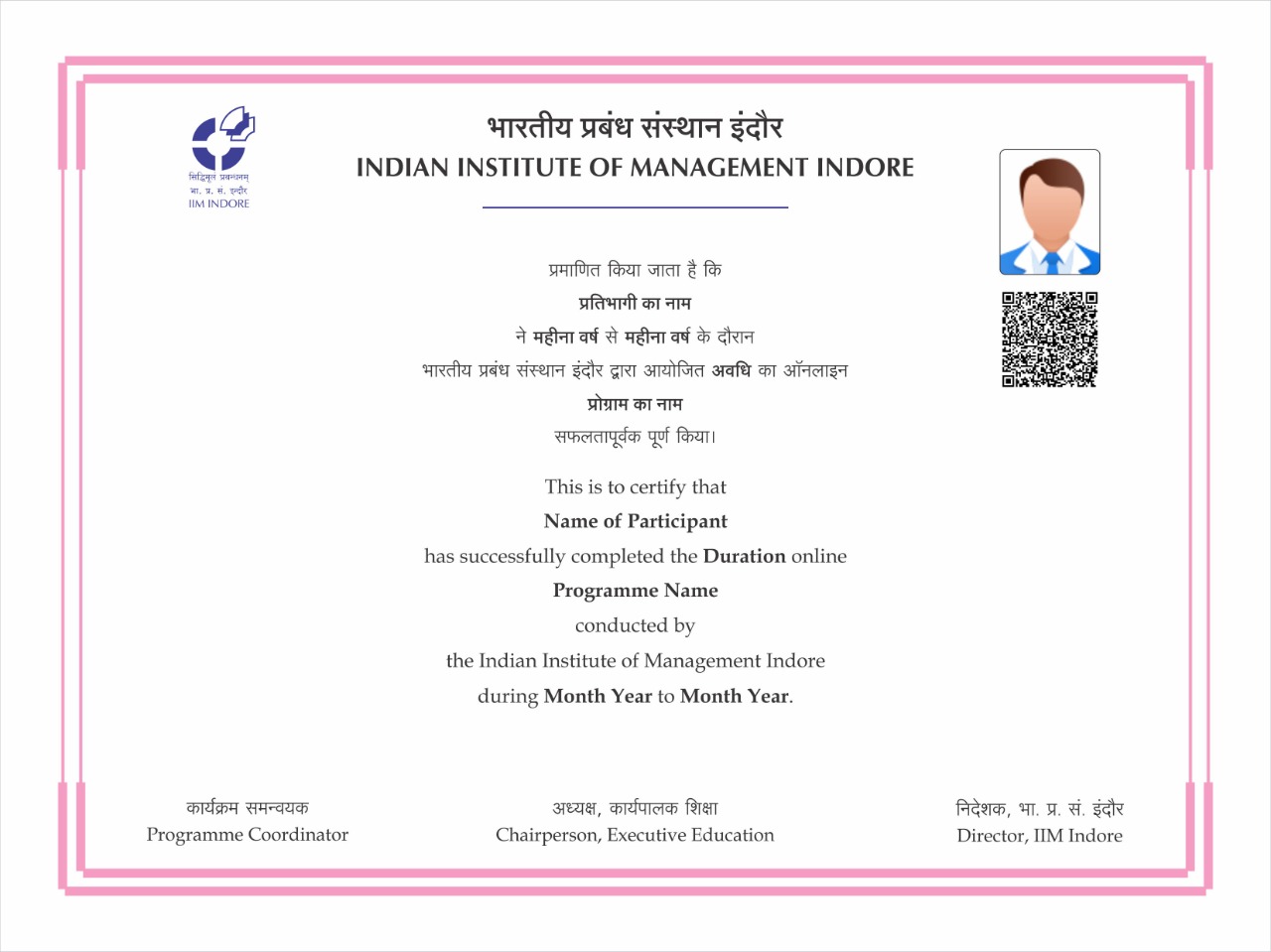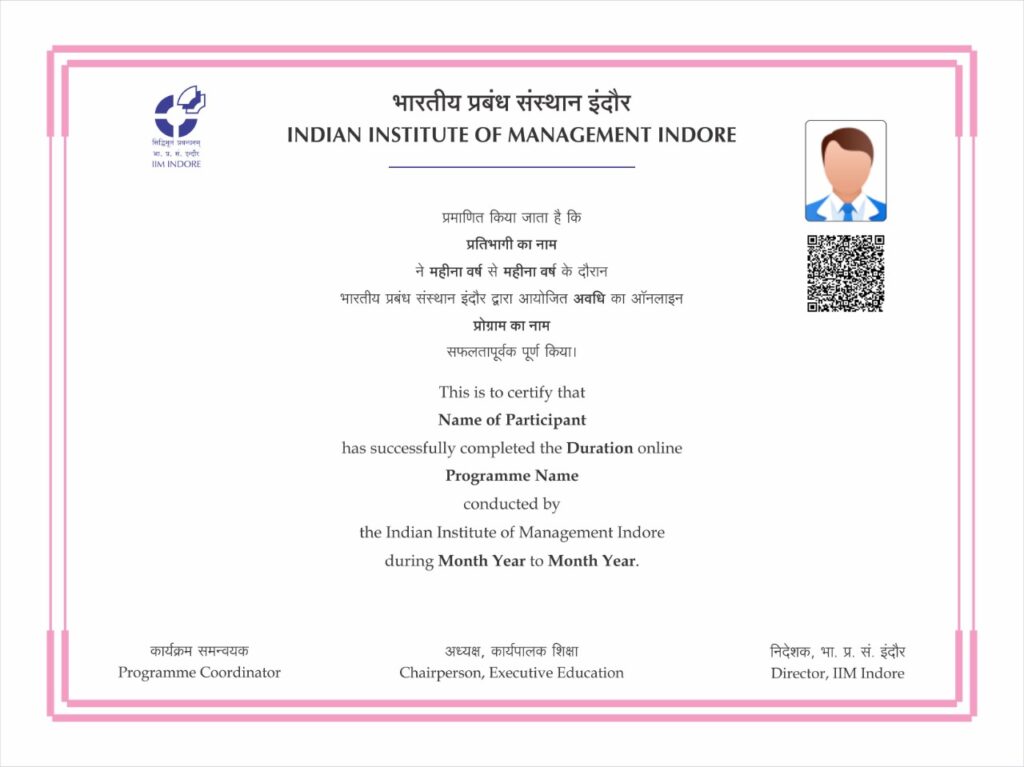 Registration Fee
INR 2500/- + GST
Programme Fee
INR 3,28,000/-+GST
Total Fee
INR 3,30,500/- +GST
Installment 1
INR 1,10,000/-+GST
7 days from date of offer
Installment 2
INR 1,10,000/-+GST
5th March 2024
Installment 3
1,08,000/- + GST
5th June 2024
*The above fee is exclusive of GST
It seems we can't find what you're looking for.
Build 21st-Century Skill set to Gain Career Edge in the VUCA World
Learn from the best minds and eminent faculty to become the next industry expert.
By clicking Start Application, you agree to our terms and conditions and our privacy policy.
Frequently Asked Questions