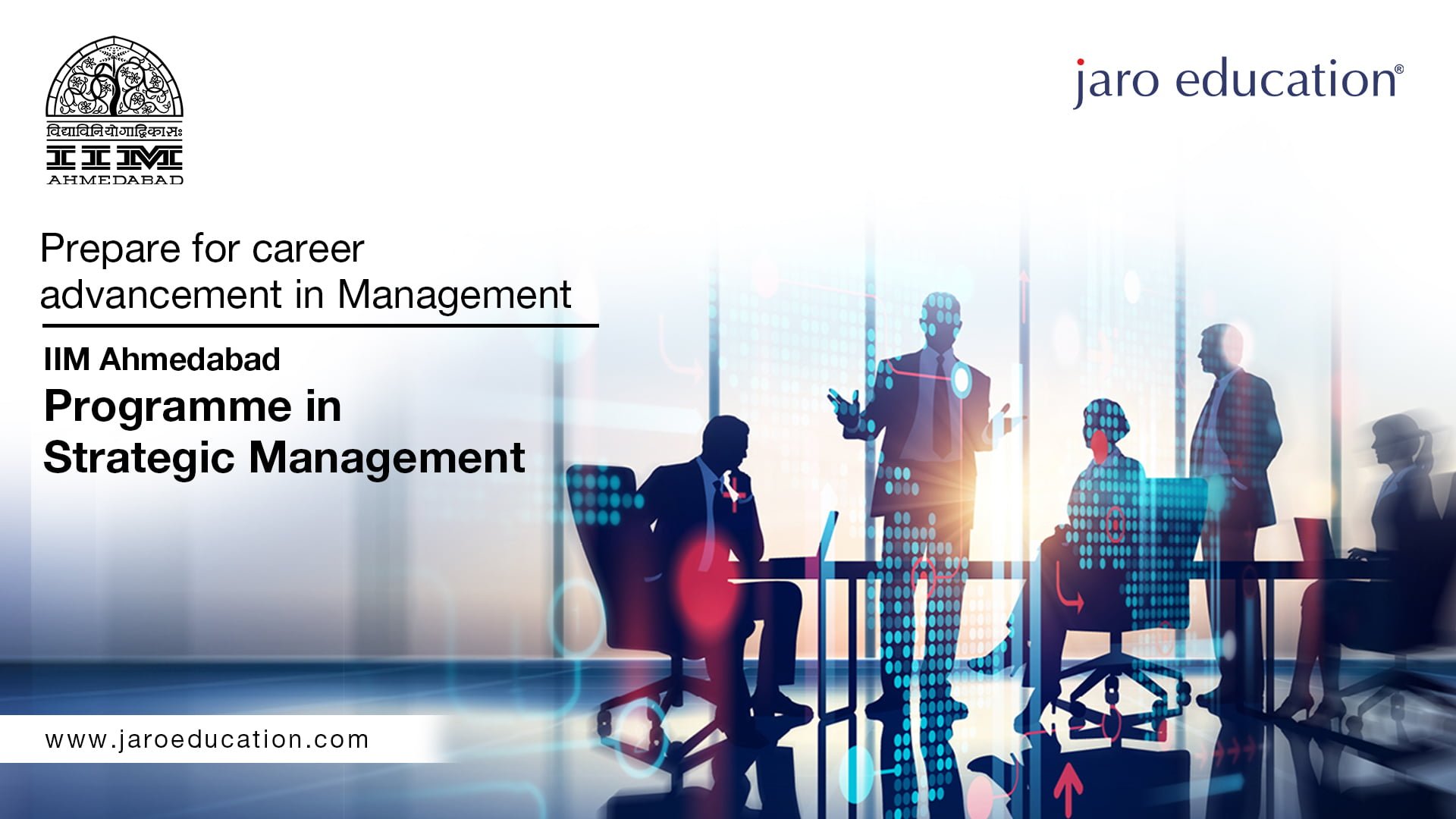 Introduction
To succeed in their business goals and sustain the same in the corporate environment, business administrators must formulate strategies at various stages, including setting goals, analyzing the competitive business environment, and effectively implementing vital decisions. 
In the competitive business world, corporate leaders must upskill their managerial capabilities constantly to strategize their business moves. However, it can be a challenging task without structured knowledge about strategic management. A strategic management short course from top-ranked B-schools, such as IIM Ahmedabad, is sure to enrich the decision-makers with managerial acumen and sound technical knowledge. This article provides information on how to prepare for IIM Ahmedabad's Strategic Management Course, in partnership with Jaro Education. 
What is Strategic Management? 
Strategic management involves two major aspects: formulation of business strategies and effective implementation of the same. Leadership and strategic management courses equip working professionals with skills to analyze and anticipate the changing business environment and direct the organization productively.
Learning Outcomes of Strategic Management Diploma Courses 
Thorough understanding of the economic principles to strategize effectively

Enhanced critical thinking, problem-solving, and analytical skills that impact decision making

Development of a strategic mindset to identify the problems and make suitable recommendations

Deep insight into the functional strategies used by leading organizations

Guide to identification and implementation of effective strategies for organizational growth 
Strategic Management and Leadership Course from a Premier B-School
Indian Institute of Management, Ahmedabad (IIM-A) offers a strategic management online course in association with Jaro Education to provide an integrated understanding of functional areas in management. The strategic management certificate course from IIM Ahmedabad, a top-tier business school, familiarizes the learners with the significant aspects of strategic management. The strategic brand management course equips the learners with skills in strategizing, such as strategic planning, strategic execution, and strategy application.
Advantages of Online Course: Strategic Management from IIM Ahmedabad
The reputation of the organization
The strategic management certificate course comes from one of the most renowned business schools in India- IIM Ahmedabad. Its program partner, Jaro Education, is one of the leading EdTech companies and a pioneer in the executive education industry.
The strategic management course in IIM uses an effective pedagogy that includes lectures, case discussions, and group assignments. Real-life case analysis on strategizing gives deep insights into strategic decision-making.
At the end of the strategic marketing management course, the eligible participants receive a certificate of participation from IIM Ahmedabad, which gives them executive alumni status. The executive alumni network is an effective medium to stay connected with the institute.
The lectures of the strategic management training courses are delivered by knowledgeable and accomplished faculty members of IIM Ahmedabad.
How to Prepare for IIM Ahmedabad's Strategic Management Course
The

IIM strategic management course

is designed for executives, business leaders, managers with professional experience. You can prepare for it by setting aside time every day after work for your academic endeavor. 

The

online course on strategic management

from IIM-A focuses on the major domains of strategic management, such as strategy analysis and business strategy formulation, corporate strategies (growth strategies), and strategy execution. You can polish your knowledge of these domains to write an excellent application based on which you will be selected. 

Language skills play a vital role in management. Enrich your proficiency in the English language for the best learning outcome. 

The strategic management course, distance learning, from IIM-A

imparts training through lectures, case discussions, and assignments. The learners are required to prepare the case analysis on various real-life cases assigned to them. These are later discussed in the session. Learn to organize your notes!

Online interaction is one of the criteria for assessment. Effective interaction and discussion in the sessions will help the participants learn the nuances of strategic development and implement them effectively.

Attaining overall 70 % attendance is another criteria for obtaining a certificate of participation from IIM-Ahmedabad. Work on multitasking and time management before you begin the course to ensure success. 
Conclusion
Enrolling in the strategic design management online course from IIM Ahmedabad, in partnership with Jaro Education, is strongly recommended for gaining expertise in the field that leads to business growth. 
Reach out to our program expert at Jaro Education to learn about the Strategic Management Certificate Course from IIM Ahmedabad, the course fee, duration, and more. Check out Jaro Education for more details on strategic management and leadership courses online and other programs.