Post Graduate Certificate Programme in Supply Chain Operations & Analytics (SCOA) - IIM Nagpur
Sunday
6:00 PM to 9:15 PM
The IIM Nagpur Post Graduate Certificate Programme in Supply Chain Operations & Analytics is an excellent opportunity for individuals to acquire the necessary skills and expertise to enhance their supply chain data strategy. This interdisciplinary programme is suitable for both aspiring professionals and practitioners in the manufacturing, services, or logistics sectors. With a holistic pedagogy and resources, participants can deepen their understanding of the complexities of operations and analytics. This programme provides a pathway for career advancement in supply chain management and operations.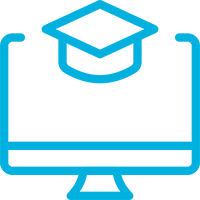 Alumni Status IIM Nagpur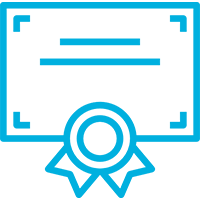 Certificate of Completion from IIM Nagpur

Live classes by highly experienced faculty from IIM Nagpur

Real-life and Industry-focused Cases Studies

3 Days Campus Immersion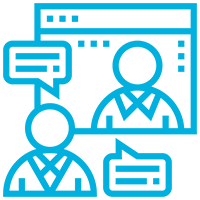 Capstone Project
To be admitted, candidates must meet the admission criteria.
Corporate nominations are also accepted.
Self-sponsored individuals may apply as well.
The application process requires submitting credentials.
An entrance exam is required in addition to the application and credentials.
Diploma (10+2+3)/Graduate/Post Graduate from universities recognized by Association of Indian Universities with minimum 50% marks in either diploma or graduation or post-graduation (or its equivalent).
Minimum 2 years of work experience.
Fundamentals of Operations Management & Process Analysis

Process Flow Analysis, Bottleneck, Product Process Matrix

Supply Chain Management : Strategic Perspectives

Alignment of Supply Chain with Organisational Strategy, Efficient & Responsive Supply Chain, Agile SC

Inventory Management for Supply Chains

EOQ, Continuous, Periodic Review, Newsvendor

Quality Management & Process Control

X-bar, R, P, C Charts, Process Capability

Quantitative Techniques for SCM

LPP, OR, Facility Location

Supply Chain Design

SCM Coordination, Beer Game

Analytics in Operations & Supply Chain Management

Correlation, CoV, Hypothesis Testing, Sample vs Population, ANOVA, Regression

Lean Operations Management & Six Sigma

Lean, Quality, Six Sigma, TQM, TPM

Project Management: Concepts & Tools

Transformation as a Project, WBS, Levelling, Crashing, Tracking

Services Operations Management and Service Supply Chains

Continuum, Bundle, SDL, Encounter, Service Blueprinting, Logistics as Service

Planning & Scheduling

Aggregate Production Planning, Material resource planning

Demand Forecasting

Basics, Winter-Hotelier Model

Supplier Relationship Management

Risk, Disruption, Sources of Disruption, Multi-sourcing

Transportation & Logistics Management

Transportation, Vehicle Routing, Choice of the Mode of Transportation

Emerging Trends & Technologies (Post Pandemic Era)

Digital Twin, 3D Printing, Predictive Maintenance, Global vs Local Supply Chains

Industry 4.0

Transformation, Challenges, Performance Improvement

Capstone Project

Direct to Device (D2D) Mode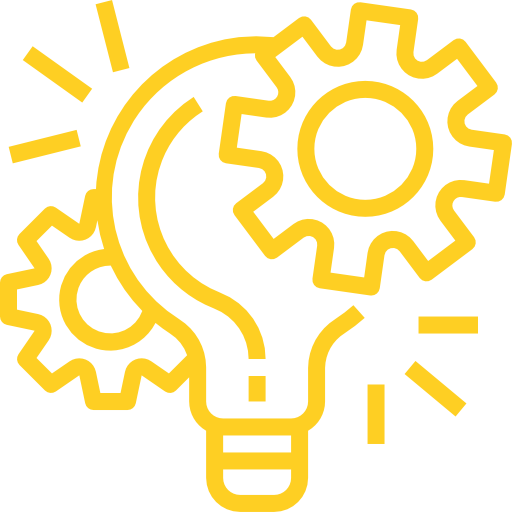 Interactive Chamber Consulting

Simulations and Activities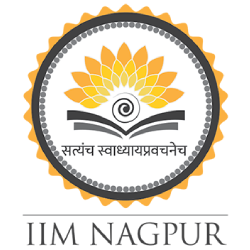 Established in 2015, the Indian Institute of Management Nagpur (IIMN) aspires to be a leading management institution that shapes management systems, policy and governance through high-quality education, research and industry engagement. Propelled by the pursuit of engaged scholarship, the Institute aims to create value-driven leaders and global managers with strong conceptual foundations and analytical approaches, which helps them excel in diverse spheres – be it management, business, policymaking, and public administration, to name a few.
IIM Nagpur aims to address the needs of a modern India; connecting aspirations and realities to attain benchmarks that are respected internationally. Our motto, सत्यं च स्वाध्यायप्रवचने च, that is, an inspiring journey towards truth through individual reflection and collective discourse, propels our quest to bridge the gap between abstract knowledge and practice.
IIM Nagpur seeks to distinguish itself as an institution that promotes constant industry engagement of a 'problem-solving' nature. Executive Education, therefore, is an important thrust area for the Institute. With an array of programmes designed by a faculty body with a stellar record of research, teaching and industry engagement, the Executive Education programme at IIM Nagpur equips managers and executives with the capabilities to perform effectively in their current roles and take up greater challenges through various stages of their careers.
47th
FT Executive Education Rankings Business Standard 2022
1st
NIRF – Management Category 2022
1st
Outlook
NIRF – Management Category 2022
11thAmong IIMs in Outlook – ICARE 2023
For participants who meet the prerequisite and successfully complete the programme will be awarded "Post Graduate Certificate Programme in Supply Chain Operations & Analytics" by IIM Nagpur.
Participants will also be accorded IIM Nagpur's alumni status.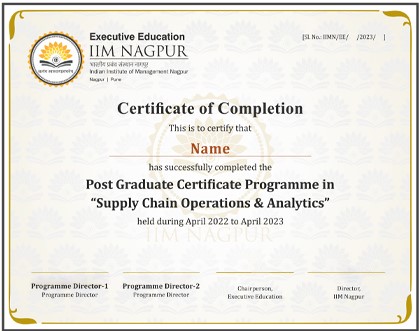 Application Fee
INR 2,360/-
Total Fee
(excluding application fee)
INR 2,50,000
Instalment I
INR 85000/- + GST
Instalment II
INR 80000/- + GST
Instalment III
INR 85000/- + GST
The total fee is exclusive of GST.
The application fee is inclusive of 18% GST.
It seems we can't find what you're looking for.
Jaro Expedite - Career Booster
Rigorously building the candidate's profiles and resume scrutinizing their LinkedIn profiles. Jaro Education enables personalised feedback to boost overall virtual presence.
Moving forward with carefully curated resume reviews that ensures you are interview-ready for the workplace of tomorrow.
Get career assistance as per the profile and preferences. On average, get 5-6 job recommendations to enhance quality employment opportunities.
Career Enhancement Sessions
Bridging connectivity to link the best talent with organizations through eminent sessions from top-class industry speakers.
Note: IIM Nagpur or Jaro Education do not guarantee or promise you a job or advancement in your existing position. Career Services is simply provided as a service to help you manage your career in a proactive manner. Jaro Education provides the Career Services described here. IIM Nagpur is not involved in any way with the Career Services described above and offer no commitments.
Build 21st-Century Skill set to Gain Career Edge in the VUCA World
Learn from the best minds and eminent faculty to become the next industry expert.
By clicking Start Application, you agree to our terms and conditions and our privacy policy.
Frequently Asked Questions