Future Leader Programme
Deakin University, Australia & KPMG in India
Sunday, 10:00 AM to 1:00 PM
To succeed in today's dynamic business landscape, leaders need to easily shift between multiple roles. Develop leadership versatility and lead effectively across generations, cultures, mindsets and differing sets of motivations. Learn to build a roadmap for the future by shaping and developing leadership skills with the Future Leader Programme. Conducted by a leading professional services firm – KPMG in India, in association with Deakin University, Australia, a top global educational institute, the Future Leader Programme is an experiential learning programme. The programme's core focus is to up-skill managers to shoulder bigger roles in terms of responsibility, team size or volume of work. This interdisciplinary programme has a blended approach, where the participants will learn and apply a set of leadership skills, conceptually and practically, in the simulated work environment.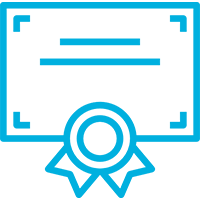 Certificate of completion from KPMG in India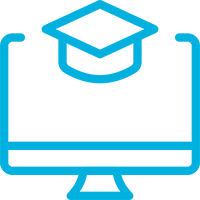 Professional practice credential by Deakin University, Australia

A 100 hrs. experiential learning programme

Live masterclass sessions – 3 hours/week

Simulations, leader speak and self-paced projects

Gallup Clifton Strengths Assessment
Professionals with a minimum of 5 years of experience (maximum 15 years) at the managerial level and must be leading a team.
Managers transitioning to leadership roles.
Executives looking to leverage the best practices in management and leadership space.
Entrepreneurs in leadership roles.
The pedagogy consists of business simulations, projects, assignments, Live sessions with industry leaders and experienced facilitators and much more.
Pre-assessments, during session assessments and presentations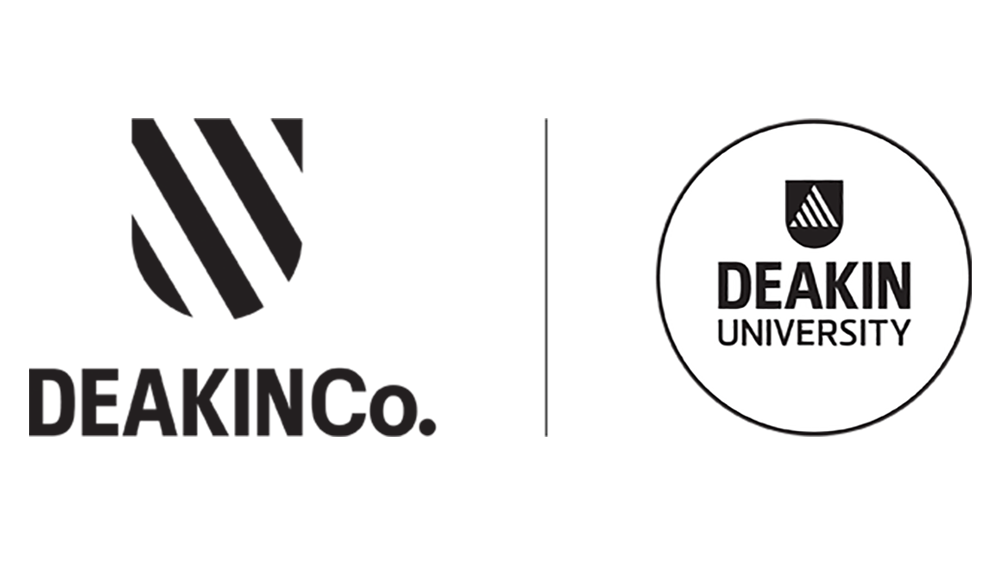 About Deakin University, Australia and DeakinCo.
Deakin University, Australia, is ranked in the Top 1% of universities worldwide (Shanghai Rankings) and is among the top 50 young universities in the world (QS). Deakin is also ranked #6 in the world for sport-related subjects (QS Rankings by Subject 2021) DeakinCo., a division of Deakin University are workplace education and skills recognition specialist. DeakinCo. help individuals and organisations evaluate and recognize current skills and capability, identity and rectify gaps and build new skills, and provide pathways to higher-level qualifications that further strengthen employment skills and career options. Established in 1974, Deakin University successfully combines excellence in teaching, research and effective partnerships with industry and government to deliver high-quality courses and undertake research that makes a difference to the domestic and international communities it serves. Deakin's South Asia operations commenced in 1994 in New Delhi, India, making it one of the first overseas education providers to set operations in this region. Here, Deakin engages with the government, industry, and academia to share its vibrant culture of education and research.
Top 1% of Universities Worldwide
100% Excellence in Research Australia (ERA)
Victoria's #1 university
for educational experience
Over 60,000 students
from Australia and
around the World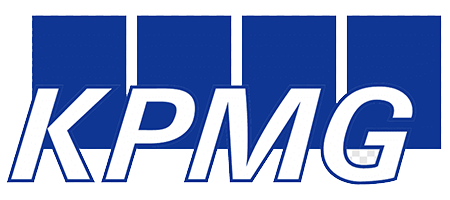 KPMG entities in India are professional services firm(s). These Indian member firms are affiliated with KPMG International Limited. KPMG was established in India in August 1993. Our professionals leverage the global network of firms and are conversant with local laws, regulations, markets and competition. KPMG has offices across India in Ahmedabad, Bengaluru, Chandigarh, Chennai, Gurugram, Hyderabad, Jaipur, Kochi, Kolkata, Mumbai, Noida, Pune, Vadodara and Vijayawada. KPMG entities in India offer services to national and international clients in India across sectors. We strive to provide rapid, performance-based, industry-focused and technology-enabled services, which reflect a shared knowledge of global and local industries and our experience of the Indian business environment.
Achievements:
KPMG in India wins the Business World HR Excellence Awards 2020 in Learning and Development.
People Capital Index Top – 50 : KPMG in India, including KGS (KPMG Global Services), is elated to feature in the Best 50 Companies for 2019!

Note: The KPMG name and logo are trademarks used under license by the independent member firms of the KPMG global organization. The KPMG trademarks are the sole property of KPMG International Cooperative
After participants have accomplished the programme requirements, they acquire a 'Certificate of Completion from KPMG in India' and a 'Professional practice credential from Deakin University, Australia.'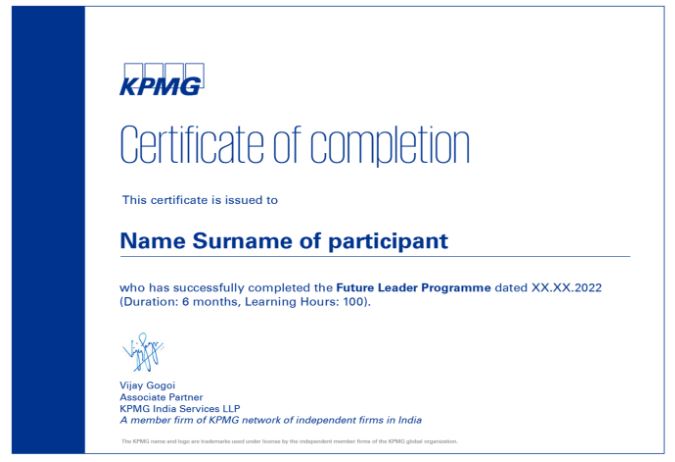 Credentials from Deakin University, Australia:
Headstart your career with credentials from Deakin University, Australia.
The 'Digital Learning' credential can be displayed as a badge on professional social networking sites.
Microcredentials are a quick and flexible way to advance in emerging industries.
They are testimony to demonstrated capability and gain visibility with present and future employers.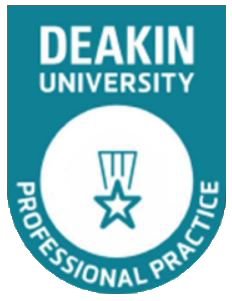 Let's read what our students
have to say about
Jaro Education
"I found the KPMG Future Leadership course curriculum extremely relevant, with interactive sessions, case studies, and certification from a credible brand like KPMG. Further, it offered an opportunity to get credits from Deakin University, Australia. Even Jaro Education has been supportive and responsive to all LMS support-related issues, attendance, etc."
"Initially, I was hesitant about joining this programme, with no clue what was in store. I needed clarification about whether to join, whether I could give that time, etc. But one day, I made up my mind to go for it. I have improved and learned how to think strategically and become more efficient. The faculty has been amazing. Whenever I reached out to them, they were always very polite and ready to help out in the best way they could. Moreover, Jaro Education has been a great support throughout the programme."
"KPMG's sessions and the amazing faculty have helped me understand the leadership mindset and the key soft skills to be a successful leader. It has helped me understand the strategies and implementation of strategies like emotional intelligence, strategic thinking, crucial conversations, and executive presence. Additionally, I received proactive communication from Jaro's team on the upcoming topics for sessions."
Jaro Expedite - Career Booster
Rigorously building the candidate's profiles and resume scrutinizing their LinkedIn profiles. Jaro Education enables personalised feedback to boost overall virtual presence.
Moving forward with carefully curated resume reviews that ensures you are interview-ready for the workplace of tomorrow.
Get career assistance as per the profile and preferences. On average, get 5-6 job recommendations to enhance quality employment opportunities.
Career Enhancement Sessions
Bridging connectivity to link the best talent with organizations through eminent sessions from top-class industry speakers.
Note: Deakin University Australia and KPMG in India or Jaro Education do not guarantee or promise you a job or advancement in your existing position. Career Services is simply provided as a service to help you manage your career in a proactive manner. Jaro Education provides the Career Services described here. Deakin University Australia and KPMG in India is not involved in any way with the Career Services described above and offer no commitments.
Build 21st-Century Skill set to Gain Career Edge in the VUCA World
Learn from the best minds and eminent faculty to become the next industry expert.
By clicking Start Application, you agree to our terms and conditions and our privacy policy.
Frequently Asked Questions