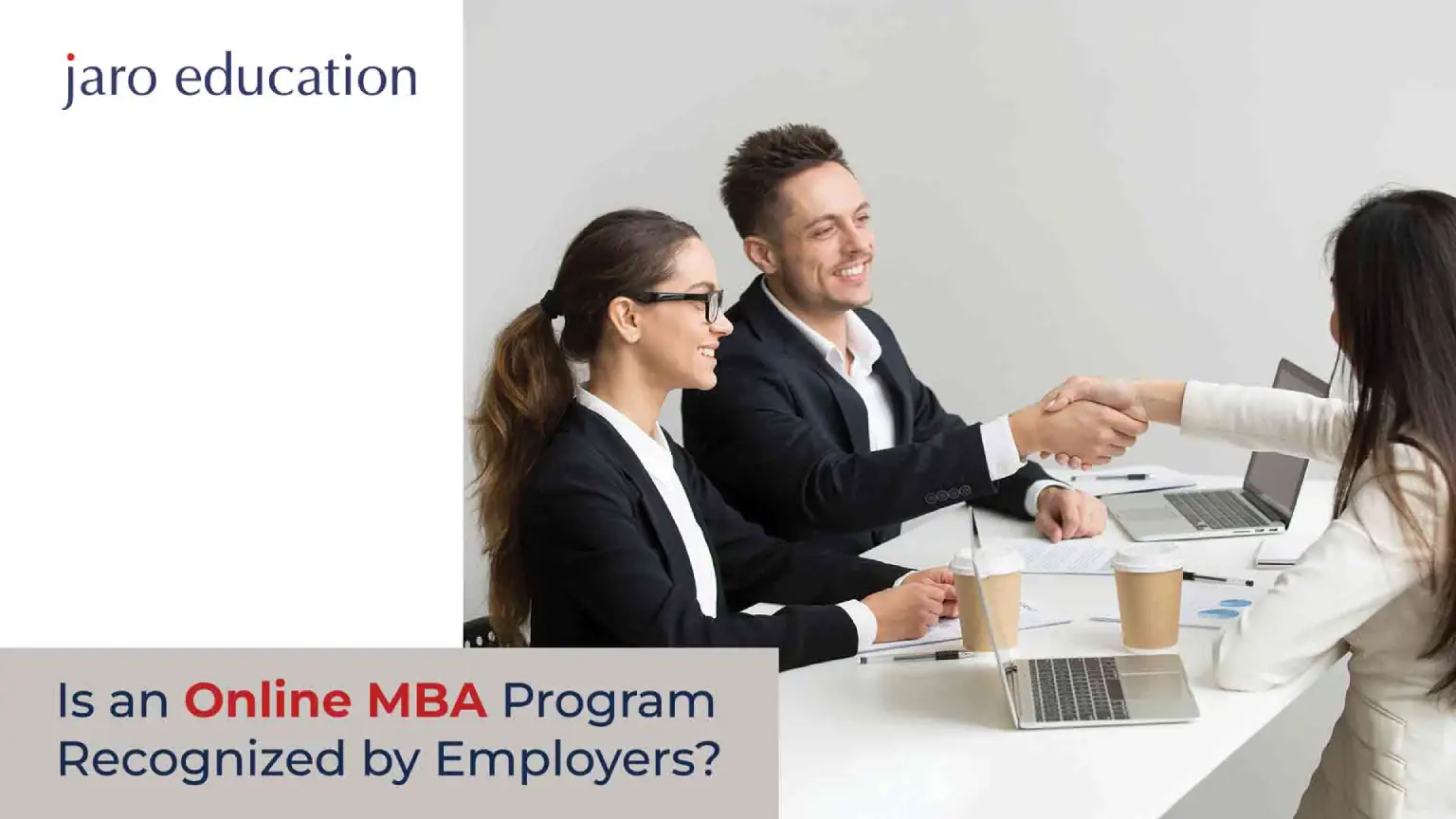 In recent years, the dynamic world of education has drastically evolved. The demand for higher education delivered virtually has increased, and so has a common concern among prospective candidates, whether employers recognize Online MBA Programs or not. The perspectives of employers have definitely changed over the years. The pandemic has been pivotal in encouraging this acceptance. As the world becomes more technology-driven and remote work becomes more common, employers have eventually grown to accept the online mode of education.
Today, an online MBA is the most flexible and accessible pathway for aspirants to acquire advanced business knowledge and leadership skills without the constraints and expenses of traditional on-campus education. Being accessible to students and professionals from various industries and geographical locations, Online MBA Programs have gained widespread popularity.
If you're interested in pursuing an MBA and have access to quality education and knowledge without having to relocate, Dr. D.Y. Patil Vidyapeeth Pune, offers a compelling opportunity with its 2 years Online MBA Degree offering a range of facilities and advantages for potential students. It is a UGC-approved degree program featuring an advanced virtual classroom setup with live interactive classes, ensuring an engaging and collective learning experience.
What Makes Employers Say Yes to a Candidate with an Online MBA Degree?
Online MBA degrees or certificates are only credible when they suffice certain points. To understand what qualifies an online MBA participant to be accepted by an employer, here's what you need to know:
Change in employer perspectives
Employers have been increasingly recognizing and embracing Online MBA courses as valuable and credible qualifications as traditional MBA courses. There has been a notable shift in employer attitudes inspired by several factors. The flexibility offered by online MBA courses is one of the primary reasons for this change. Individuals having a degree of Online MBA possess a diverse skill set, adaptability, and technological proficiency, making them desirable candidates to employers. These Online MBA Programs require students to manage their time effectively and display a high level of self-discipline. Valuable attributes demonstrated by those who have an online MBA degree, including time management skills, strong work ethic, and intellectual curiosity, are these days appreciated and encouraged by employers.
Recognition of Online MBA Programs
Over the years, Online MBA Programs have gained credibility and recognition with various reputed universities that offer these programs. The most crucial aspect in determining the credibility and quality of Online MBA Programs is accreditation. Accredited programs ensure that the curriculum meets the necessary education standards, due to which employers are highly likely to hire candidates from an accredited online MBA program. Knowledge and skills acquired by the participants of an Online MBA from reputable universities are more likely to be trusted by employers. Universities and institutes with extensive alumni networks can provide them with valuable connections and networking opportunities.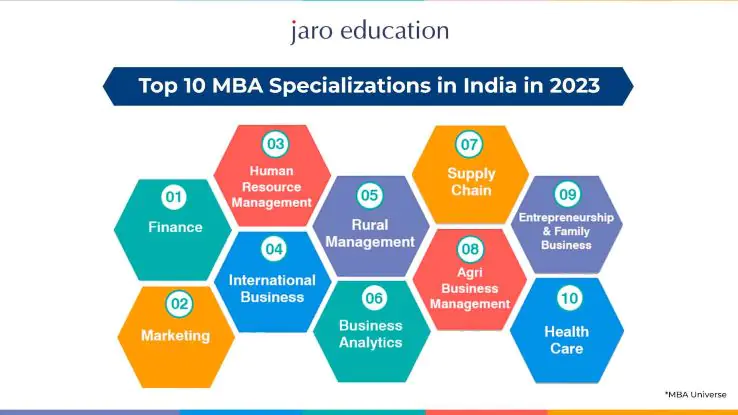 Accreditation and Quality Assurance
To gain an employer's confidence, it's very important to make sure the candidate has completed their accredited online MBA from a reputed university. AACSB, ACBSP, NAAC, and IACBE are well-known accrediting agencies for business schools.  Established academic standards are exceeded when an online MBA program is accredited by assessing factors such as curriculum, faculty qualifications, and learning outcomes, ensuring a high-quality educational experience. 
In today's job market, immense value is placed on accredited online programs where employers only look for top-tier talent trained with relevant skills and knowledge. The significance of pursuing an accredited online MBA program cannot be ignored, as these programs are constantly updated to match and keep up with the ever-evolving business landscape. Thus, these are recognized by various employers, just like the traditional courses.
Traits Employers Seek From an Online MBA Degree Holder
Besides the features of an online MBA course, employers search for candidates with unique talents and traits. Here are the personal traits they look out for.
Academic Excellence Combined with Relevant Work Experience
Candidates who have academic excellence, in addition to relevant work experience are immensely valued by employers. Theoretical knowledge gained during the online MBA, along with practical work experience, creates a powerful skill set. This combination can significantly benefit an organization. It is very important to keep a consistent record of academic excellence while pursuing an online MBA program that would display strong ethics, a thirst for knowledge and curiosity.
While employers seek candidates who can bridge the gap between theory and practice, a candidate having a degree of an online MBA from a relevant B-school can effectively analyze complex situations, devise innovative strategies as well as implement solutions resulting in positive outcomes for the organization. The flexibility of online MBA students enables them to continue working while studying, therefore allowing them to apply the concepts and theories acquired during the online course directly to their workplace, making them desirable candidates to employers.
Multitasking Abilities of the Participants
Dedication and multitasking abilities demonstrated by the ones having an online MBA degree who balance work and studies are appreciated by employers. These are the qualities that are highly valued in the fast-paced business world since they showcase the candidates' time management skills and ability to meet deadlines and juggle multiple responsibilities. Students of reputable Online MBA Programs hone their virtual communication skills, which are recognized by employers as it is a valuable asset in today's globalized and interconnected world.
Participants of the Online MBA Program are adept at collaborating across distances and working with diverse teams. They can leverage technology to enhance productivity and efficiency, making them highly desirable to employers and so their value in the job market is likely to keep growing, as these programs adapt and cater to employers' needs.
How to Select an Online MBA Course?
Before enrolling in an online MBA program, it is crucial to conduct thorough research by reading student reviews and ratings and, most importantly, assessing the curriculum of the program. Apart from this, it is essential to ensure that the following requirements are met by the respective Online MBA Program you are thinking to opt for.
Comprehensive Learning Environment
You must look for an MBA program offering a comprehensive learning atmosphere that provides participants with diverse learning resources and tools.
Engaging and Interactive Training
Programs that offer interactive training sessions, such as virtual classrooms or group discussions, would encourage active engagement and promote a dynamic educational environment.
Networking Opportunities with Industry Experts
Considering factors like regular interactions with industry experts and professionals would allow students like you to gain knowledge and insights from experienced practitioners and learn more about real-world business scenarios. Candidates with such connections are appreciated by employers.
Ensuring the presence of a digital library is essential before joining an online MBA program since it encourages students to keep up with the constant upcoming trends related to their subject.
Commendable Alumni Network
Since a strong alumni network reflects the program's ability to produce successful skilful individuals, it is very important to look for an online MBA program with a strong and active alumni network. Plus, communication of the participants with their seniors becomes easier, helping them get relevant job insights and ideas about the industry.
Presence of Discussion Forum
Communication skill of the candidates and their potential to work collaboratively in a virtual setting is reflected through their participation in discussion forums which holds strong importance to employers.
Accessible career resources and personalized counseling will allow you to enter the job market well-prepared and confidently, making your candidature more desirable to employers as they highly value candidates with industry-relevant skills, practical knowledge and a strong network, showing their ability to navigate business landscape.
Employers have been increasingly valuing candidates with an online MBA degree as versatile and ever-evolving assets as they equip participants with digital proficiency, adaptive problem-solving skills as well as a global perspective. An online MBA would undoubtedly play a significant role in shaping a brighter future for aspiring professionals and students, thus contributing to the collective progress of society as a whole. 
You can get the opportunity to experience and enroll in a high-quality online MBA program by contacting Jaro Education. With their convenience and support, you can participate in any highly credible program from a reputable institution – known for its academic excellence and industry-oriented curriculum.