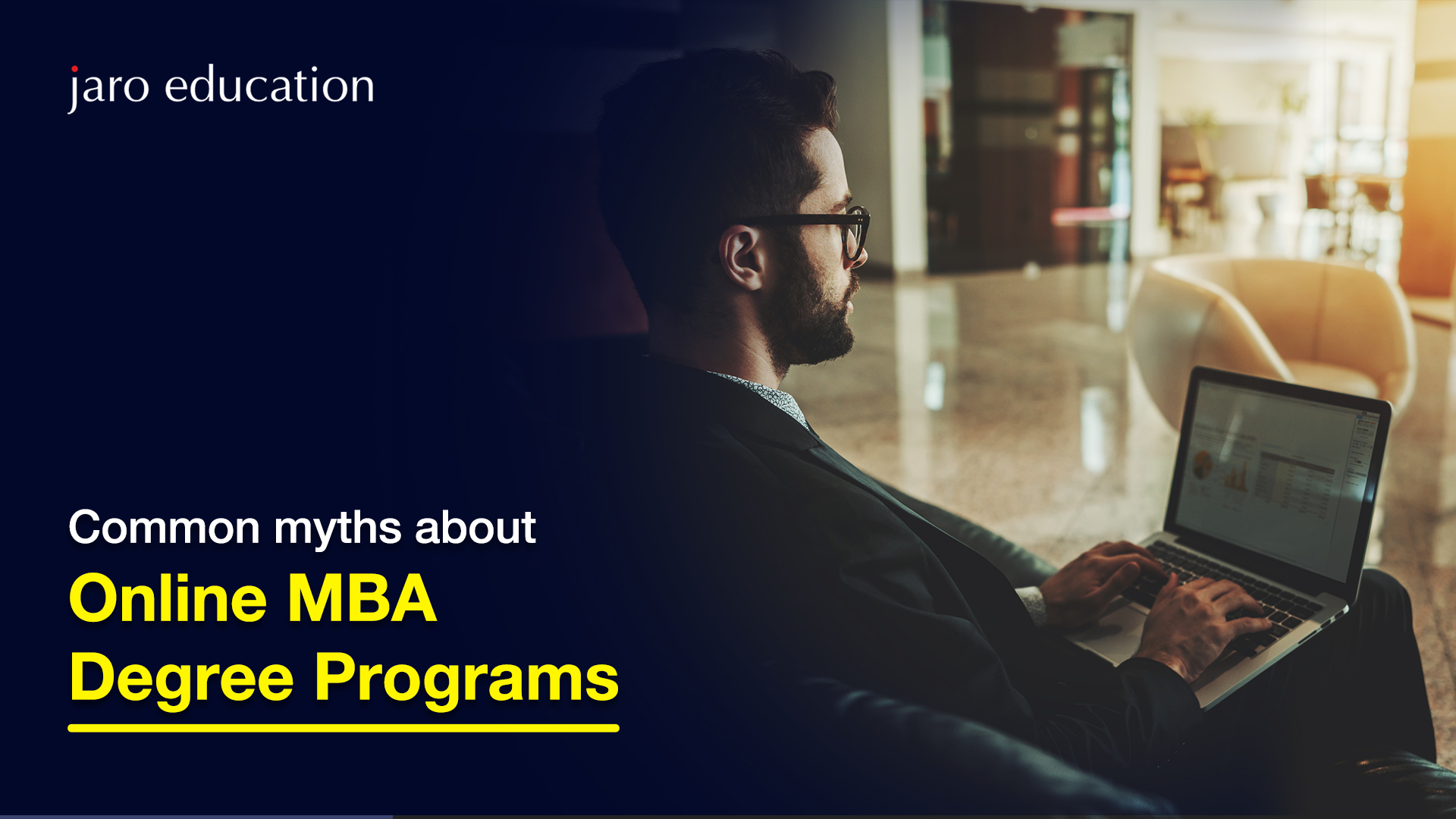 Common Myths About Online MBA Degree Programs
The Growing Demands for Online MBA
In today's competitive job market, a bachelor's degree is no longer adequate. Employers are looking for highly trained and competent employees that can help teams and businesses achieve their objectives. According to a survey by the Graduate Management Admission Council (GMAC), over 77 percent of US employers want to hire MBA graduates. Furthermore, there is a growing need for specific business master's candidates in the Asia Pacific area. There is a growing demand for online MBA among global professionals. As per the GMAC report, nearly 9 out of 10 colleges said that their candidate groups for online MBA were similarly or more qualified than the preceding year. 
Online MBA Courses are significantly getting traction in the age of the digital world. However, there are several misconceptions in the minds of students when it comes to online MBA programs. Here we try to debunk some common myths about online MBA programs:
Myth 1: Online MBA courses are as difficult as regular MBA courses
Several online MBA schools follow the same comprehensive education programs as traditional MBA institutes. In many respects, an online MBA takes more commitment because no one is checking on you to ensure that you participate and turn in assignments promptly. Students in online courses must be eager self-starters, possibly even more so than their MBA classmates on campus.
Myth 2: An online MBA isn't as valuable as a traditional MBA
It is a misconception that an online MBA is not as valuable as a traditional MBA. Accreditation is the most crucial indicator of trustworthiness and approved online degrees provide students with the same quality programs as certified on-campus degrees. When students complete the MBA program, they are conferred a proper MBA degree and not an MBA degree online.
Myth 3: To acquire an online MBA, you have to be technologically proficient
Today, there is a need to be technologically proficient in all spheres of life. An online MBA is no different and requires basic knowledge and computer skills to study online. Most programs offer technical support to employees 24X7 by chat or email. or instant messaging. Some online MBA schools even allow students to enroll in computer classes before beginning the program.

Myth 4: Professors don't directly communicate with students
Online MBA courses in India typically focus on student engagement in online classes. Most professors make sure to check on students and are readily available to tend to queries of students. The online MBA degree program from Dr D.Y. Patil Vidyapeeth offers live Interaction in virtual classes and discussion groups. 
Myth 5: Online MBA programs have no participation requirements
Some of the best university programs have frequent online class attendance and group assignments. Participants can engage with classmates, faculty body, and support personnel during the program. Online lessons that are scheduled regularly allow them to engage with peers on a daily basis. Close teamwork, collaboration, and the opportunity to learn from classmates are all possible with group projects. Such engaging classes help to form stronger bonds with classmates and increase networking chances.
Myth 6: Online MBA programs are not offered by reputable business institutions
In reality, online MBA programs are available from some of the world's leading business institutions, including Dr. D.Y. Patil Vidyapeeth. The online MBA degree program offers quality education to aspiring business professionals and creates future leaders.
Some of the highlights of the online MBA program from Dr. D.Y. Patil Vidyapeeth are:
UGC has approved the degree program

Course content is relevant to the market

Individualized Career Counseling Support and Placement Assistance

Facilities for Holistic Learning

Regular engagement with corporate leaders and visitor experts

Training is based on the needs of the workplace

Programs that help people seek employment

Live Interaction in virtual classes and discussion groups

Frequent sessions of counselling
The eligibility requirements for the online MBA program at Dr D.Y. Patil Vidyapeeth include the following:
The applicant for the program must have a Bachelor's degree in any field from a recognized board or university.

A minimum aggregate score of 50%, or 45% for applicants from reserved categories.

There is no entrance examination.
Conclusion
There are many concerns regarding online MBA programs, but most of these are misconceptions. The online MBA programs offer the same learning and training for students as a traditional MBA course. The online MBA degree program from Dr D.Y. Patil Vidyapeeth is an excellent option for aspiring business professionals who wish to upskill without compromising their current job.
Register for the online MBA program from Dr D.Y. Patil Vidyapeeth to advance your career with the best training by experienced industry leaders!