​​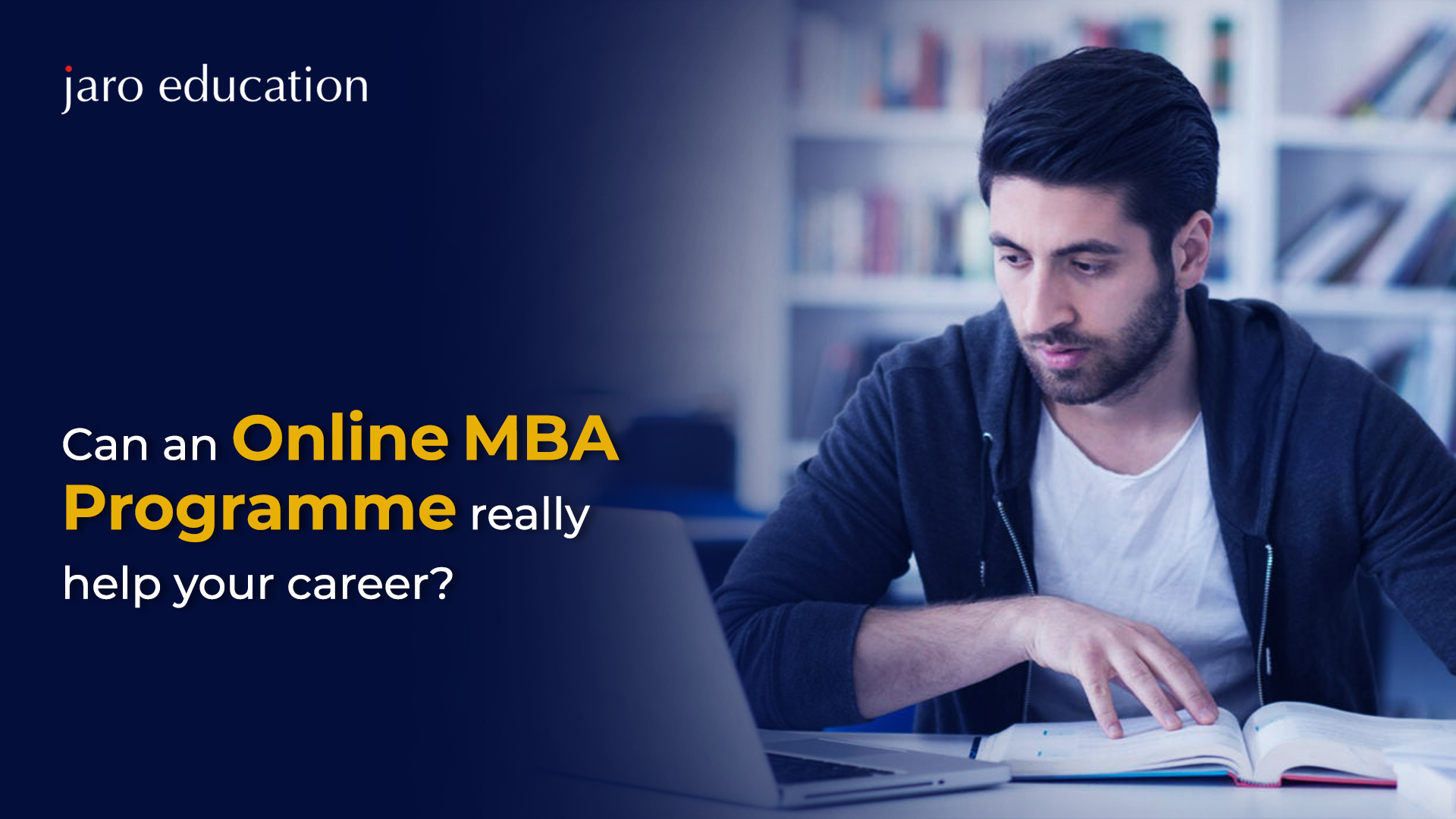 Can An Online MBA Programme Really Help Your Career?
Management is one of the top business ventures, a great way to stimulate and stabilize one's career. It helps you develop leadership skills, business principles, professional networking and prepares you for the job. This gives you the push you need to enter the market and survive. This all happens when you are considering MBA as your main asset. Let's find out why MBA is so in demand.
Why is an MBA an Important Degree?
Qualifications in management add a booster to the career path for young entrepreneurs and for managers aspiring to acquire managerial roles. This postgraduate business degree generally focuses on aspects of the business or specific areas such as entrepreneurship, finance, risk management, healthcare management, entertainment administration, marketing, relationship management, etc. An MBA helps students master leadership and decision-making skills which are crucial for running a business. 
Merits of Online MBA Degree
One of the great benefits of the MBA program is that it gives you the flexibility to explore and rely on the skills you need to change your career choices. This prepares you for the position of manager in your field.
Some of the highlights of the online MBA include:
Learn while you are working

– You stay active in your current work and can effectively apply the concepts learned from the course. Some companies that sponsor candidates for online MBAs benefit from their investment.

Inexpensive learning

– The online MBA course is generally more affordable for the average student than traditional programs.

High earning potential

– An MBA is considered to be the only accepted gateway to enter a managerial role. The industry offers attractive rewards to qualified managers. According to

Payscale

, the average basic salary of an MBA graduate in India is ₹ 829k

No Logistics Required

– Being remote learning, the online MBA allows students to choose programs from independent providers, including interstate institutions or even from abroad.

Choice of Specialisation

– Most online MBA courses are designed to meet current market trends, including technology-based courses.  Online MBA Programme-  Manipal University is not an exception. Students get the opportunity to choose a specialisation that works well in the current situation.

Networking and diverse culture exposure

– The Online MBA Programme caters to mixed candidates from different places, cultures and professional backgrounds. In the practice of adult professionals, students are introduced to different cultures and ethics. Having a wide spectrum of social outreach helps students find context and learn from each other which helps them a lot in their careers.

Global Acceptance

–  Professional qualifications obtained by recognized institutes like Online MBA Programme from Manipal University are widely accepted globally. Students are eager to work abroad with a degree as permitted to work abroad.

Job Surety

– Professionals with an  Online MBA  degree can be accommodated in a variety of occupations and fields. MBA professionals are rarely affected by business changes, such as the fear of closure or retrenchment.
The Online MBA degree certainly helps in career advancement. 
Deciding on an Online MBA
The  Online MBA Programme at Manipal University is designed to prepare students for careers in management and leadership in the market. The Manipal University  Online MBA Programme empowers you to build a network with knowledge of your industry and like-minded professionals who are constantly striving to become future leaders. Professionals can choose to become experts with new-age selectors and acquire market-specific skills. Enrol today! 
The outcome of an online MBA course is that you will succeed on your career path.
FAQ's
[1] Will there be networking and social opportunities for an Online MBA?
Yes, the aspirants of Online MBA Programme at Manipal University will get an opportunity to build rapport with like-minded professionals who are constantly striving to become future leaders.
[2] How much work experience do I need before I can apply?
MBA applications usually require at least 2 years of work experience. The Online MBA Course helps professionals improve their job profiles while pursuing the Online MBA Programme – Manipal University.
[3] What type of work experience are you looking for in the admissions process?
The field of experience doesn't matter, as long as the experience is relevant and it can add value to the learning objectives of the program. For example, a management trainee or a project administrator's work aligns with management lessons you will learn in the programme.