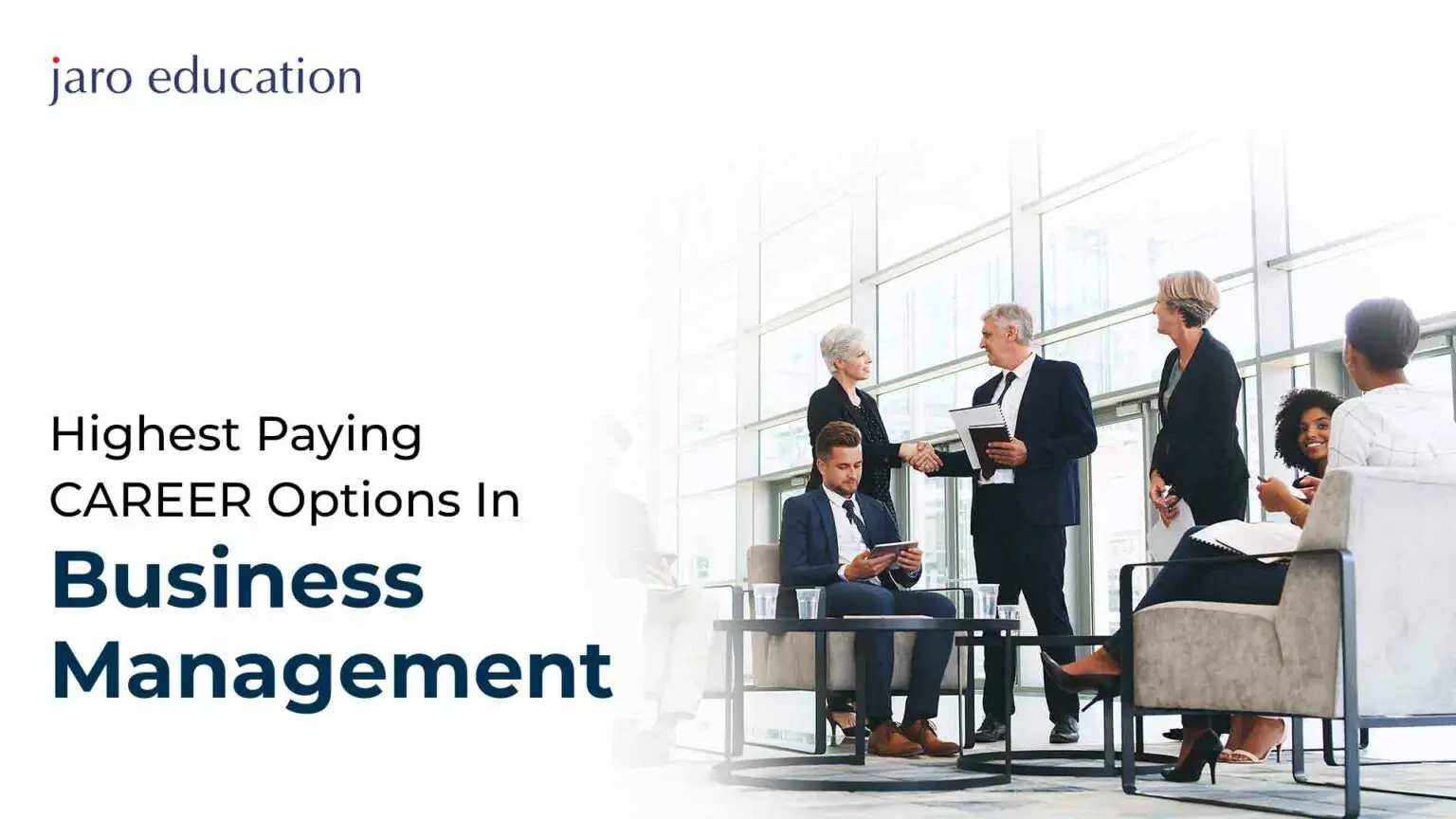 Business management offers many lucrative career opportunities for individuals passionate about leadership, strategy, and problem-solving. Whether you're an aspiring entrepreneur or looking to climb the corporate ladder, business management provides diverse paths to success. 
IMT Ghaziabad's Executive Program in Business Management is one such course that permits professionals to apply crucial abilities, including strategic management, decision-making, and many more. You can overcome challenges and grow in your career with the help of this 11-month course. Enrol now to start preparing to reach your full potential and succeed in your business management career.
What is Business Management?
In all industries, business management is essential to the development and success of organisations. Individuals with knowledge in this area are in high demand since they have the ability to successfully navigate challenging corporate conditions. Apart from the inherent satisfaction of managing and leading teams, business management careers offer attractive compensation packages and significant growth opportunities.
Importance of Business Management
Effective business management is crucial for ensuring organisations' smooth operation and long-term success. Business managers oversee various company operations aspects, including strategy development, resource allocation, team management, and financial planning. They possess the ability to make critical decisions, adapt to changing market conditions, and drive the achievement of organisational objectives. The role of business managers extends across different departments, from marketing and finance to human resources and operations.
Career Options in Business Management
If you are interested in overseeing operations, driving growth, and shaping organisational success, a career in business management can open doors to a world of possibilities, as discussed below.
1. Marketing Manager
Marketing managers carry out strategies to advertise products and services, increase brand recognition, and encourage consumer interaction. To develop successful marketing campaigns, they perform market research, analyse market trends, and work with cross-functional teams. Marketing managers can make significant salaries and bonuses with excellent leadership qualities and a thorough understanding of customer behaviour.
2. Financial Analyst
A financial analyst assesses the financial health of organisations, analysing investment opportunities and providing recommendations to optimise financial performance. They evaluate financial data, monitor market trends, and help organisations make informed investments, budgeting, and risk management decisions. A career as a financial analyst offers excellent earning potential, especially in sectors like investment banking and private equity.
3. Human Resources Manager
For overseeing employee recruitment, training, and development within an organisation, human resource managers play a vital role. They ensure compliance with employment laws, handle employee relations, and contribute to the strategic planning of workforce needs. Human resources managers with exceptional people management skills and certifications, such as Senior Professionals in Human Resources (SPHR), can command high salaries.
4. Operations Manager
Operations managers are responsible for optimising and streamlining business operations to improve efficiency and productivity. They oversee production processes, supply chain management, and quality control to ensure timely delivery of products or services. Operations managers who excel in process improvement and cost optimisation can earn substantial salaries, particularly in industries such as manufacturing and logistics.
5. Management Consultant
The role of management consultants involves advising organisations on various business challenges, including strategy development, operational improvement, and restructuring. They conduct in-depth analyses, identify areas for improvement, and recommend solutions to enhance overall performance. Management consultants with extensive experience and a track record of successful projects can earn high hourly rates or project-based fees.
6. Business Development Manager
The professionals working as business development managers analyse market trends, conduct competitive research, and develop sales strategies to drive revenue growth. Business development managers who excel in negotiation skills and have a strong network within their industry can earn substantial bonuses and commissions.
7. Supply Chain Manager
Supply chain managers manage inventory levels, coordinate logistics operations, and build relationships with suppliers and distributors. Supply chain managers with expertise in global supply chain management and logistics can earn competitive salaries, particularly in industries such as retail and e-commerce.
8. Risk Manager
Risk managers identify the mitigating potential risks that may impact an organisation's financial stability and reputation. They develop risk management strategies, implement risk assessment frameworks, and ensure compliance with regulations. Risk managers with strong analytical skills and industry-specific knowledge can earn significant salaries, especially in sectors like insurance and finance.
9. Project Manager
Project managers oversee the planning, execution, and successful completion of projects within an organisation. They manage project timelines, budgets, and resources, ensuring that deliverables are met, and stakeholders are satisfied. Project managers who demonstrate exceptional organisational and leadership skills can earn substantial salaries, particularly in industries such as construction and IT.
10. Entrepreneur
Entrepreneurs start their businesses or ventures, taking risks and leveraging their creativity and innovation to succeed. While entrepreneurship involves inherent uncertainties, successful entrepreneurs can build highly profitable businesses and enjoy financial rewards beyond traditional employment. Entrepreneurial ventures can span various industries and offer limitless earning potential.
11. Sales Manager
Sales managers lead sales teams, set sales targets, and develop strategies to achieve revenue objectives. They monitor sales performance, coach sales representatives, and negotiate contracts with key clients. Sales managers who build and motivate high-performing teams can earn substantial salaries, particularly in sectors such as technology and pharmaceuticals.
12. Product Manager
The development, marketing, and profitability of a company's products or services are governed by product managers. They conduct market research, define product strategies, and collaborate with cross-functional teams to bring new products to market. Product managers who excel in product innovation can earn competitive salaries, particularly in industries such as technology and consumer goods.
13. Investment Banker
Investment bankers provide financial advisory services to corporations, governments, and other entities. They assist in mergers and acquisitions, initial public offerings (IPOs), and debt and equity financing. Investment bankers often earn substantial salaries, bonuses, and commissions, especially in major financial centres, including New York and London.
14. Business Analyst
Business analysts gather and analyse data, create business requirements, and collaborate with stakeholders to implement changes. Business analysts with strong analytical skills and industry-specific knowledge can earn competitive salaries, particularly in sectors like IT and consulting.
15. Corporate Trainer
Designing and delivering training programs to enhance employee skills and performance. They assess training needs, develop training materials, and facilitate workshops, and seminars are the prime responsibilities of corporate trainers. Corporate trainers specialising in leadership development, sales training, or industry-specific skills can earn substantial incomes, particularly in organisations prioritising employee development.
Factors to Consider for High-Paying Careers
While pursuing a high-paying career in business management, several factors can contribute to achieving financial success.
Education and Professional Certifications

Obtaining a relevant degree in business management or a specialised field can enhance career prospects and earning potential. Additionally, acquiring professional certifications like the PG certificate in Executive Program in Business Management can demonstrate expertise and lead to higher-paying opportunities.

Industry and Company Size

Industries such as finance, consulting, technology, and healthcare often offer higher-paying jobs in business management. Additionally, larger companies have more resources and higher salary budgets, providing more significant earning potential.

Experience and Track Record

Gaining experience and building a solid track record of achievements can significantly impact earning potential. Demonstrating leadership skills, exceeding performance targets, and successfully managing complex projects or teams can open doors to higher-paying roles.

Network and Connections

Building a professional network and establishing connections within your industry can provide access to lucrative job opportunities and increase earning potential. Attend industry events, join professional organisations, and leverage online platforms to expand your network.

Geographical Location

Salaries can vary based on geographical location and cost of living. Research the average salaries in your target industry and consider relocating to areas with higher salary ranges if feasible.

Negotiation Skills

Developing strong negotiation skills is essential for maximising earning potential. Research salary benchmarks, articulate your value proposition, and negotiate confidently when discussing compensation packages.
Whether you aspire to lead a team, drive strategic initiatives, or start your own business, business management provides numerous opportunities to achieve financial success. By leveraging education, experience, and industry knowledge, you can position yourself for rewarding careers with attractive compensation packages and significant growth prospects.
By participating in IMT Ghaziabad Business Management certification course via Jaro Education, you can get ready to achieve a significant job role in the current business world. You will be able to tackle complex obstacles with ease by actively participating in simulations and hands-on learning.