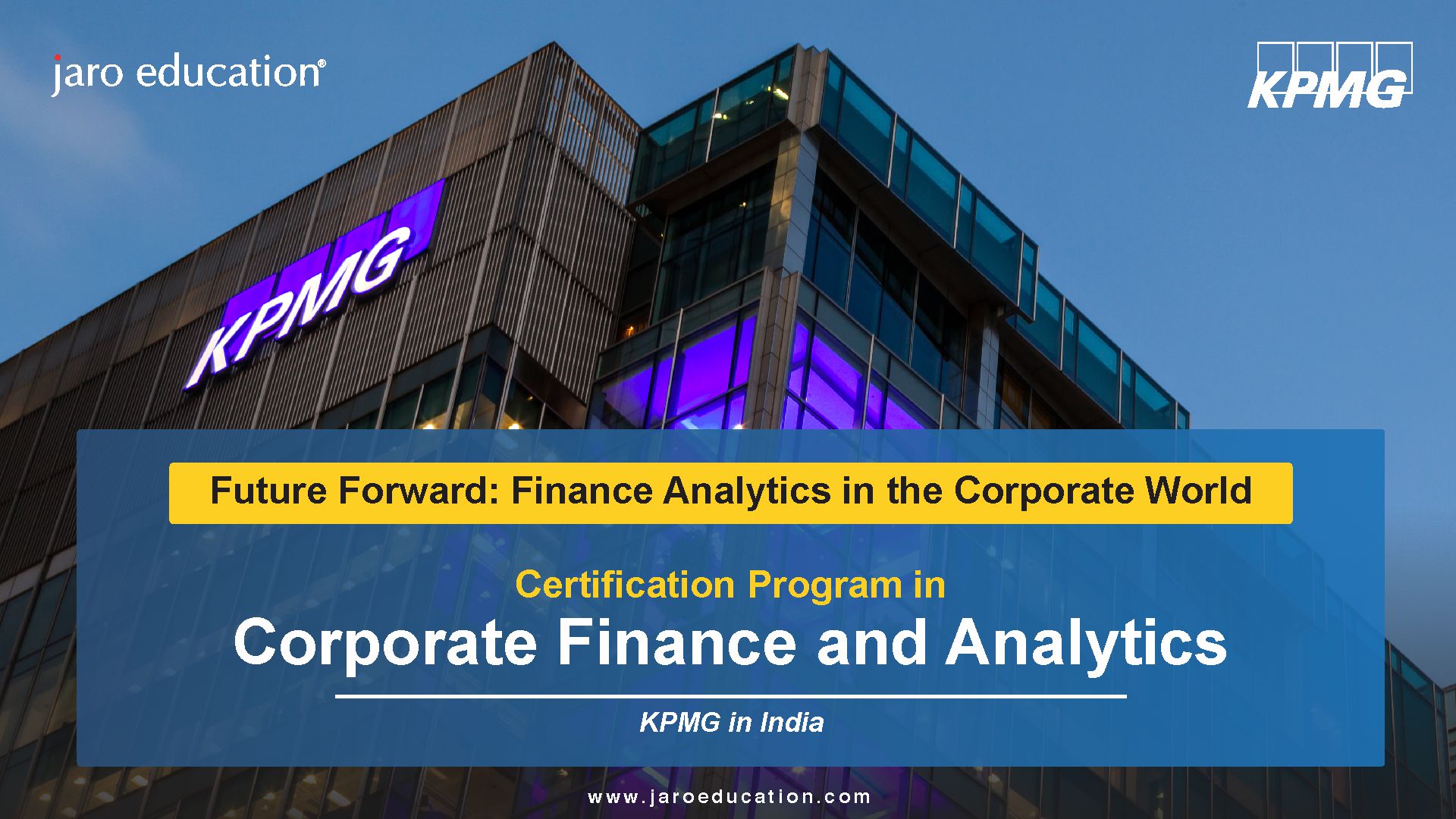 Introduction
Managing finances in the right way is crucial to keep businesses running smoothly. Effective analysis of financial data is the guide to forecasting, planning, and decision-making for achieving your business goals. With technological advancement and growing business needs, financial analytics help you make crucial decisions that add value to your organization.
Role of Corporate Financial Analysts
Corporate financial analysts work in the financial planning & analysis (FP&A), controllership, or treasury departments. Analysis in corporate finance involves analyzing financial data to forecast risks and performance, evaluate profit, and minimize losses. It manages the organization's cash flow by tracking the company's internal accounting.
Future of Corporate Finance Analytics
Corporate finance analytics has promising career prospects. Career growth can lead a corporate finance analyst to become the manager and subsequently, the director or the CFO of the company. Finance professionals find bright opportunities in investment banking, financial modeling, and equity research.
In addition to your CA or MBA in Finance, a corporate finance course from a reputed organization makes you competent in the industry. Corporate analytics courses help inculcate in you the skills required by a professional and help you ace this career path. A corporate finance certificate course from renowned finance, accounting, and advisory firms, such as KPMG, ensures a flourishing career in corporate finance.
Corporate Finance Course 
KPMG is a global network of professional firms, leading in finance, accounting and advisory. KPMG in India, in association with Jaro Education, India's leading EdTech firm and a pioneer in the executive education industry, offers a tailored certification program: the Corporate Finance and Analytics Certificate Program that stands out among several Corporate Finance Course options.
The certification program in Corporate Finance & Analytics offered by KPMG in India aims at imparting the strategic and analytical skills required for finance professionals to excel in their careers. This corporate finance certificate course comes with exceptional features that impact your career in finance.
Highlights of KPMG Corporate Finance Analyst Certification Program
Industry-Driven Curriculum
The corporate finance and analytics program comes with a holistic curriculum that covers and integrates all functional business areas. It keeps the learners abreast of changing requirements of the industry. Peer networking across various industries enables the learners to understand and apply financial principles and decision-making skills to strategize business.
Emphasis on Personal Development and Applied Learning

 
The corporate finance and analytics program from KPMG in India provides application-based learning with a focus on personal development, enriching the finance professionals with the behavioral skills required to succeed as corporate analysts.
Hands-on Experience with New Tools and Technology
KPMG in India's Corporate Finance and Analytics program provides hands-on experience with tools and technologies such as Robotic Process Automation (RPA), Machine Learning (ML), Artificial Intelligence( AI), Blockchain, FinTech, and more. The instructor-led virtual classes (D2D) train the learners to use these tools and techniques to analyze, visualize, and communicate using data. 
Conclusion
Corporate finance analytics is one of the promising career options that finance professionals can pursue. Enrolling in the six-month certification program in Corporate Finance & Analytics from KPMG in India, in association with Jaro Education, is highly recommended for advancement in a career in corporate finance analytics.
Get on the path to a bright future. Submit your details to the program expert at Jaro Education to learn about the Certification Program in Corporate Finance & Analytics from KPMG in India, including the course fee, modules, and more. Subscribe to our blog for more details on the certification program in Corporate Finance & Analytics – KPMG in India and other carefully created courses.
Subscribe to Jaro Education's blog and stay updated with the latest information on Strategic Human Resource Management programme from IIM Trichy.
Subscribe to our Jaro Education's blog and stay updated with the latest information.