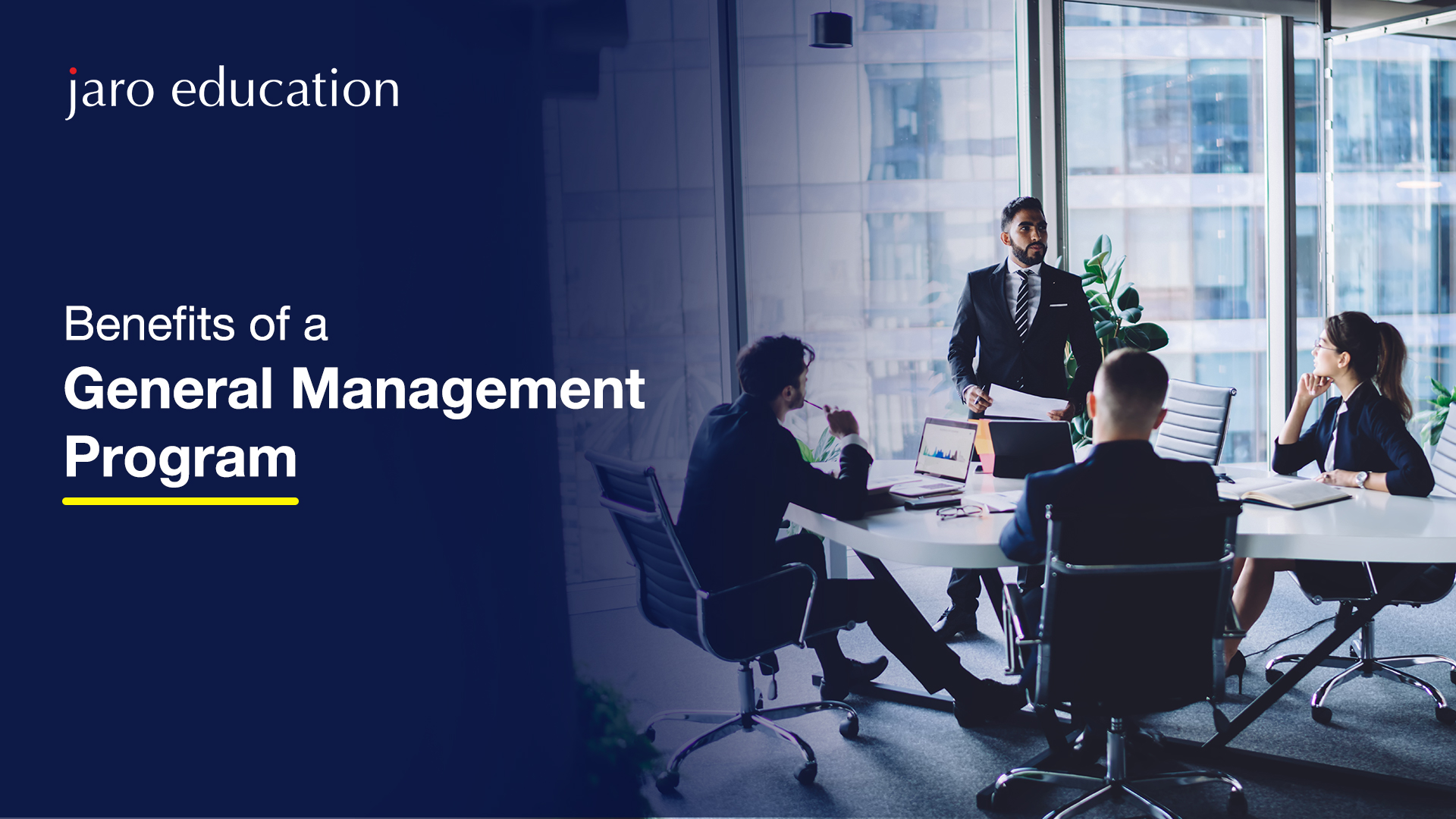 Benefits of a General Management Programme
Introduction
The demand for general management professionals is steadily increasing in both domestic and international markets. Professionals must play pivotal roles in shaping the future of modern business management.
But what is General Management, and why is it so sought after in 2021?
General Management focuses on the performance of the entire organisation instead of focusing on a single function. It is a crucial part of a business unit that handles issues from the top to the bottom of the hierarchy of operations in a company. 
To be more precise, General Managers work closely with the top management and departments to attain organisational goals. They are proficient planners, problem solvers, recruiters, and ambassadors of the company. These managers also work on employee engagement and customer relations. 
Leaders who aspire to step into the General Management profile should consider pursuing an executive general management programme. Keep reading on as we highlight the key benefits that an Executive General Management Programme can bring to your portfolio. 
Advantages of a General Management Programme
Are you a professional wondering whether undertaking an executive general management programme is worth it? Here are five reasons to make up your mind. 
Equips you with critical management skills
Do you want to learn essential management skills? If yes, then an Executive General Management Programme can help you. Nowadays, employers prefer retaining strategic managers who can become valuable assets to the business in the coming times. 
They also look for professionals who have excellent communication, presentation, organisation, problem-solving, and leadership skills. After completing the programme, you can make more informed business decisions after considering their social, ethical, and economic implications. More importantly, you can also respond to current developments and challenges in business. 
Professionals who feel that their career is not shaping as per their expectations or something is missing in their portfolio should not miss a chance to pursue an Executive General Management Programme.

As you progress through the course, your strong business acumen and skills will make you stand out from the lot. Employers would like to collaborate with you for their business projects. 
General managers assist with training, hiring, scheduling, and assigning work. They are also a core part of the planning team that establishes business goals and formulates strategies to meet them. 
Apart from these, a general manager handles cash and bookkeeping activities. Analyzing profit and loss reports and responding to customer complaints is also a part of this profile. Pursuing a General Management course will make you proficient in all these tasks. It is a 360° development program that aims to bring the best in you. 
Gives insights about multiple disciplines
The best part about pursuing a General Management course is that it makes you proficient in multiple disciplines. You will get in-depth knowledge about production, finance, HR, supply chain, service operations, and IT. 
After completing this program, you will become a strategic leader ready to handle all the crucial business functions. Although you might be aware of the various responsibilities of running a business, a certificate in hand will make a significant difference when you join the team. 
General Management has been one of the most sought-after fields in India in the last few years. The demand for general managers is skyrocketing in finance, retail and sales, marketing and advertising, and human resources. 
In today's times, when new business models are developing, companies are booming, General Management is a must-have for its ad-hoc nature of job profiles. 
Therefore, leaders and managers who are not keen on gaining expertise in a particular specialization can ramp up for Executive General Management courses online. 
Conclusion
Both the battlefield and the rules of the business game are changing at a faster pace. It is high time you upgrade your skills to stay ahead in the race. General Management is a remarkable career milestone for potential leaders and managers who can work under pressure and handle situations strategically.
General management programmes are designed to fulfil the specific needs of industries. One such superior certificate course is the Post Graduate Certificate Programme in Executive General Management from IIM Trichy. It is a stepping stone for professionals and executives aiming for leadership and managerial positions.
The programme is tailored keeping in mind the diverse functions of General Management – accounting for finance, strategy, operations, marketing, analytics, human resources, and analytics. Hence, it uses 13 modules to give candidates a broader, more holistic understanding of how an organisation functions. Through this, executives can learn to make consolidated, effective, leadership-level decisions. 
Professionals taking this course will soon comprehend the primary activities of management. Through this programme, they will understand the purpose and key functionalities of an organisation, what organisational strategies do, and be able to reason in a competitive atmosphere. So, if you are an executive with your eyes on the horizon of senior management, enrol for the Post Graduate Certificate Programme in Executive General Management from IIM Trichy, and kickstart your journey towards the summit.