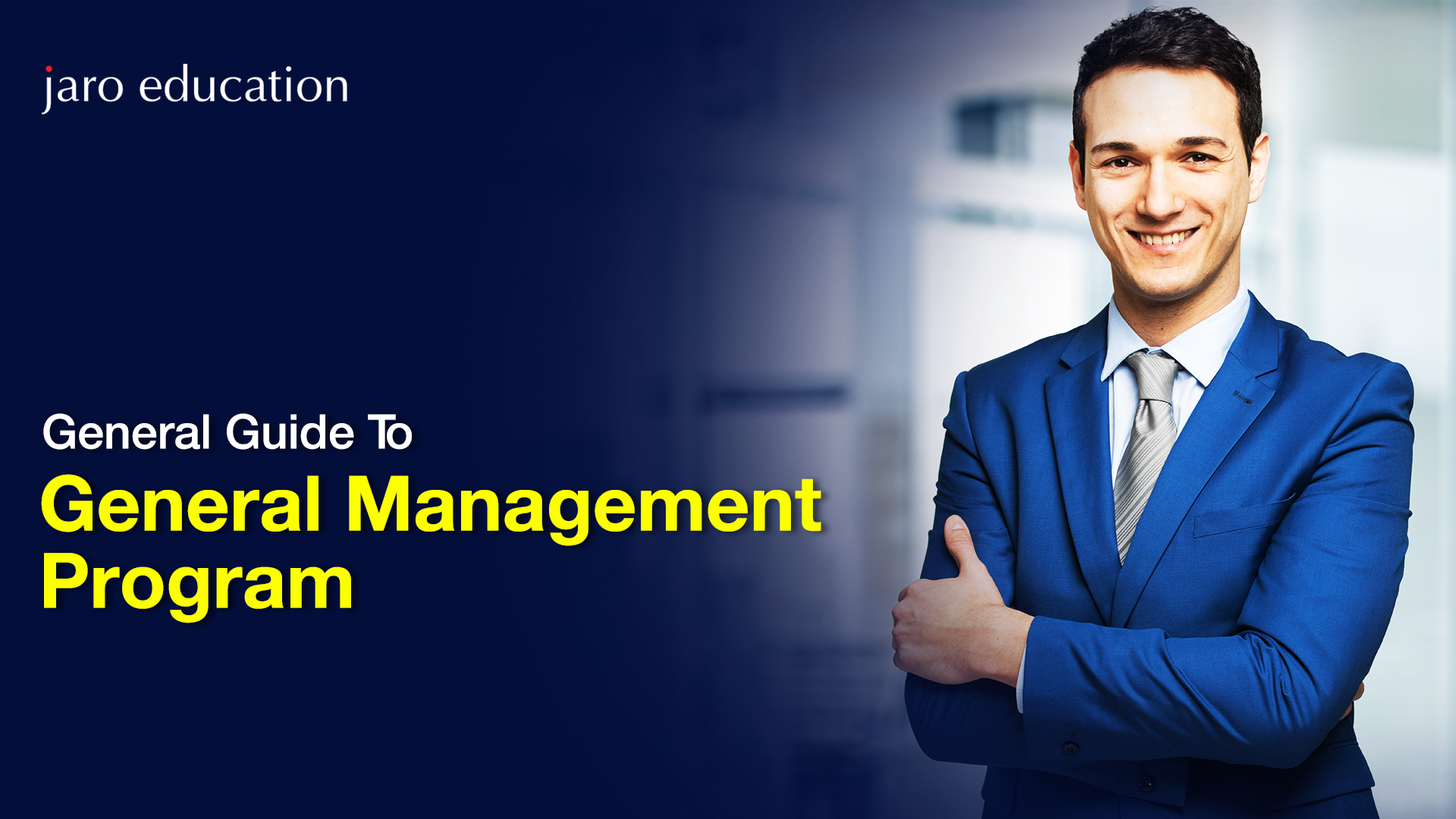 General management is a discipline that broadly covers business, and intrapersonal skills require learning and mastering the general principles of management. Various leading business schools and institutes teach general management courses and provide general management certifications. The general management vertical covers functional, managerial, and operational directives an employee needs within an organization. 
On average, a professional with a general manager role makes INR 2,323,449 a year in India. According to Glassdoor, the average pay for general management skills is approximately INR 27,00,000 annually. General management helps enable an employee to trigger production productively and efficiently. You might have heard about the General Manager's (GM) role in different organizations. These are specific leadership roles that require high-class management skills aligned with the business interests.
What does the general management course cover?
A general management course concentrates on rendering preliminary yet trendy business tactics and delivering critical thinking for advanced management and business strategies. A general management programme provides high-level insights on managerial and leadership skills so that professionals and senior executives can accelerate their careers for unique opportunities and promotions.
If someone wants to become a business leader, manager, or pursue any senior executive role, the general management course can be highly beneficial. Such a course will give you a crisp idea of the following:
Leadership skills

How to make people work efficiently

Time management

Interpersonal skills

Planning and strategizing

Strong ethics and networking abilities

Managerial skills
Why is it good to have general management skills in the digital age?
The general management programme is not just for aspirants with managerial and business backgrounds. Professionals and aspirants in technology can opt for a course in General Management for IT professionals. Every organization wants to seek leaders who can relate to their domain or manage and guide other employees belonging to the technology vertical. A general manager in the digital age needs to have the following skills:
Think strategically for low cost and more profit

 Future-gazing trends and the disruption that any product can bring

Extract the most profitable outcome through the team

Agilely adapt to the constant "curveballs" of the digital age

Mastering emotional intelligence along with intelligence quotient
Let us now explore some well-known general management programmes that provide general management certifications after completion of the course.
Top Universities offering General Management Programmes
Conclusion
A general management course teaches you leadership skills, systems management, interpersonal development, and developing business strategies. After acquiring this in-demand skill, a participant can go for any job as this course benefits all industry profiles. Have you checked out the above-mentioned General Management courses? If you want to upskill to improve your job opportunities and designation, opt for a general management course.
FAQs
What is the fee for a general management course in India?
The fee amount varies between 1-7 lacs. 
IIM Ahmedabad: Accelerated General Management Programme: INR 6,65,000  + GST.

IIM Trichy: Executive General Management Programme: INR 2,68,500 + GST.

IIM Kozhikode: General Management for IT Professionals: INR 3,25,000 + GST.

IMT Ghaziabad: Executive Programme in Business Management: INR 1,00,000 + GST.



Is this general management course right for me?
If you have curiosity in business management and leadership, the general management programme is right for you. It helps you learn about business strategies, critical thinking, decision making, planning, team leadership, etc.

What is the eligibility for a general management course?
Graduates (10+2+3) or Diploma Holders (only 10+2+3) from a recognized university

Minimum one year of work experience in their respective field

Minimum 45%-50% marks in graduation
Who should pursue a general management course?
Anyone who is a working professional and wants to pursue a course for general management can opt for this course. Aspirants and professionals curious about business management, business strategies, team management, and leadership can also take up this course and enhance their skills for promotional purposes and want to lead a team of experts.