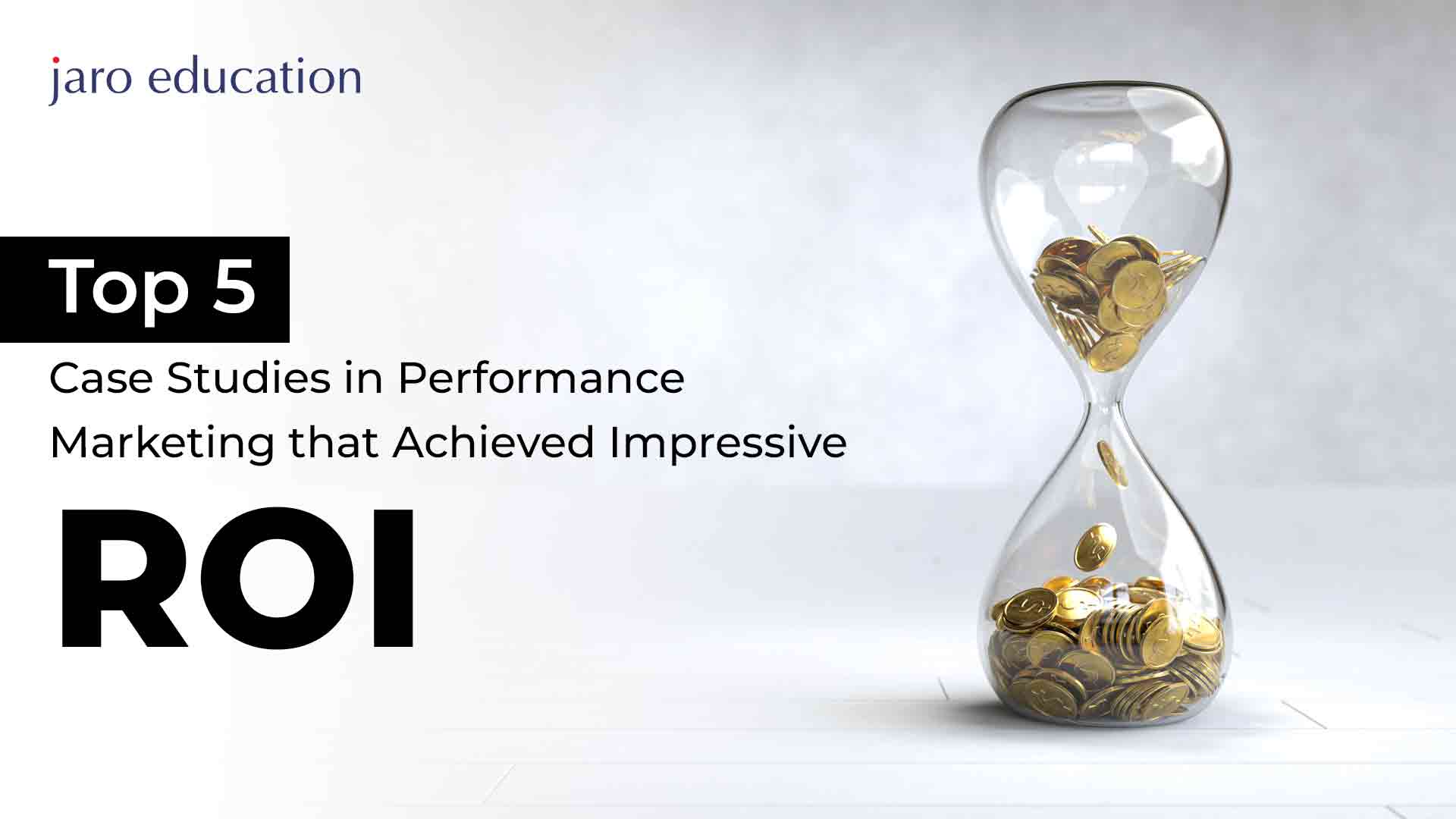 Case studies are valuable marketing tools that demonstrate how a product or service has helped other companies achieve real-life results. They provide evidence-based insights into performance marketing to showcase the effectiveness of the solution being offered. These testimonials and recommendations carry significant weight, as they come directly from other companies who have experienced the benefits firsthand.
The Professional Certificate Programme in Digital Marketing for Performance and Growth from IIM Kozhikode provides an idea about engaging case studies of various companies, offering participants insights into real-world scenarios. You can overcome challenges and grow in your career with the help of this 9-month intake. Apply now to reach all your goals and succeed in the field of digital marketing.
Understanding a case study
When crafting a case study, it is essential to include research and statistics that support the points being made about the project's outcomes. This helps to build credibility and further substantiate the success achieved. Additionally, incorporating these case studies into various marketing strategies, such as featuring them on websites or including them in sales presentations, can enhance the persuasive power and influence on potential customers.
Case studies serve as powerful marketing tools that highlight successful outcomes and customer satisfaction. They provide a solid foundation for building trust and credibility with prospective clients, and their inclusion in marketing strategies can significantly impact the decision-making process of potential customers.
Top 5 Case Studies in Performance Marketing Addressing ROI
Performance marketing is a constantly-evolving field. As businesses strive to maximise their return on investment (ROI), it is crucial to examine successful case studies, as discussed below, highlighting the effectiveness of performance marketing strategies.
#1 Case Study on Domino's
Domino's is a globally recognised pizza brand with a vast network of stores and franchises. It has successfully targeted a wide demographic range, primarily focusing on individuals aged 18-35 in India. 
In terms of social media, Domino's India has a notable presence with a significant following on platforms such as Instagram, Facebook, Twitter, and YouTube. Whether by featuring ordinary people in marketing campaigns, utilising relatable hashtags and slogans, or creating engaging videos, Domino's fosters a strong connection with its followers. The brand excels at the moment marketing by producing videos in different languages to reach a wider audience.
One of Domino's recent successful campaigns was launched on Friendship Day, where they emphasised the last slice of pizza as a catalyst for forming new friendships. Through a social experiment campaign, three pairs of strangers bonded over a single slice of pizza, creating engaging and lighthearted conversations. The campaign was live across multiple social media platforms and sparked conversations through an Instagram contest, encouraging users to tag the person they wanted to share the last slice of pizza with on Friendship Day. This approach generated user participation and increased brand engagement.
Email marketing plays an integral role for Domino's India, primarily for order confirmation and remarketing. The brand relies heavily on SMS marketing for sending OTPs, order confirmations, and offer-related messages. Traditional marketing, such as hoardings and banners, continues to promote various offers and highlight nearby stores.
Domino's effectively uses paid advertisements on Google, targeting specific audiences with search ads to promote their offers. The brand also employs targeted ad marketing on platforms like Facebook and Instagram, displaying ads exclusively to the intended audience, ultimately driving traffic to their website or app.
Domino's Pizza implemented a performance marketing campaign called "Pizza Tracker" that allowed customers to track their pizza orders in real-time. This innovative feature not only enhanced customer experience but also increased transparency and trust. 
Overall, Domino's India has successfully implemented a comprehensive digital marketing strategy. By focusing on different advertising platforms, the brand effectively engages its target audience, builds brand loyalty and continues to solidify its position as a leading pizza delivery brand in India and beyond.
Nivea is a renowned German personal care brand that specialises in body care. It has a rich history dating back to 1911 when it first introduced its cream-based products. Over the years, Nivea has expanded its product offerings and established itself as a global household name.
In terms of product strategy, Nivea conducts extensive market research to understand the preferences of its target market segments. This helps the brand develop new products that cater to specific consumer requirements.
Nivea adopts a reasonable pricing strategy to attract a larger audience. It focuses on the middle-class population and keeps its prices affordable while ensuring maximum consumer benefits. The brand has a strong distribution channel and presence in over 50 countries worldwide. It sells its products through large retailers and also offers direct online sales through its website.
Nivea has various marketing channels for promotion, including traditional media such as print ads and television, digital media such as online magazines, and social media platforms like Facebook and Instagram. The brand also engages in events, product launches, and partnerships with celebrities to enhance its brand visibility and appeal. The brand combines traditional and digital media to reach a wide range of consumers, employing celebrity endorsements and influencer marketing to attract younger audiences.
Some of Nivea's successful marketing campaigns include "Just Like Maa" for Mother's Day, "End the Winter Odour" highlighting the need to address body odour during winters, "Unlock Your Sparkle" featuring Parineeti Chopra, and "Milk Delight Face Wash" with Taapsee Pannu.
In the digital world, Nivea maintains an active social media presence with a focus on Instagram, Facebook, YouTube, and LinkedIn. The brand actively engages with its followers and influencer marketers and uses these platforms to share product advertisements.
Nivea's marketing efforts have contributed to the brand's success and established it as a trusted name in the personal care industry.
#3 Case Study on MakeMyTrip
MakeMyTrip is a famous online travel business that has gained popularity not only for its services but also for its strong presence on social media channels. The brand has successfully engaged with students by presenting innovative campaigns and attractive deals.
One notable campaign by MakeMyTrip capitalised on Independence Day, using it as a significant event to reach the youth. The campaign was called #DilHaiHindustani, and it aimed to rewind India's revolutionary efforts for freedom from 1857 to 1947.
The campaign incorporated various historical events and figures, such as the Mangal Pandey agitation, the Jallianwala Bagh massacre, the non-cooperation movement, and Chandra Sekhar's Kakori railway theft, among others. These events were highlighted to showcase India's freedom journey.  To encourage participation, MakeMyTrip invited people to choose their favourite freedom fighter from a blog and share it, mentioning the name of the freedom fighter and the cause they stood for. Participants were also encouraged to use the hashtag #DilHaiHindustani to increase their chances of winning prizes. The campaign successfully resonated with the target audience, particularly students, by connecting them with the rich history and struggle for freedom.
MakeMyTrip #DilHaiHindustani campaign demonstrated the brand's ability to create engaging content that appeals to the youth. By combining historical context, social media participation, and attractive prizes, MakeMyTrip effectively captured the attention of its target audience and strengthened its brand presence.
By combining innovative ideas, relevant themes, and the use of social media channels, MakeMyTrip has successfully positioned itself as a leading travel agency that captures the attention of travellers.
#4 Case Study on Paper Boat
Paper Boat, a well-known Indian brand offering traditional beverages, is famous for its wide range of flavourful drinks, including aam panna, golgappe ka pani, Jamun Kala khatta, and kokum. These beverages evoke nostalgia and are loved by Indian families, but not everyone can recreate them at home.
With the objective of transporting consumers back to cherished memories, Paper Boat launched the #FloatABoat campaign during the monsoon season. The brand also excelled in executing this objective through its digital marketing initiatives. They created a series of creative advertisements that tapped into the audience's emotions and established a deep connection with the brand.
As the campaign's name suggests, Paper Boat encouraged individuals to build paper boats, just as they did in their childhood, and share pictures of them on social media using the hashtag #FloatABoat. Participants were also encouraged to follow Paper Boat's social media accounts.
For every social media share, Paper Boat pledged to donate Rs.20 toward children's education. Social media timelines were flooded with images of paper boats, showcasing the massive participation of consumers. This demonstrated strong brand following and engagement during the campaign.
The #FloatABoat campaign has achieved remarkable outcomes. The campaign generated an impressive participation level, with
231 boat
posts on the designated site. Its commitment to diversity by planning to release at least
25 more
versions of its beverages, offering a wide range of flavours to consumers. The brand's presence has expanded globally to
20,000
retail locations, including prestigious establishments like Barista Lavazza coffee shops, Indigo and Jet Airways airlines, and Westin and Trident hotels. The philanthropic impact of the campaign is evident through the donations made by Paper Boat, benefiting approximately
805
children at Parivaar Ashram. 
The #FloatABoat campaign by Paper Boat serves as a compelling case study, showcasing the brand's ability to connect with consumers on an emotional level and create a sense of nostalgia. It exemplifies the brand's commitment to connecting with consumers beyond just their products as a beloved and socially responsible brand in the market.
In October 2019, Lay's, a potato chips brand under PepsiCo, launched the 'Smile Deke Dekho campaign' to promote the idea that a simple smile can bridge the gap between individuals and effortlessly convey emotions and moods. The campaign aimed to connect with consumers by associating each flavour and packet of Lay's chips with a specific emotion. One unique aspect of the initiative was the involvement of influencers who promoted the brand on various social media platforms. Lay's went a step further by creating over 350 customised packs specifically tailored for these influencers.
The campaign generated a personalised product experience, making consumers feel that Lay's had curated something uniquely for them. It increases a sense of individual connection between the brand and consumers, emphasising the power of a single smile and the positivity it brings. Consequently, the campaign used the social media platforms such as Snapchat and Instagram, encouraging consumers to share their smiles with Lay's packets, thereby accelerating engagement on these platforms.
These case studies show how different marketing techniques can produce significant returns on investment. These organisations have effectively expanded their operations and produced sizable profits by utilising innovation, technology, and customer-centric strategies.
To work on case studies by refining your digital marketing skills, acquire  a digital marketing certificate from a leading institute in India,  IIM Kozhikode. You can register for this course with Jaro Education to learn about the programme. This course employs a variety of methods, such as case study discussions, simulations, and  projects, to instil the knowledge needed to be a proficient digital marketer.