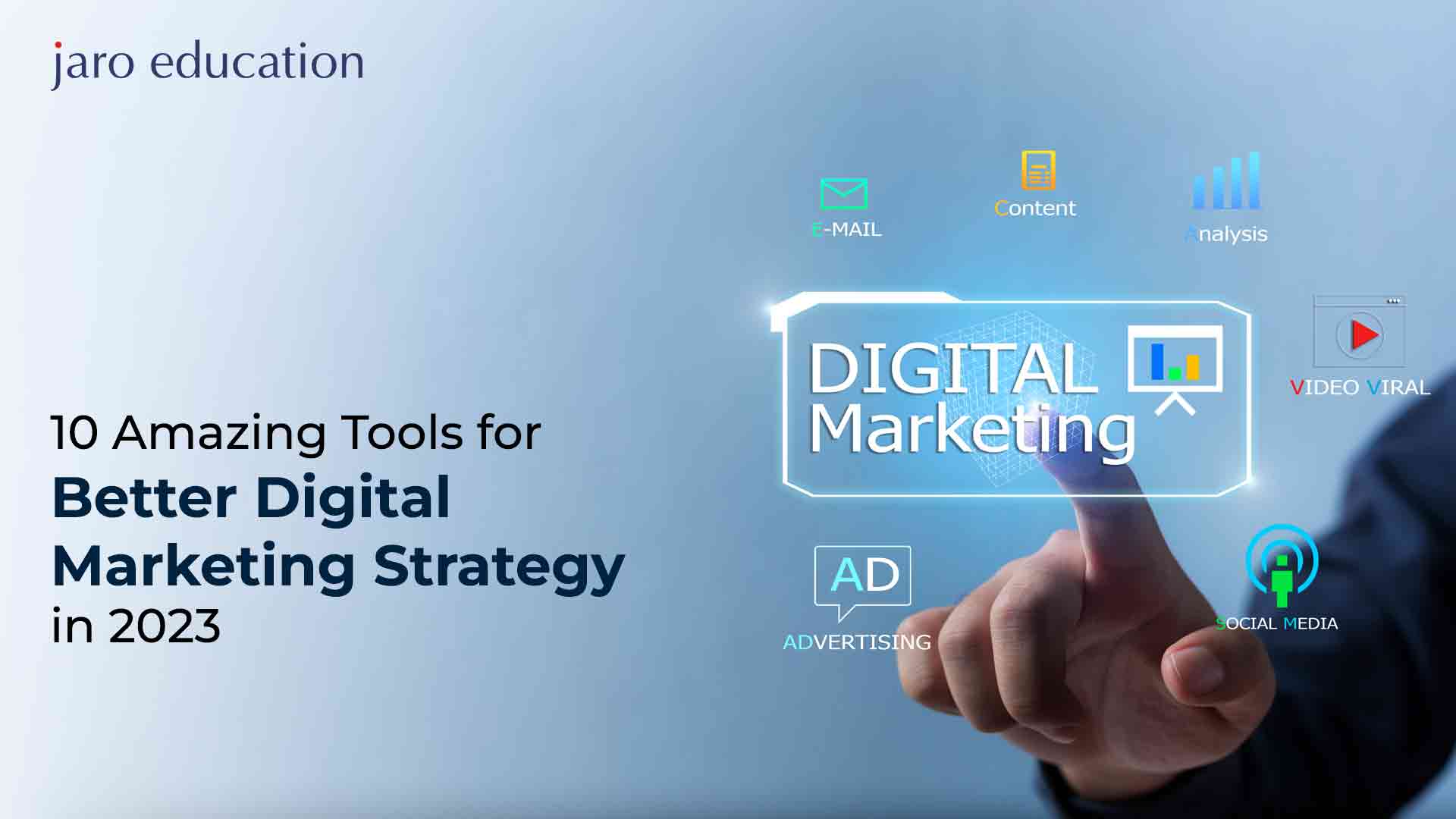 Digital marketing has evolved to the point that it is now an essential component of every successful business plan. Now, there are no projects where you do not need digital marketing. Every year, more tools are released, and marketing teams face challenges in choosing the best tools and trends. Also, they have difficulty keeping up with the newest tools and applications.
Thus, you need effective and out-of-box digital strategy to stay on top. Fortunately, there are amazing tools that ease your work; allow businesses to boost their productivity, and bring out the best creative version of themselves. In this blog, we have listed 10 amazing tools for digital marketing strategy in 2023.
Top 10 Effective Digital Marketing Tools Every Marketer Should Use
1)
Google Analytics
You can use Google Analytics, a potent digital marketing tool, to guide various marketing choices. You can simply track your business and the objectives that can assist your business in staying on course. Marketers may easily comprehend the directions that must be taken with website updates and alterations by using the countless data insights that Google Analytics offers.
You can check how much organic traffic has been generated to your website. It provides you with insightful information about traffic which is also divided by pages, devices, and products. Moreover, you can create metrics and dashboards to obtain data and information. It also helps you understand your target audience and how they react to your websites.
Additionally, you will get real-time updates about your customers, such as the time they spend on your website. You can also come to know about leads and page explorations. As a result, you can understand how to make your website more engaging.
2)
SEMRush
If you are from the digital marketing world, you would have probably used or heard about SEMRush. It is an all-in-one marketing tool that helps you with SEO, social media presence, content marketing, search engine reputation management, and market research. 
By using this SEO  tool, you can increase your organic traffic and its process. Moreover, it provides you with techniques that help you to get rank higher. If you are someone who wants to improve SEO, SEMRush will help you to find your answer. It has several options that are useful for a digital marketer.
Also, you can see competitors' plans; so you can compare the difference between your and competitor's websites. SEMRush is a helpful tool for learning how to reach more prospects for less money and develop effective social media strategies. As a result, you can generate multiple strategies for your online presence.
3)
Trello
Trello is a good option if you are searching for a content management system that can assist you in coming up with and planning content for your digital marketing strategy. Several digital marketers around the world utilise it as one of the most well-liked content management systems to plan, organise, and produce content for the web.
The platform keeps the entire team working together, greatly facilitating and managing communication. You can assign several team members to a single card so they can collaborate on a project. You will be aware of who is in charge of creating, writing, editing, publishing, and including call-to-action offers in a post in this way.
Moreover, you can update your team about every change and keep everyone on the same page.
4)
Ahrefs
Another helpful SEO tool to improve ranking and traffic is Ahrefs. You can more easily improve your website based on your marketing needs because of a wide range of SEO features provided by Ahrefs. With its enormous data index and primary application of checking backlinks, the tool is undoubtedly one of the most in-demand for digital marketing.
Moreover, it helps you to optimise websites and improve your work. Such SEO tools help you to figure out where you are lacking and the scope of improvement for your website and search engine. Ahrefs allows you to locate the ideal websites for your articles and make wise topic decisions.
Like other SEO tools, it helps you to analyse competitors' websites so you know what they are doing. In addition, you can analyse the competition among the top websites and search results. With comparison, it becomes easier to enhance the result.
5)
Google Ads
No matter how big or small the business is, it can be used to promote it. Although a lot of marketers believe Google Ads is too pricey, it is one of the most effective digital marketing platforms that may grow your company.
You can target your consumer base based on a variety of criteria, such as age, gender, geography, occupation, etc., thanks to the numerous targeting choices. You won't find this in other digital marketing tools, therefore it stands out.
6)
Hubspot
Hubspot enables companies to produce, manage, and optimise the content for their websites and blogs by combining a CRM (customer relationship management) system, a marketing automation tool, and a content management system (CMS). It also offers tools for managing social media, email marketing, analytics, and reporting. It also offers a number of features and functionalities for digital marketing.
7)
MailChimp
To plan and automate digital marketing campaigns, use MailChimp, a social advertising and email marketing platform. It is one of the top digital marketing tools available for enhancing your campaigns and monitoring traffic volume. Additionally, the platform supports several connectors with various SaaS providers. With the help of the tool, you can interact with your audience through email campaigns.
8)
ChatGpt
ChatGpt has recently been the talk of the town, and almost every digital marketer is using it. The AI-generated tool helps to generate content, whether it is a question or about blogging.
Large amounts of data and advanced computational methods enable chatbots like GPT to predict how to connect words in meaningful ways. They have access to a huge vocabulary and a wealth of knowledge and comprehend words in context.
9)
Canva
Canva is one of the best design tools. If you work in digital marketing, you will appreciate the necessity for a good design tool that can assist you in producing eye-catching social media posts and other marketing materials. 
With the help of Canva, you can create visual content that can be shared on blogs, websites, social media, and other platforms. The foundation of any digital marketing effort is visual material. You must create engaging posts to draw in your target audience.
10)
Slack
Slack is a messaging tool that helps to communicate in organisations. It is a tool for managing teams or projects and offers a wide range of settings and choices. It enables you to hold searchable public and private group talks. You can make several groups and alter the interface's colour design.
Final Words
The list of digital marketing strategies will help you to grow as a digital marketer. If you want to enhance your digital marketing future, you can enroll on IIM Nagpur courses. It is one of the finest courses provided by IIM Nagpur. Visit Jaro education for more details.