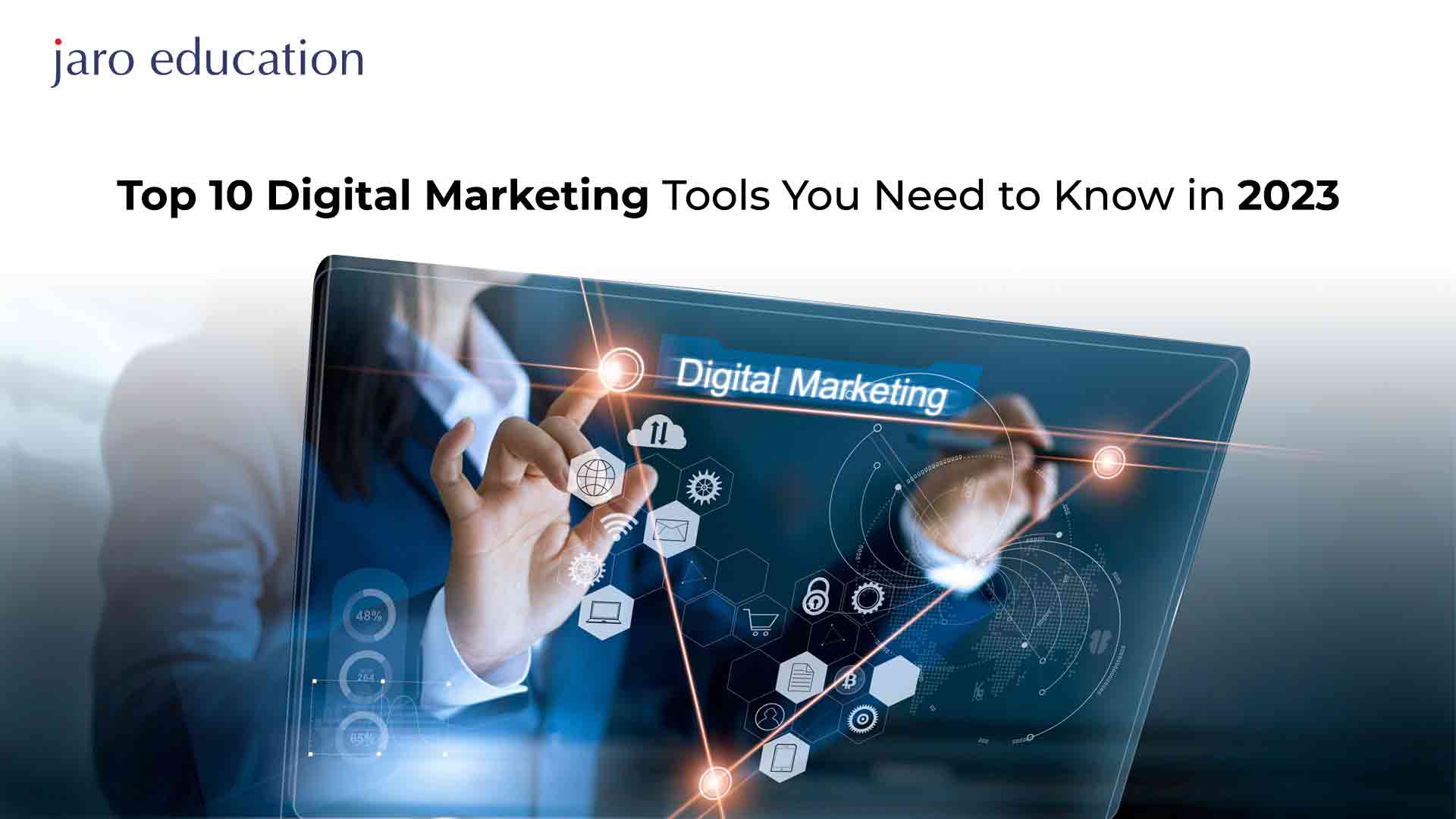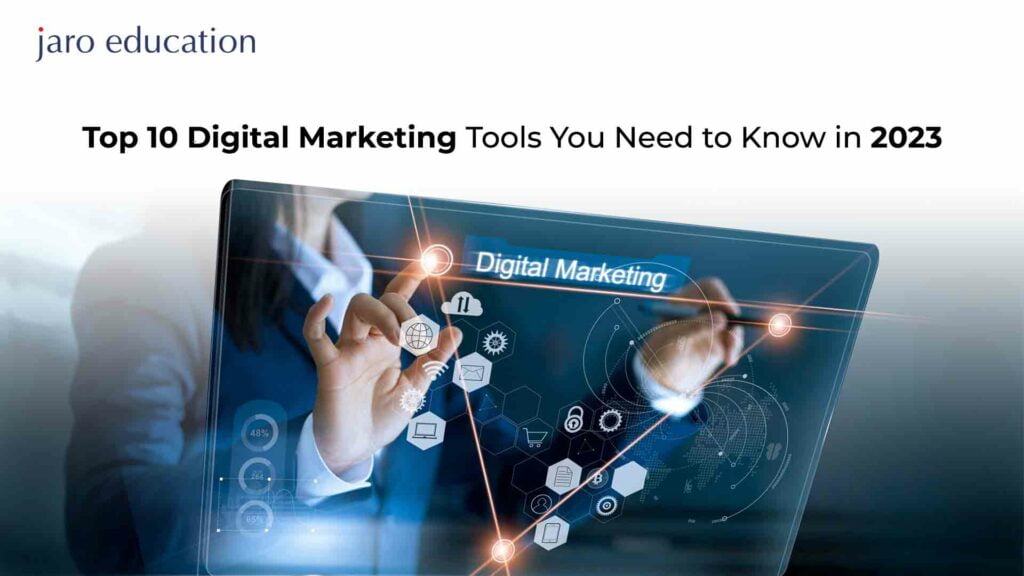 Staying up to date on the latest digital marketing tools and trends is critical for businesses of all sizes as digital marketing evolves. In this article, we'll look at some of the most important digital marketing tools to be aware of in 2023. These tools will help you effectively reach and engage with your target audience, measure your marketing efforts, and make data-driven decisions, ranging from social media management to email marketing and analytics. These tools can help you stay ahead of the curve and achieve your business goals, whether you're a small business owner, a marketer, or a digital professional.
Top 10 digital marketing tools used in 2023:
1.
Google Analytics
Any digital marketer should have Google Analytics. It enables you to track and analyse your website's traffic and user behavior. You can use Google Analytics to see how many people are visiting your site, where they're coming from, and what pages they spend time on. This data can help you identify patterns and trends in your audience's behaviour, allowing you to make data-driven marketing decisions.
2.
SEMrush
SEMrush is a potent digital marketing tool that has gained popularity recently and is predicted to continue doing so in 2023. This all-in-one platform is the perfect tool for organisations of all sizes and industries because it provides a wide range of capabilities for SEO, PPC, and content marketing.
3.
Hootsuite
A social media management application called Hootsuite enables companies and individuals to organise and plan their social media posts across several platforms from a single dashboard. Due to its capacity to economise on time and the complexity of the social media management process, it has grown to be a well-liked digital marketing trend in recent years.
4.
MailChimp
Businesses of all sizes rely on the MailChimp email marketing tool, which is widely used. Users can easily build, send, and track email campaigns with the platform's user-friendly interface and robust automation features. The use of automation to streamline marketing efforts will be one of the most significant developments in digital marketing in 2023, and MailChimp is at the forefront of this movement.
5.
Canva
Canva is a visual design application that has grown in popularity among those involved in digital marketing. Marketing professionals and companies can easily produce visually attractive and engaging content because of its user-friendly interface and extensive library of themes, pictures, and icons. Marketing professionals can easily design graphics for social media, websites, email campaigns, and other platforms with Canvas drag-and-drop editor and simple tools.
6.
Ahrefs
Ahrefs is a potent digital marketing tool that has grown in recognition over the past few years. Users can utilise Ahrefs to research their target keywords in-depth and find possibilities to raise their search engine rankings. This tool is beneficial for backlink analysis and SEO, enabling users to comprehend both their own and the backlink profiles of their rivals.
7.
Buzzsumo
Buzzsumo is a digital marketing service that enables customers to watch their brand mentions online and locate the most popular content in their field. It is an effective tool for content marketers and can be used to find hot subjects, analyse competitors, and approach influencers.
8.
Hotjar
Digital marketing platform Hotjar is growing increasingly well-liked by companies of all kinds. You may monitor and comprehend user behaviour on your website and improve conversions using this application for website analytics and user feedback. You can precisely observe what users are doing on your site, where they're having problems, and what they're most interested in with Hotjar's heatmaps, recordings, and surveys. By doing so, you'll be able to spot potential problem areas and places for improvement while also making data-driven choices that will enhance customer experience.
9.
Moz
An array of digital marketing services, such as link analysis, keyword research, site audits, and more, are offered by the well-known SEO tool Moz. It's intended to assist businesses of all sizes in enhancing their visibility and search engine results. The application enables users to track backlinks from their websites and those of their rivals, keep track of keyword rankings, and learn more about the technical SEO of their websites. With training tools and a community of marketers to discuss best practices, Moz is also a knowledge hub for marketing.
10.
CoSchedule
CoSchedule, a comprehensive marketing management tool that enables companies to organise and plan all of their content, social media, and email marketing campaigns in one location, is a well-liked digital marketing trend in 2023. CoSchedule streamlines the management of your marketing campaigns and guarantees that everything is in line with your company's objectives by consolidating all of your marketing initiatives into a single platform.
Now that you know what are digital marketing tools, let's also look at the course that makes you a certified digital marketing professional.
Get yourself admitted to IIM Visakhapatnam and witness how rapidly you scale up your career. This online digital marketing course trains you to use popular digital marketing tools with which you can easily look into crucial insights into your business, its products, or its services.
Program Highlights:
12-Months

Direct-to-Device

3-Days Campus Immersion

150-Hours of Learning
Program Eligibility:
Bachelors' Degree from a renowned university

1 year of work experience
Program Fees:
Application Fees: 1,500/-

Programme Fees: 1,80,000/-
Conclusion
To successfully reach and engage with their target audience, businesses of all sizes must stay abreast of the most recent digital marketing tools and trends. Several of the most well-liked and practical tools for digital marketers will be available in 2023, including Google Analytics, SEMrush, Hootsuite, MailChimp, Canva, Ahrefs, Buzzsumo, Hotjar, Moz, and CoSchedule.
They will assist you in tracking and analysing website traffic and user behaviour, managing and scheduling social media posts, creating and sending email campaigns, design marketing materials, performing SEO and PPC research, finding popular content in your industry, and tracking your brand mentions online, and much more. However, there are many other tools available; finding the right tools for your business to help you achieve your marketing objectives is critical.