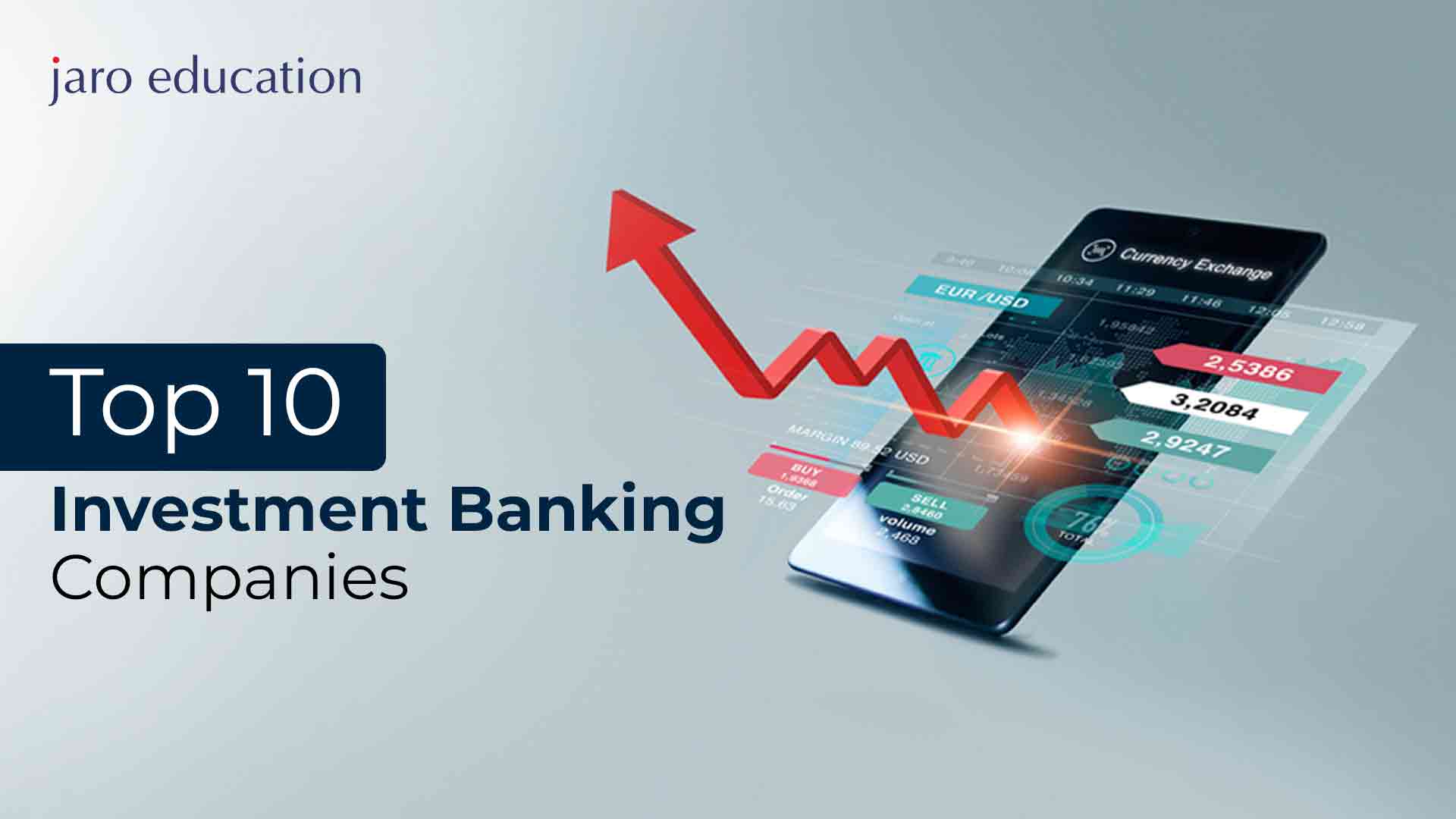 Investment banking is a banking segment that assists individuals and organisations in raising funds and providing financial advice. Investment banking companies provide investment banking services, requiring highly-skilled financial management and planning to deploy investment banking services. These banks were created to help corporations, high-income individuals, organisations, and even the government to make educated investment decisions to attain their financial objectives. 
Investment banks in India are divided into public and private segments. The split ensures the confidentiality of documents from the general public. The private portion of the banks will deal with privileged information, while the public portion will deal with publicly available data. 
The scope of investment banking is increasing exponentially in India and the world. If you want to uplift your career in this field, IIM Kozhikode's Professional Certificate Programme in Investment Banking is the best resort. This programme will provide candidates with fundamental insights into investment banking, different banking companies and their primary line of business. To know more about the course, you can register with Jaro Education.
Fundamentals of Investment Banking
Investment banking focuses on financing a company and its business development and meeting its financial needs. Wholesale clients who are from small businesses or from large financial institutions require more sophisticated financial products due to the nature or size of their business. This banking section has some key concepts that will help aspiring investment bankers comprehend the fundamentals of investment banking.
The equal parts into which an organisation's capital is split are called shares. These are traded on stock exchanges. Stock markets are sites where buyers want to pay money for shares. It is an opportunity for companies to raise money by selling the shares they own and a chance for buyers to purchase a portion of the company and make a profit out of it. 
It is a debt security which is issued by a company or government that is sold to investors in financial markets to obtain cash for supporting its operations. The bond issuer guarantees to pay the sum of money to the bondholder along with a fixed interest amount. At the time of selling a bond, issuers often seek the aid of financial institutions, which function as placement agents.
An Initial public offering (IPO) is a growth strategy in which a company sells its stock in a controlled public market. This transaction enables companies to accelerate expansion by raising the cash required to materialise their business strategy while allowing private shareholders to materialise the value of their shares, diversify their assets and increase liquidity.
Mergers and Acquisitions, also known as M&A, refers to the business growth strategy in which a company acquires, buys a share, collaborates or takes over another company's business or assets to expand its current business. Investment banks serve as advisors focusing on resolving company issues and providing suggestions to increase shareholder value.
Top Investment Banking Companies
Investment banking companies have access to the industry's top personnel. As a result, they ensure that their staff are suitably compensated with some of the best incomes accessible in India. If you are considering making this field your career, here are the top 10 investment banking companies with great pay-scale.
1. JP Morgan Chase
One of the top investment banking companies in India, JP Morgan Chase is also recognised globally. The company offers a myriad of financial services in different nations and regions. While JP Morgan Chase's headquarters is in New York, its India-based office is in Mumbai. The company initially provided financial banking services. But it quickly became one of the world's leading investment banking firms. As ranked by S&P Global, its services are often related to the financial areas. JP Morgan Chase continuously seeks fresh workers who want to progress and thrive within their organisation. They provide an excellent working environment with a diversified and competent team of experts whose primary goal is to reach greater heights.
2. Barclays Bank
With 300+ years of history, Barclays is a well-known British multinational universal bank. Founded by James Barclay, the bank started its journey in London, UK. In India, Barclays Bank has branches in Pune, Mumbai, and Delhi. With 85,000+ employees, the company showcases an impressive workforce and has worked its way to become one of the top investment banking companies in India and around the world. In addition to providing investment banking services, the company also provides personalised banking services to individuals and companies.
3. Goldman Sachs
Goldman Sachs, headquartered in New York City, is one of the world's most recognised and respected investment banking companies. The company also has a strong presence in Bangalore, making it one of the top financial firms in India. Goldman Sachs offers a wide range of services, including wealth management, securities trading and global markets. The firm presently employs over 30,000 individuals and is always looking for additional employees as part of its continued commitment to serving its consumers.
4. JM Financial Institutions Securities
When it comes to top investment banking companies in India, JM Financial Institutions Securities (JMFIS) has gained significant traction. The company was founded in 1998, and it offers numerous investment banking services like private equity services, wealth and asset management, and distressed credit brokerage services. JM Financial Institutions Securities has headquarters in Mumbai, and it also provides mortgage loan services to people.
5. Axis Capital Limited
Another investment banking company in India is Axis Capital Limited, founded in 2005. This investment bank is holding a company of Axis Bank that is touted to be an industry leader in equities capital markets and boutiques. Like many investment banks, Axis Capital Limited also has its foothold in Mumbai. It deals with businesses like capital markets, and structured finance, among others. Furthermore, with their full suite of solutions, they have successfully acquired a solid footing in the Indian investment banking sector.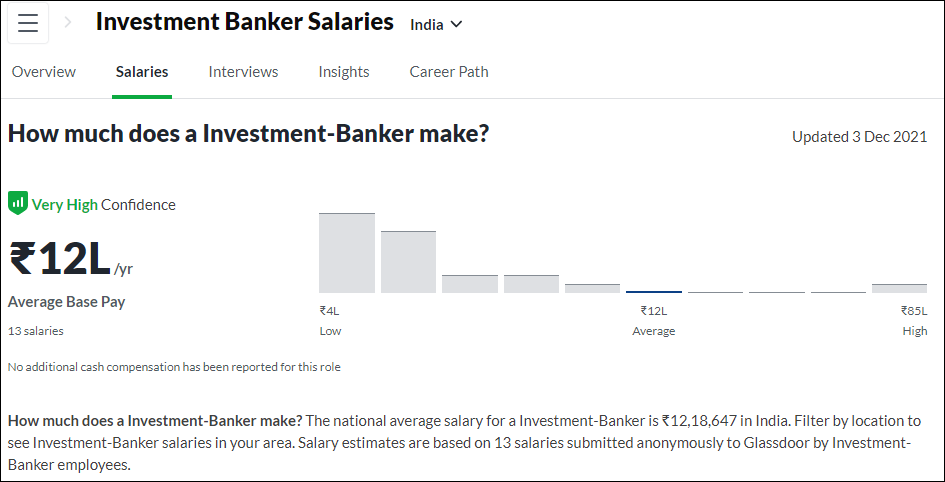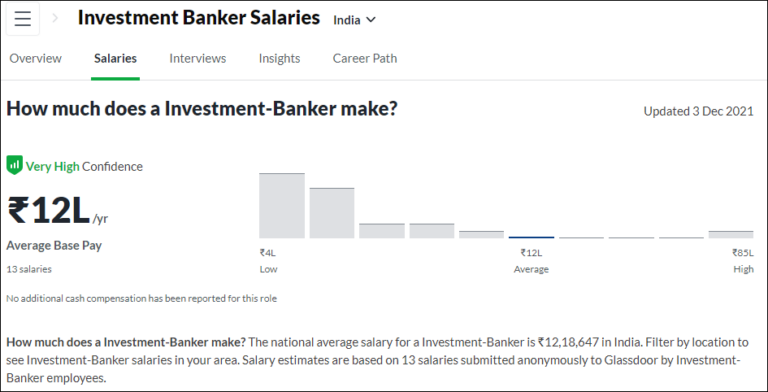 Investment Bankers Salaries (Source:
glassdoor
)
6. IDBI Capital
A completely owned subsidiary of IDBI Bank, IDBI Capital was established in 1993. The company is conveniently located in the heart of the city of Mumbai and offers various services like private wealth management and research, capital markets institutional broking and distribution. Every employee or brand ambassador associated with IDBI Capital is treated with the utmost respect.
7. O3 Capital Global Advisory Services
O3 Capital Global Advisory Services is one of India's best investment banking companies, with a long history of delivering alternative asset management services and corporate financing since 1993. Their skilled team of specialists has accomplished much in the sector, assisting in developing creative methods that have allowed them to expand beyond India into other nations. O3 Capital Global Advisory Services is a mid-market investment banking company, and it has its office in none other than Mumbai. 
8. Bank of America Merrill Lynch
Recently branded as Bofa Securities, Bank of America Merrill Lynch is among the largest investment banking companies around the world. It has branches in USA's North Carolina and India's Bangalore, Mumbai, Delhi, and Chennai. Regarding revenue, Bofa Securities is one of the top investment banks, with over 200,000 workers encouraged to innovate and advance their careers. Bank of America Merrill Lynch completed its acquisition in 2009 and changed its name to Bofa Securities in 2019.
9. HSBC
The Hong Kong and Shanghai Banking Corporation, or HSBC, is commonly considered one of the major banks of the world. Its network extends over 4000 sites and 65 nations, from Hong Kong to London. This financial conglomerate provides its consumers with a wide range of services, including private banking and investment banking. It also has a presence in several Indian cities, and as a result, it is regarded as one of India's top investment banking companies. The current headquarters of this company is in Hong Kong. In India, HSBC has branches in Delhi, Mumbai, and Bangalore.
10. Edelweiss Financial Services
Founded by Rajesh Shah in 1955, Edelweiss Financial Services is unquestionably one of India's top investment banking companies. The company aims to deliver a variety of services, such as credit facilities, advisory insurance and asset management. The company, part of the Edelweiss Group conglomerate, has become one of India's premier investment banking organisations. Edelweiss Financial Services' headquarters are in Mumbai, and its services are extensively used throughout the country. 
In today's world, investment banking is stated to be obligated to serve the purposes and corporate entities for the rest of its existence. The major role of investment banking companies is to assist in the underwriting of new loans and the provision of equity securities for various enterprises. It aids them in the process of reorganisation to secure their private investors. They also assist numerous MNC organisations and governments in managing their financial demands when major projects occur in a certain location.
Investment banking is certainly an attractive proposition for professionals to experience rapid advancement within their careers. So, if you also want to pace up your career, consider taking the Professional Certificate Programme in Investment Banking from IIM Kozhikode. It is a 12-month programme equipping candidates with conceptual and theoretical tools used by investment banks, various interactive sessions, different case studies and capstone projects. With this course, you can learn A-Z of investment banking and it prepares you to get a high-salaried job at any of the top investment banking companies.