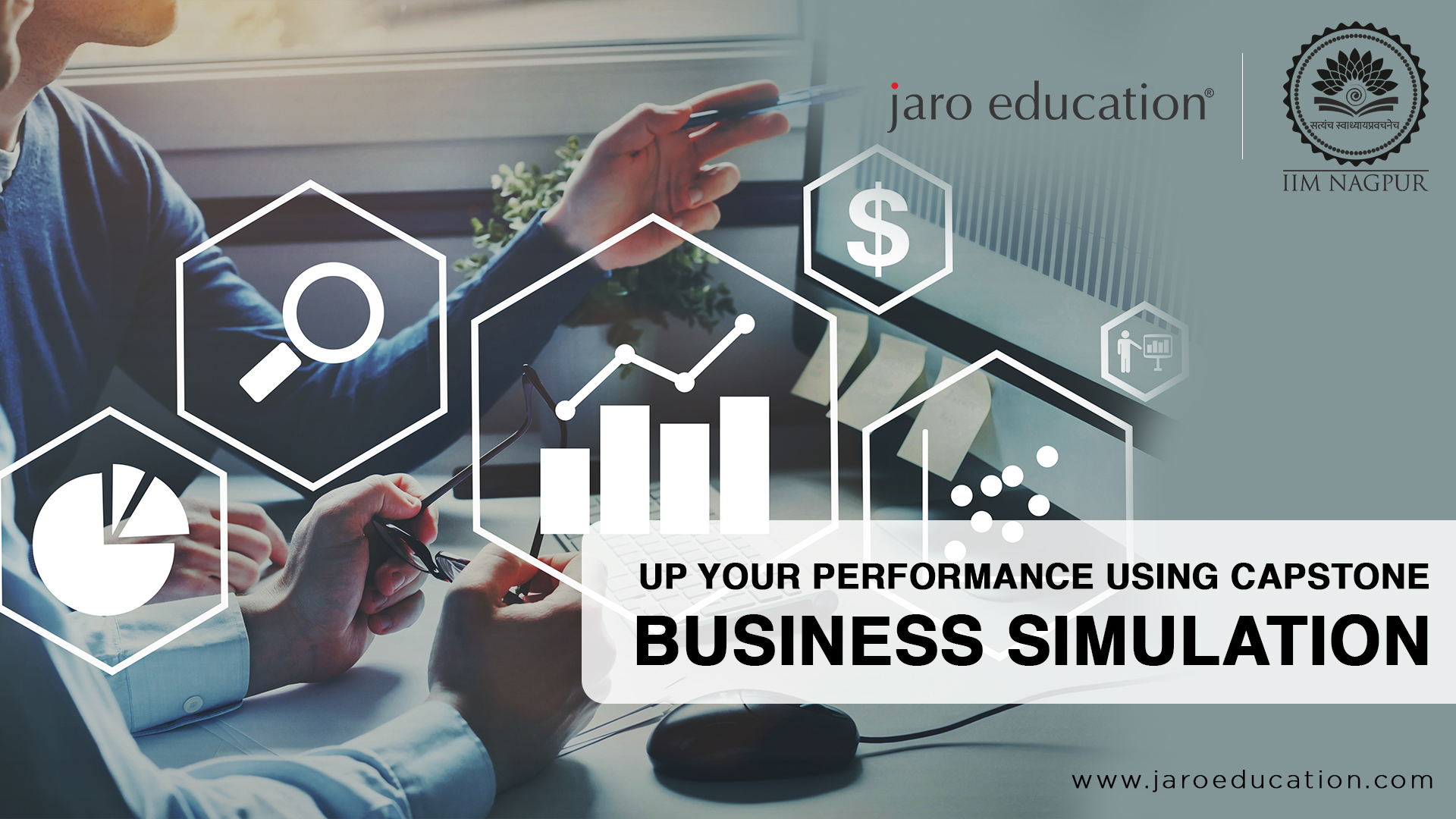 How IIM Nagpur's Capstone Business Simulation Helps Your Performance?
Introduction
In today's knowledge economy, individuals must upskill themselves to grow in their careers constantly. However, quitting jobs to pursue a degree is not always feasible. Well, now you can pursue a Post Graduate Programme Business Management for IT Professionals offered by the prestigious IIM Nagpur, in collaboration with Jaro Education. It will help you learn from the comfort of your home and pursue the best online courses for business management in India.
Jaro Education is an EdTech platform that has brought short online courses in Business Management and executive MBA programmes from the top schools in India to create more opportunities for working professionals. The Business Management for IT Professionals course offered by IIM Nagpur is one of the finest courses to develop Business Management skills and upgrade oneself as an IT professional. The programme is designed to meet the industry requirements and provide relevant skills to professionals to help them grow in their careers. The online courses for business management have various unique features such as blended learning, capstone business simulation that enhance the learning outcomes and provide valuable skills to every professional.
Capstone Business Simulation in the BMIT Course by IIM Nagpur
Jaro Education has used various technological tools to adopt an innovative pedagogy and help professionals learn practical skills to advance their careers. Despite having a virtual model of teaching, Jaro Education has ensured that students learn critical skills. One of the finest features of the course is the Capstone Business Simulation.
The Capstone Business Simulation is an innovative learning method that allows students to gain a practical insight into the world of business management. The programme creates a simulation where participants can work in groups and provide hands-on experience in business management in a competitive industry. The participants will work on various aspects such as research and development, financial management, HRM, etc. The participants are expected to work on practical scenarios and find solutions to them. The simulation can help enhance your performance in the following ways:
Problem-solving skills: The simulation forces the participant to think and resolve problems efficiently. Problem-solving skills are crucial for business management, and practical exercises help in improving them.
Practical Applicability: Virtual classes provide an in-depth theoretical understanding of the subject. However, the CBS allows a participant to apply theoretical knowledge in a real scenario.
Leadership Skills: The CBS requires participants to perform as leaders of a business organization. Thus, helping participants develop valuable leadership skills while learning.
Peer Learning: Since CBS allows participants to work in teams and witness everyone's performance, it provides an opportunity to learn from peers and creates a healthy learning atmosphere. Peer learning also allows professionals to connect with their classmates and network professionally.
Team Building: The group activities in CBS provide an opportunity for individuals to work in groups. Each group represents one business organization. The teams will therefore be required to coordinate and strategize the best business decisions for their business organization. This helps in building valuable team-building skills that are crucial for any professional in their career growth.
Therefore, the IT business management course provides knowledge about business management and provides soft skills that help in career advancement. Along with that, this course also provides IT professionals with the opportunity to interact with industry experts, learn through case studies, receive one-on-one mentoring, and many other exciting features, all from the comfort of one's home.
Conclusion
Through the Online Business Management for IT professionals – IIM Nagpur, in collaboration with Jaro Education, provides an excellent opportunity to participate in a course tailor-made for IT professionals. The PG certification will help you transform and excel in your career. You can learn more about the course curriculum here. Enroll in the programme today!
Admissions Open – Enroll Now!
Want more insights on IT Business Management course?
Subscribe to our Jaro Education's blog and stay updated with the latest information on IT Business Management course.