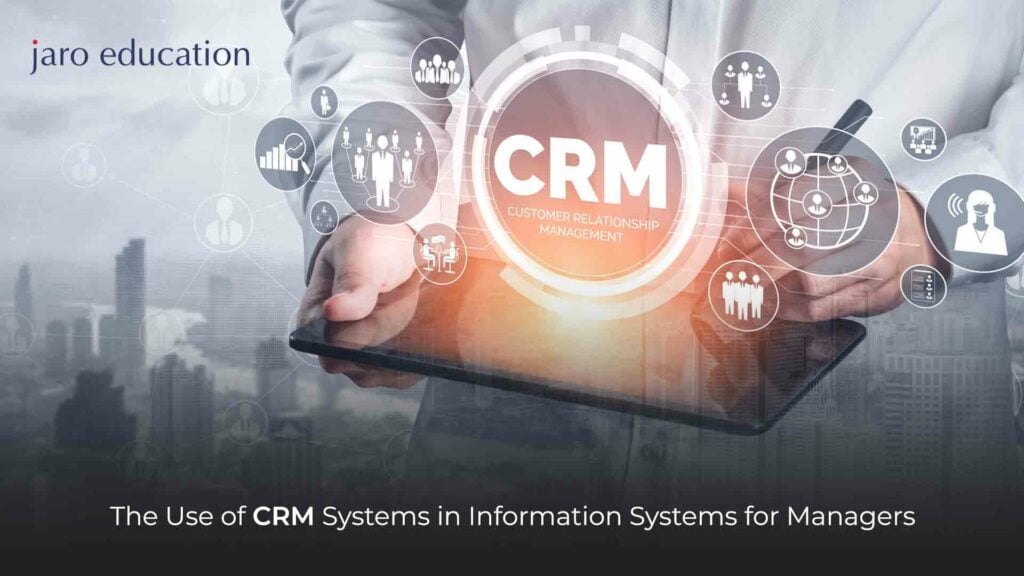 To increase customer happiness, sales, and profitability, organisations must efficiently manage and analyse the massive volumes of customer data that are gathered as they expand. CRM (Customer Relationship Management) systems are useful in this situation. CRM systems are software solutions that give companies the ability to manage customer interactions and data better, expedite sales and marketing procedures, and strengthen client relationships.
For managers, CRM systems have the potential to be an effective tool for optimising business operations and decision-making. Through the usage of these tools, they may measure sales indicators, find chances for cross-selling and upselling, and more precisely, target their marketing campaigns. 
We will discuss the usage of CRM systems in information systems for managers in this blog article and discuss some of the advantages and difficulties associated with using these systems. Understanding the possibilities of CRM systems may help you create growth and success for your company, whether you're a business owner, marketer, or sales manager.
What is a CRM System?
Businesses utilise a CRM system, or customer relationship management system, to organise their contacts with clients and enhance the general client experience. It is a piece of software that facilitates the management of customer information and the tracking of customer interactions, such as calls, emails, website visits, and social media interactions.
Businesses can utilise a CRM system to get insightful data on consumer behaviour and preferences that can be used to develop more specialised and focused marketing efforts. Additionally, they can utilise the data to pinpoint areas where their customer service, sales, and support procedures need improvement.
There are various CRM system varieties available, including:
Operational CRM
:
This sort of CRM is geared toward managing customer interactions and transactions, including automation for sales, marketing, and customer service and support.
Analytical CRM
:
It focuses on the analysis of customer data that can be used to obtain insights into consumer behaviour and preferences, which can then be applied to better marketing initiatives, sales tactics, and customer care.
Collaborative CRM
:
Promotes cooperation and communication between various teams and departments inside a company, such as sales, marketing, and customer service, is known as collaborative CRM.
Social CRM
:
Chatbots, live chat, and messaging applications are just a few examples of the online channels through which social CRM focuses on managing client interactions.
Use of CRM Systems in Information Systems for Managers
CRM systems are software programs that assist firms in managing customer connections and interactions with the goal of enhancing client loyalty and satisfaction. These systems often keep track of client data in a centralised database that can be accessed by many divisions and staff members inside the company, such as contact details, purchase histories, and preferences.
On the other hand, managerial information systems are tools that give managers access to pertinent and timely information while also assisting them in making well-informed decisions. Data analytics, business intelligence, and reporting tools are some examples of these systems.
Manager information systems and CRM systems can work together to offer useful insights into customer behaviour, preferences, and satisfaction levels. Managers can, for instance, utilise information from CRM systems to spot trends and patterns in the buying patterns of their customers, which they can then use to guide their marketing and sales efforts.
CRM systems can also assist managers in locating and resolving customer concerns more quickly, which can increase client happiness and loyalty. For instance, if a customer contacts customer care with a complaint, the representative can instantly access the customer's information in the CRM system to pinpoint the problem and offer a fix.
Benefits of CRM Systems in Information Systems for Managers
Client relationship management (CRM) systems are effective tools for streamlining corporate procedures and managing customer interactions. Implementing a CRM system in a management information system has a lot of advantages, such as:
Improved customer satisfaction
:
Managers can track client contacts, preferences, and complaints using CRM systems, enabling them to offer customers individualised, successful solutions. Increased client satisfaction and loyalty may result from this.
Streamlined sales processes
:
CRM solutions can aid managers in closing deals more swiftly and successfully by automating and streamlining sales procedures. Sales and income may rise as a result of this.
Better data management
:
Managers may access and analyse customer data more easily by using CRM solutions to centralise customer data. Better decision-making and more successful marketing tactics may result from this.
Enhanced communication
:
CRM solutions can help managers remain on top of customer communications and respond swiftly to questions and issues by giving a centralised platform for client interactions.
Increased collaboration
:
CRM systems can be used to encourage collaboration among various organisational departments, enabling more efficient communication and better coordination.
Better analytics
:
CRM systems may assist managers in spotting patterns, monitoring performance, and making data-driven choices by giving them thorough reports and analytics.
High efficiency
:
CRM systems can assist managers in increasing efficiency and decreasing the time and resources needed to manage client interactions by automating repetitive operations and streamlining processes.
In general, administrators of information systems can benefit greatly from CRM systems. CRM solutions can help businesses increase customer satisfaction, boost sales, and streamline corporate procedures by giving a single platform for managing customer interactions, tracking data, and increasing communication and collaboration.
Final Words
The CRM system is an effective tool that helps manager to boost their performance. If managers want to upskill their skills in general management, they should enrol in the Executive General Management Programme from IIM Tiruchirappalli for the best and most efficient learning.