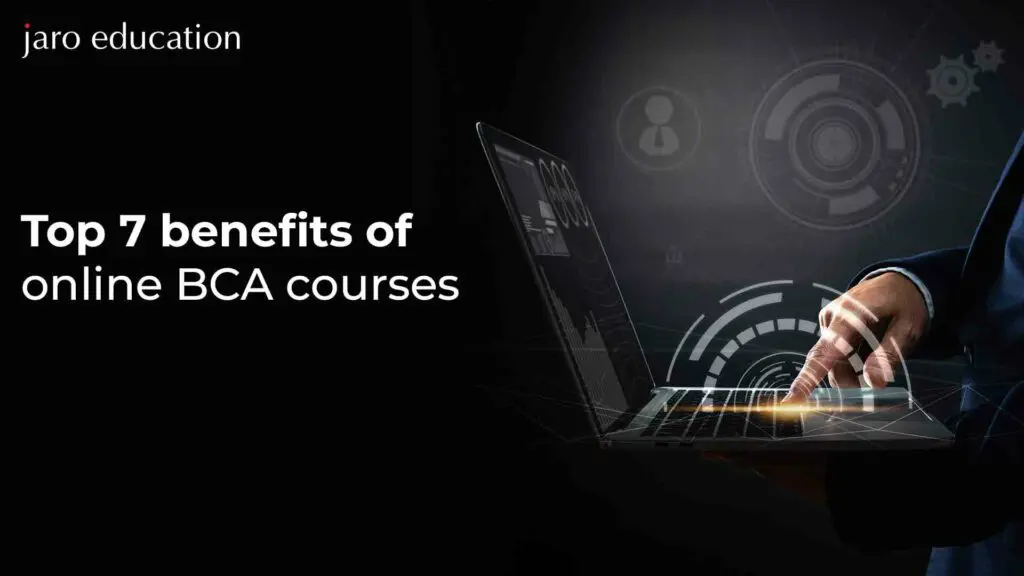 Due to the rising demand for qualified professionals in the field of computer applications, online Bachelor of Computer Applications (BCA) courses have become extremely popular in recent years as it is one of the best courses for the ones who want to build their career in the IT field. 
Online BCA courses have a number of advantages over conventional classroom-based programmes. Whether you're a student trying to advance your knowledge and abilities in the field of computer applications or a professional looking to enhance your credentials, they have your back!  
So, let's see what are some of its main advantages and how it can help you achieve your career goals.
7 Benefits of Online BCA Courses
Flexibility

One of the key benefits of Online BCA courses is flexibility, which enables students to easily manage their studies and job as it provides them the access to recorded lectures, which they can watch anytime, anywhere as per their own availability and convenience. In this way, students can save time and money by forgoing physical classes.

They also have the option of learning at their own pace based on how well they comprehend the material. With this individualised method of instruction, students can learn well without worrying about keeping up with the faculty's pace.

High Credibility

Just like full-time BCA courses, even some of the Online BCA courses do have an equal and high credibility. These days, individuals pursuing an Online BCA course are valued equally as the ones pursuing full-time BCA courses. Apart from that, some of the Online BCA courses also do cover the same syllabus as the offline ones and also provide better career opportunities. For instance, the Online BCA Programme by Manipal University Jaipur has a high credibility, providing hands-on experience and assessments on Cloud, Big Data, ML as well as Career Counseling and Placement Assistance with an industry-desired curriculum.

Accessibility

Accessibility is one of the key benefits of Online BCA courses. Online BCA courses, in contrast to conventional classroom-based courses, give students a chance to study at a top-notch University from any location in the world as they can enroll in such courses with Jaro Education and study from the comfort of their homes without being constrained by physical boundaries.

In addition, Online BCA courses give students an access to a wide range of online tools and resources, such as e-books, video lectures, and interactive learning tools. This accessibility makes education more comfortable and available to everyone.

Affordability

The price of Online BCA courses is one of their main advantages. Compared to traditional classroom-based courses, learning via online courses is more affordable, as students are not required to pay additional expenditures for travel, lodging, or any related expenses.

Because of this, it is a more affordable choice for students who are not so financially sound to enroll in full-time BCA courses. Further lowering the overall cost of education, Online BCA courses frequently provide access to digital resources and materials, negating the need to buy textbooks and other materials. As a result, students who want to pursue higher education in the field of computer applications have a more economical choice if they choose to pursue an Online BCA course.

Personalized Learning

One of the major perks of pursuing an Online BCA course is that it allows students to customise their education to meet their career goals and preferences. Students who participate in personalised learning have access to a curriculum that has been tailored to their own learning preferences and objectives.

This entails having the freedom to work at their own pace, exposure to network with like-minded people, doubts solving sessions with faculty, etc. Students can concentrate on their strengths, overcome their flaws, and accomplish their academic and career goals through individualised learning in a better way.

Career Advancement Opportunities

Online BCA courses provide students with numerous chances to develop their careers. People can advance their skills and knowledge and broaden their career horizons with the help of an Online BCA degree.

Moreover, Online BCA courses provide networking opportunities with business professionals who provide deeper insights to students into the current business trends and technologies. . Additionally, some Online BCA courses do offer opportunities for internships and job placements, enabling students to obtain practical experience and launch a lucrative career in the IT sector.

Chance to Get Into Multiple Job Roles

After the completion of an Online BCA course, an individual can get into wide range of job roles such as:

Data Scientist

Cyber Security Expert 

Web Developer

IT Analyst 

Full Stack Developer 

Software Developer 

Software Publisher 

Web Designer 

Computer Network Architect 

Software Engineer