Introduction to Marketing Financial Products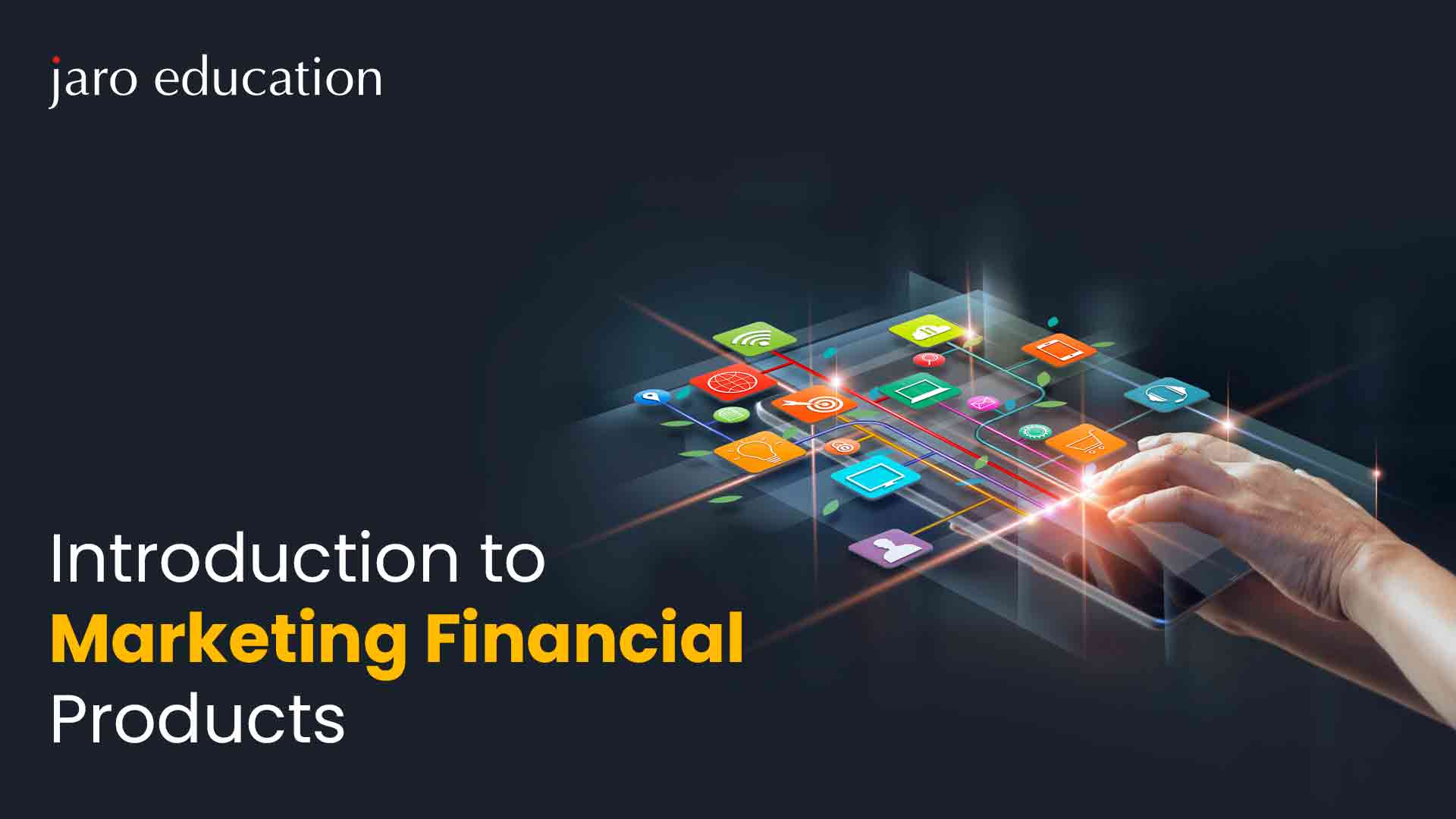 Financial marketing employs diverse techniques and strategies to promote awareness and market financial products in India. Through this process, financial organizations can generate leads and transform them into loyal customers using various advertising campaigns. In the digital era, financial marketing has gained significant momentum. If you have an interest in this field, consider applying for the IIM Tiruchirappalli Post Graduate Certificate Programme in Banking and Finance.
In this 1-year course, you will get an overview of the marketing of financial products and how they are used to attract customers. Register with Jaro Education to know more about this course and its USPs.
Financial marketing methods
Marketing of financial products and services can happen via traditional marketing (that includes signage, TV, print and radio) and digital marketing (including PPC and blogs). 
Most financial marketers will use a blend of traditional and digital marketing. But, due to legacy, most of them heavily rely on traditional marketing channels. In the current scenario, this practice has changed as digital marketing campaigns have succeeded in effectively reaching customers. Before implementing any method, it is essential to know what these marketing efforts are achieving. Besides creating awareness, marketing financial services lower churn reduces customer acquisition costs and bolsters revenue. 
Why does the financial industry need the marketing of financial products?
Banking & Finance industry is one of the oldest industries in the world. At some point, everyone needs financial services or products. 
The financial service industry preserves the notion that financial organisations operate in luxury and retain customers without many operations going behind. However, this does not stand true. There are various reasons behind the need to market financial services or products to the financial industry. Of the total digital advertising expenditure,
14%
is spent on financial marketing products/services. However, just $1 of every $92 spent on gaining a lead is spent on turning them into a client. While this appears to be an oversight, the truth is more complicated. For this reason, Banking & Finance sector has developed financial marketing products that would help them traverse a difficult marketing landscape filled with legal and compliance challenges. 
Below are some of the barriers that can be nullified by implementing innovative marketing techniques for the visibility of financial products and attaining customer conversion. 
1. Regulatory barriers
The regulations are becoming more stringent than ever, making it hard to market aggressively. 
2. Digitisation
Digitisation has made it easy for digital-first customers to experience an enhanced and personalised financial service. 
3. Lack of trust
In the eyes of customers, the financial industry has suffered a lack of trust. Only strategic marketing of financial products can now win them back. 
4. Digital transformation
It was traditional marketing channels that financial marketers relied on previously. But, with advancements like marketing automation, these conventional methods stand ineffective. 
5. Commoditisation
Standardisation of financial products has made distinguishing it from its competitors difficult. 
6. Disruptive fintech
FinTechs, known as Financial Technologies, are actively challenging the status quo and completely disrupting the established order.
Strategies for financial product marketing
To capture the attention of potential customers and retain a strong position in the market, certain strategies should be inculcated within a setup. Here are some of the prominent strategies that are paramount for the success of a financial product. 
Take your financial product marketing activities to mobile
In the current scenario, it is difficult for financial service companies to target their audience without mobile marketing. Customers and potential leads spend most of their time on mobile. So, a financial service company should optimise its website for mobile use as most people do business on the go. To optimise a website, the first thing to do is to add CTA (Call-to-Action) buttons such as 'Click Here' and 'Subscribe', which users can see and relate to immediately. Financial service providers need to make the registration forms or sign-up forms short for prospects. People using mobile devices for business don't have time to fill in complicated forms. So, make the forms easy and short, which would help acquire new leads.  
Use social media to your advantage
Social media cuts across all demographics; thus, it is the ideal platform for financial product marketing. Once you've defined your target group, you can distribute the appropriate information through valuable channels to maximise audience engagement. As a financial services firm, your marketing staff must understand where your consumers spend their time on social media. Learn what content works effectively on whatever platform before designing your financial product marketing efforts. Blog posts and whitepapers perform well on LinkedIn because their readers are more likely to devote time to reading well-written, well-researched, valuable material.
Create valuable content
One of the most challenging problems for finance organisations to overcome when leveraging digital marketing is that the language used in financial services may be complicated for consumers and prospects to grasp. And developing digital content that engages individuals and makes them feel involved in new financial goods and services is a major problem. 
Invest in new technology
Companies in every prominent industry, from retail to healthcare, are adopting disruptive technology. Choosing which developing technologies are worth investing in might be difficult.
However, if you want to stay ahead of the competition in the financial services industry, you can't afford to be risk-averse. The world's largest investment banks are already spending heavily on cutting-edge technologies like Blockchain, which are anticipated to save them up to $12 billion each year. This is about the big organisations. Coming to the smaller companies, there are other marketing technologies to include, like chatbots. These account for high ROI investments. 
Transparency is the key
It is no longer a secret that the banking industry suffers from a severe lack of customer trust. In reality, the financial services business is the economy's least trusted sector.
The banking business has flaws in abundance, starting from opening accounts on behalf of customers without consent (West Fargo case) to unethical financial consultants who profit from selling dubious investments. Clients naturally suspect that businesses are attempting to deceive them in some way. Your financial marketing plan should demonstrate that they are incorrect. Plus, clarifying every questionable aspect is another way to make it happen.
What makes marketing for financial products stand out? 
The financial services industry is subject to numerous marketing standards and restrictions. While these restrictions are in place to safeguard customers' interests, they serve as a considerable impediment to selling financial services. Here are some of the undeniably important standards and laws that make financial products stand out. 
Truth in savings act
Stops financial institutions from suppressing information on checking, savings, and investment accounts from company owners or people.
Affiliations
All marketing materials must include proper affiliation information, such as "Member FDIC."
Fair lending laws
Discrimination based on demographic or any other attribute is prohibited while issuing credit.
Truth in advertising act
According to the law, "no advertisement may be misleading or deceptive, should be based on scientific evidence whenever possible, and cannot be unfair."
From the standpoint of marketing, these regulations create a complicated marketing environment that may result in a significant charge if any of these rules are broken.
Final Thoughts
By marketing financial products and services, financial companies can generate more leads and can convert them into loyal customers faster. This process requires various methods which would help companies achieve what they want. Since the current marketing scenario is more challenging than ever, it is important to create and implement some modern strategies. 
If you want to dig deeper into comprehending financial marketing, then Post Graduate Certificate Programme in Banking & Finance will be a suitable course. This executive course can be done from IIM Tiruchirappalli, which enables participants to indulge in case studies, live online mode classes and group assignments. All these curricula would help you strengthen your career and reach the heights of success.