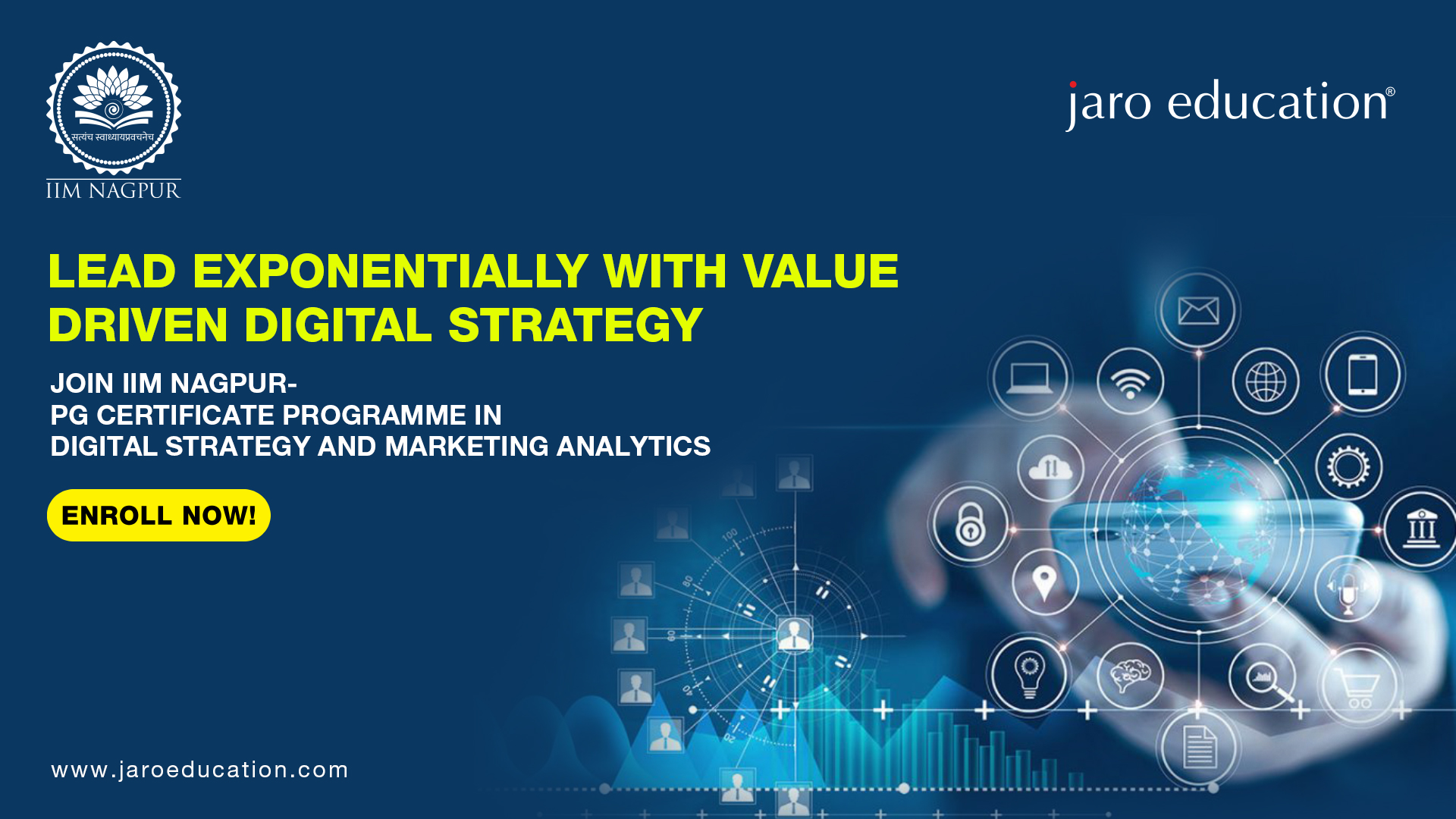 Introduction to Digital Strategy
In today's cutthroat competitive world, marketing is constantly evolving to meet the changing dynamics. Leading companies spend more time updating their product as per the customer's preference. Most sophisticated marketers use meaningful return on marketing investment metrics; the advent of different digital acquisition channels and digital data is generated.
Data-driven marketing is the secret weapon of Business, which needs to survive and thrive. Through personalisation, marketers will be able to build customised digital experiences.
Here, Digital transformation is fundamentally upgrading the value proposition to the customers by improving their operation and delivery patterns.
Digital Marketing is an Investment
Rebounding from the upheaval of the previous year to develop a Digital Strategy that's grounded and innovative with expert guidance.
"Advertising industry in India scales up by 10.8% – Rs 62,557 crore- 2021. Advertising sector – expected to rise to Rs 70,343 crore – 2022"
Source: Dentsu Digital Report 2021 – Business Today
"Digital Marketing Strategist is approx. – INR 20.3 lakhs average pay. The average salary can be from INR 10.0 lakhs to INR 35.8 lakhs."
You need to invest in yourself by upskilling through IIM Nagpur's Digital Strategy And Marketing Analytics programme; advance your marketing skill levels and simulation. The Digital Strategy and Marketing Analytics programme will explore new cutting-edge marketing trends and techniques, hands-on exposure to Digital Markstrat: Simulation.
If you are aspiring to become a Digital Strategist or Marketing Analyst, you must equip yourself with the latest strategic marketing competencies.
Digital Strategy has a period of great upheaval. Here's a crystal gaze into what the year has in store for the digital industry.
Roadmap for Digital Strategy – Begins with Analysis
Marketing Analytics helps in measuring, analysing performance to uptick the campaign at an optimal level. This generates a better return on investment. Here, Analytics plays a significant role in predictive analysis; whether the coupon codes, website visits, or mailer marketing campaigns, you have opportunities to leverage analytical insights.
Let's look at the use case for better clarity
"Panasonic Japan's audience-centric digital campaigns have been a success. They obtained a 30% increase in ROAS for their campaigns, 300% clickthrough rates boosted year over year. Their bounce rate on its website declined by 50%."
Return on advertising spend Source: Marketing Platform
These techniques created a seamless customer-centric approach for Panasonic Japan. The company could swiftly optimize their campaigns and achieve better results. This type of dynamic allocation helped them to quickly rearrange their budgets between the low and high performing ads. Here, Panasonic gained momentum by utilising analytics.
Maintaining Momentum
Understanding analytics in digital marketing allows you to view a truckload of data. Whether it is about the customers or the brand's competitive analysis; you can track the metrics on larger parameters like bounce rate, reach, pages per visit, or avg session timescale. Analysing the quality of users' reviews or comments will help you measure the exact loopholes to optimize further.
Discover the Institute
IIM Nagpur is a premium management institution enabling high-end executive education programmes. The institute is paving new changes, value-driven breakthroughs in the educational space. IIMN is transforming education by bridging strong conceptual foundations and analytical approaches for working executives.
The main aim is to build quality-driven programmes that promote learning in all spheres of lives. IIM Nagpur offers quality in multiple niches from management, to education policies and business. With the help of a well-organized faculty body, IIM Nagpur strengthens the executive education space.
Merits of Joining IIM Nagpur's Digital Strategy And Marketing Analysis Programme
The digital marketing and analytics ecosystem is dynamic and the margin of fallacy is limited. In the economic recovery from the pandemic, Digital Strategy bridges the gap between entities and end-users. As the programme uncovers the levels of digital strategy and marketing analytics, making learners explore new-age techniques and tools.
In the Digital Strategy And Marketing Analysis programme, each lecture is built to raise participants' agility, resilience, and growth. The programme aims to equip Marketing aspirants, hands-on simulation to upskill their learning levels.
This 9-months PG Certificate Programme is for aspiring professionals who aim to enhance their core competency.
In this era of digitalization, it is essential for managers to develop sound capabilities and manage uncertainties. IIM Nagpur digital strategy and marketing analytics programme equips learners with strong contemporary strategic marketing competencies.
This programme aims to develop competencies among managers by upskilling their existing industry know-how, making them future-ready.
The main objective of the IIM Nagpur- digital strategy and marketing analytics programme is to gain an analytical and functional understanding. This programme helps to develop marketing skill simulation and learn strategic marketing tactics. The participants will explore cutting-edge digital marketing trends and techniques.
They can be equipped with contemporary strategic marketing competencies. Learners can seize exposure to multiple pedagogical models. Herein, the pedagogical models' includes learning through workshops, case-based discussions, assignment, etc.
They will learn various marketing analytical techniques and gain insight on digital marketing strategy simulation: Digital Markstrat. Learners will also obtain in-depth industry insights through virtual learning sessions.
Blended Learning
Discover 9 Months of Blended learning from IIM Nagpur. Learners will get an open enrolment to the executive education programmes by IIM Nagpur. These programmes are tailor-made concerning the current competitive demand. The PG Certificate programme in DSMA will provide a career edge at all the stages of their careers. Blended learning mode is an online virtual learning plus pre-defined campus modules.
In these virtual sessions, the learners get to schedule at their own pace. The faculty promotes intra batch interactions and intense discussions through these virtual sessions. While the in-campus sessions have a chance of understanding lectures via face-to-face interactions. These sessions' enables an in-depth exposure to individual functional domains.
PG Certificate & Alumni Status
As you complete the Digital Strategy and Marketing Analytics programme, you will gain this prestigious IIM Nagpur's PG Certificate. This PG Certificate will aid as specialised licensure and build up your credentials in your new job role.
IIM Nagpur's PG Certificate programme will add an alumnus tag for the learners. Once you have completed the IIM Nagpur's PG Certificate in Digital Strategy and Marketing Analytics course, the institute will entitle you with these advantages:
Get networking opportunity
Be a part of open discussions
Receive newsletters and magazines
Obtain the brand new merchandise
Subscription of job openings
Insights on alma mater
Mentorship from peers
Gain Industry Insights from Experts
Programme faculty and industry experts will help you in any case of doubts or difficulty in understanding the lectures. This is an opportunity for learners to gain a vast array of insights from the industry leaders. Learners will become independent and proficient in the digital strategy and marketing analytics field.
Explore Case Study Based Learning
Now learners can experience real-world situations through case study-based learning. This approach provides an opportunity for the learners to apply their knowledge in real-life situations. A disciplinary problem will be discussed where participants can share their suggestive measures to overcome them. Under the guidance of the faculty, they will seek exposure to their solutions. Learners will enjoy this learning methodology as it enhances their foundations.
Understand Digital Markstrat Simulations
Learn Digital Markstrat the clever way with IIM Nagpur's PG certification programme in DSMA. The programme unlocks the renowned model of Digital Markstrat enabling the learners to understand simulation at an easy pace. They will explore how to blend digital and traditional marketing strategy, to make segmentation & positioning strategies.
Here, the segment will target and position a brand's portfolio in the digital sensitive market. Students will develop a brief understanding of how to produce long term growth hacks to build their firms. The programme syllabus contains important tips on managing digital marketing as a profit centre.
The Digital Markstrat has a run time of 2-5 Digital Markstrat is specially designed for IIM Nagpur's PG certification programme in DSMA. Start your strategic marketing simulation with Digital Markstrat and put theory into practice. The digital marketing simulation will make learners gain momentum as they practice long term strategies.
Yes, students will get exposure to fictitious company's share price index and how to grow them in a digital sensitive market.
Personal Mentoring & Consultation from Faculty
Personal mentoring and consultations from IIM Nagpur's faculty is an innovative approach towards the betterment of the executive courses. These sessions will reinforce robust peer networking between IIM Nagpur's faculty and the students. They can develop mentor-mentee relationships — evolving a transparent and healthy learning environment. Through the consultation sessions, the learners will gain enormous exposure to Digital Strategy and Marketing Analytics that will create a balanced learning ecosystem.
Take your digital career to the next level. Unlock IIM Nagpur's Digital Strategy And Marketing Analytics Programme and upskill your learning levels. Even mid-level executives can future-proof their Digital careers and advance their existing skills sets.
Want more insights on Developing Digital Strategy?
Subscribe to our blog and stay updated with the latest information on Digital Strategy and Marketing Analytics.