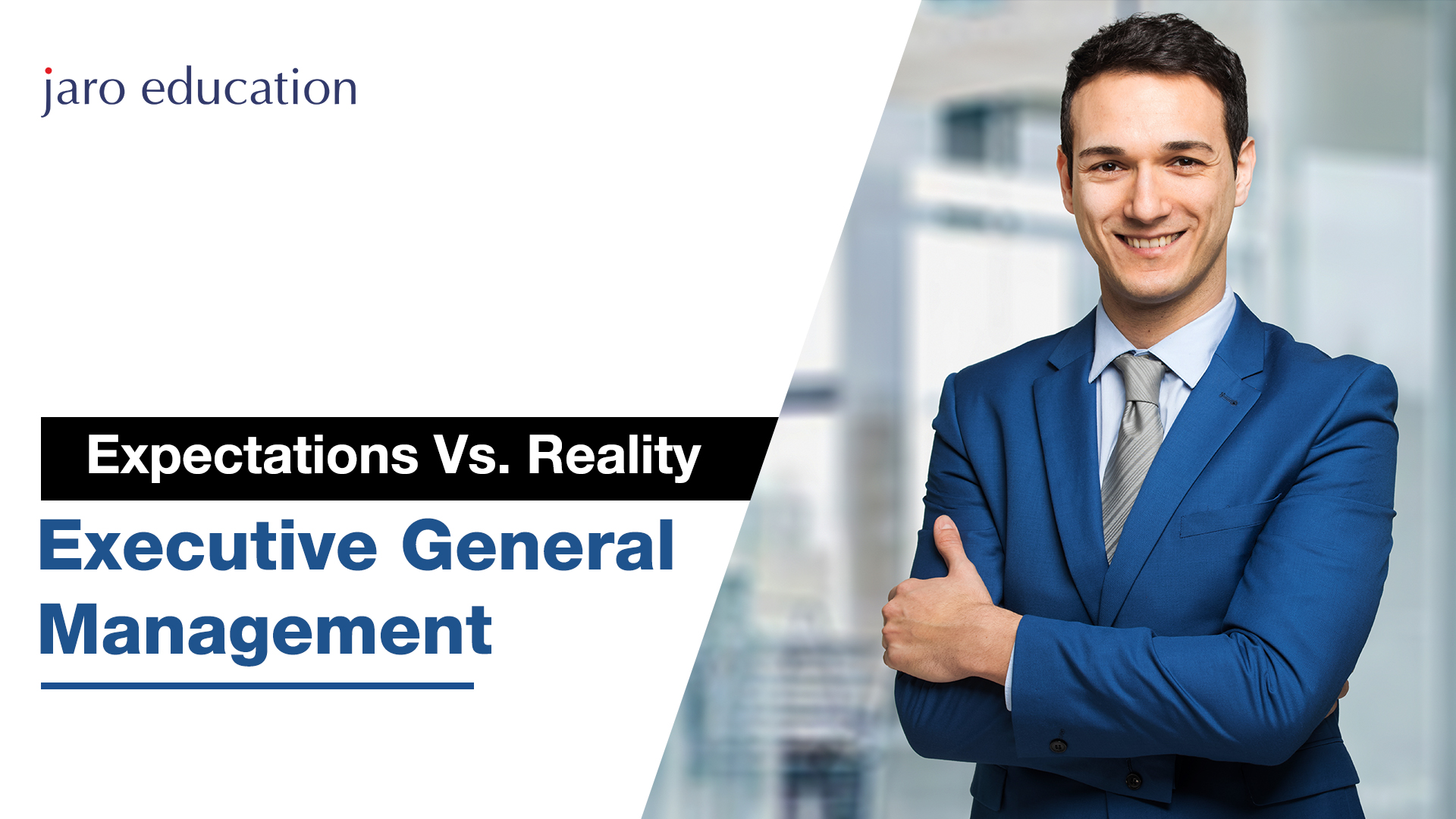 ​​
Introduction
Want to become future-ready?

Up your career game by moving ahead. Management professionals need to grasp the nuances of managing an organization to meet its functional and operational needs. A General Management course is then ideal, showing them how to come up with robust business strategies aligned with organizational goals. Executives who pursue such courses will acquire the necessary skills for supervising a team or department within their company.
Although there are no undergraduate-level general management courses in India, aspirants can always pursue a Bachelor's Programme in Business Administration or Commerce and move on to pursue an Executive General Management Programme from IIM Trichy for a postgraduate qualification in this field.
Executive General Management Programme: Expectations vs Reality
The Executive General Management Programme from IIM Trichy equips mid-level management professionals with the managerial skills they need to overcome the challenges they may face as the manager of an organization. The programme keeps such professionals updated about the latest industry trends and lets them progress in their careers. Moreover, by strengthening their core knowledge in domains, including Finance, Economics, Marketing, and more, the executive general management Programme allows them to think from a global perspective.
The Executive General Management Programme offered by IIM Trichy is for mid-level professionals having at least five years of experience and technologists who want to expand their horizons in business and move to other roles, especially those at the managerial level.
By going through this course, participants will learn about contemporary business models and practices. Additionally, they will develop the skills and competence required to create advanced business strategies by considering the prevailing global scenario. 
To pursue this programme, candidates must have completed a bachelor's degree programme by securing at least 50% marks from a recognized university or institution. Additionally, they must also have worked for at least one year in a reputed organization.
The Executive General Management Programme by IIM Trichy offers students to learn both by experience and with the help of case studies and offers them a chance to network with industry experts. The course lasts for one year, and participants get to study at the prestigious IIM Trichy campus.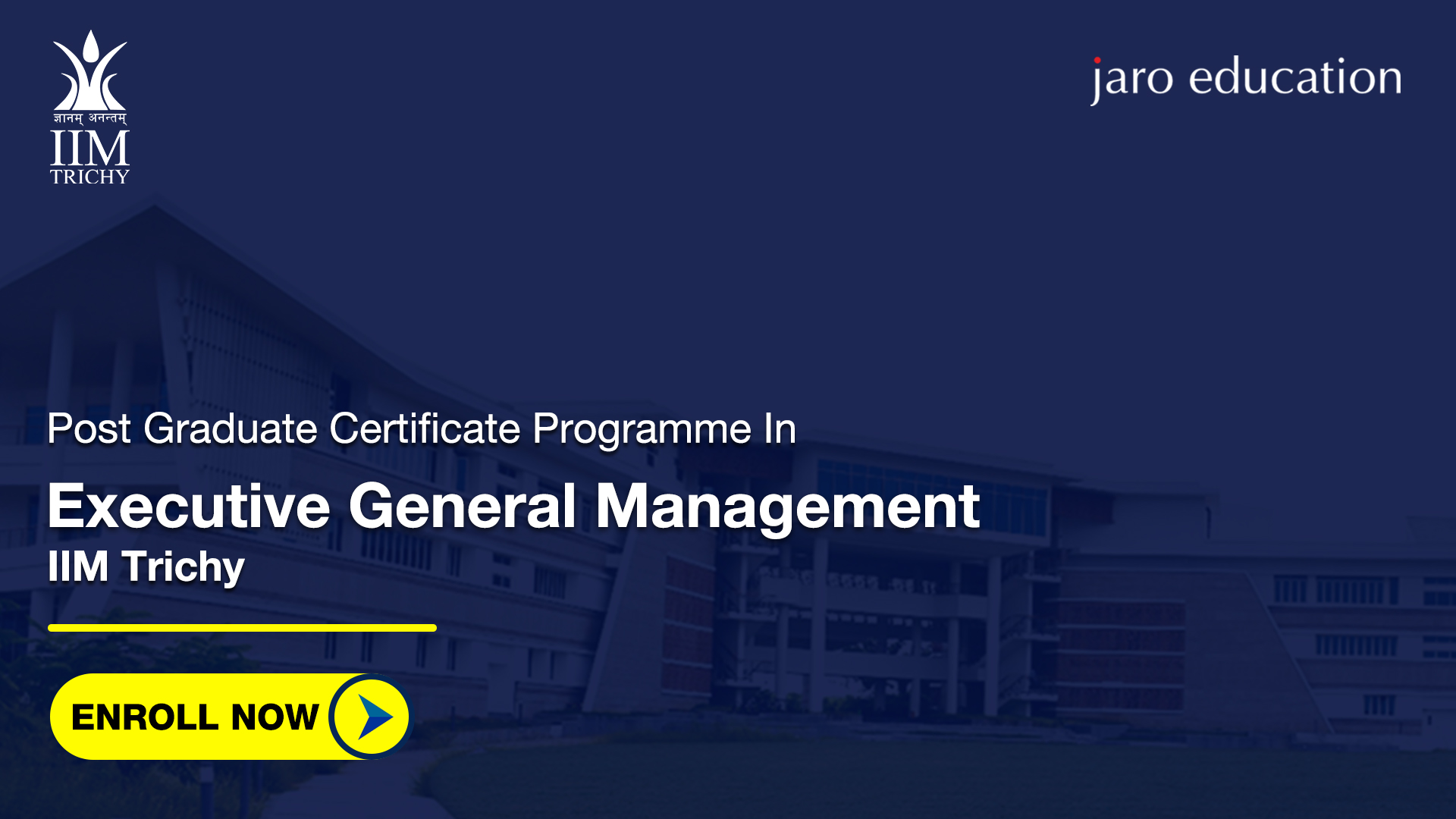 Why IIM Trichy?
IIM Trichy offers a host of management programmes, including the renowned PG Certificate Programme in Executive General Management. It covers various aspects of management, including Finance, Marketing, Operations, Economics, Analytics, Human Resources, and more.
With a sprawling 176-acre campus, IIM Trichy is a fast upcoming institute. Established in 2011, the institute has over 33 faculty members with immense subject knowledge and industry experience. These faculty members come from leading universities in India and across the world.
Another major reason to pursue this programme at IIM Trichy is the many awards and accolades the institute has to its name, the Leadership and Innovation Award 2020 being the latest.
IIM Trichy has also received a ranking of 15 by the National Institutional Ranking Framework, Ministry of Human Resources, Government of India, and is placed 7th among the top B-schools in India by Outlook-ICARE MBA Rankings 2020.
By undergoing the Post Graduate Programme in Executive General Management by IIM Trichy, management professionals can deepen their understanding of the purposes and functions of an organization. They can develop the essential managerial skills required to handle their roles and responsibilities and overcome the challenges by thinking from a global perspective.
Moreover, the programme enables those who enrol for alumni status at IIM Trichy and allows them to gain hands-on experience with the help of case studies and other such real-world techniques.
The one-year course is a blended programme where students must attend classes two days a week and undertake the rest online. In this programme, management professionals learn about the different areas of management, including Communication, Data Analytics and Data Science, Marketing, Accounting, Project Management, Operations Management, Managerial Economics, HR Management, Management Information systems, and Strategic Analysis, among other things.
Final Thoughts
An Executive General Management Programme, especially the one offered by IIM Trichy, is exciting since it lets managers and other such executives acquire the skills required to oversee an organization's operations and its teams. This programme gives them hands-on experience with various analytical and business management tools that will help them develop well-crafted business strategies and exemplary decisions. By pursuing an Executive General Management Programme, they can stand a chance to hone their skills as well as develop new ones, which will help them make better decisions on behalf of the organization. In that, the programme will help inculcate those competencies needed to steer the company forward towards success.
Give your career the boost it deserves by enrolling in the Executive General Management Programme by IIM – Trichy today.