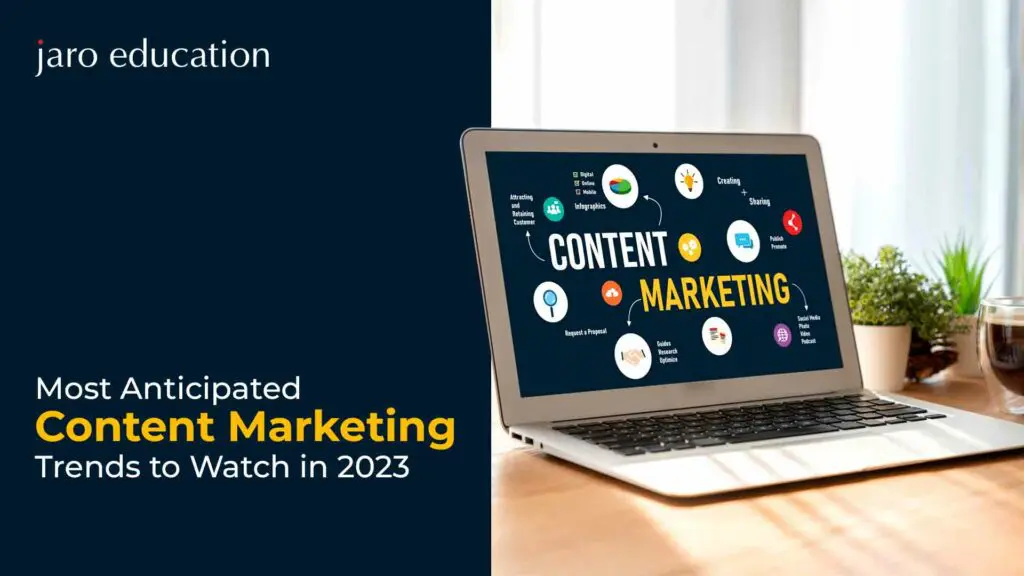 Content marketing is a strategic practice that focuses on creating and spreading relevant, consistent, and valuable content that attracts and retains a clearly defined audience. The main goal of content marketing is to drive the audience's action into a profitable reaction. This approach is a branch of digital marketing that focuses on curating content with which the audience can relate, related to the products/services a particular brand offers, which in turn, would help a brand increase its conversion rates. 
There are several benefits associated with content marketing. These include customer retention, better traction on social media, high-quality leads generation, creating and maintaining a loyal customer base, better conversions, and revenue generation. Content marketers help companies and businesses to come up with innovative strategies that they can use to create brand awareness or promote their products or services. 
To understand content and digital marketing in-depth, apply for the Post Graduate Certificate In Digital Marketing & Growth by IIM Visakhapatnam. It is a 12-month course that would help you understand and learn new-age digital marketing aspects, tools, techniques and much more. You can register for this programme with Jaro Education to opt for a flourishing career. 
Why is content marketing important?
Most brands use content marketing to attract relevant audiences to their services or products. Many companies have found this method to be sustainable, cost-effective, and nurturing. In a nutshell, this strategic approach answers all audiences' questions about a product or a service, which ultimately helps in building trust. It would gradually increase quality leads, thereby increasing customers and sales. 
Here are a few ways in which content marketing supports the growth of an organisation:
Builds a relationship with the audience

The reputation of a brand depends on the quality and consistency of the content that the company or the brand is producing. Audiences will lean towards a brand if they create meaningful and relevant content. If you can boost audience engagement and answer all their queries, they will rely on your brand and products. This is how one can sustain a positive audience-brand relationship.

It makes the audience come back

Producing quality content allows both prospects and audiences to visit a website or a social media page as a positive experience drives them. This experience can reinforce their view of your brand and compel them to return for more exciting content.

Helps in creating authority

When a brand answers specific questions that audiences have in mind or addresses their unique issues, the company positions itself as an industry expert, which is attention-worthy. Once you create authority over your content (online), your website will get higher ranks on the search results automatically.

Improvise your SEO

Talking about search engines, Google, in particular, has played a pivotal role in making relevant and quality content rank high in search results. Through precise algorithms, Google has made sure that businesses share only useful content if they want their websites to rank high in the search results. To increase website visibility, brands must create relevant and engaging content.
Content Marketing Trends of 2023
In 2023, content marketing has become more challenging than ever, as marketers are now focused on quality more than quantity. Earlier, brands only had to make quality content to gain the audience's attention. But now, with large volumes of interesting content coming up in the market, brands also need to create good content in reasonable amounts. Some digital marketing or content marketing trends of 2023 are as follows:
Evolution of digital and content domain

The digital platform has now taken marketing to a whole new level. Hence, brands must refrain from using old tactics to rank high on search engines. For the betterment of the customer journey, brands now have to create content that drives audience attention and improve sales.

Content, Search Marketing and Search Engine Optimisation

The recent search engine guidelines have stated that marketers need to be more visionary about the content they create. Their content must be from the reader's point of view rather than based on search engine ranking. This would help the content to stand out. As marketing requires collaboration between content generated, search and SEO, marketers must rethink what they write and how these teams work in harmony. To address these requirements, according to the recent reports, more than 90% of companies plan to use SEO this year to focus on high-impact tactics.

Visual Variation

The demand for visual content is relatively high on search engines and plays an integral role in search engine rankings. Human resources and technological interventions are focused on writing text-based content; visuals would catalyse such content, help interact with the audience, and amplify their reach. For B2B marketing, videos have become the top channel. YouTube Shorts and Instagram Reels have become popular media platforms for brands. Using the power of video, SEO can dramatically increase a content's visibility across search engines. Also, brands can refine and adjust specific points to get higher rankings.

Purpose and Differentiation

Every brand's content addresses specific purposes; if content lacks purpose, ranking on search engine results pages (SERPs) would be challenging. Differentiation is thus needed to ensure the content is discoverable and found online. Marketers must clearly understand what they are creating, how and for whom. They also need to understand that brand messaging and content are relevant to the target audience's needs.

Focus and Process

The marketing era might have changed, but the core fundamentals remain unchanged. In the year 2023, the process of production and approval needs an adjustment. Organisations need to accept the fact that AI will become mainstream. They should leverage processes to accommodate AI, which would help marketers to assist and strategise content. As per statistics, 40% of B2B marketers have documented content marketing strategy, 33% are in the process of adapting AI, and 27% have no plan. Humans would naturally want to experiment with something new, but marketers need to strike a balance between the two.

AI Growth and Conversations at Fuse

Marketers can now interact with technology with the advent of AI tools like ChatGPT and other OpenAI. As a result, AI will be tucked into content marketing strategies at a range that nobody has witnessed before. As per the recent report, after 2 months of ChatGPT's launch, it reached 100 million users. Hence, it is crucial for marketers and brands to understand how much AI has evolved and how they can utilise them to generate and create more content.

AI Experiment and Experience

With the introduction of AI tools' and their increasing number of active users, people are experimenting with AI-generated content on a large scale. Once they understand the mechanism of the tools, the best marketers will know how to work with these tools. Though these tools will make the work simpler for marketers, they need to learn how to use them in balance with their experiences. Also, they need to supervise where they can use AI tools and where they should not. By the end of 2023, a surge in AI tools is expected. However, it is also essential that experienced content marketers put their experiences and selections to proper usage.

Intelligent Automation

Over the last few months, generative and conversational AIs have taken various opinion and column pieces. The use of AI has seen a rise in many other cases. Popular use cases are the intelligent automation of automated fixes, website error detection, distribution, reporting and curation. Most B2B marketers implement automation in their marketing tactics. In the current content scenario, it is important to understand the difference between generative AIs and conversational AIs. They can be used for various tasks like image recognition and generative applications. Furthermore, intelligent automation is capable of analysing output from the decision-making stage to executing complex workflows with no manual labour.

When it comes to digital marketing, artificial intelligence and intelligent automation go hand in hand. This partnership yields better results if used correctly.

Consistency and Valuablility

If organisations focus on producing consistent content without adding value, they will not yield fruitful results. Instead, organisations can shift their focus to quality. Producing content in huge amounts can confuse the audience and ultimately they would lose interest in the brand. As a digital marketer, ensuring that the content produced is relevant is important.

Human Intelligence and AI

AIs cannot replace humans. Nothing can outdo human judgement, empathy and creativity. If the two work in harmony, content creators' and marketers' jobs will not be at risk. They just need to embrace AIs and use them in relevant aspects thoughtfully.
In content marketing in 2023, average content might be replaced with high-quality, creative and helpful content. It is important that organisations embrace the power of AI, but also use human judgement to create high-impact content at a faster rate.

Enrolling in the Post Graduate Certificate In Digital Marketing & Growth programme – offered by IIM Visakhapatnam, is a good choice for understanding content marketing strategies comprehensively. With this course, you can learn different content marketing strategies, understand the realm of SEO rankings, have hands-on practice on different aspects of content and digital marketing and many more. Additionally, best facilitators would guide you through the course in-depth. Also, you can participate in different capstone project that would reflect on your resume for better opportunities.