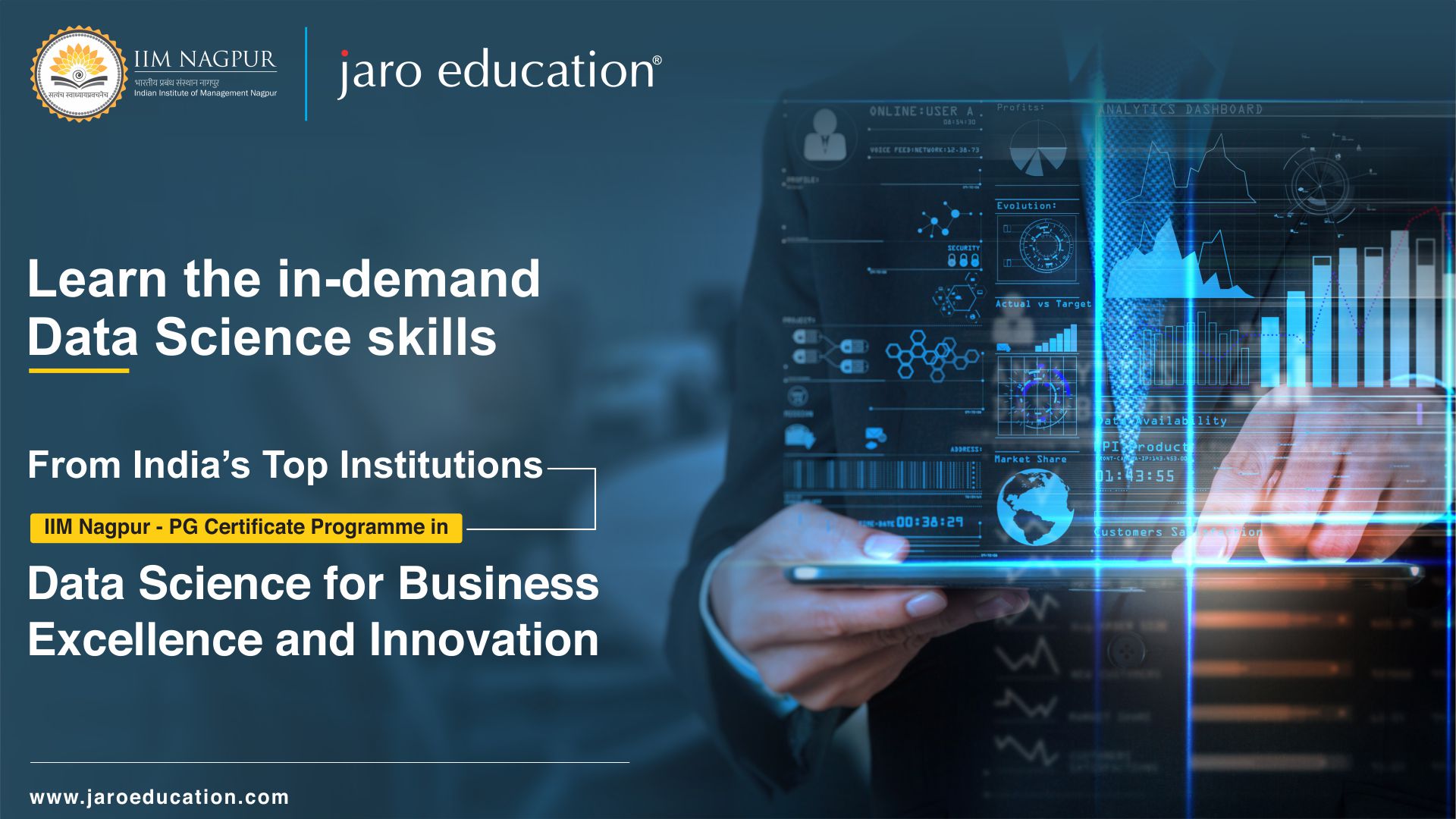 According to a report by World Economic Forum, Jobs such as Artificial Intelligence and Machine Learning Specialists or Data Scientists, in which data science skills are perhaps most profoundly applicable, are forecasted to be among the most in- demand roles across most industries.
If you are looking for a career that proves to be resilient even in the post-pandemic era. Data Science is the right choice for you. Here's listing all the programme highlights of the PG Certificate Programme in Data Science for Business Excellence and Innovation offered by IIM Nagpur in association with Jaro Education.
PG Certificate & Alumni status from IIM Nagpur
PG Certification from IIM Nagpur – one of India's top institutions holds a reputation like no other. PG Certificate Programme in Data Science for Business Excellence and Innovation is an alumni-granting status programme. This influential alma-mater network would boost your job hunts, business deals and project funding prospects substantially. This data science online course is a unique opportunity to be a part of an amazing community comprising of entrepreneurs, leaders, experts, investors and corporates. 
Personal Mentoring & Consultation from Faculty
The prestigious faculty at IIM Nagpur consists of highly acclaimed industry professionals. They have comprehensive knowledge of the inner workings of the data science world including the markets, current systems and up-to-date processes. They combine experience with theory which equips you with the right mix of skills and insights they need in order to grow and become more attractive to employers. Bridging the gap between traditional teaching methodologies and the application of industry knowledge throughout the course helps you prepare for the future. Owing to their vast experience in the field, professors have built a solid network. They may even be able to put you in contact with the right people and be the golden ticket to helping you get a foot on the career ladder.
Case Study Based Learning
The unique case study-based learning approach helps develop analytic, communicative and collaborative skills along with content knowledge. This method is learner-centric with intense interaction between participants as they build their knowledge and work together as a group to examine the case. Real world case studies or authentic contexts helps you understand different viewpoints and makes learning more engaging. Learning by sharing facts and ideas through discussions and answering questions enhances your long-term knowledge retention.
Learn through real-time business problems & their solutions
Exposure to working on various real-time business problems and their solutions is an excellent way for students to learn new cognitive skills, as well as improve their analysis and evaluation skills. This teaching style helps you be actively engaged in the process of abstracting basic principles from complex examples. Learning through diverse ideas and perspectives helps you develop practical analytical mindset and business acumen that would help you grow throughout your career. 
Master top Data Science Tools
A data scientist must possess technical skills like probability, statistics programming, data visualization, machine learning, deep learning, and cloud computing. This course gives you hands-on experience with new-age tools like ML, AI, Tableau, R, Python, Simul8, etc. These tools and platforms make a data science professional more competent to demonstrate a holistic approach in their data science projects. These data science tools cater to different stages of the data science life cycle and enable you to be more proficient at handling complex big data.
Business Simulation Capstone Project
The Business Simulation Capstone Project plays the most important role in building collaborative skills needed for the professional world. Participating in this project helps to develop out-of-the-box thinking required to solve complex business challenges. It's the perfect platform to display a wide range of skills like critical thinking, research, teamwork and planning to prospective employers.
A course with cutting-edge curriculum that imparts a distinct and multidisciplinary set of skills is finally here. This data science PG Certification will certainly put you on the fast-track to success.
You can apply for the course here: https://bit.ly/3hFzqdy
Subscribe to our Jaro Education's blog and stay updated with the latest information on PG Certificate Programme In Data Science For Business Excellence And Innovation – IIM Nagpur.