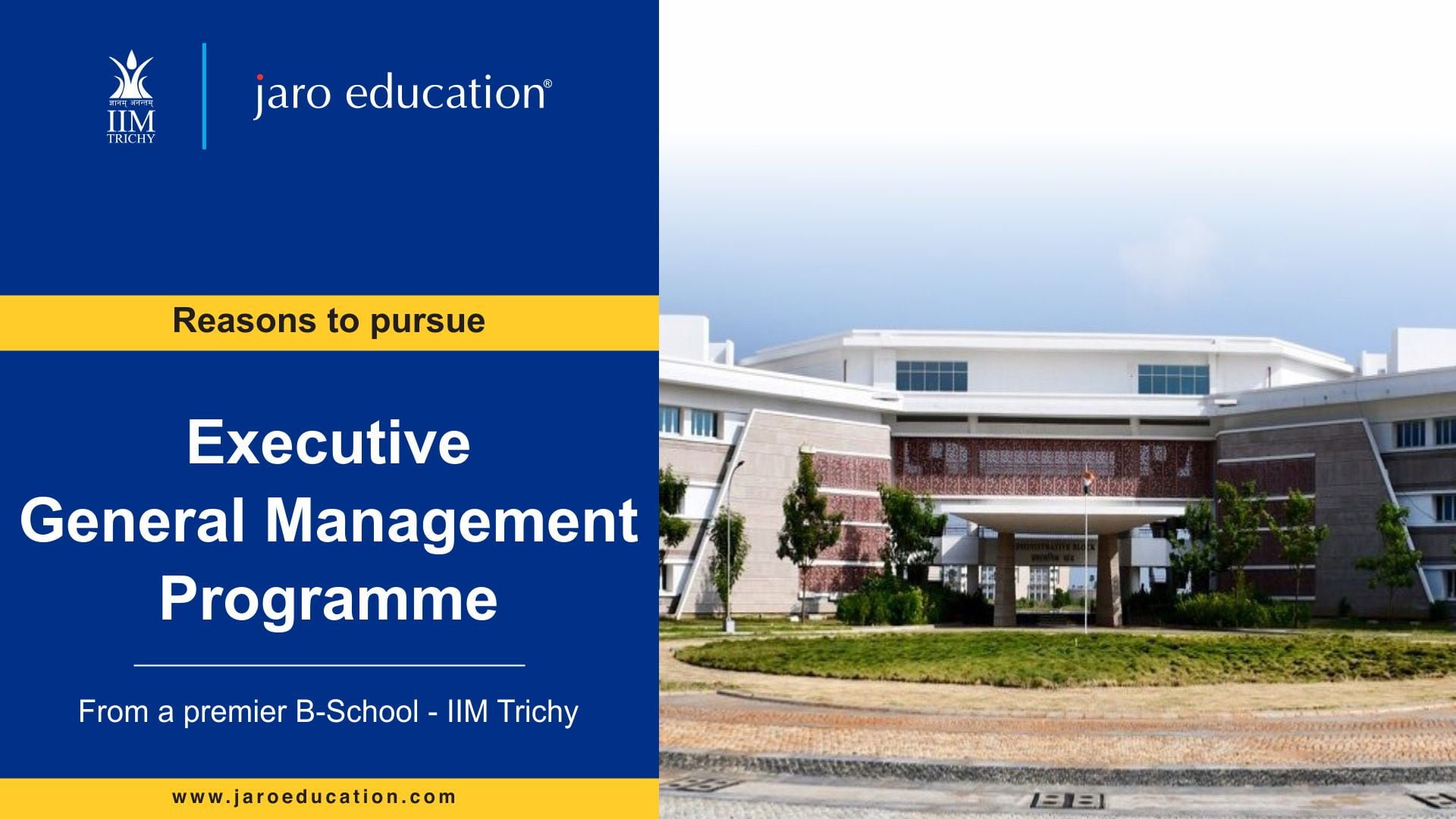 Rediscover a thriving career in management with IIM Trichy- Executive General Management Programme.
In the post-pandemic era, even experienced professionals are scrambling to adjust to the latest trends. As new-age technology evolves, apace and management trends accelerate. Professionals' needs to improve their mobility, foster a growth and leadership mindset.
Transitioning from the functional job role to General Management, only a few succeed acquiring high potentials will give a kick start in your career.
General Management is one of the most popular careers in the functional domain. The demand is rising for functional general managers who can overcome challenges and leads with a dynamic strategy. Even successful Management firms have breached profitability barriers. They are bringing forth alternative methods to alleviate this cut-throat competitive market. 
General Management Careers Pertinent Thriving Opportunities
Being the epicentre of the measuring economy, leaders of tomorrow's business have a strong potential for growth and future prospects. IIM Trichy- Executive General Management Programme is teeming with endless opportunities for learners. The institute is remapping education as a pioneer as it continues to fuel solid foundations and analytical approaches for senior and mid-level professionals.
Discover how IIM Trichy- Post Graduate Certificate in Executive General Management Programme (e-GMP) will encompass diverse functions such as Finance, Marketing, Operations, Strategy, Information Systems, Economics, Analytics, and Human Resource Management. Thus, preparing working professionals to take up challenging leadership roles. The Executive General Management programme prepares aspirants for a renaissance.
Here's a crystal gaze into 9 exciting reasons to pursue Executive General Management Course:
1. Acquire Alumni Status of IIM Trichy
After completing the EGMP from IIM Trichy, all participants are entitled to receive a prestigious Alumni Status membership. Thus, it provides them with an exclusive alumnus tag.
2. Get Post Graduate Certificate from IIM Trichy
The 1 year Post Graduate Certificate in Executive General Management Programme (e-GMP) is a Globally recognized programme to reskill the leaders of tomorrow. After completing IIM Trichy – EGMP programme, the participants are eligible to receive a Post Graduate Certificate. Participants from all walks of life would be honoured with a reputable PG Certificate.

3. Interactive Campus Immersions
Strong networking bridges bonding with the institution and faculty body. A campus immersion at IIM Trichy allows building a wide network with peers, industry leaders, students, alumni, etc. This enables a foray into the flexibility of interactive onsite learning.
4. Exposure to Proven Pedagogy
IIM Trichy – Executive General Management Programme is curated from a top-down perspective. Thus building the firm and business context is the primary focus. Students can learn via using real world case study based learning; providing an action orientation to the learning process. 
The EGMP is in blending learning mode with an in-class component that involves lectures, case discussions, simulation games, group projects, experiential exercises, etc. Learning through synchronous mode upskills professionals using modern media components like audio and video.

5. Eligibility Criteria
IIM Trichy- EGMP is specially designed for executives who are handling P&L responsibilities and financial professionals working in the finance and accounts domain. Working professionals should have 1 year of work experience and a minimum of 50% marks in Graduation.
6. Cross-Industry Peer Networking
IIM Trichy- EGMP offers a network of opportunities for learners to seek insights and share perspectives with peer groups. Professionals can stay abreast of industry trends and combat complacency. They can be attuned to new-age developments and currents of innovation beyond their core networking markets.

7. Experiential and Case Study Based Learning
Students will get exposure to simulations, case study based learning and experiential projects exercises that emulate deep dive in the real world insights. IIM Trichy- EGMP enables immense opportunities for them to take up this experimental route and deploy simulation project management.
8. Contemporary Management Topics
Learn new business models for a new world. IIM Trichy's EGMP gives an in-depth insight on a holistic, cross-functional view of an organization to facilitate superior, and integrated decision making. 
9. Eminent IIM Trichy Faculty 
In this dynamic global business environment, proactive managers acting upon business decisions, strategic objectives transcend as future leaders. IIM Tiruchirappalli has designed EGMP to address the need of business organizations.
IIM Trichy's expert faculty body will make students learn world-class business acumen to drive organisational performance. Students will acquire highly enriching experiences as they learn with the Top Notch faculty of IIM Trichy. 
Students aspiring to acquire professional Managerial roles can now seamlessly enrol towards their career upside with IIM Trichy- EGMP. Even working professionals across India can select IIM Trichy- Executive General Management Programme using Jaro Education's platform to build new-age managerial skills.
Learn to apply a strategic lens to tie the most prevailing risks to everyday risk management and identify emerging micro risks in organizations. Participants can combat myopic tendencies in management and join Executive General Management Programme that enables a framework towards a solid career plan.
Make a profound impact in your future career with IIM Trichy- EGMP.
Subscribe to our Jaro Education's blog and stay updated with the latest information.