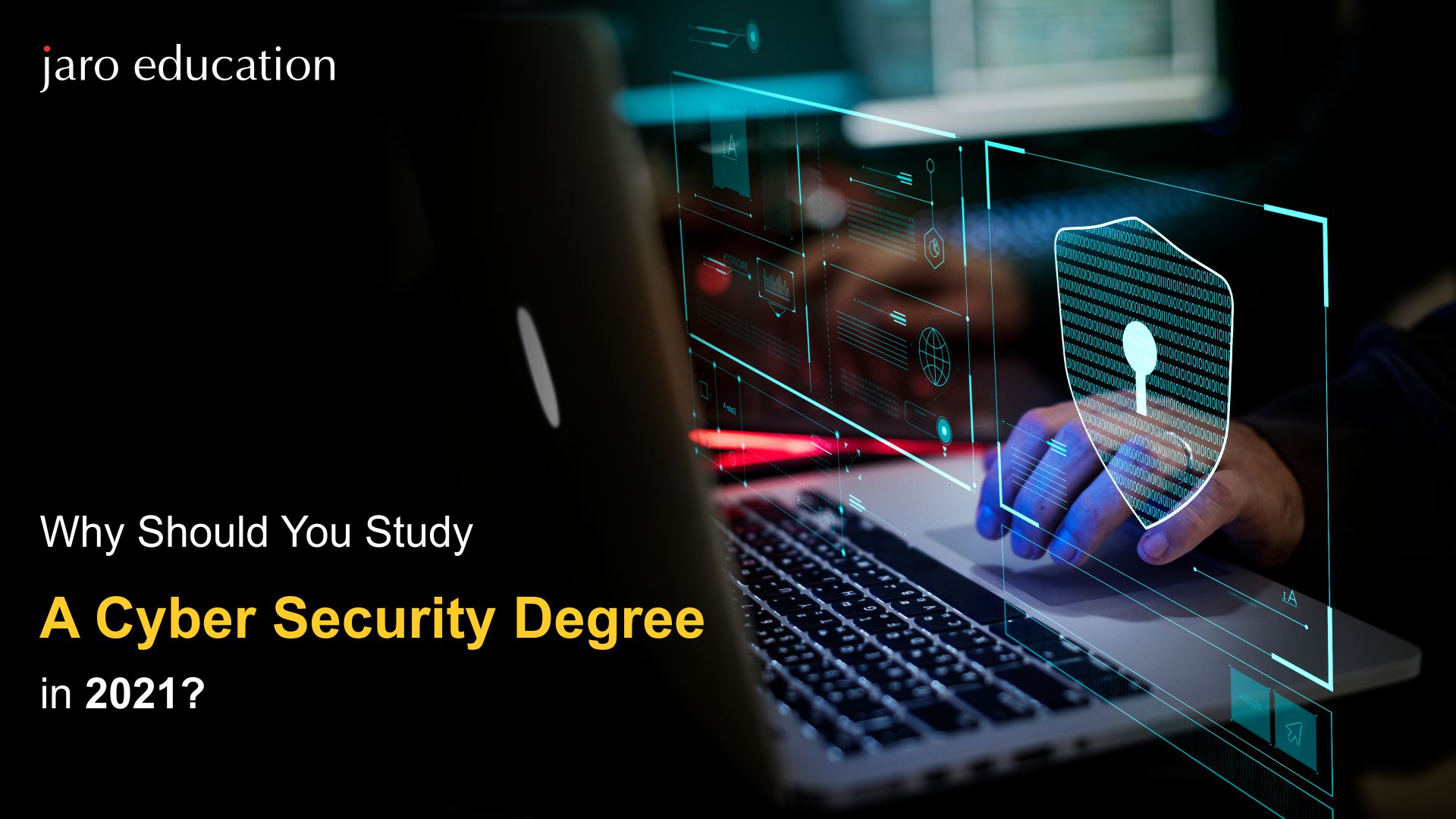 Why Should You Study A Cyber Security Degree In 2021?
Introduction
Today, the shortage of cyber security talent counts towards an industry crisis. There's a severe shortage of cyber security professionals due to the number of increasing online transactions worldwide. As a result, professionals skilled in cyber security are highly compensated in the technology sector, posting a 9% salary premium over IT jobs in general.
According to Forbes, the demand for cyber security jobs is expected to reach 1.8 million by 2022, which is up 20% from 1.5 million in 2015, as per the Center for Cyber Safety and Education. Industries are rallying to embrace the emerging cyber security talent, creativity, and curiosity that isn't necessarily hireable or comes with a college degree. Gaining a professional qualification, specialized in cyber security, such as MS Cyber Security or Masters in Cyber Security, can help young graduates enter this booming career path.
Why study cyber security?
If there was ever a time to enter the cybersecurity field, it is now. A well-documented cybersecurity talent shortage has predicted 3.5 million unfilled positions worldwide in cybersecurity by 2021. Hence, there is a lot of scope in this field.   
Benefits of Studying Cyber Security
There are several considerations to know why one should study cybersecurity graduation. 
Job certainty

– As cyber threats and attacks are on a constant rise, the demand for cybersecurity professionals is surplus. This suggests that for qualified cyber security experts, job security is practically guaranteed and assured.

Highly-paid

– A position in cyber security is highly compensated in the technology sector,

posting a 9% salary premium

over IT jobs in general. As per

Payscale

, the median salary for a Cybersecurity Engineer is $96,478.

Advanced cyber security education rewards for itself

– The tuition fees for the one-year

M.Sc. in Cyber Security

course is affordable in the Indian context, especially because the outcome of landing a suitable job compensates for the monetary investment in studies. 

Career growth

– Cyber security career options are growing faster than other sectors.

As per

the Bureau of Labor Statistics

, U.S. job demand for information security analysts has increased at a rate of 31%.

Having a Masters degree adds to a graduate's credentials. Employers value their higher studies in the stream.

As per

CyberSeek

, 25% of employers hiring for a cyber security architect position demanded a graduate degree (this includes 23% cyber security engineers and 21% testers).

Business opportunitie

s – Abound in cyber security graduate programmes, these courses carry out a practice-oriented

distance

learning programme online. The course helps to boost the confidence of fresh graduates in getting to practice professional services in the open market. 

Gain expertise knowledge

– The concept of working on securing infrastructures against attacks, the risks of malware, and implementing other programmes to protect data to ensure top security measures are followed for company systems. This framework of cyber security then helps to apply to specialized channels of cyber attacks beyond malware and phishing.

Technical competency

– Graduates, having a prior degree in technical / semi-technical stream, can gain expertise in statistical and digital forensic methods and get the opportunity to strengthen their skills in Python and Advanced Mathematics. The course takes a detailed journey into essential technical and programming skills. Also, the Master Thesis and Colloquium included in the curriculum helps to boost their confidence.  

Work-life balance

– Most of the courses are offered online, and they are of short duration. Graduates are, therefore, free to study besides working on the side.  

Recognition

– The

IU International University of Applied Sciences

which conducts this course is internationally accredited and recognized. 
Alongside the rise of cloud-based remote computing adopted in the digital market, the demand for cyber security is also rising. With Online Masters in Cyber Security courses, graduates can work as cyber security professionals by seamlessly mastering the core subject that helps them land a challenging job. They can study modern operating systems with distributed applications in cloud, forensic, and data analysis software. In interdisciplinary cyber security courses, they learn to detect cyberthreats and demonstrate leadership potential. A Masters degree serves as a license to serve global zones in need of cyber security measures.
Conclusion

A course, like the one offered by IU International University Of Applied Sciences, known as the Master of Science Degree Program (specialization in Cyber Security) assures high employability opportunities in worldwide. The 60 ECTS (European Credit Transfer System) program evaluates credibility in the global market and is treated equivalent to MS Cyber Security.
Enroll now in the Master of Science Degree Program (specialization in Cyber Security) and become a part of an increasingly popular cyber domain today!