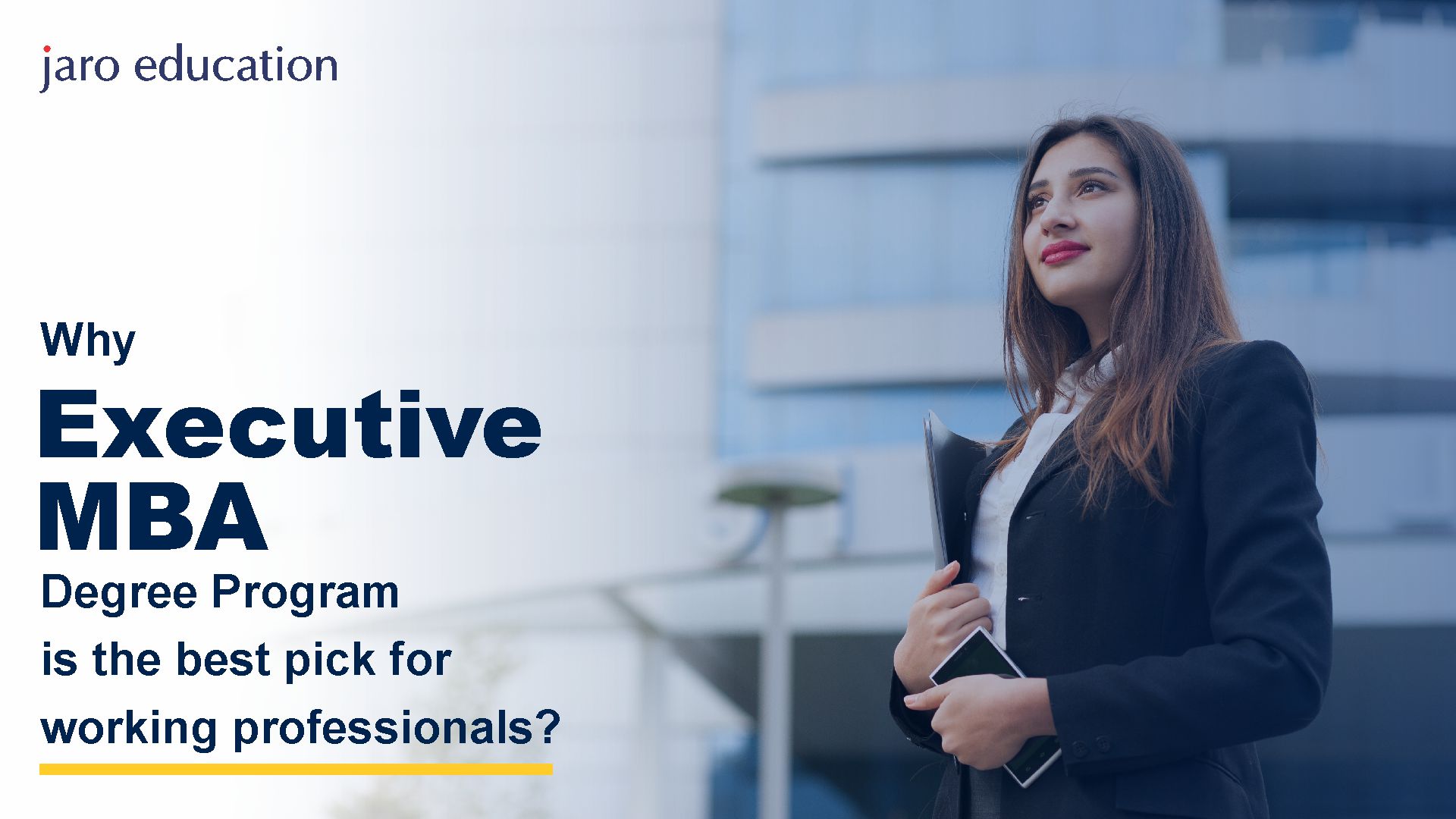 Developing a strong professional network, consistent refinement of knowledge, and acceleration of career progression are the key reasons ambitious professionals choose Executive MBA degree programs over traditional full-time MBA. In addition to this, MBA Executive programs provide you with rigorous and specialised training which helps you grow your professional careers to greater heights. One of the prime benefits of an Executive MBA is a part-time program. So, you don't have to worry or scratch your head for excuses to miss work commitments for studying the MBA online course. Many educational institutes offer Executive MBA Online courses, which you can pursue either from the cubicles of your office or the comfort of home without visiting the institutes to attend classes. 
Key Reasons to Go for an Executive MBA Degree Program
Executive MBA For Working Professionals

has gained immense popularity in the modern era because it allows them to pursue studies without taking any career break. This course does not require you to sacrifice your regular pay or risk your job; instead, it provides an opportunity to enjoy additional benefits of gaining professional knowledge and skills, which helps you perform the assigned job duties of your workplace better than before.

Executive MBA

degree programs help you achieve and improve professional skills through real-time case studies, live projects and practical business simulations. Such courses nurture individuals' knowledge and skills rather than providing a traditional learning experience. Many individuals have also opted for entrepreneurship after completing an

Executive MBA

degree as they gain a better and in-depth understanding of business functionality and managerial aspects.

The

Executive MBA

programs provide you with a 360-degree viewpoint of business functions which not only improves your strategic perspective towards performing job duties but also helps you in developing leadership and other key managerial skills, which will surely help you in attaining greater growth in your career and performing managerial/executive responsibilities in a better way. In the present era, many large-level and renowned organisations seek individuals with

Executive MBA 

 to fill managerial roles because an individual with this degree has the academic and professional ability to enhance managerial, leadership and functional aspects in an organisation.

Executive MBA

helps individuals develop professional skills with the knowledge of strategic thinking and critical analysis and nurturing the ability to innovate and make better business decisions. Additionally, the course

Executive MBA

prepares its candidates for attaining professional success in future with education and knowledge of futuristic disciplines.
Executive MBA degree programs help you master some skills in-depth while imparting knowledge about the industry. You soon develop a keen sense of analytical perspectives that helps bring solutions to the table for all kinds of problems. The MBA course helps to upskill new qualities, accelerate career growth, expand professional networks, and make a cumulative impact on earnings. Thus, opting for an Executive MBA  degree program is highly beneficial for you personally and professionally. Most educational institutes tend to provide customised and personalised career support as per the candidate's needs, so they benefit from the course to their likings.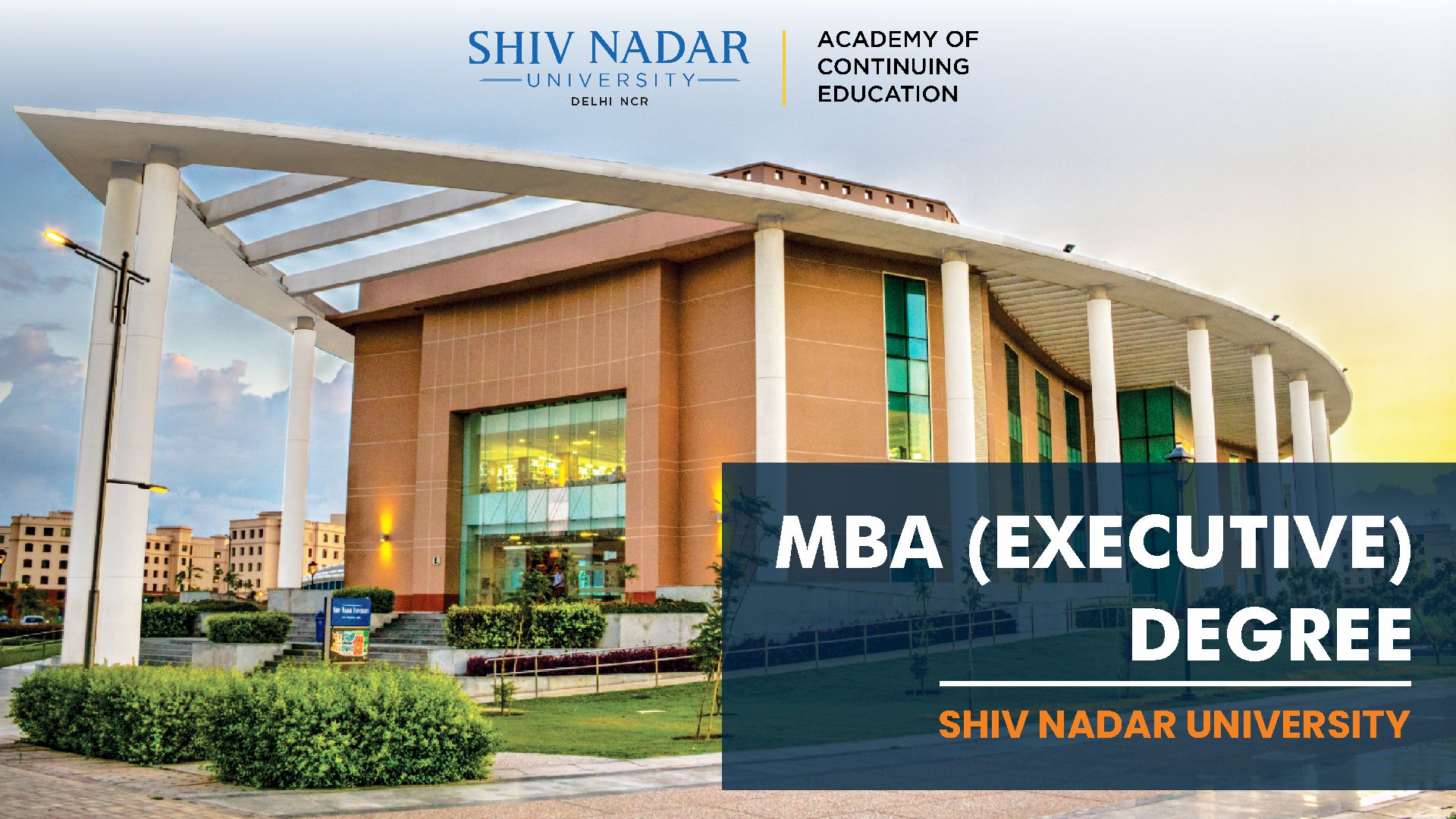 Conclusion
Additionally, this course provides an advantage over traditional MBA degree holders in modern-day global and competitive job markets. It opens up multiple professional avenues which can make a significant difference in your career. This is because you tend to apply your theoretical knowledge in the practical world while working in the industry. You tend to have a better experience, both professionally and academically. 
MBA is all about practical experiences. Executive online MBA tops the game since it aims to prepare individuals through live practical experiences rather than traditional theoretical approaches. And that's why with an Executive MBA, you have better chances to score better future career prospects!
FAQs
How long is the Executive MBA Degree course?
Executive MBA Degree course can range from 1 year to 2 years depending on the university and college offers.
What is the Executive MBA Degree course syllabus?
The Executive MBA Degree course syllabus of Shiv Nadar University comprises more than 1000 hours of rigorous learning materials that provide an in-depth understanding of the business fundamentals and other standards topics.
Who should join the Executive MBA Degree course?
Candidates that have completed their bachelors' degree with 50 % or more from a recognised university can apply for the Executive MBA Degree course. Additionally, the candidates need to have at least an experience of two working years at the managerial or executive level.

What topics are covered in the Executive MBA Degree course?
Along with standard business topics, the Executive MBA Degree course offered by Shiv Nadar University covers the topic of futuristic disciplines like Design Thinking, Entrepreneurial Thinking, Digital Strategy, Data Science and Data Analytics, which will pave the way for innovation for entrepreneurs and technocrats of tomorrow.