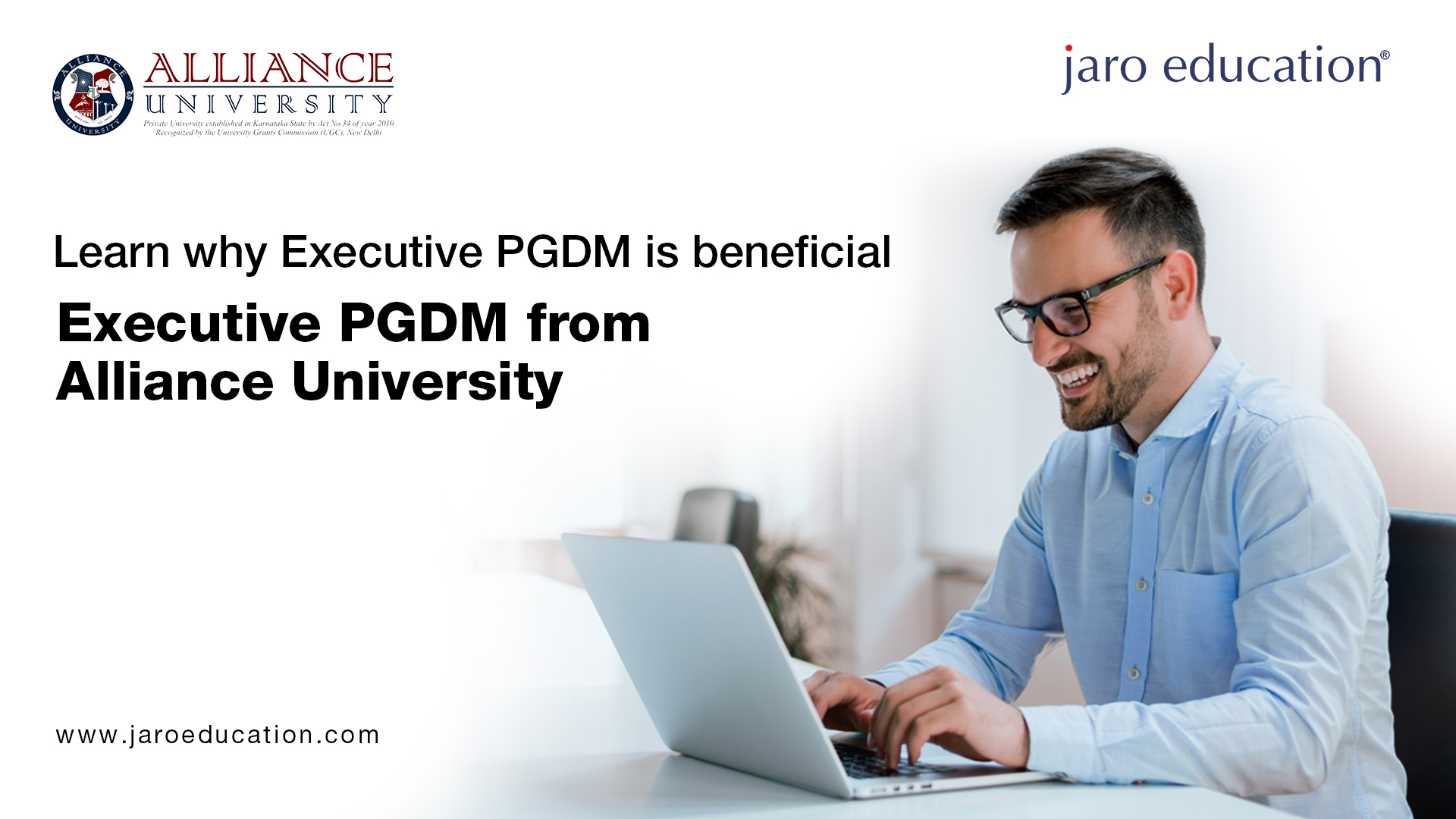 Professionals who want to hone their skills and gain more knowledge in business administration can opt for Executive PGDM. Learn what the right choice is and how you can benefit from it.
Qualification in management adds a booster to the career path for young entrepreneurs and aspiring managers to gain a management role. 
Acquiring a traditional classroom MBA degree through brick-and-mortar education is not only the commitment of time, but it tends to lose the current opportunity an alternate degree could bag. Addressing the call of recent times, Jaro Education has brought a series of professional courses in management to meet the needs of the business world.  
Executive PGDM
Executive PGDM is the most demanded Executive Management Program. It is also named PGDM Executive program or PGDM Executive Course. It is designed for working professionals after reaching a mid-level career, often feel that their growth has been hampered by a lack of credentials and knowledge. As a result, they have minimal opportunities to advance their careers. In this situation, credentials like Executive PGDM or Executive MBA are incredibly beneficial for them.
Specialized PGDM degree programs such as Next-Gen Management Program and Executive PGDM Strategy – Alliance University programs, the Executive PGDM Alliance University, give you the capacity for committed thinking, which can expand valuable ideas, make sound business visions and deal with problematic situations. The Executive PGDM from Alliance University offerings is best suited to students having their choices. 
Executive PGDM is useful for employed professionals who have no full-time management program agenda. The program duration is 12-18 months in mixed mode. They regularly complete the same set of courses like the MBA program. These courses are not inferior to any of the top executive management courses in India. Interested candidates, especially professionals working on the lower bench, can choose a suitable course from among the private B-schools of the Alliance University of India. There are a few options to choose for Executive PGDM at Alliance University.
Benefits of an Executive PGDM Program
It is important to note the general benefits observed for most executive development programs. 
Industry Relevant Curriculum

– Executive PGDM courses are industry-related, matching current market trends. Sending courses by senior industry professionals can bring students along with professional experts.  

Flexibility

– Course timelines give you the option to choose exam slots flexibly.

Better Career Opportunities –

Working professionals without proper credentials often face situations when there is no prospect of growth. 

Corporate Ready

– One known advantage of choosing an executive PGDM is that it makes you corporate savvy. You gain leadership, management, and business skills to present yourself for big responsibilities. 

Entrepreneurship skills

– The Executive PGDM program shapes you to take on a self-built business entrepreneur

.

Networking and collaboration

– Executive PGDM courses give you the opportunity to build fast, interactive, self-paced collaborative learning as well as business networks with industry hands.

Saves time

– A notable advantage of executive PGDM is that it saves time compared to other programs in the traditional business.
The Reward
This course helps you to upgrade with the right skills and is ready with good opportunities, salary increase, job promotion, or business otherwise required for promotion.
Working professionals who are eligible for Executive PGDM can take the ladder to their role, status, responsibilities, and even payments. According to Payscale, executive MBA professionals earn an average salary of ₹ 13,82,593.
The Course Provider
Jaro Education is a pioneer in the EdTech domain in India. Jaro provides various management and technology programs from universities and institutes that adhere to a large number of working professionals. Association with Jaro Education remained a reputed institutional outcome.
Conclusion
Working professionals, aspiring business management leaders, and mid-level managers should benefit from the PGDM course offered by Jaro Education and career development.
Subscribe to our Jaro Education's blog and stay updated with the latest information.