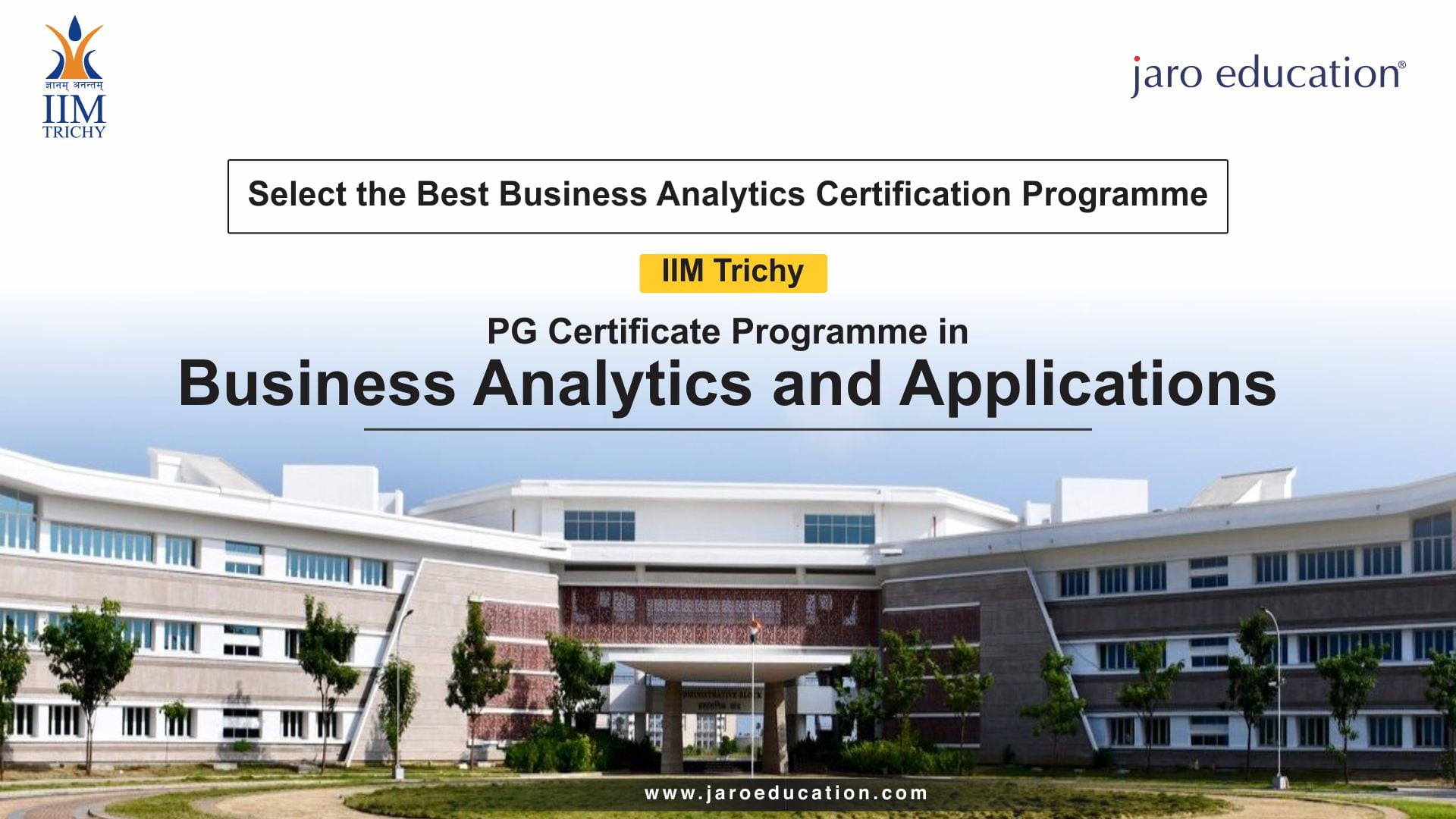 Why go for a Business Analytics certification?
Acquiring a Business Analytics certification will grow your career
Want to get your foot in the exciting Business Analytics career domain? A PG Certification Programme in Business Analytics and Applications (BAA) can assist you to go ahead of the competition. Organisations continue to use novel technologies like artificial intelligence (A.I.), machine learning (M.L.) or Business Intelligence (B.I.) that are changing the landscape of businesses.
Professionals must learn to leverage successful strategies and new-age techniques to improve business efficiency. Analytics is filling the gap between a business, its customers and teams.
Gaining a Business Analytics certification from a prestigious B School will expand your skills sets, keep you in the loop with current trends, and boost your earning potential. Professionals looking out for a little inspiration can consider earning your PG Certificate in Business Analytics and Applications Programme from IIM Trichy. 
The Perfect PG Certification – IIM Trichy BAA 
A PG Certification validates your skill sets. IIM Trichy- Business Analytics and Applications Programme certification will add credibility for professionals as robust business analysts. This will directly enable future job security. Hiring managers do appreciate if the applicant's key skills match their organisation's prolific levels.
Generate High Demand – Smart Salary Package
Be in Demand with the right Business Analytics Programme that nurtures the dynamics of leading in tomorrow's business world. A report on Payscale states; Senior Business Analyst obtains a generous pay of Rs. 12 lakhs to Rs. 17 lakhs per annum in India. 
Being certified in Business Analytics will build a high demand that enables you to improve your chances of ending up with many opportunities. To increase your earning potential and future job prospects, invest in the perfect PG Certification Programme from IIM Trichy. 
PG Certification Builds Stronger Peer Network
You will be able to network with prominent industry experts and faculty from IIM Trichy, which leads to the expansion of your network. Thus, leading to new avenues of opportunities for participants. Business analysts professionals.
PG Certification Generates Exposure – Rich Pedagogy
Learning with rich pedagogy helps students strengthen their core competencies and build key industry-ready skills. The pedagogy involves a mix of lectures, case-based discussions, hands-on training and much more. 
Participants will be able to solve problems, develop a base in business analytics as they learn from IIM Trichy's eminent faculty body. They would get exposure to new age tools in Business Analytics like R, Python, Power BI, AI and ML, which will broaden their horizon in the field of analytics.
This 13 Months programme in Business Analytics and Applications is delivered in hybrid mode divided into asynchronous learning mode and two in-campus modules. All participants will be awarded the most promising PG Certificate from IIM Trichy and receive an Alumni Status as well.
The Growth Opportunity – Career Wise
Career growth opportunity is one of the obvious reasons to get PG Certification from IIM Trichy. Getting started with training in business analytics will help participants get ahead of the competition and escalate career growth.
The Verdict
Gain a competitive edge and learn nuances of business analytics and the methods of its application. Participants will learn how to apply theoretical concepts to business problems. Thus, students will learn to evolve their skills beyond the curriculum and make them capable of adapting to changing circumstances. 
Joining IIM Trichy – Business Analytics and Applications Programme will open doors for exciting career opportunities. 
Never miss a post
Subscribe now and get started with IIM Trichy- BAA Programme.