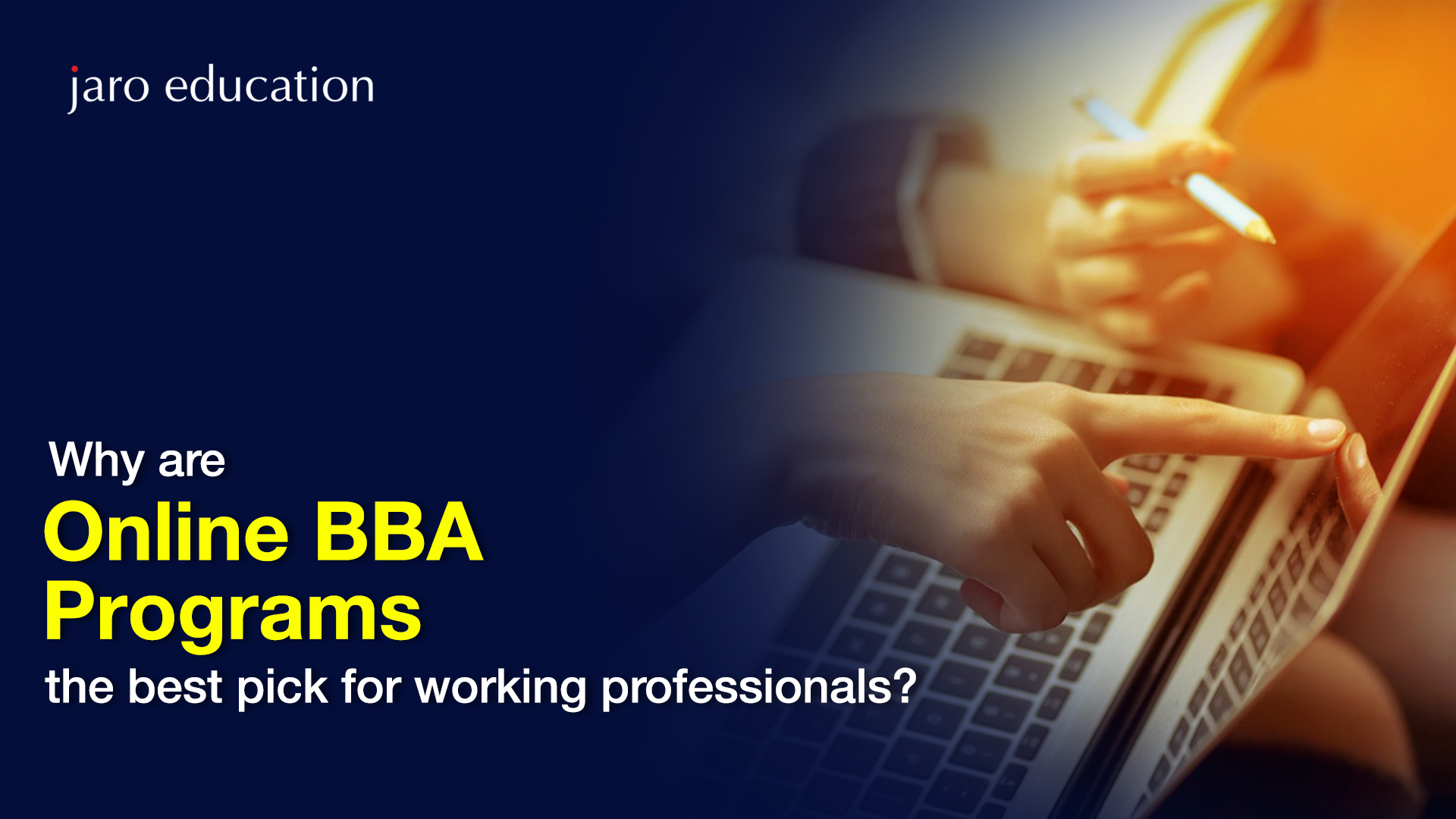 Universities and insitutes in India have shifted their attention to online education, anticipating the expansion of digital learning. Compared to traditional on-campus training, online education is relatively young, though one thing is certain. It is here to stay, and will only become stronger. This is supported by a multitude of contemporary studies that examine the evolution of online courses annually.
A BBA degree online will deliver to students a solid foundation in business administration. This course will cover all managerial themes and their implementations, from company law to entrepreneurial development.
Educational institutions currently use a new instructional method that combines concepts and methods. Many schools have begun offering online management courses to create interesting, relevant, and customized learning opportunities by employing digital technologies.
How does online BBA benefit working professionals?
Online BBA:  an asset
Consider an Online Bachelor's in Business Administration as an investment in your career. It will allow anyone to carry on working while earning a professional qualification. All students have to do now is commit to studying and submitting assignments on time, and they will be fulfilling all the criteria of the course.
Aids to upskilling
Any business and management curriculum provides applicants with an advantage in terms of business skills. Bharati Vidyapeeth Deemed to be University (BVDU) Online BBA course aims to develop leaders with superior industry knowledge and problem-solving abilities. It prepares them to deal with a variety of scenarios that may arise while running a firm. The program also prepares them to deal with setbacks and be resilient.
Flexiblity
Students can choose their study schedule because online education programs don't require students to be actually present in the class or adhere to a prescribed schedule. Subsequently, individuals can adjust their study time according to their professional work timings and convenience. These learning techniques promote the sharing of new ideas between participants, allowing for high levels of cooperation. Online BBA course allows students to finish their coursework from any location, at any time, and at their speed.
Fewer restrictions
Nobody is constrained by territory or location barriers because an Online BBA course in India can be completed from anywhere. Individuals can register in any institute that provides the course they choose, regardless of where it is located in the province or even overseas. As part of the Online BBA initiative, BVDU offers a three-year curriculum that helps students flourish in today's business environment.
Expand your industry know-how
The Online BBA degree is a specialized undergraduate curriculum that broadens work opportunities for individuals. If a student works in the corporate sector while taking the online course, they can branch out into the public sector or pursue higher studies as per their preference. Some candidates also take the opportunity to use their training and course to get a promotion in the same field. After doing an online BBA course, there is a whole gamut of opportunities available for working professionals.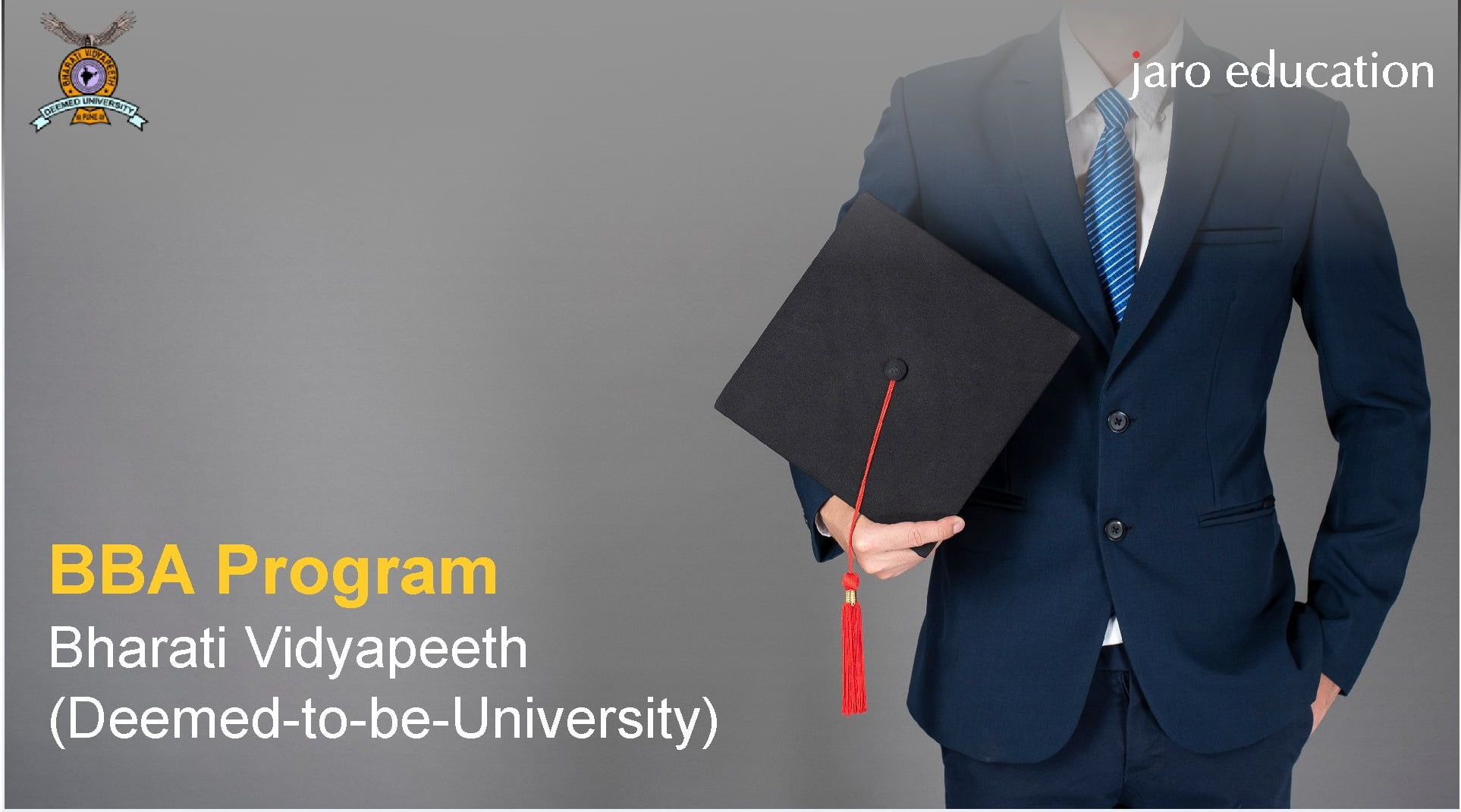 Conclusion
An Online BBA is an excellent way for students to advance in their profession. However, because only a few institutions offer this degree online, selecting the ideal university can be time-consuming. Choose Bharati Vidyapeeth Deemed University (BVDU) for its Bachelor's of Business Administration Online if you're looking for the best university. Its 'Social Transformation Through Dynamic Education' initiative aims to develop leaders and managers of business with competence and suitable organizational skills.
FAQs
What job can I get after an online BBA course?
After finishing an online BBA course, students can pursue a variety of professional paths, including:
Management is a specialization (MBA)

Administrative Service  

Data Scientists

Blockchain Expert 

Digital Marketer 

Product Manager
Following an online BBA study from BVDU, any of the mentioned careers would certainly get you a superb job, allowing you to begin your professional adventure.
What is the eligibility for an Online BBA course?
Students must pass the 10+2 or equivalent test from any recognized board or institution to be admitted to the Bachelor of Business Administration Online program. They can be working professionals or aspiring employees looking to enter the world of business and marketing.
How to apply for an Online BBA course?
Online BBA program is available as conventional or remote  learning courses at many colleges and institutions. Students at BVDU can take this course entirely online. A form must be submitted to the institution as part of the admissions process for an Online BBA course. Students are informed of their enrollment status and admittance to the course once the management board makes a decision.
Is an Online BBA course worth it?
The Bachelor of Business Administration Online provides students with the fundamental information and abilities needed to manage a business. If you're a working professional who wants to improve your management abilities without attending regular lectures, an online BBA course is the perfect option. Online BBA is less expensive, allows more flexibility in studying, is more convenient, provides a useful network, improves technical skills, and is a great way to grow your career.