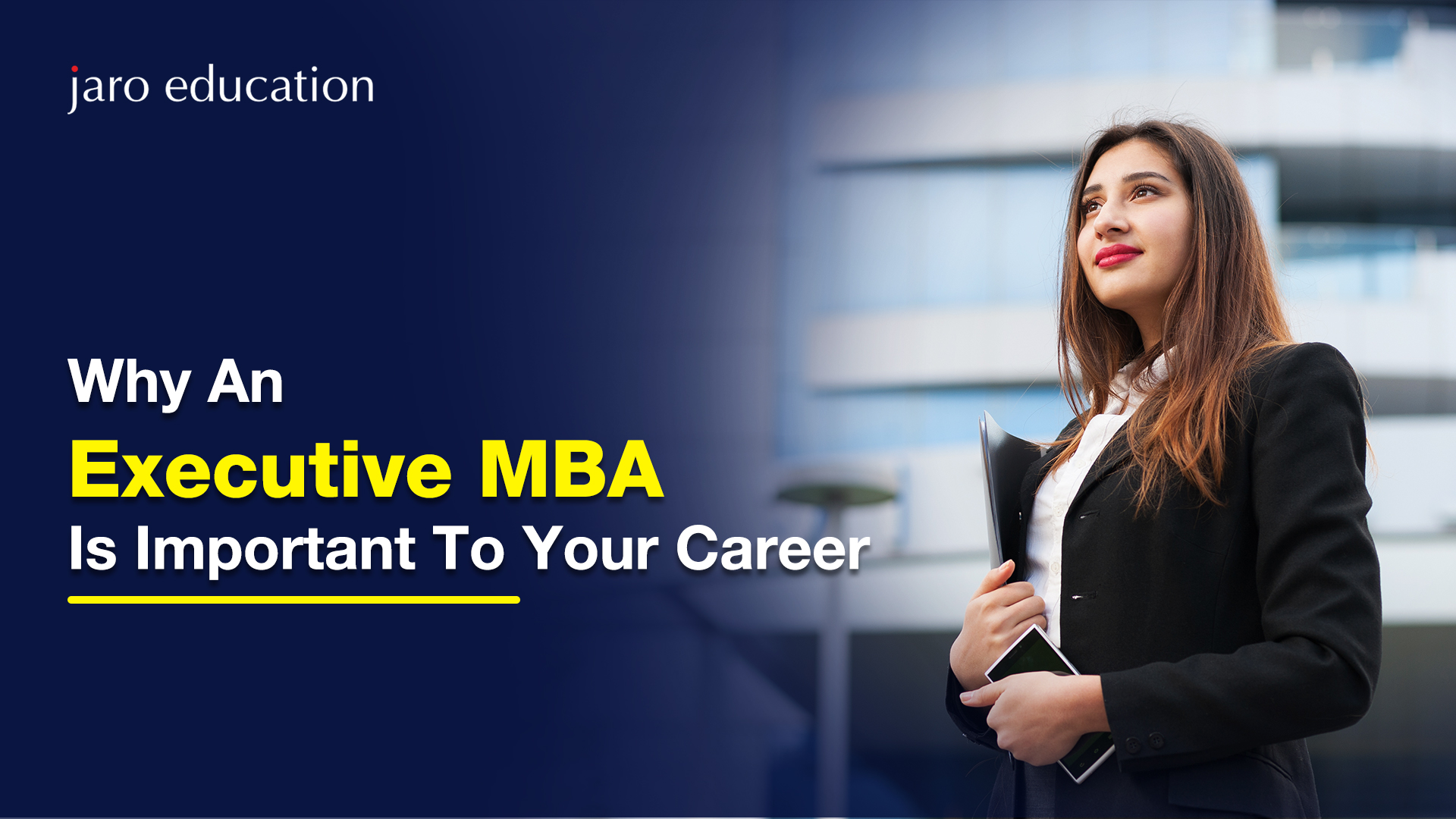 Introduction
Graduates with an Executive MBA degree see a significant rise of around 13.5 percent in their salary after completing the course. Executive MBA Programs are designed specifically for employed professionals who want to improve their organizational skills in the discipline of Human Resources to adjust to a competitive and dynamic business world and remain significant in the employment market.
With the evolving requirement for constant learning, enrolling in Executive MBA programs online has become a suitable option for young and mid-level professionals. The Executive MBA Program offered by Dayananda Sagar University is a great option for professionals looking to improve their abilities and advance to management roles.
Importance of Executive MBA for Your Career
An Executive MBA degree is crucial for most industry professionals who wish to advance towards top management positions in a company. The program is curated as a blend of academic learning and experimental case studies to provide the learner with all-around training. It gives an extra edge to the professional's profile and increases their chances of career growth.
Get a Degree while working
The Executive MBA program allows students to work while taking the course, which will equip the participant to employ what they gain in the classroom right away. When issues emerge, this training might come in handy, encouraging learners to put their problem-solving talents to work.
The curriculum of the Executive MBA Program offered by Dayananda Sagar University helps students to interpret professional challenges that may arise during their careers. The participant earns a degree more equipped to address a wide range of challenges through case studies and team projects.
An Executive MBA course draws its students from a variety of sectors which enriches the classroom experience for any professional by introducing the learner to fresh business conventions, strategies, and ideas. It also offers a chance to foster new relationships and gain knowledge.
The Executive MBA Program – Dayanand Sagar University employs experts from all domains of business and management as teachers for the participating students allowing the participant to diversify their network and genre of interests.
Develop Leadership Qualities
The wide range of case studies and experiments instructed in the Executive MBA program provides information about market issues but also helps to provide a deep insight into the daily challenges faced by a high-level executive in a company. As a result, when participants make and defend decisions, they figure out how to manage miscommunication and confusion.
Case studies can include contradictory facts, forcing learners to negotiate while making decisions to handle complexity. Such practical learning is essential since it contributes to the development of meaningful insights for prospective senior roles. Thus, an Executive MBA Program by Dayananda Sagar University fully prepares the participant to deal with difficult decision-making as a top management expert.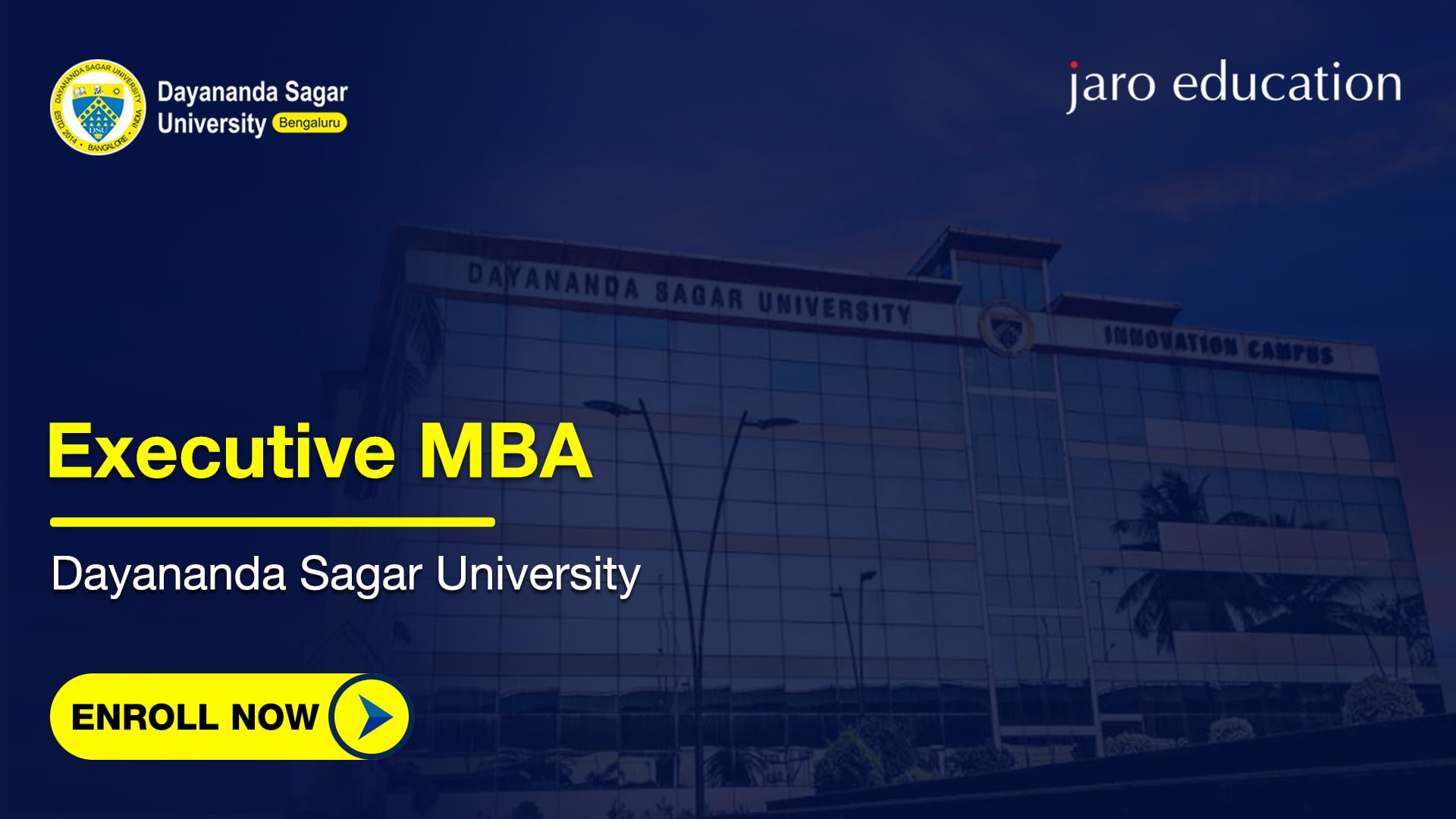 Fill the Academic Gap with Professional Training
Multiple graduates from different fields also shift into management profiles as they advance through their careers. Such professionals do not have prior academic learning of business or management, which can cause a hindrance in their career growth, as opposed to a colleague with an MBA degree. To fill in the academic gap and increase their chances of promotion, professionals from technology backgrounds can opt for MBA Executive Online courses.
Also, many working professionals are caught up in professions they despise. They want to change occupations after some years in their present role. The  Executive MBA Program by Dayananda Sagar University is the most reliable option to exit their former work and discover the perfect professional path that works for them.
Most soft skills are neglected in everyday life since active professionals are preoccupied with their careers. Industry freshers frequently undervalue this crucial trait, including anything from better attention to empathy to smart self-marketing, which are essential soft skills for advancing in one's profession.
These may be resolved in the Executive MBA Program by Dayananda Sagar University through professional sessions. Only a few years of real-world handling of various team members in a company might help a professional discover soft skills and interpersonal traits that one needs to develop. Attending an Executive MBA course may assist in developing a skill set and acquire valuable traits that can help them achieve better performance than before.
Conclusion
Executive MBA courses are often comprehensive, with participants learning how to approach challenges from a variety of viewpoints. An Executive MBA program encompasses learning about various sectors for overall business development. The DSU Executive MBA program is a unique program across ten specializations for industry professionals with a minimum full-time working experience of one year.
The DSU Executive MBA program is among the best Executive Online MBA in India that offers self-paced learning and a capstone project to strengthen the participant's understanding. The adaptable knowledge and capabilities professionals gain through the program enable them to seek employment within their company and even transition their profession into other companies and industries.
Apply for the DSU Executive MBA program now! Study at your own pace, and learn management skills from the experts at Dayananda Sagar University.