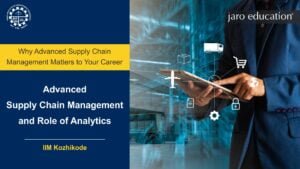 Why Advanced Supply Chain Management Matters to Your Career?
As a business, sales or marketing management employee you must have come across the term supply chain management plenty of times, but how well do you know it? While you may be aware that supply chain management is nothing but the seamless flow of goods and services which involves everything – from transforming raw materials into finished goods, ensuring that this process is carried out effectively is the key to successful product marketing management. Supply chain management is an effort taken by your supplier to develop a supply chain that ensures you receive your goods at a quick turnaround time without increasing your costs.
If you want to run your business, sales or marketing career smoothly, understanding this process and its intricate details will help you streamline your business's supply-side activities and maximize overall customer value. Not only this, but you will also gain a competitive advantage in the marketplace.
Only once you've mastered how this entire process functions, will you be able to bring in new strategic ideas to streamline this process even further. While keeping in touch with your supply chain and your entire team will help you with the updates, you won't be able to make any reforms until you know how everything in this process works.
Importance of supply chain management
SCM is extremely important in boosting the customer service experience. Customer expectations have drastically increased, they now want good quality products delivered to them in the promised time, every delay in the delivery time. Makes the customer lose their trust in you. A major benefit of supply chain management is that it reduces operating costs such as purchase and supply chain management. Retailers and customers depend on suppliers to receive expensive goods at a reasonable price and in a short period of time. In case of a delay, a company might suffer certain losses which are hard to cover up.
For example: a paper binding company who's machinery requires replacement, wouldn't be able to function until the missing part comes through. Thus, the management of the supply chain can either improve your finances or lead you towards losses.
   

The role of analytics in supply chain management
Analyzing your supply chain helps you plan better and in a strategic manner. It can help keep a track on the usual trends and spot out reasons behind product quality errors or delays to enable your company to make the right decisions. Analytics can also let you predict the future, find which product is lacking in terms of customer popularity and what can give it a much needed marketing boost. A study by Gartner states that 29% of surveyed companies said they have achieved high levels of ROI by using analytics, compared with only 4% that achieved no ROI.
Analytics is a futuristic way of taking your business to great heights. There are various types of analytics used in supply chain management that can help you understand unhealthy business patterns and eliminate the issues beforehand. You can also track customer responses in order to understand what's working for your business and what's not working. It not only helps you stay at the top of your game but also protects the reputation of your company and allows you to successfully achieve long term goals.
   

Best way to master the supply chain management process
If you want to take your business or marketing/ sales career to great heights, a strategic marketing management course is just what you need. IIM Kozhikode offers an Advanced Supply Chain Management and the Role of Analytics Certificate Programme for working professionals who are looking to upgrade their career by increasing their insights on supply chain processes and boosting their business skills. This flexible, one-year online course gives great insights on integrating procurement, operations and logistics management. The course will help you operate your business and sales seamlessly and analyse various managerial levers. It will also aid you and in applying your knowledge and business skills to attain supply chain success by reducing costs and turn around time.
This online marketing course comes with an intensive curriculum that equips the leaders or budding supply chain managers of tomorrow with tools and concepts that will aid in leading them to the path of operational excellence. For those who are planning to take up this course, can attend online sessions that would be a combination of assessments, lectures, discussions, simulations, case analysis, and hands-on exercises.
Supply chain management may seem like a challenging industry to build your career in. However, with challenges come opportunities and endless learning possibilities. Once you've mastered the art of collecting data and analyzing it strategically, taking important business decisions will soon become an easy task. To master this art and to boost your career pathway with knowledge, gainful insights, cutting-edge skills and a prestigious degree, apply for the Advanced Supply Chain Management and the Role of Analytics Certificate Programme by IIM Kozhikode today!