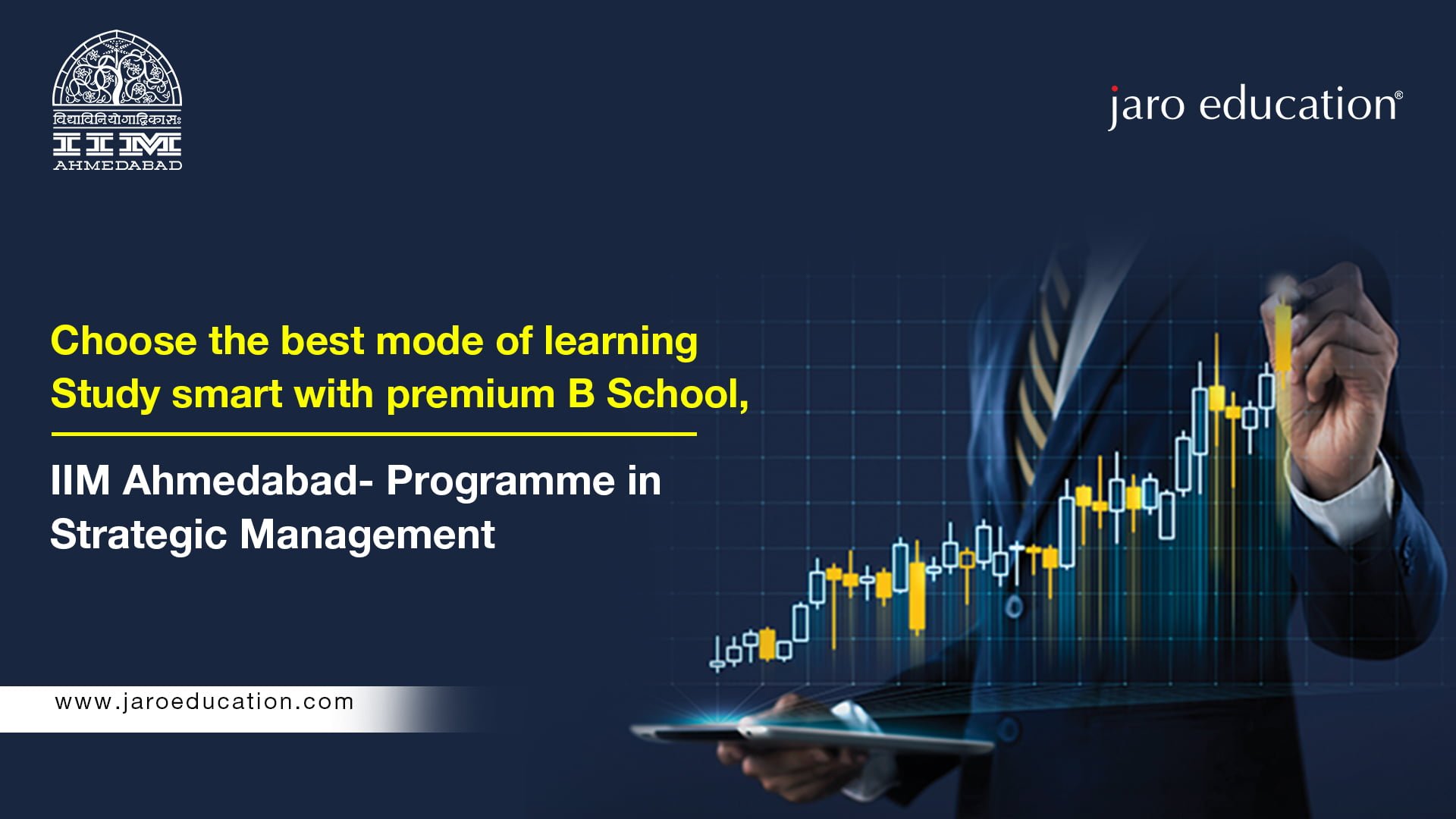 Which is Better: Campus or Online Course on Strategic Management?
Introduction 
Strategic management is a type of organizational practice through which you can streamline your workflows and channelize your process pipeline in advance on each task. It helps you manage time and productivity more efficiently and allows you to direct higher organic reach through marketing. It is also an integral part of business development in today's world. 
If you are a management or business enthusiast in today's fast-paced world, you need to know what leadership and strategic management courses entail. These online courses are tailor-made to suit your business processes. In this regard, there are a wide variety of strategic management online courses and strategic management certificate courses that you can pursue. 
Strategic management short courses offered by institutions such as IIM Ahmedabad tend to be all-encompassing. You get to learn from the industry's best faculty members and mentors and gain exposure at the highest level. Moreover, these distance learning online courses are designed to fit your schedule even if you are a working professional or have projects lined up. You can learn significant insights on how various sectors of the industry operate and how commerce flourishes in the global markets. Often, you are likely to earn higher remuneration with such a course rather than without it. 
The following section details the essential reasons why strategic management and leadership courses online are important for your career.
Advantages of Strategic Management Online Courses over On-campus Options
Tailor-made for executives
Strategic management distance learning methods are made for industry professionals who already have prior experience in the field. With specialized courses from reputed B-schools, you can accelerate your career position in less time. These courses train your knowledge and help you with subjects such as strategic marketing management and strategic brand management. Moreover, you can work on your degree, diploma, or certificate without giving up your job.
If you are looking for an IIM strategic management training course or IIM strategic management course to elevate your career, you can tune into Jaro Education's website that lists all the highly specialized and sought-after programs in this domain. Such online courses help you gain exposure at top Indian B-schools where a regular MBA is often very expensive and highly competitive. What's more, you can do so from the comfort of your home. 
Opportunity to develop professional skills
Strategic management online courses help you develop professional skills, such as critical thinking, design thinking, mental pipelining, diplomacy, and strategic research. All these are highly sought-after in candidates who apply for innovative openings at major global conglomerates, such as Google or Microsoft. It helps you stand out amidst the crowd who only have an MBA or a regular PGDM degree. You can also do a strategic management diploma course, should you want to delve into the depths of the subject while holding on to your source of income.
Conclusion
Today, there are many strategic management online courses and strategic management distance learning programs. However, what you choose must depend on the credibility of the institution, the nature and contents of the course, and the faculty, at large. In this respect, top institutes such as IIM Ahmedabad, IIM Bangalore, and IIM Calcutta should be your primary goal. 
Courses in strategic design management, strategic management and leadership courses, strategic brand management courses, and certificate courses in business management are all lucrative and relatively inexpensive options. 
Therefore, for executives and experienced professionals looking to upskill themselves while working in full-time positions, online courses on strategic options are the superior option. Visit Jaro Education's website to learn more about strategic management online courses and other IIM strategic management courses.