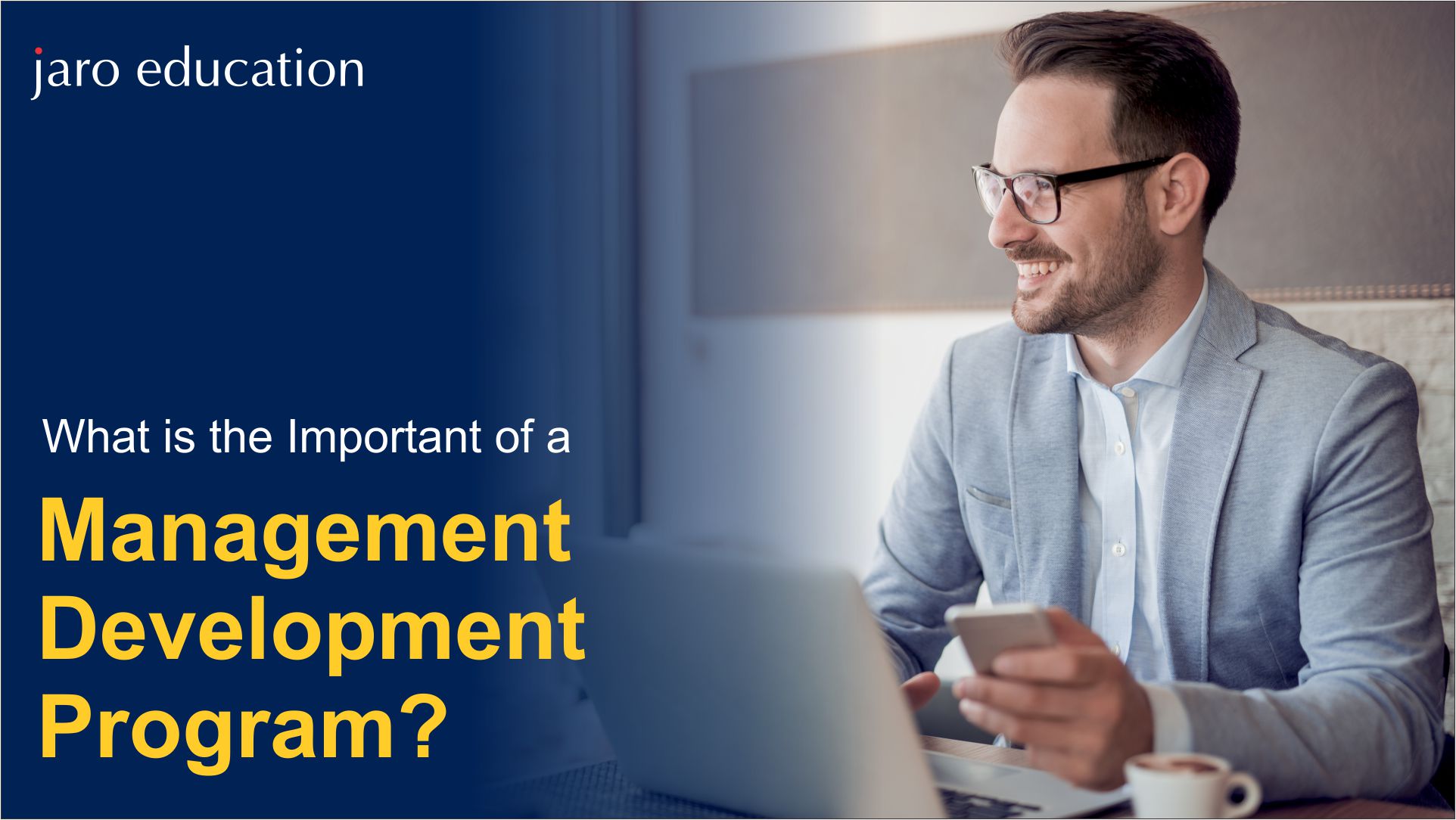 What is the importance of the Management Development Program?
Introduction
Winning a business management strategy requires a rigorous move. Digital ascendancy is dominating the world of work by becoming more agile in terms of technology endowment and progressively more tech-savvy for C-Suite professionals. 
Herein, professionals must upskill and train using proven learning methodologies that lead the growth of the organization. Management Development Program (MDP) is a new age surging training methodology that utilizes various development mixes to coach the professionals through simulations. Thus, leading to the employee's core development with proper corporate training.
In today's changing times, when the work of work is moving towards more competitive advancement, professionals must strive to pursue innovative and unconventional business management strategies.
Upswing your career in the business management field using the right learning methodologies and training program to get started with. IMT Ghaziabad- Executive Program in Business Management has the perfect program curated especially for re-skill and training professionals just like you!
Here's the crystal gaze into the importance of the Management Development Program.
Transform tomorrow's workplace with new-age strategies
Rigorous business management training — begins with new-age innovative techniques. With proper training and confidence, you can seamlessly bring forth innovative strategies to build a thriving business model. Tomorrow's businesses are looking for professionals who possess the key skills to manage and drive innovation even in turbulent times. Here, a Management Development Program will help you elevate your potential and encompass through simulation-based learning and leaps growth.  Thus, ultimately leading towards the flourishing tomorrow's workplace.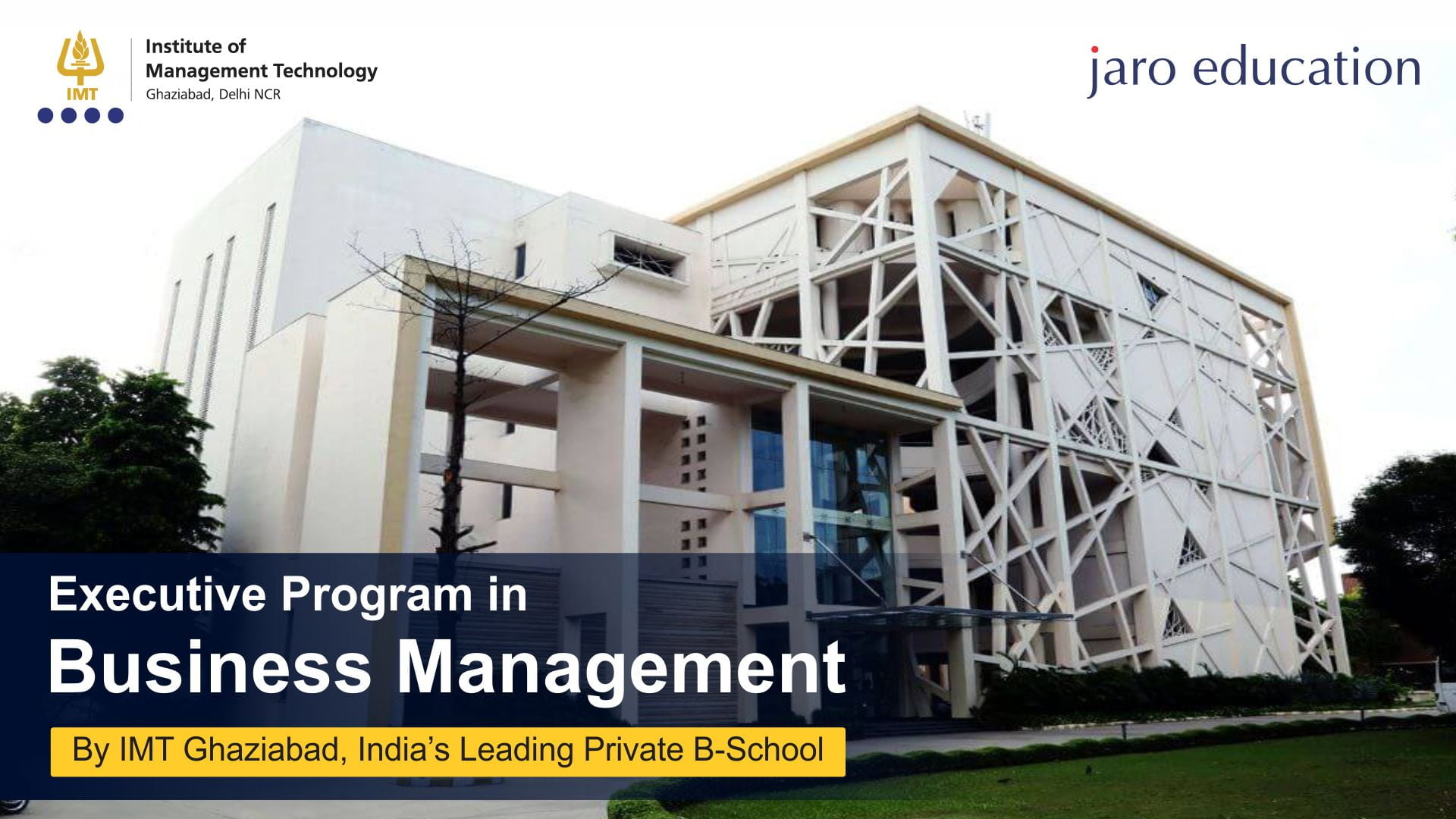 To become an ultimate business growth maker, join the leading private B-School, IMT Ghaziabad – Executive Program in Business Management.
Training emerging leaders
The management development program will strive to bring behavioral change to working professionals. The process involves constant learning using experimental models that implies growth. Participants will have to undergo the development program to evaluate their performance through assignments and more.
Professionals who want to transcend into leadership profiles must train and reshape the organizations' goals. Future leaders can seamlessly improve the operational efficiency of businesses. To increase your potential in business management, pursue IMT Ghaziabad- Executive Program in Business Management. 
Level up with a new approach
Enterprises utilize multiple methods to implement Management Development Program such as coaching, mentoring, simulations, and much more. Corporate training has become a vital part of all enterprises and leading organizations. Level up your career with real-world experience to lead in the field of business management.
To fill in the loopholes of your career, like improving the performance, and developing key skills by taking up new assignments in future. Leverage new-age skills to attain smart organizational goals.
Linking Talent to Opportunity
Management development programs open the door for numerous opportunities. Retaining the best employees has become essential in the changing times. Progress ultimately fuels innovation and boosts motivation in the employees that lead to the development of the organization. Professionals must absorb the nuances of business management strategies to effortlessly navigate through dynamic challenges. Improving skill sets will build a base for your learning levels. Directly, remapping the career path.

Make sure that you invest in upskilling with the perfect Executive Program in Business Management.
Rethink learning ﹘ India's leading institute
With a high academic curriculum, the Executive Program in Business Management is a Direct to Device program that equips professionals to accelerate their careers. A structured pedagogy based on simulations and experiential learning focuses on presenting industry-oriented modules. Students must plan their career trajectory as a roadmap to success. Yes, professionals must open their minds to open new doors to career opportunities.
Next Generation Management Development Program
Driving high-performance is the key to accelerate in the digital age. The next generation Management Development Program enables first-hand learning exposure to the participants like cross-functional simulation, quantitative techniques to enhance the business decision and much more. After completing the program requirement, the new age cohort will receive the prestigious Alumni Status of IMT Ghaziabad.  The cohort will seek insight on the case study based learning and learn from the trusted peers who will serve as an advisory board.

To hone your skills in the right direction, pursue the finest Executive Program in Business Management. 
Unleash the power of management development programs to enhance your skill sets. Achieve learning at every level. The very foundation of executive education is filling the skill gap. Transferring the skill gap is one of the biggest challenges to develop the capabilities of professionals. Going through the Executive Program in Business Management will be a fantastic experience for learners to procure transferable key skills.
For fine-tuning your career in business management, join IMT Ghaziabad- Executive Program in Business Management. To become a visionary in business management with a thriving career, subscribe to our innovative blog and stay updated.