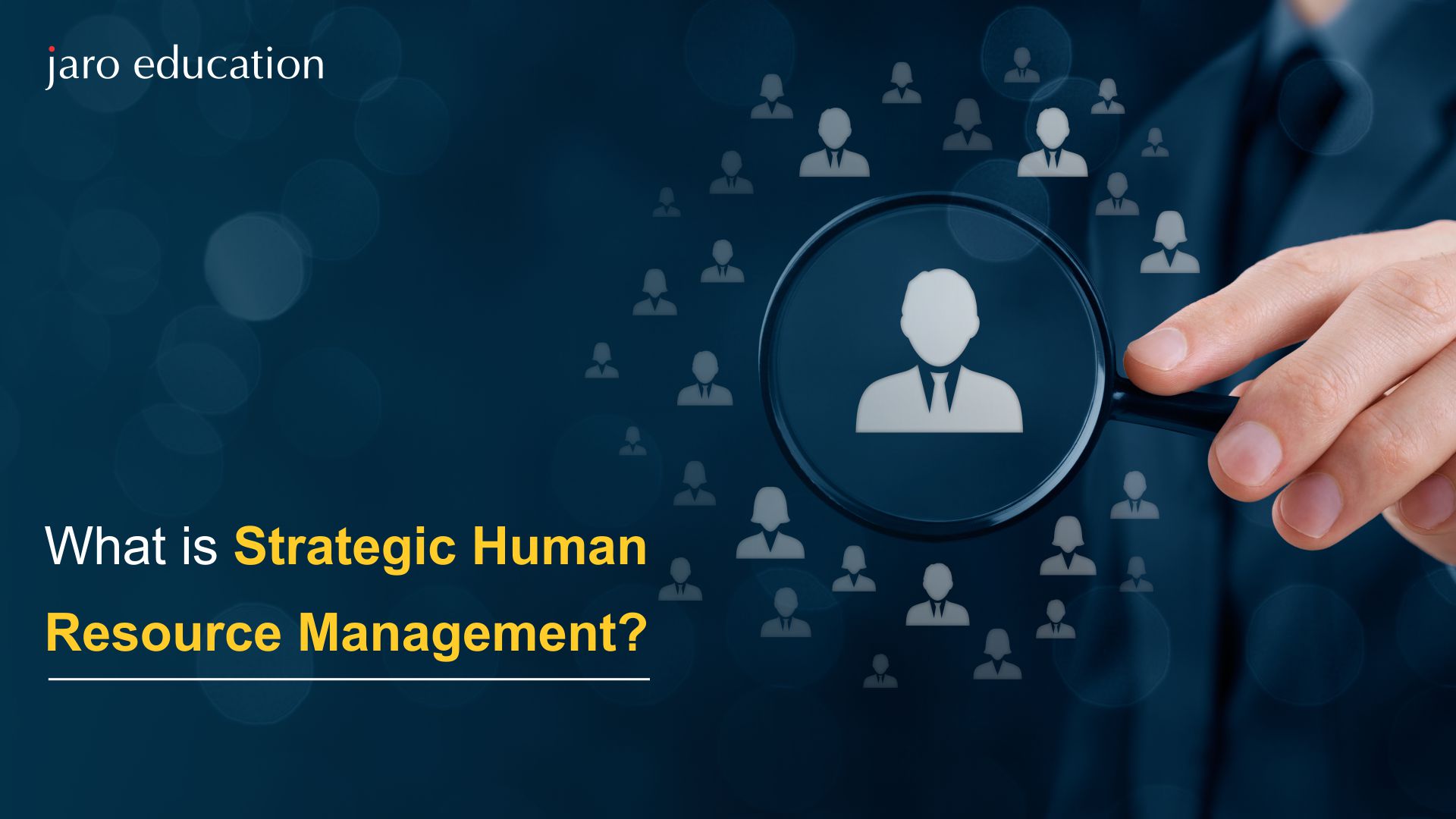 Introduction
Strategic Human Resource Management refers to HR Programmes developed to solve various business problems. As the term suggests, it is about introducing strategy in HR management. Initially, the primary function of HR management was to focus on daily responsibilities like employee recruitment and employee benefits. 
However, with the recent changes in labor market conditions, HR responsibilities currently include retaining the right talent and providing ethical leadership. It further involves the use of different cultural and personal techniques to develop a capable and committed workforce.
A human resource team that works with the support of Strategic Human Resource Management interacts with several other divisions in the organization to understand their unique needs and goals. They also focus on developing business goals, creating innovative retention strategies, and helping departments achieve their goals. This technique is a more hands-on approach that benefits the overall interests of the business.
Importance of Strategic Human Resource Management
Strategic Human Resource Management, when applied properly, assists in business development and success. In the early twentieth century, industrial reformers and psychologists laid the basis for the current notion of human resource development. During World War I, when immigrant workers were included in industrial life, human resource management helped develop their psychological health and improve their social work life.
But how did we move from basic human resource management to strategic human resource management? It is essentially the increasing emphasis on services and technology that has boosted the significance of strategic HR development.
Ideally, the work of HR would be adjusted according to the directives that they received from the top management. However, in the case of Strategic Human Resource Management, HRs have a place at the conference table along with the Chief Operations Executives. They play an active role in discussing several issues such as pipeline succession, staffing needs, and other HR matters.
The HR department that follows a more strategic technique generally identifies those departments in the company that can be modified to improve the performance of the business. Hiring the perfect employees with the right mix of abilities and skills is essential in this regard.
The planning process
Before a company introduces strategic human resources, there are a few things that they must keep in mind. They are as follows:
The company must understand the aims and objectives of its business before introducing strategic HR development. Be it business expansion or improved market penetration, once goals are set, it will be easier for the company to build strategies.
It is essential to evaluate the current team workers to understand their skill contribution and their alignment with the company's strategies and business objectives. Further, it will also help to identify the team members who are interested in receiving training in new business aspects. Periodic performance reviews are a perfect time to analyze and access these details.
Analyzing HR capabilities
It is important to analyze HR capabilities for new strategies to succeed. The company needs to understand whether the HR department is well-equipped and can perform the job. They also need to assess whether or not they have enough training and knowledge to understand the intricacies involved in the role.
The primary aim of the HR department will be to bring talent to each department and take their performance level to 100 percent. It must examine the other departments and align them according to the goals of the company.
Satisfy Departmental Needs
There will be some departments in a company that have specific needs when hiring employees, while there will be other departments that will require more readily available team members. Strategic human development will help fit the people with relevant work experience in the appropriate department.
Conclusion
Presently, many universities offer several HR courses online. These Human Resource Manager courses are designed to help students appreciate their relevance across various industries. IIM Trichy offers a Post Graduate Certificate Programme in Strategic Human Resource Management (SHRM) for executives. 
This one-year HR management course is specifically designed for working HR professionals. The programme curriculum includes an introduction to SHRM, framework, strategic alignment, employee value proposition & employer branding, and other issues. This programme will help to understand the strategic human resources management implications across industries and stakeholders. 
Some of the primary highlights of the HR course are its interactive campus immersions, case study-based learning, a complete understanding of the Strategic HRM process, and Cross-Industry Peer Networking.
Enroll in this Post Graduate Certificate Programme in Strategic Human Resource Management (SHRM) from IIM Trichy, and accelerate your HR career in the right direction. The HR certification will be a stepping stone to a career as a successful professional in the industry.