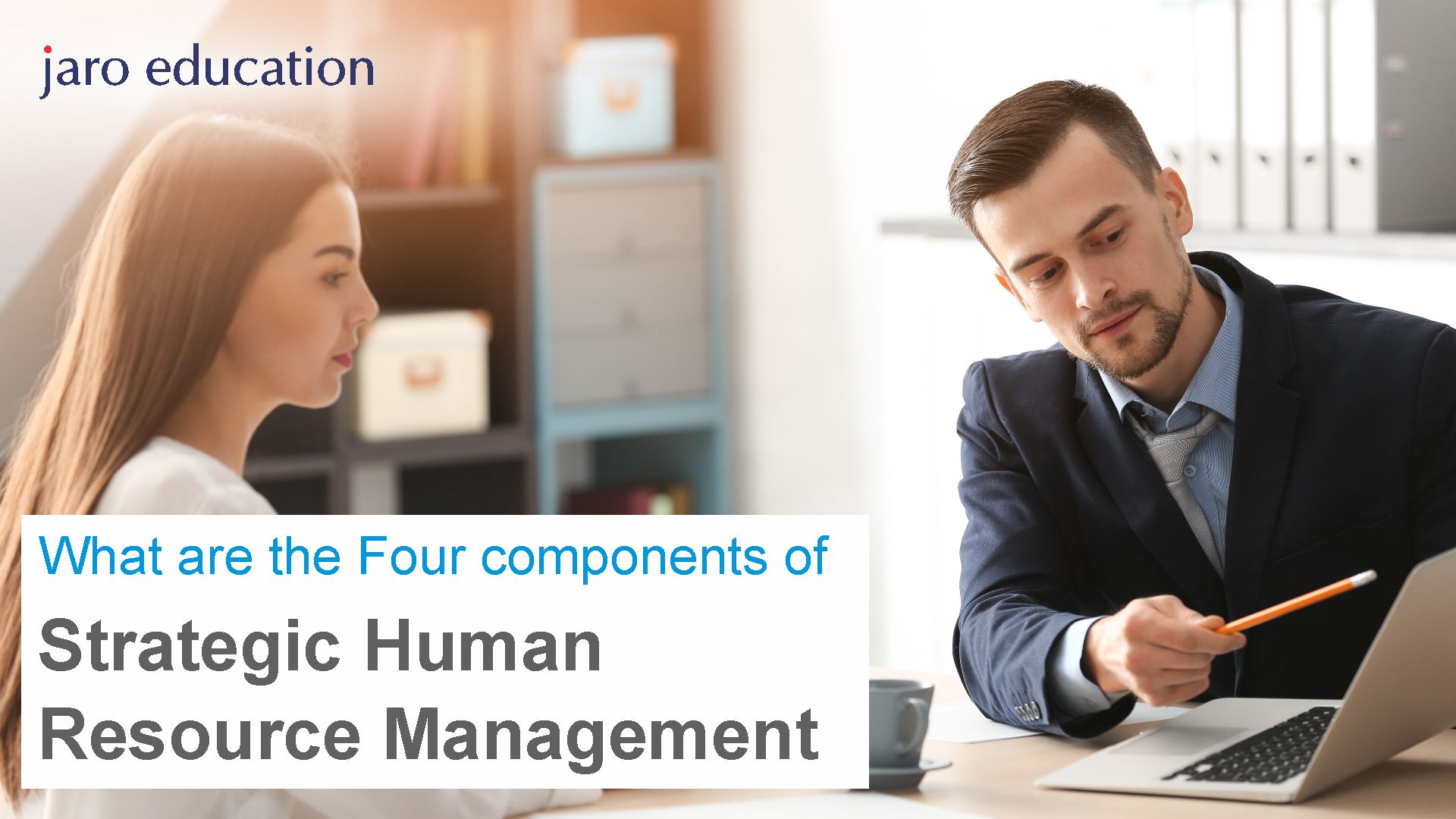 The process of associating human resource functionalities with the strategic objectives of an organization for performance enhancement is termed Strategic Human Resource Management.  Well-designed organizations also fail to implement the strategies and progress when they don't have the motivated people, with the right skills led by the right leaders. So, such HR courses for working professionals are aimed at attracting and retaining skilled individuals in the dynamic business world. Employees' skills and competencies play a crucial role in providing a competitive edge for an organization. 
Components of SHRM
SHRM is a people management philosophy that is based on the belief that human resources are crucial for the success of a business as their expertise can be utilized for meeting the defined objectives. Explore four components of the Strategic Human Resource Management Programme.
These are the primary source of any organization which can provide it with a competitive advantage through its knowledge, judgments, right skill set, and intelligence. Other resources are also required for the efficient functioning of human resources and to accomplish the goals. This includes plants, finance, equipment and organizational capital resources, which include the organizational culture, planning, HR system and the history of an organization. Physical and capital resources are dependent on people for their maintenance, management, and efficient use.
The activities include HR programs, policies,  and practices which form a means of gaining a competitive edge in the market. Despite having a huge capital and advanced machinery, a lack of motivated employees will result in low-level performance.  So, human resources, along with the right activities, form the perfect combination for reaching the targets easily.
Patterns and plans are made to ensure a proper fit between the HR strategy and the business strategy of the firm and between various HR activities.
Human resources, their practices, and patterns are all geared toward a purpose, i.e. achieving the goals of an organization by sticking to the strategies. Strategic human resource management decisions are built into the strategic business plan, with a focus on tackling long-term issues.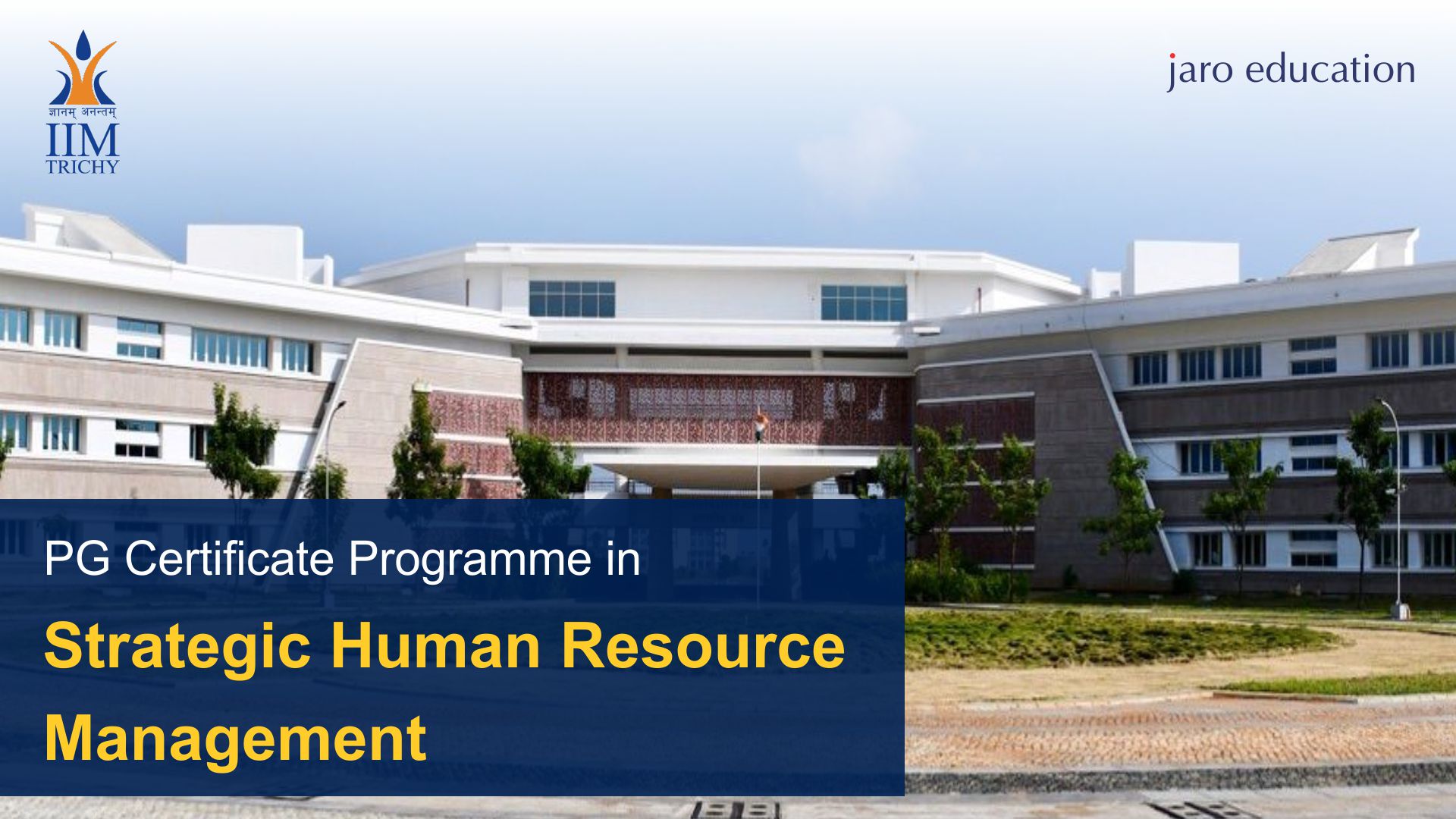 Importance of Strategic Human Resource Management Programme
Post Graduate Certificate Programme in Strategic Human Resource Management offered by IIM Trichy takes up candidates with a minimum of 50% in graduation or post-graduation from any recognized university. For SC/ST candidates, it is 45%. The candidate must have 3 years of work experience too. This certification is important because of the following reasons:
Conveying the goals and objectives

: The employees perform well only when the goals are properly communicated in an organization. SHRM ensures that this is well communicated to ensure timely operations

Assigning people with a specific skill set to specific goals

: Since the HR department hires people for various departments, they are well aware of the capabilities of individuals. Thus, the strategic human resource helps in assigning specific goals to employees for better outcomes.

Requirement forecasting: The corporate, competitive, and functional requirements help the strategic human resource forecast the future needs of the organization. Thus, SHRM helps in eliminating chances of shortage of human resources in the future and staying consistent in operation.
Motivational tool selection

: All employees might not be motivated by the same tools, such as, for some, it may be a salary increment whereas for others it can be promotion and social recognition. SHRM helps in identifying this to keep employees motivated so achieving organizational goals becomes easy.

Performance measurement:

SHRM helps in gauging the performance of employees using the right techniques and accordingly rewards them by comparing it with the expected performance. This further determines if any training or education is needed.
Conclusion
Taking up HR certification courses or HR management courses related to SHRM is essential for an organization to cope with the cutthroat competition in the business field. At a functional level, strategic HR works as a communicator for interpretation of the target goals and best ways of attaining them. 
Pursuing the Strategic Human Resource Management Programme from India's renowned institute, IIM Tichy will create an impact on your career. It will provide you with amazing exposure from diverse pedagogy and experienced faculties. Significantly increase the chances of getting promoted or switching to better job opportunities.
Are you a  working professional but want to level up your career?