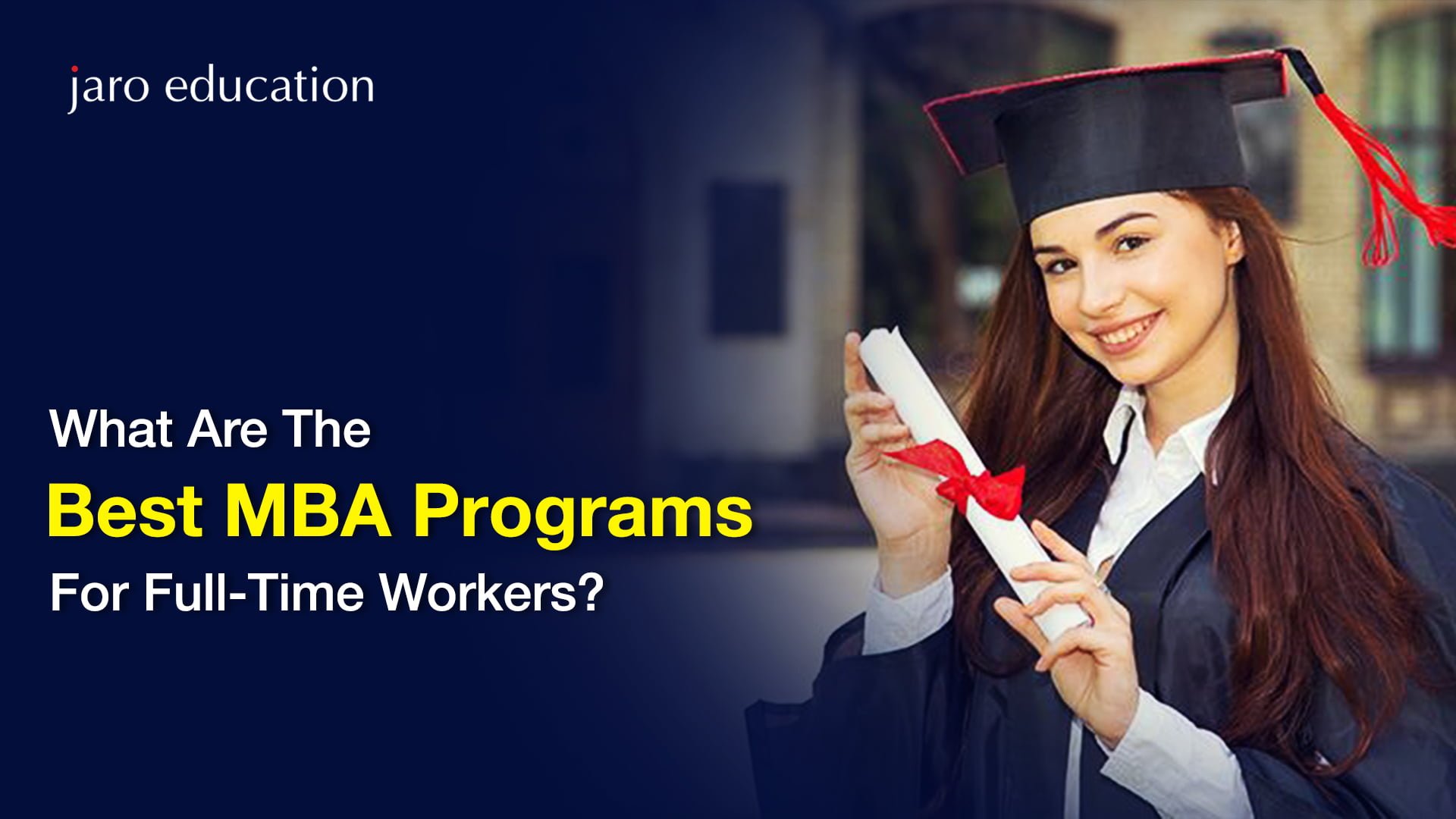 Introduction
Traditionally, working professionals have been skeptical about pursuing an MBA degree online. However, this outlook has changed drastically with the pandemic, highlighting the ease and benefits of online education, especially for working professionals. Nowadays, almost all top universities offer Online MBA courses in addition to their traditional courses. Whether an MBA is online or on-campus, it will certainly make you eligible for more quality jobs in the market. 
The traditional way for working professionals to get an MBA is to take a career break and enroll for a management degree. However, a career break is not viable across the board for everyone. 
Let us explore the best MBA programs for full-time professionals who wish to upscale their value in the job market.
Before going into the various course offerings for professionals, you should note that, in India, the MBA program typically offered is known as a Post Graduate Diploma in Management (PGDM). In addition to their on-campus PGDM programs, top management schools are now offering completely online PGDM programmes and Hybrid PGDM programs. As the name suggests, is a completely online PGDM program, the complete model of instruction is online, whereas, in a Hybrid PGDM program, there are on-campus sessions in addition to the online sessions.
What are the top choices for a working professional to do an MBA from? The list is as follows:
Programs are not in association with Jaro Education
Hybrid Post Graduate Diploma In Management – Welingkar Institute Of Management (WeSchool)
D.Y. Patil Vidyapeeth: Online MBA
The online MBA program at D.Y. Patil Vidyapeeth is a program uniquely designed with an eye for what employers across the globe are looking for currently as well as what the emerging employment trends will be. In addition to being taught by top academicians, this program gives you the unique ability to study when it suits you.
WeSchool: Hybrid PGDM Program
The Hybrid-PGDM by WeSchool aims at transforming its learners into top-notch problem-solvers and future innovators. In addition to being one of the best substitutes for a part-time MBA in Mumbai, the whole course structure is designed keeping the time constraints of working professionals in mind. This reflects clearly in the flexible examination timings of the program, as well as optional weekend events & workshops that the program offers.
Alliance University: Executive PGDM Program
Alliance School of Business (Alliance University) has a program called Executive Post Graduate Diploma in Management (Executive PGDM) specifically targeted at working professionals. This is aimed at professionals who wish to upskill themselves to move up the corporate ladder or transition into new industries. Being a weekend program makes this an apt choice for working professionals who are short on time.
Shiv Nadar University: Executive MBA Program
The Executive MBA Program from Shiv Nadar University is a hybrid online program. This program is designed to make its learners future-ready with apt specializations. The multiple on-campus residencies in this program expose learners to industry experts as well as helps foster a professional like-minded peer group. The highlight of the program is its capstone project with industry guidance.
The above list gives you an insight into the best online MBA programs in India.  You should analyze your own requirements and do a detailed study about various programs available. List down their pros and cons, considering the various requirements to get admission in the respective courses. Also, take into account the career you are seeking post your MBA to make a better decision.
Whichever program you choose, the biggest advantage of doing a fully online or hybrid MBA program is that you can complete your MBA degree irrespective of whether you are a working professional or have family constraints or both. Most online learning programs offer flexibility to fit any schedule while ensuring quality education. However, online classes will require a significant shift in your mindset and priorities. It will require self-discipline on your part as well as good time management skills to complete your course successfully.
To get an in-depth understanding and idea about the best choices available for you,select an online program that suits your needs, browse Jaro Education's platform.