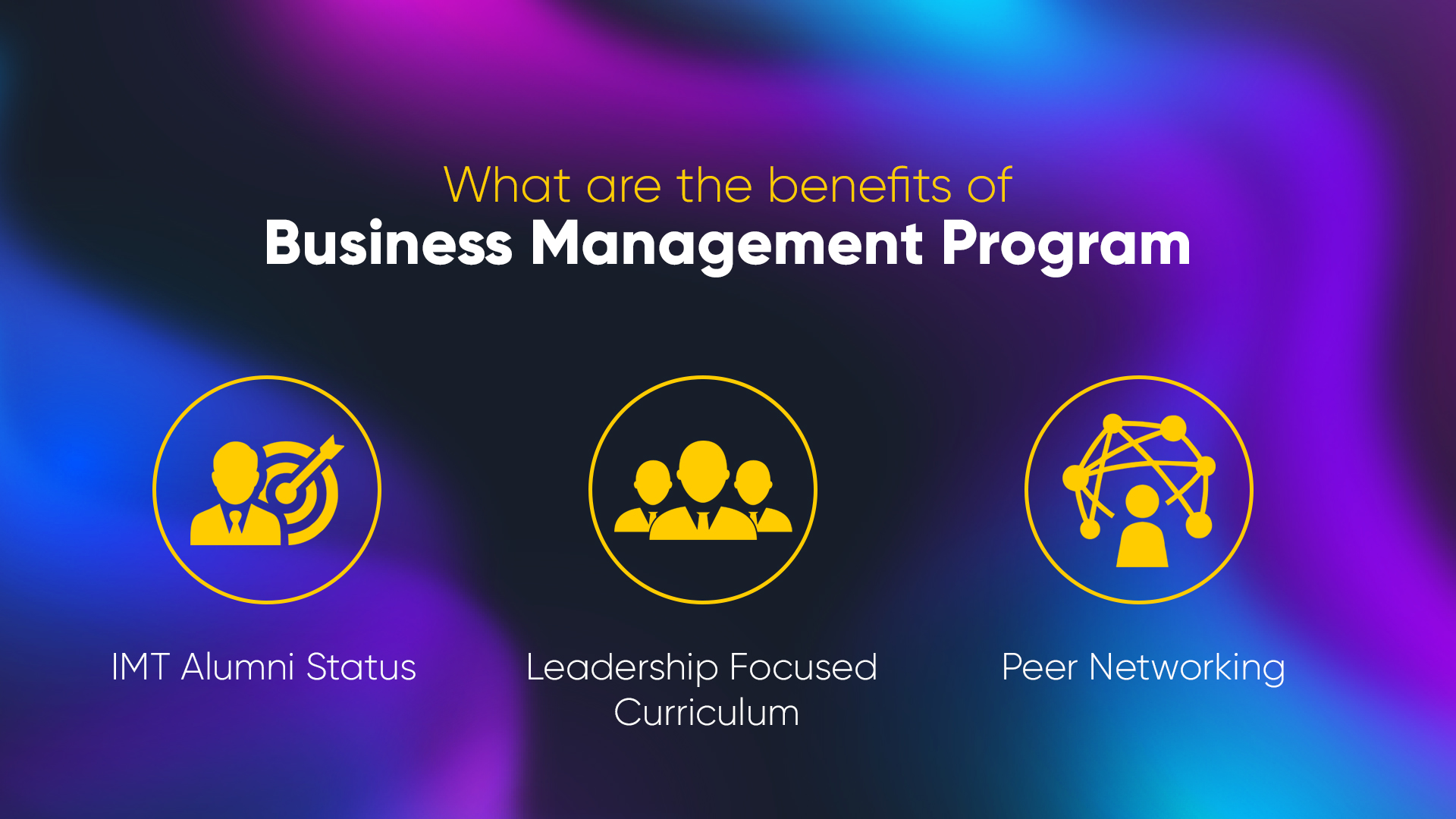 Whether it's a multinational company or a homegrown start-up, the resources available to any business organization, such as land, labor and capital are limited in nature. Hence, efficiency in production and distribution is necessary for a business to maximize the return on investment for all stakeholders.
Business management as a field is concerned with organizing and planning business activities in such a way that produce goods and services satisfy the needs of consumers in a timely and efficient manner with optimal use of available resources. The Business Management Course at IMT Ghaziabad is a Top-Rated Executive Program that imparts the knowledge and skills to run a business successfully in a fast-changing global business environment.
Why study Business Management?
In the present day and age, up skilling is critical for survival and growth of executives in the world of business. A lot of working professionals have the ability and the practical experience to rise up the corporate ladder. Yet, the absence of a business degree in their CV somewhere affects their chances of getting that promotion or big break, despite a consistent record of achieving targets!
The Executive Program in Business Management offered by India's premier management institute IMT Ghaziabad is just the right option for working professionals looking to expand their knowledge of contemporary management skills through a business management course. Launched in collaboration with Ed-tech Pioneer Jaro Education, this IMT Ghaziabad executive program helps working professionals gain access to in-demand skills through blended learning from experienced faculty using advanced learning tools and state-of-the-art virtual classrooms. Moreover, in view of the prestige associated with IMT Ghaziabad Executive Programs, a certification in Business Management from this institute has more value than from other institutes as far as career growth and salary increases are concerned.
Who can apply for IMT Business Management?
Candidates who have 10+2+3 years, Graduation/Diploma combined with a minimum of two years of work experience can enroll for the Executive Program in Business Management offered by the prestigious IMT Ghaziabad. The course modules will teach you skills such as Cross-Functional Simulations, Quantitative Techniques in Business Decision, Financial Accounting, Consumer Behavior, Value Chain Management, among many others.
The highlights of the program are:
Duration – 11 months
Blended mode of learning
Case study-based learning
Leadership focused curriculum
Peer networking at campus immersions
Pedagogy based on simulations and experiential learning
Comprehensive project at the end of the program
Alumni status and Certification of IMT Ghaziabad!
Why Executive Education from IMT Ghaziabad?
There are plenty of online learning platforms. However, IMT Executive Education is highly valued in business circles as it combines academic knowledge with essential leadership skills such as critical thinking, strategic planning, communication and collaboration, and project management. Therefore, it is easy to choose the IMT Business Management program as it is the most suitable and well-known executive education program that helps you meet your career goals within your budget.
For aspiring entrepreneurs and managers, IMT Business Management is the best course to imbibe in-depth knowledge of the key elements of marketing, sales, finance and other aspects of managing a business. In addition, the peer networking opportunity and academic certification are life-long assets that will help you pursue global opportunities.