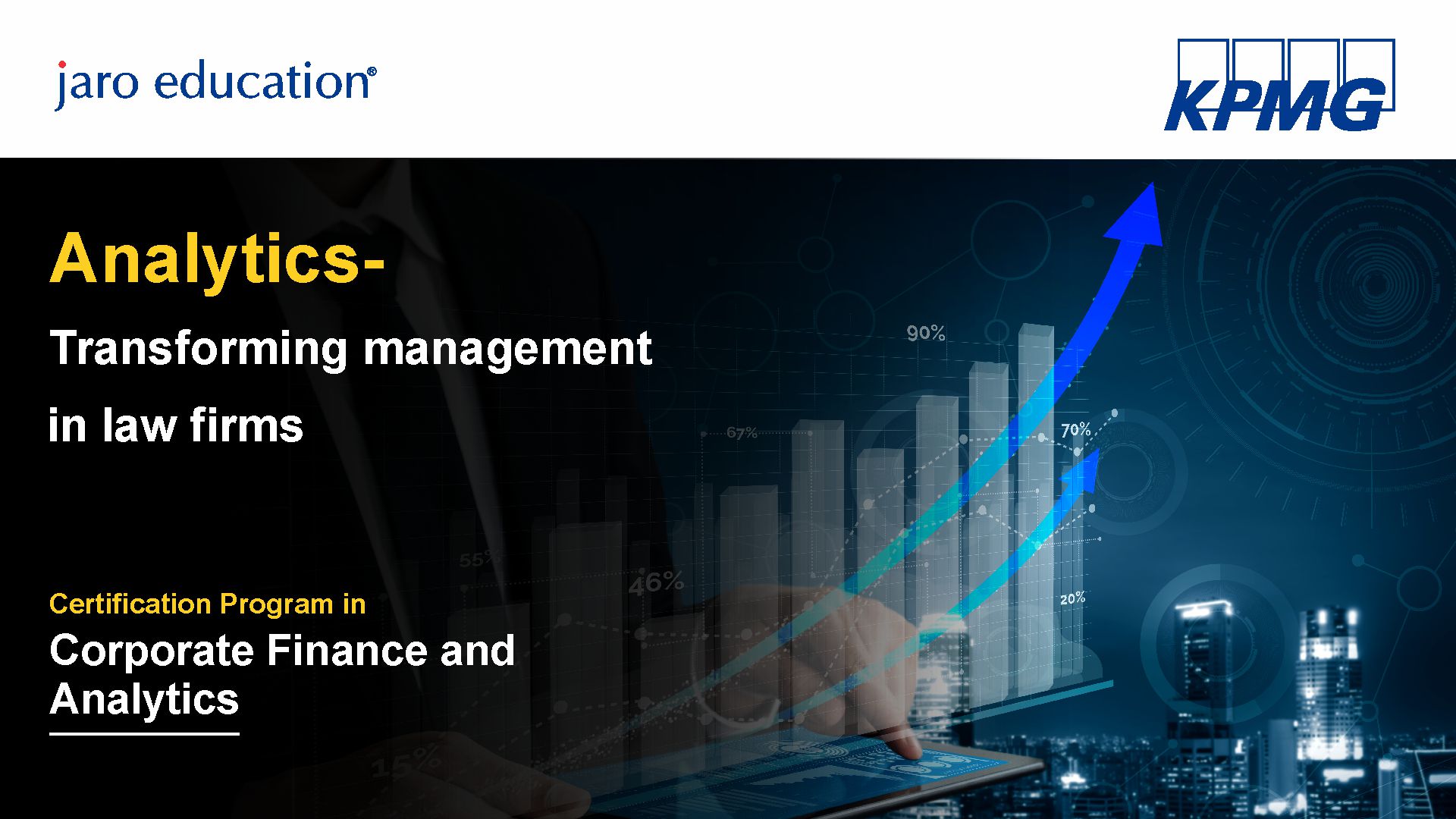 Understanding the impact of Analytics in managing a Law Firm
Transforming the law firm – starts with Analytics
Legal analytics is gaining an edge over the cutthroat competitive market. More and more sophisticated law firms are using data analytics to smooth operations. Data helps to support better decision-making in both the practice and business of law. Corporate law firms have integrated analytics into their operations' fuels to boost and improve using analytics tools.
The legal professionals expect that using analytics tools will continue to perpetuate a virtuous circle that leads from data creation to evidence-based action and back again. Thus, resulting in transforming the data-driven law firms with intent base business operations. Considering the current ecosystem, the transactional nature of the business and law builds a tremendous amount of data resulting in opportunities for corporate law firms.
Unearth KPMG in India- Corporate Finance and Analytics program to overcome obstacles to deploy legal analytics solutions.
Working executives, wondering why legal analytics is essential to modern law firms, must explore the Certification Program in Corporate Finance & Analytics — aiming to sharpen their strategic finance and analytical skills.
Legal matter management, analysing with the creation and capture of many valuable data points. Professionals can acquire tracking for items as timekeepers on a matter and the type of legal work for court records coupled with the rise of digital filing. The judiciary can now seamlessly scale the process of incorporating data into your decision making on topics affecting law firms and lawyers. For instance, Lawyers can use matter in forecasting, generating legal strategy, and resource management for a firm. Corporate legal analytics enables unparallel transparency and insight into the sessions, departments, and decision-makers. 
Here's a crystal gaze into the impact of Analytics in managing a law firm. 

Analytics in litigation practice
For devising data-driven decisions, a legal representative must practice law using the application of data to change in the modern business world. To bring order while drawing insights, and trends, legal analytics can activate through a huge amount of data — court dockets, court decisions, and a firm's own matter management data and much more.

Suites – a magnificent case study
Ever wonder how a compelling web series- 'Suites' remodelled the corporate world by moving ahead of the tired cookie-cutter law-school grads students. 
Analytics is soaring high in the modern business world. Moving forward towards creating momentum, Suites becomes a hit television drama that gets into the nitty-gritty of law. The cases are simplified enough for even a commoner to understand and catch up with the series. 
Since, Suites have a rather tedious reputation in representing legal aspects; driving a contemporary and comprehensive flow that will surpass all the conditioning in a legal firm. Formidable experts and mavericks like Havey Specter & his rival Louis Litt; somewhat incredible in scoring on a notch higher for their law firms. 
Unexpectedly in season 7, Jessica Pearson strictly took the pro bono cases for a while until handling a police brutality case against the mayor's office— exacting a $4 million settlement. This showed a swift method of addressing the law cases.
Unlike Suites, Pearson follows the intriguing plot of the powerhouse lawyer Jessica Pearson, co-founder and managing partner of a top-tier law firm, Pearson Hardman.  Her uncompromising business demeanour represents an ace lawyer from a reputable law school. Pearson manages to fuel her ambition with top-notch legal cases depicting the lawsuit moving at breakneck speed.
Reimagine Future – the legal analytics
The future of legal analytics is likely to upsurge its demand for corporate legal firms in the changing times. Legal analytics is one of the most anticipated tools and techniques used in litigation strategies. It is a promising application that's made to make a monumental impact on everything from law schools to legal best practices for improving the efficiency of the filing process. 
Harnessing the power of the application of data analysis (methods and technologies) within the field of law to gain insight and realize greater value from available data. 
As reported in a study, 90% of legal advisers said that legal analytics makes them better practitioners.
In the era of digitalization, several Indian companies are now entering the legal tech space. AI is disrupting the legal research spectrum causing a major transformation in the field.
Sensing the need of the hour
Future legal advisors or representatives, time to make use of AI systems to upscale your legal research and analysis. Gain a deep dive and comprehensive research to predict litigation outcomes and improve legal workflow that fuels smart decisions using legal analytics.
Your search for a stellar certificate course in Corporate Finance in India ends here. You will be able to learn FP&A, Financial Modeling, AI, RPA, FinTech, and much more. The KPMG in India- Corporate Finance & Analytics program is 6 months aiming to build a good foundation in finance and analytics for future corporate leaders with new-age technologies that are impacting finance.
To ride the corporate wave, first take a deep dive into understanding the nuances of corporate finance and analytics. Join KPMG in India – Corporate Finance and Analytics program.
Don't miss out on our interesting posts. Subscribe Now!