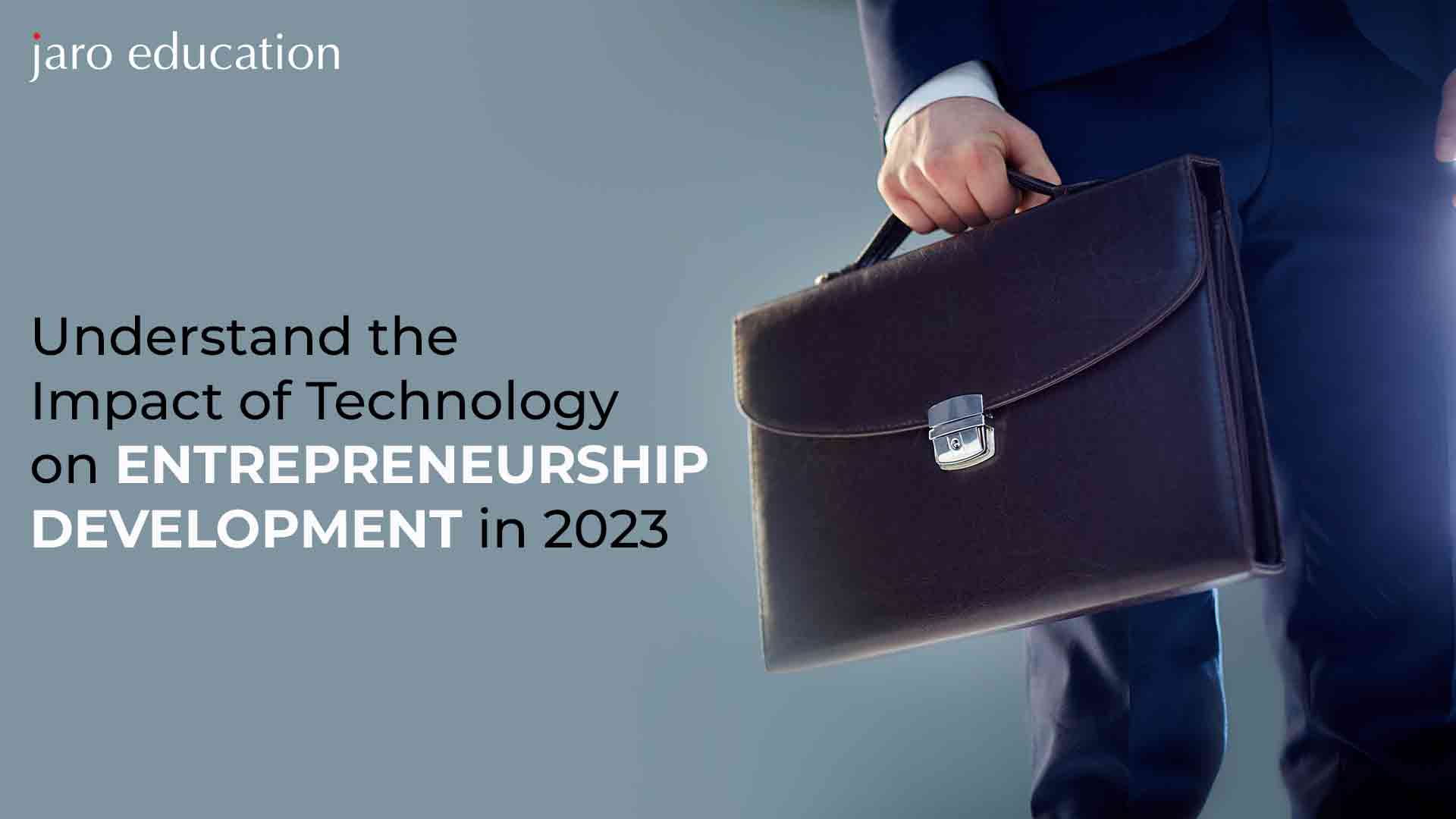 Technology has been driving entrepreneurship development for years, and there is no doubt that its impact will continue to grow in the coming decade. With the advent of artificial intelligence, augmented reality and other cutting-edge technologies, entrepreneurs have access to an unprecedented set of resources and capabilities. By 2023, it's estimated that technology will have a major effect on the way businesses are run and managed.
In this blog post, we'll look at some of the ways technology is already having an impact on entrepreneurship development today, as well as how these trends are likely to evolve in the future. We'll discuss how tech is creating new opportunities for entrepreneurs, helping them reach more customers and take their businesses to new heights. We will also discuss the importance of online MBA programmes in preparing the youth to be successful entrepreneurs.
What is Entrepreneurship Development?
Entrepreneurship development is the process of helping individuals and organisations to develop skills, attitudes, and knowledge to start and run a successful business. This process usually involves combining educational activities, mentorship, networking opportunities, funding support, and other resources to help individuals or groups build successful businesses.
Entrepreneurship development initiatives can take many forms, such as start-up incubators or accelerators, government-funded grant programmes for entrepreneurs, or private venture capital firms. The goal of entrepreneurship development is to create an environment where individuals have the resources they need to turn their ideas into viable businesses.
The Rising Culture of Entrepreneurship in India
The rising culture of entrepreneurship in India is a result of the country's strong economic growth. The increasing opportunities for businesses to tap into new markets also contribute to the rising opportunity for entrepreneurs. The number of startups in India has increased significantly in recent years, with more people looking to start their own businesses and become their own bosses.
The combination of education and a desire to be financially independent has also contributed significantly to the rising culture of entrepreneurship in India. It is widely believed by corporates around the world that India has one of the best talent pools when it comes to having employable skillsets.
The current era is in many ways believed to be a turning point for India as a nation. A strong entrepreneurial mindset among Indian youth is helping the country quickly cover its path to becoming a developed nation.
Several factors have contributed to the growing culture of entrepreneurship in India. They are as follows:
Firstly, the country's economy has been growing rapidly, which has created new opportunities for businesses to expand into new markets.
Secondly, the Indian government has been making policies in favour of entrepreneurs and has implemented policies that encourage startup activity.
Finally, there is a large pool of young talent in India that is looking to start their own business. The rising culture of entrepreneurship in India is having a positive impact on the country's economy. Startups are creating jobs and driving innovation, which is helping to boost economic growth. In addition, the rise of entrepreneurship is helping to build a more entrepreneurial society.
The Impact of Technology on Entrepreneurship Development in 2023
There will be a significant impact of technology on entrepreneurship development in 2023. The way we conduct business will be transformed by advanced digital technology, artificial intelligence, and the Internet of Things. Here are four areas where technology will have a major impact on entrepreneurship development in 2023:
E-commerce:

The growth of e-commerce has been exponential over the past few years, and it shows no signs of slowing down. By 2023, e-commerce will account for a whopping $4.8 trillion in global sales. This figure includes both business-to-consumer (B2C) and business-to-business (B2B) sales. For entrepreneurs, this means there will be huge opportunities to start or grow an e-commerce business.

Social media:

Social media platforms like Facebook, Twitter, and Instagram have changed the way we communicate and connect with others. In 2023, there will be an estimated 3.02 billion social media users around the world – that's almost 40% of the global population! For entrepreneurs, social media provides an excellent way to connect with customers and promote their businesses.

Cloud computing:

Cloud computing is revolutionising the way businesses store and access data. By 2023, it is expected that 82% of all workloads will be processed through the cloud. For entrepreneurs, cloud computing provides a cost-effective way to store and access data, as well as flexibility.
The Future of Entrepreneurship and the Role of Technology
The future of entrepreneurship is intimately linked with the future of technology. As technology continues to evolve and become more accessible, the opportunities for entrepreneurship and the way of operating a business will increase while providing accessibility to all entrepreneurs. In the current scenario, with the rise of remote working and tech-based solutions, the global landscape of the current market is changing rapidly.
Looking ahead, it is clear that technology will continue to play a major role in entrepreneurship. New technologies will create new opportunities for entrepreneurs to start businesses and reach customers in innovative ways. At the same time, existing technologies will become more sophisticated and user-friendly, making it even easier for entrepreneurs to get started.
As technology advances, we will likely see an increase in the number of people who can successfully start and grow their own businesses. This trend is likely to be driven by a combination of factors, including the continued development of new technologies and the increasing availability of capital.
How Can DY Patil Online MBA Prepare You to be an Entrepreneur?
A career in entrepreneurship is a popular choice for many business students, and an online MBA can give you the skills and knowledge you need to be successful. Flexibility and streamlined learning are the biggest benefits when it comes to online MBAs. Dr.DY Patil's online MBA offers a curriculum that covers all aspects of starting and running a business, from marketing and finance to operations and management. You'll also develop important entrepreneurial skills such as problem-solving, risk-taking, and creativity.
The programme offered by Dr. DY Patil University includes several courses that are specifically designed to help budding entrepreneurs. These include classes on marketing management, entrepreneurship development, and managerial economics. The Dr.DY Patil online MBA programme is accredited by the All India Council for Technical Education (AICTE). This ensures that the quality of the programme meets the educational standards required to prepare candidates for real-world job opportunities.
Conclusion
So far, we have seen how technology can play a major role in the development of entrepreneurship. In 2023, we can expect to see even bigger and more revolutionary changes in terms of technology impacting business. Consult with our experts at Jaro Education and secure your admission for the Dr.DY Patil online MBA course today!