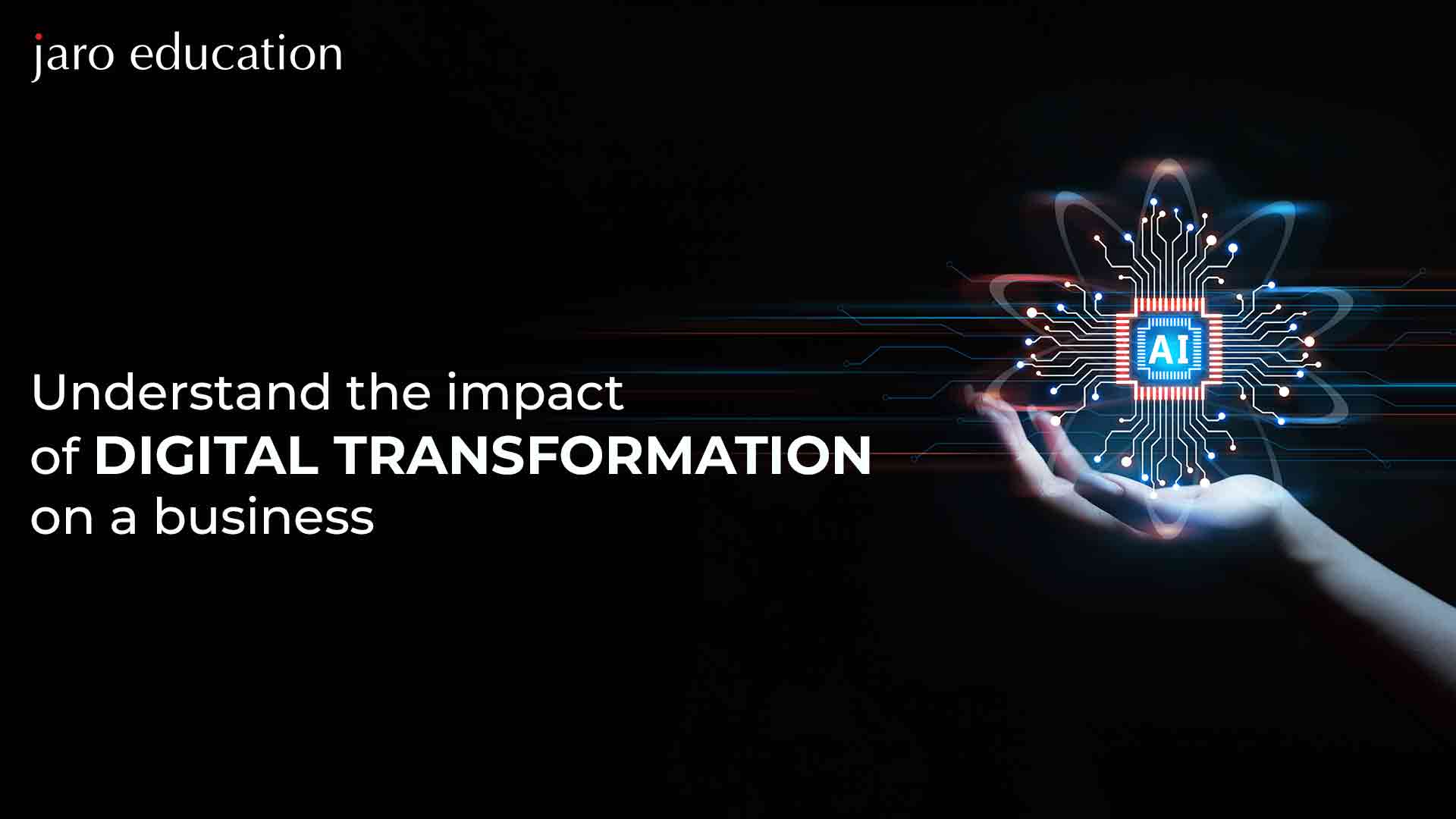 In the business landscape, digital transformation has evolved as a trendsetter for numerous reasons. It is the process of integrating digital technology into different genres of businesses, enabling operational ease and value delivery to clients. Digital transformation has a significant impact on business and has the potential to revolutionise even the major operations associated with them. The transformation is far-fetched as it immensely increases productivity and efficiency. 
To be at par with digital technological advancement, one needs to navigate through the nooks and corners of digital marketing. For being a part of the digitally transforming world, the PG Certificate in Digital Marketing and Growth can help exponentially. Created by the efforts of prominent industry experts from IIM Visakhapatnam, this 12 months course can be life-changing. Register soon to reach your career goals in digital marketing and fasten your way to success.
How Digital Transformation Can Smoothen Operations?
Regardless of the size of a venture, digital transformation can fasten and smoothen business operations from the very moment it is integrated into the setup. From automating tasks, and streamlining workflows, to improvement in communication, it is capable of filling all the gaps usually found in business operations.
Integrating Cloud-based System
One pivotal aspect of digital transformation is the utilisation of cloud-based systems allowing ventures to store and access data anytime, anywhere. This eliminates the need for physical storage of documents and provides effortless access to crucial information. This feature of digital transformation helps in extensive time management and depletes the risk of data damage and loss.
Streamlining Business Procedure
By adopting digital tools and technologies, one can automate repetitive tasks and reduce commonly occurring errors. With the integration of workflow automation tools, ventures can conduct data entry, document routing, and approvals seamlessly. One can break down silos and collaborate in real-time to ensure everyone is working on reaching one common goal.
Automation of Tools
To take over repetitive tasks that kill valuable time, digital transformation offers automation tools. From data entry to managing them, these tools can carry out minute operations precisely and efficiently. 
For instance, automated inventory management is a great addition to many setups. This tracks inventory levels in real-time which eventually decreases stock out or overstocking risk.
Improve Collaboration and Communication
Digital transformation makes it easier for businesses to build rapport between employees working together. Digital tools like instant messaging, video conferencing, and project management software have facilitated easier ways to communicate even if people are working remotely.
Minimising Risk and Vulnerability
With digital alterations in business operations, businesses can be aware of the associated risks and vulnerabilities. What is threatening their venture and its reputation can easily be assessed. Robust cybersecurity measures can help mitigate cyber threats with measures like encryption, realtime threat detection, multi-factor authentication, and response. With these features, businesses can comply with regulations like data protection, anti-money laundering laws, privacy laws, and regulations specific to the industry. 
Enhance Customer Experience with Digital Transformation
Streamlining operations and improving efficiency are only two aspects of digital transformation. It is something that drives customer experience and improves the overall revenue of a business. In this digital era, customers always expect something unique, personalised and convenient across all touchpoints. Every business can take advantage of digital transformation and curate engaging and responsive customer experience. 
The digital age has made real-time customer engagement and profound communication possible. Various tools, including chatbots, mobile apps, and social media, enable customers to access support and information at any time. It also supports businesses in resolving issues at the latest, reducing the efforts and time necessary to resolve client issues. 
Personalisation is made easy with digital transformation. With customer data and analytics easily available, businesses can gain insights into the preferences of customers along with their behaviour and needs. By compiling all these aspects, businesses can tailor products and services and effortlessly meet customer expectations.
Data-Driven Decision-Making for Effective Outcomes
Digital transformation is not only transforming operations but also decision-making in business setups. By exploring large volumes of data, businesses can leverage technological tools and make informed decisions in no time. This not only saves time but also improves preciseness and efficiency. 
Data-driven decision-making is the need of the hour. It enhances decision-making at many levels. By utilising advanced analytics, along with machine learning, businesses can easily extract value-adding insights from stored data. It helps identify trends and patterns to ultimately decide on the best ways to conduct operations based on evidence.
A business can leverage digital transformation to be agile and responsive in a profusely changing market scenario. By adopting a digital mindset, different ventures can keep monitoring their performance and the way their target customers behave. They can draw inferences from the data gathered and create and adjust marketing strategies accordingly. This can help businesses stay ahead of their competitors and seize the latest opportunities promptly.
Conclusion
Digital transformation is a crucial aspect of all current organisations. It enables them to innovate, increase efficiency, and enhance customer engagement. From data-driven decision-making and streamlining operations to reducing risks and vulnerabilities, digital transformation has a far-fetching influence across various domains of business. Embracing digital transformation is the only way to stay ahead in the competitive world. Accommodating a proactive approach to change management can help businesses capitalise on the opportunities that digital transformation offers and promote sustainable growth. 
To have a 360-degree understanding of digital transformation in various business setups, the PG Certificate in Digital Marketing and Growth has several syllabus topics. Comprehend the opportunities that digital marketing and transformation offer by going through this digital marketing course and utilising them to achieve success in your career. Complete the course and get a digital marketing certificate to amplify your professional achievements.