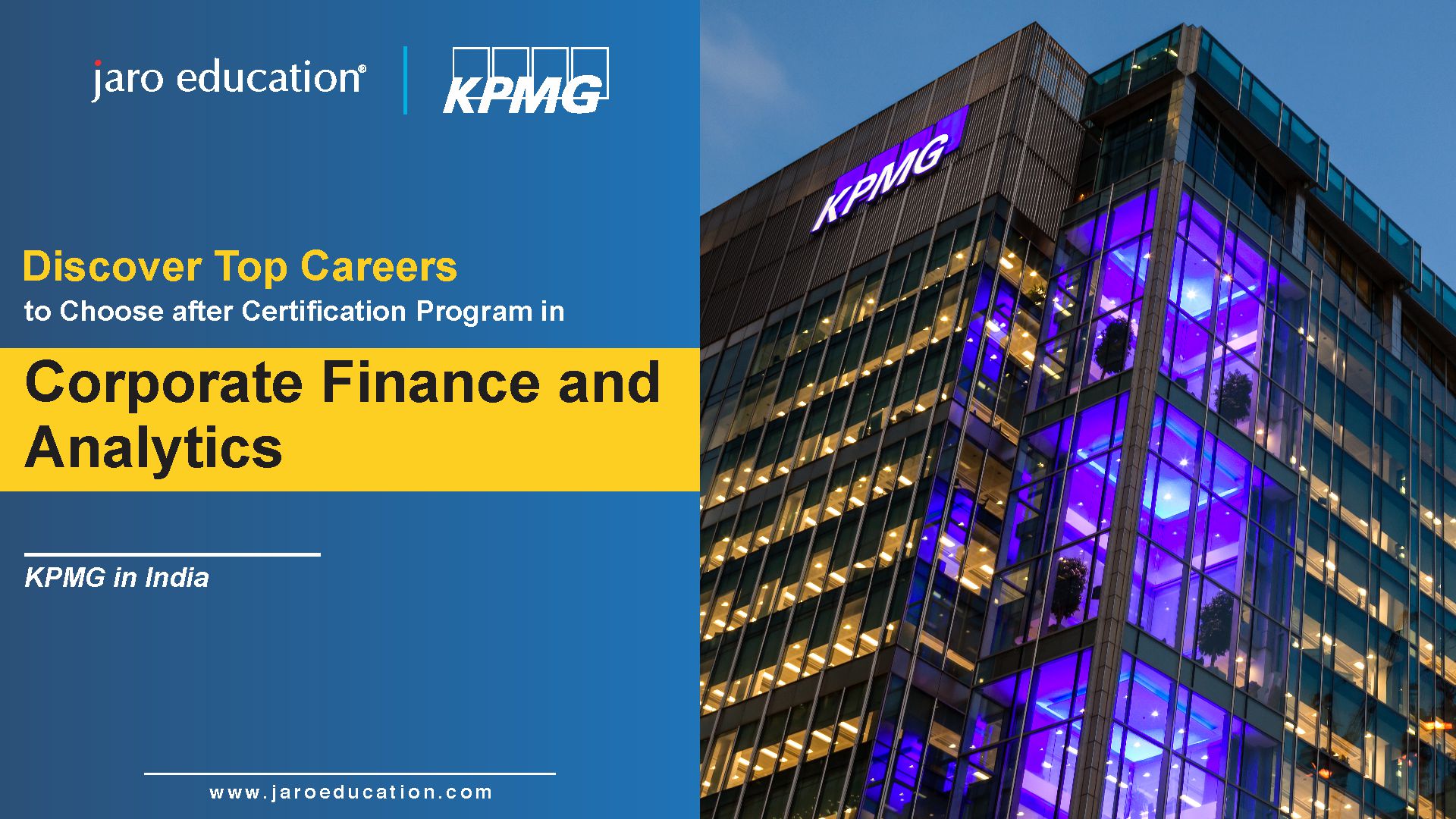 Introduction
Effective management and monitoring of finance is the foundation of a thriving business. Given the advancement in technology and the volume of financial data in any organisation, effective financial data analytics helps in achieving business goals.
While finance analytics plays a vital role in the corporate world, the demand for efficient finance analysts has surged tremendously. Ample career options await the finance professionals who have equipped themselves with the skills required in the field of data analytics in the corporate world.
Apart from your post-graduation in Finance management or a C.A, an additional Corporate Finance Course from a renowned organisation adds to your advantage. Corporate Analytics Courses make you competent by imparting in you the required skills and enormously boost your capabilities. The Corporate Finance and Analytics Certificate Program from the leading finance, accounting, and advisory firm KPMG in India can help you succeed in pursuing a flourishing career in corporate finance.
From a finance analyst to the CFO of an organisation, Corporate Finance Analysis has promising career opportunities in India and the global platform. Let us look into various sectors in the corporate world that provide the top career options after completing a Corporate Finance and Analytics Certificate program.
I. Finance Planning and Analysis (FP & A)
Also referred to as Management Accounting, the FP & A team is responsible for budgeting, forecasting, and analysing the Key Performance Indicators (KPI). It involves the contribution of the FP&A Manager, Finance Analysts, Cost Analysts and many more.  
The Corporate Finance and Analytics Certificate Program from KPMG in India, in association with Jaro Education, India's leading EdTech firm and a pioneer in the executive education industry, trains the learners on various attributes of FP&A including FP&A envisioning, Cycle of FP&A, its framework and many more.
II. Finance Modelling
Finance modelling is a skill in the world of corporate finance that finds its application in several areas such as investment banking, equity research, credit rating and more. A skilled finance modelling professional finds opportunities as a Research Analyst, a Debt-Syndication Executive, a Merger And Acquisition Associate and so forth. 
The Corporate Finance and Analytics Course by KPMG India provides a lot of insights into different components of finance modelling, various approaches to valuation, etc., including an industry-based case study. Such an industry-driven curriculum imparts the learners with the required skills to excel in their careers. 
III. Investment Banking 
Investment Banking refers to the service provided by a finance company wherein individuals or companies are assisted to maximise returns. An investment banker advises individuals and corporations by analysing identifying the risks involved in the projects before the client could invest time and funds into them. The primary responsibility of the investment banking Analyst or Associate is financial data analytics and to assess capital generation
KPMG in India offers certification in Corporate Finance and Analytics which imparts the skills of analysing financial data effectively to shine in the field of investment banking.  
IV. Equity Research
Equity research analysts conduct both buy-side analysis and sell-side analysis, study market data and produce projections, reports and recommendations to the firms. With experience and expertise in equity research analysis, you can look for opportunities as an Investment Portfolio Manager, overseeing the research team. 
KPMG in India's Corporate Finance and Analytics program exposes you to a world of opportunities in Corporate Finance, equipping the finance professional with the varied skills and competence required to move up the career ladder. 
V. Treasury Management
Treasury management involves managing the organisation's holdings. The functions of the Corporate Treasurer in Treasury Operations include Cash and Liquidity Management, Risk Management, and managing Corporate Finance.
Corporate Finance and Analytics certification program's industry-driven curriculum, emphasis on personal development and applied learning and hands-on experience with new tools and technology such as Robotic process automation (RPA), Machine learning (ML), Artificial intelligence (AI), Blockchain, FinTech, etc., provide the learners with strategic finance and analytical skills opening doors to a prosperous career in the corporate finance sector.
Conclusion
A Corporate Finance Analyst's career path can travel ahead from an analyst to a manager, to the Director, and the CFO of the company. In short, Corporate Finance Analytics is one of the promising career options that finance professionals can look for. Enrolling in the six-month certification program in Corporate Finance & Analytics from KPMG India, in association with Jaro Education is highly recommended for finance managers and corporate finance professionals to advance themselves in their career path in corporate finance analytics. 
Ready to ace this career path in Corporate Finance? Submit your details to the Program expert at Jaro Education to learn more about the six-month Certification Program in Corporate Finance & Analytics from KPMG India, the course fee, course modules, and more. For more details on Certification Program in Corporate Finance & Analytics – KPMG in India and other programs, subscribe to our blog.
Subscribe to our Jaro Education's blog and stay updated with the latest information.