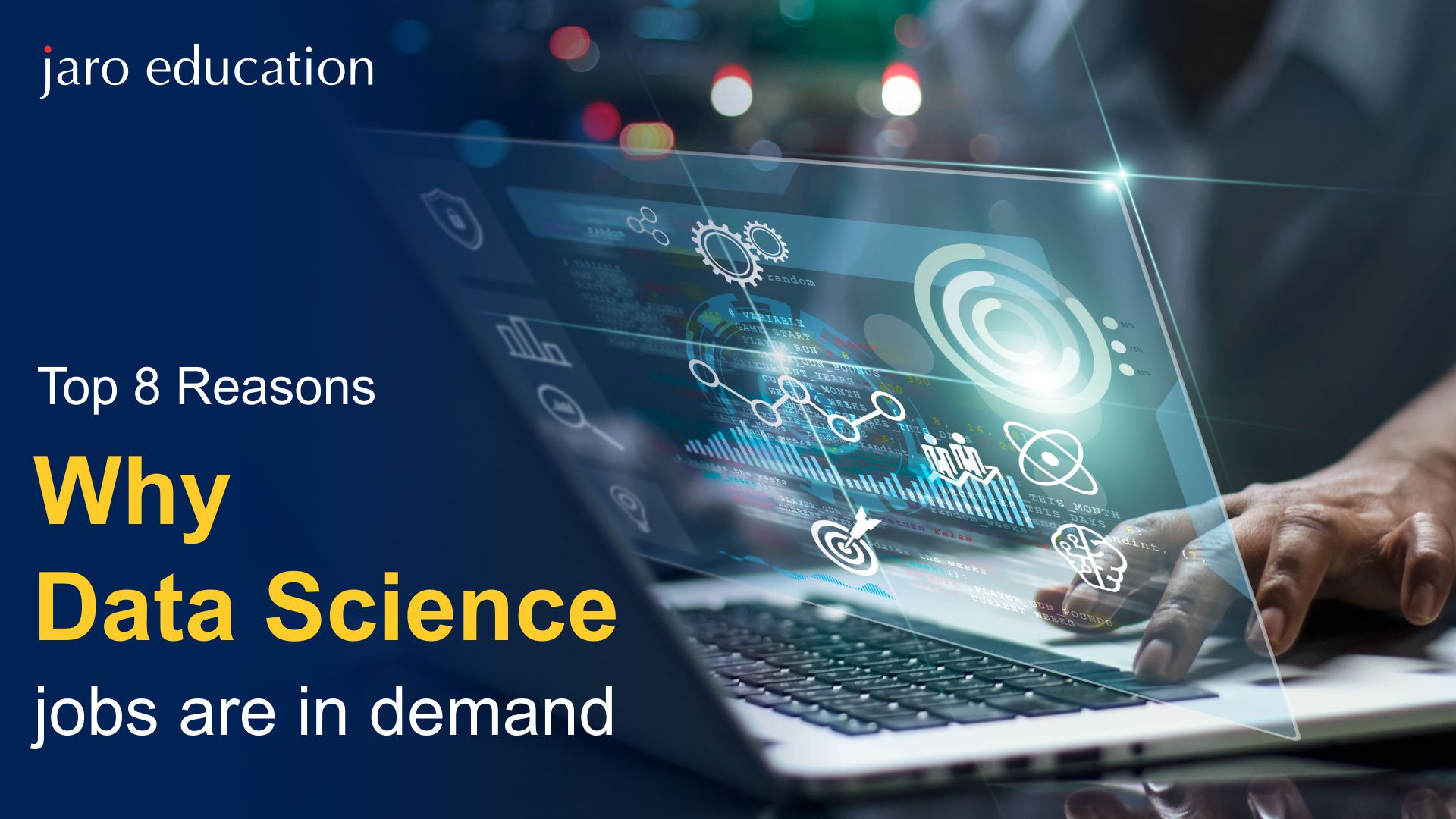 Introduction
With the advent of the digital revolution, data has become the new oil of the 21st century. Everyone today is generating and consuming enormous amounts of data. Data Science is the study of data to extract some meaning towards a goal. It is about finding patterns and providing valuable insights for better decision-making.
Consequently, there is a high demand for data scientists in the market. According to the World Economic Forum, data scientists and analysts will become the topmost emerging role in the world by 2022. Pursuing advanced data science courses will help you hone your skills should be your next step.
Top 8 reasons for the rise in demand in data science jobs
Here are the top 8 reasons why data science jobs are so much in demand today.
1. Data science is a blooming field
Data scientist is the job of the 21st century. The pandemic has rushed the world towards digitization at an unprecedented rate leading to more data creation and consumption.
So, Young job seekers have this opportunity to pursue a Master's in Data Science and make an exciting career.
One such prestigious program is offered by IU international university of applied sciences – Master of Science Degree in Data Science. This course will help you master this field and bag a good-paying job.
2. Amount of data created and consumed
According to Forbes, "The amount of data generated, stored and consumed in the world between 2010 to 2020 increased from 1.2 trillion gigabytes to 59 trillion gigabytes, an almost 5000% growth." There is a dire need for professionals, who can study and analyze such data to make organizations more efficient and purposeful.
The Data Science and Analytics for Business program offered by Shiv Nadar University promises to equip you with a good foundation in data science for a promising career ahead.
3. High-paying job
The annual salaries of a data scientist range between Rs 25 lakh to Rs 65 lakh for people with experience of 3-10 years, while for more experienced people it can go up to Rs 1 crore to 1.8 crores per annum, according to the Talent Trends Report 2021 by Michael Page India. 
Certification courses in data science are another good way of learning the nuances of this field. The Rotman School of Management (UoT) offers a course – Advanced Data Science Certificate Program, which would give you an edge in developing a better hold of data science. 
4. Anybody can enter this ever-expanding field
Today, many professionals from varied backgrounds are entering this new field. There is no entry barrier. Engineers, management professionals, economists, social scientists, etc. can learn data science through online courses or formal courses. 
Master of Science Degree in Data Science offered by IU International University of Applied Sciences will help aspirants develop the required skills and smoothen the transition from any background to data science. 
5. Data science is everywhere
There is no industry today, which is running on without the help of data science. It has applications in all the fields from big tech companies, businesses, start-ups to governance, education, health, banking, finance. So,  Data scientists who are needed in any operation for identifying problems and solving them most efficiently can skill themselves efficiently by enrolling in the Data Science and Analytics for Business program offered by Shiv Nadar University.  
6. Many interesting job roles
Data Scientist is an umbrella term. There are numerous job roles one can apply for in data science, such as data analyst, data engineer, data scientist architect, business analyst, database administrator, etc. One can take up a specialization subject while pursuing the Master of Science Degree in Data Science offered by IU International University of Applied Sciences. 
7. Data scientists are a part of the decision-making process
Data scientists work to find patterns; they provide insights that help organizations make informed choices and enable businesses to optimize their resources and grow. The Advanced Data Science Certificate Program by the Rotman School of Management (UoT) promises to sharpen your decision-making skills besides teaching you all about Data Science. 
8. Learning is never-ending
Since data science is a new and evolving field, data scientists are always on their toes. They must keep themselves updated with the new technological breakthroughs in the field. For changing your gears in the learning curve, a Masters in Data Science is an ideal fit here.
Conclusion
Professionals are required to make sense of large amounts of data to gain a competitive advantage in the businesses. Therefore, it makes sense to go for an advanced data science course, which can be pursued online as well.