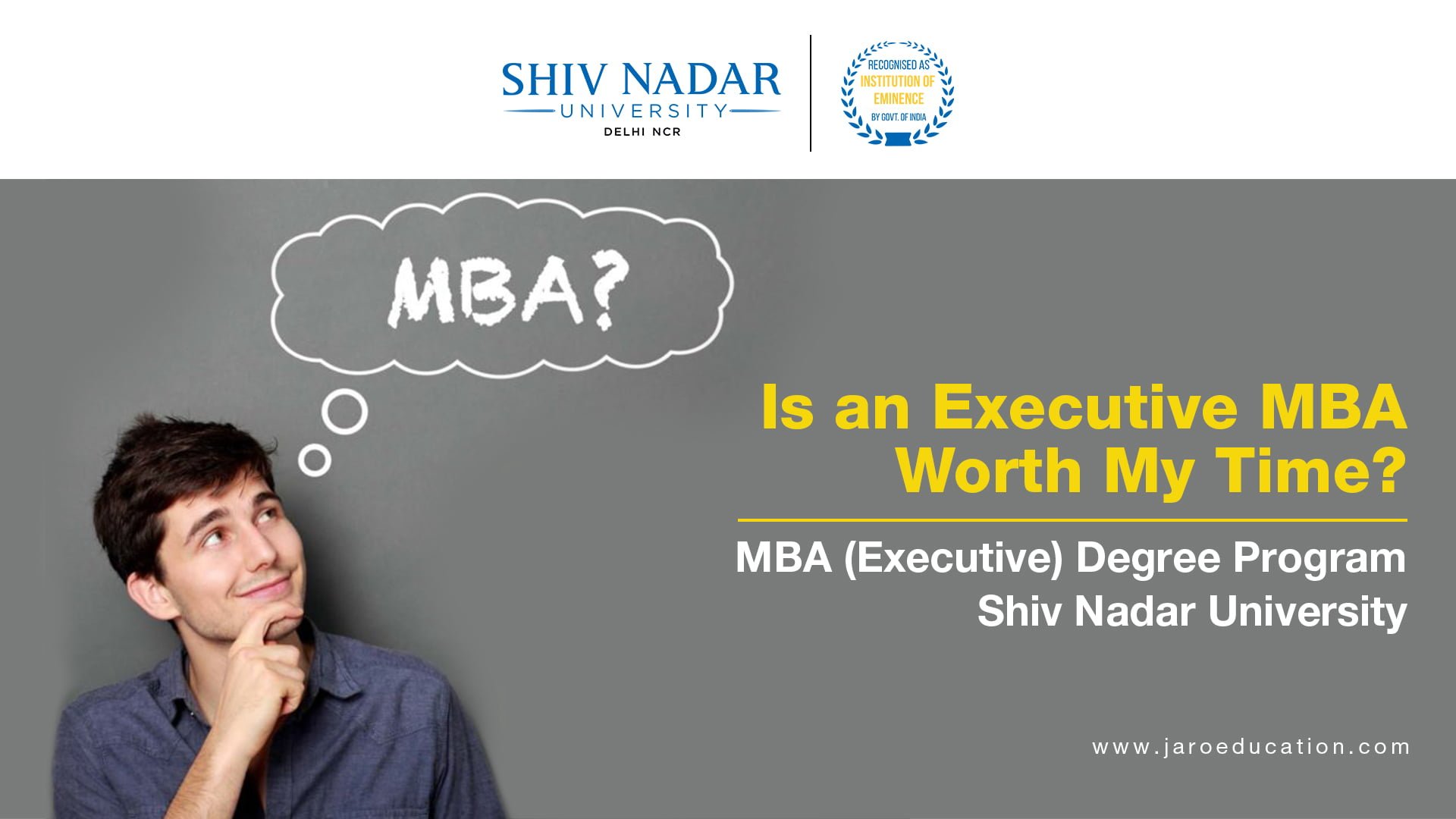 Top 7 Reasons Why You Should Get Work Experience Before Your MBA Degree
Introduction
It is always a dilemma for students gearing up to pursue an MBA whether they should go straight away into business school or gain a couple of years of work experience beforehand. Although some MBA institutes accept students without any work experience, our experts always advise getting one to two years of experience before applying to a business school to have a competitive edge.
Seven Reasons Why You Should Obtain Work Experience Before Joining an MBA Program
Comparatively Better Start
Students with prior relevant work experience before B-schools get an edge during the placements. They are likely to get higher-paying jobs than their non-experienced counterparts, who will end up getting entry-level or mid-level ones. 
The Shiv Nadar University MBA (Executive) degree program is designed to impart the conceptual understanding and core knowledge required by working professionals to expedite their careers without disrupting their existing jobs. Jaro Education, a pioneer in the EdTech field in India, offers one of the best executive MBA online programs for professionals and freshers from reputed international and national institutes: Shiv Nadar University award-winning MBA (Executive) degree program. 
Better Practical Approach Toward Academics
With prior work experience, you will have clear-cut direction as you will have experienced corporate work culture firsthand. You will be able to build and implement business programs faster and better than non-experienced students. Your past work experiences will make your business-related decisions more sensible.
Work Experience Can Help You in Accumulating Funds to Start an MBA
We all are aware of the fee structure of B-schools. To accumulate funds for business courses, many aspirants choose to work first. Some also find employment to recover the tuition of MBA schools, while others opt for jobs because they already have student debts. Employment before B-school will help you manage your finances in a better, stress-free way. The money saved from work experience may be a valuable asset. Besides, you can budget for your MBA, depending on how much you've saved while working. 
Shiv Nadar EMBA Program is one of the best options for working professionals when it comes to enhancing your career potential. It will give you a career edge in management and polish your leadership skills, teaching you how to build a strong grasp of business fundamentals. The e-program is designed to prepare experienced professionals as global leaders without requiring them to give up their jobs. 
Work Experience Puts You in a Better Position in the Competition
Unlike other institutes, B School has a special competitive environment. The competitiveness is cutthroat, and professional because all students know how close they are to their dream job. Having prior work experience only adds extra feathers to your cap and updates your profile, giving you the upper edge. It will make your B-school life more sustainable. Further, B-school programs, such as Shiv Nadar University MBA (Executive) Degree, impart skills, such as networking and coordination, delegation, and management, which you are probably good at because of work experience. 
Work Experience Drives You to be More Independent
An MBA executive course is a highly skilled, advanced, and career-focused course. Hence, you might have to manage multiple things at once. Work experience helps you in handling professional pressure and managing deadlines. This, in turn, makes you self-reliant and boosts your confidence. The same work experience helps navigate the curriculum of management studies in practical ways. 
Corporate Experience Helps You Manage Stress
Corporate jobs are hectic, and they teach you a lot about stress management. They impart skills for handling pressure and anxiety. Work experience makes you stronger mentally, and your B-school curriculum seems less intimidating. 
Conclusion
An MBA is a professional course and demands some professional skills. Although you will be taught everything in a B-school, it is better to have prior work experience to get an upper edge, as management schools and corporate workspaces have a similar environment. 
Shiv Nadar University MBA (Executive) degree program is curated for experienced professionals to emerge as future leaders. The two-year MBA (Executive) degree from Shiv Nadar University is designed to prepare experienced professionals to emerge as global leaders. The program focuses on future-oriented subjects and technology that will help working professionals sharpen their analytical and cognitive capabilities. It is a rigorous management program that aims to drive in-depth understanding, teaching participants how to manage and command business complexities. The program will help in accelerating the business growth and career of professionals without disrupting their existing careers.