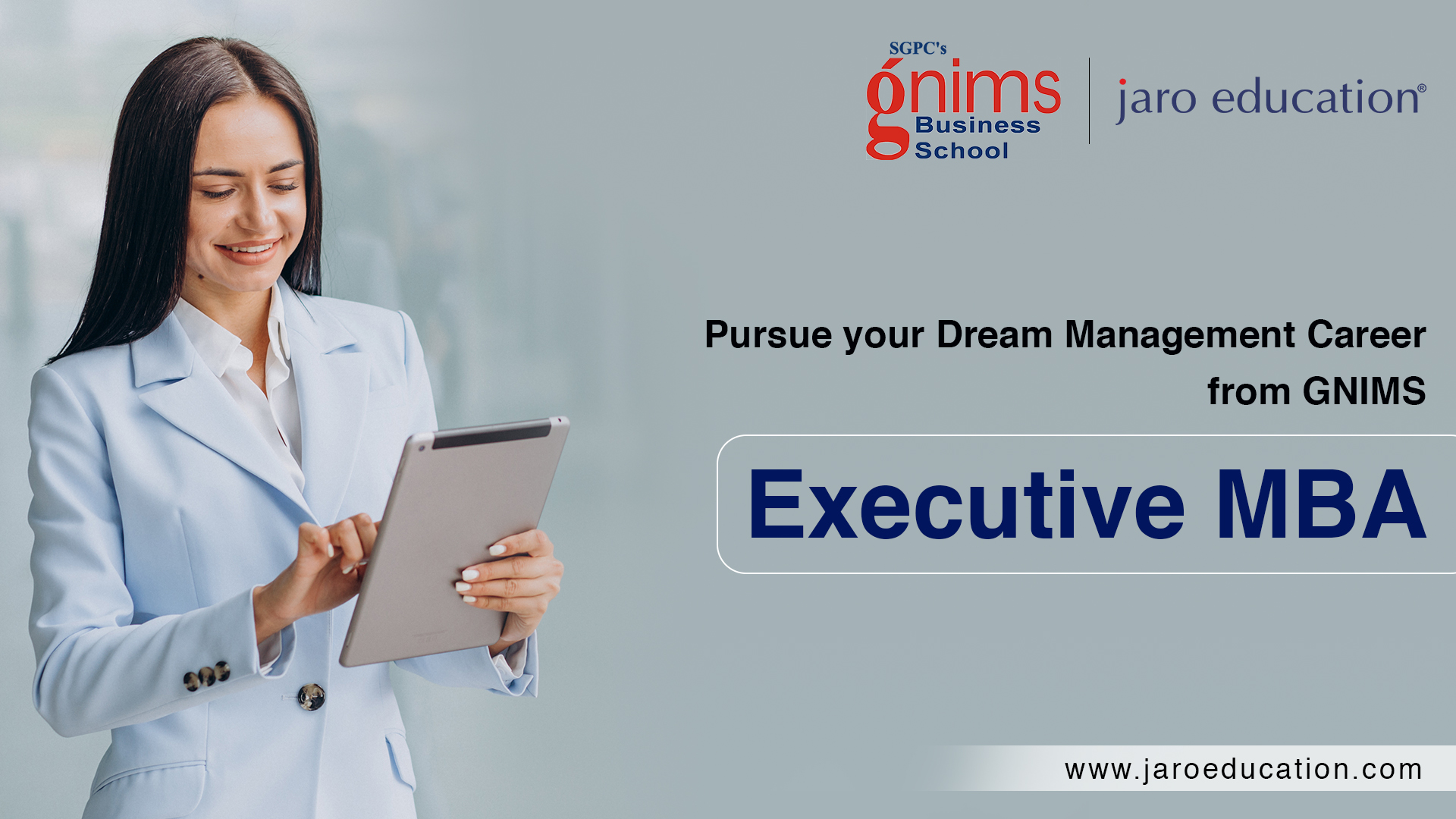 Executive leaders have a very demanding job as the corporations have to struggle in the volatile market to stay ahead in the fierce competition. Therefore, ambitious professionals choose to pursue an Executive MBA to develop a strong network, enhance their key skills, and progress in their careers through specialized training. Also, its shorter duration makes it the perfect option since it is difficult for working professionals to get time for a full-time MBA. 
Anyone with experience of 5 or more years should consider opting for this. Pursuing this course in a reputed institution like Guru Nanak Institute Of Management Studies is equally important as this ensures that you get all the benefits of investing your time and efforts. 
Let's see more about the advantages of the Executive MBA program in the next sections.
Executive MBA in Guru Nanak Institute Of Management Studies (GNIMS)
GNIMS offers AICTE approved Executive MBA program to the students in association with Jaro Education.
Duration:
18 months course consisting of 4 terms, each of 4-5 months.
Eligibility criteria:
Anyone who has completed graduation with a 50% score from any UGC recognised university, having a minimum work experience of 2 years, is eligible for this course.
Specialisations offered:
IT & Systems, Finance, Marketing, Operations, and HR are the specialisations offered.
Advantages of enrolling for E-MBA in GNIMS:
A chance to learn from experienced faculty and industry experts.

The course curriculum is industry-driven and covers the functional areas of business.

It focuses on enhancing leadership skills and personal development besides applied learning.

Team-based projects ensure blended learning.

Candidates can avail of educational loans for flexibility of payment.
 Importance of pursuing Executive MBA for working professionals
i. Realisation of one's potential:
Pursuing an Executive MBA in HR or any other specialization helps you push your limits. This may sound like adding more to the list, but it brings out a person's true potential in reality. One gets to learn from the experience of other fellow mates in the program, which ultimately adds to the knowledge.
ii. Better networking:
Executive MBA years constitute the golden phase that gives a chance to meet with people with different potential and start a lifelong friendship with them. This might also result in amazing business partnerships. 
iii. Instant realization of reward:
Unlike full-time MBA, Executive MBA courses offer an immediate return to the candidate as well as his employee. It equips the person with practical skills and helps him learn a holistic way of resolving business issues. All these can be immediately applied in the business to see how it works. 
iv. Entrepreneurial skill development:
Executive MBA from GNIMS or any other reputed institutes helps a person alter his vision about business by mastering the strategic corporate problems and developing capacity for entrepreneurship. So if you have wanted to complete an MBA from an institution that can help you stand out in the competitive environment but could not, you can still get enrolled in the EMBA course at GNIMS through Jaro Education.
v. Entrepreneurial skill development:
This helps the candidates learn the complexities involved in the industries. Thus they are able to act more proficiently in their workgroup, giving their best to the organisation with their skills. They even learn to take up responsibilities and act as per the need of the hour for better outcomes.
vi. Personal growth through motivation:
Pursuing an Executive MBA brings people having similar mindsets together. They have a wide range of ambitions and past experiences. Interaction and sharing knowledge becomes a constant motivation to grow further by confidently facing even the toughest situations in life.
vii. Flexible payment modes:
Opting for EMBA with GNIMS ensures an easy payment by availing educational loan. The college allows paying the fees in instalments to ease the financial burden so that candidates can fulfil the purpose of joining this course and progress in their career.
Conclusion
When you have a good amount of experience in the corporate world and want to invest in yourself, choosing to do an Executive MBA is the best thing to take you ahead in your career. It is an excellent way of refreshing your professional life by stepping back into the classroom to follow your passion and pursuits. Such programs are curated to perfectly suit working professionals as they decide the place, time, and the way they want to study. 
Jaro Education provides an amazing executive education space to the leading educational institutions like GNIMS to help working professionals stay ahead in the competitive market. So sign up for the E-MBA course with GNIMS through Jaro Education for hassle-free navigation through the admission and learning process. It offers the perfect way of taking your career to the next level without disrupting your current schedule. 
Subscribe to our Jaro Education's blog and stay updated with the latest information.