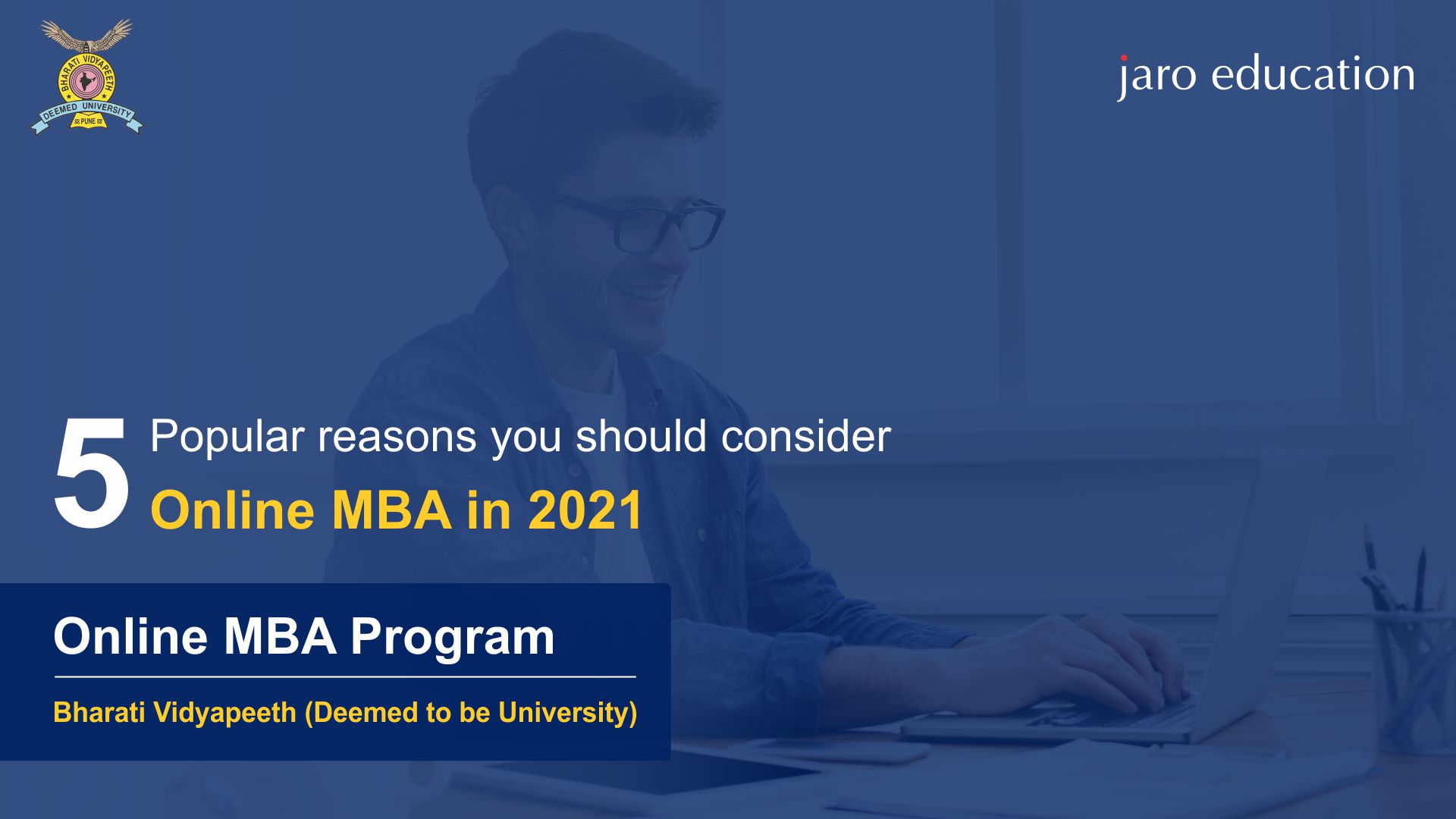 Top 5 Reasons You Should Do Online MBA in 2021
Introduction
If you are thinking about pursuing an MBA degree online, you are at the right place. In this article, you will find the five most critical reasons to pursue an MBA certificate online. 
Online MBA programs are becoming a popular choice for fresh college graduates, especially in 2021, due to their flexibility and affordable prices. In the pandemic, even traditional MBA programs in India are being conducted online through various platforms. Online MBA programs in India cater to the rapidly growing needs of business leaders in diverse fields.
Even if you are working, it is still easy to pursue an MBA degree online as there are many options under online MBA courses. 
Top 5 Reasons Why You Should Pursue Online MBA 
Considering the challenges of the COVID-19 pandemic, numerous educational institutions have decided to offer online MBA courses in India in various specializations for students. Pursuing an MBA certificate online has many benefits, and here are the top five reasons why you should undertake an online MBA in 2021.
Online MBA programs are highly affordable and offer high value for money. It is common knowledge that the tuition fees for online MBA programs are much lower than traditional MBA programs. Candidates pursuing online MBA courses receive the same knowledge as their on-campus MBA program counterparts at a lower price. 
Online MBA courses offer tremendous flexibility as all the lectures are conducted through virtual classrooms. Therefore, working professionals and students who do not have time to attend physical classes can opt for online MBA courses and attend classes at their pace. The curriculum of online MBAs is made to suit most individuals. 
Online MBA courses are pursued by individuals all around the world, which allows students to connect and interact with a vast network of people from different countries, backgrounds, and professions. So, when they complete the course, they already have valuable connections with people globally. It allows students to find potential stakeholders for their unique businesses. 
Many organizations around the globe have started recognizing online MBA programs. Several universities offer online MBA specializations that are otherwise unavailable if you opt for a physical MBA course, so it is an opportunity to pursue something new and stay ahead of others. 
Online MBA programs offer a diverse and rich peer base who often belong to different countries. Naturally, there is a mix and correspondence of different cultures, thought processes, and experiences that promote cultural diversity. Students have the opportunity to uncover new opportunities. 
Top Online MBA Degree Program in India
The Online MBA Program – Bharati Vidyapeeth (Deemed-to-be University) (BVDU) is a two-year online MBA course that helps students analyze and identify future business opportunities. Further, it enables them to overcome various business challenges and empowers them to become business leaders and entrepreneurs, strengthening their management skills. 
Some highlights of the Online MBA Program – Bharati Vidyapeeth (Deemed-to-be University) (BVDU) are as follows.
Lectures are delivered live through various teaching methods, such as discussion forums, case studies, and practice exercises to allow interaction with teachers and foster innovation. 

It is an industry-oriented program recognized by many top companies and organizations around the world. 

All lectures are recorded, which allows you to go through them multiple times to understand the topics and concepts thoroughly. 

All doubts can be posted on the open discussion platform and are resolved by industry experts and experienced teachers. 

The Online MBA Program – Bharati Vidyapeeth (Deemed-to-be University) is offered in various fields, such as marketing, finance, operations, business management, human resource, and project management. 
Conclusion
For working professionals, who do not have enough time to pursue an offline course, online MBA courses are the best way to get an MBA degree. Professionals can learn essential management skills without disturbing their job schedules. 
If you have a graduation degree from a recognized university with a minimum 50% score, you are eligible for the Online MBA Program – Bharati Vidyapeeth (Deemed-to-be University) (BVDU). You are not required to give any entrance exam. Just submit your academic documents and a statement of purpose for MBA selection. Enroll today to give yourself a competitive edge in the post-pandemic era!