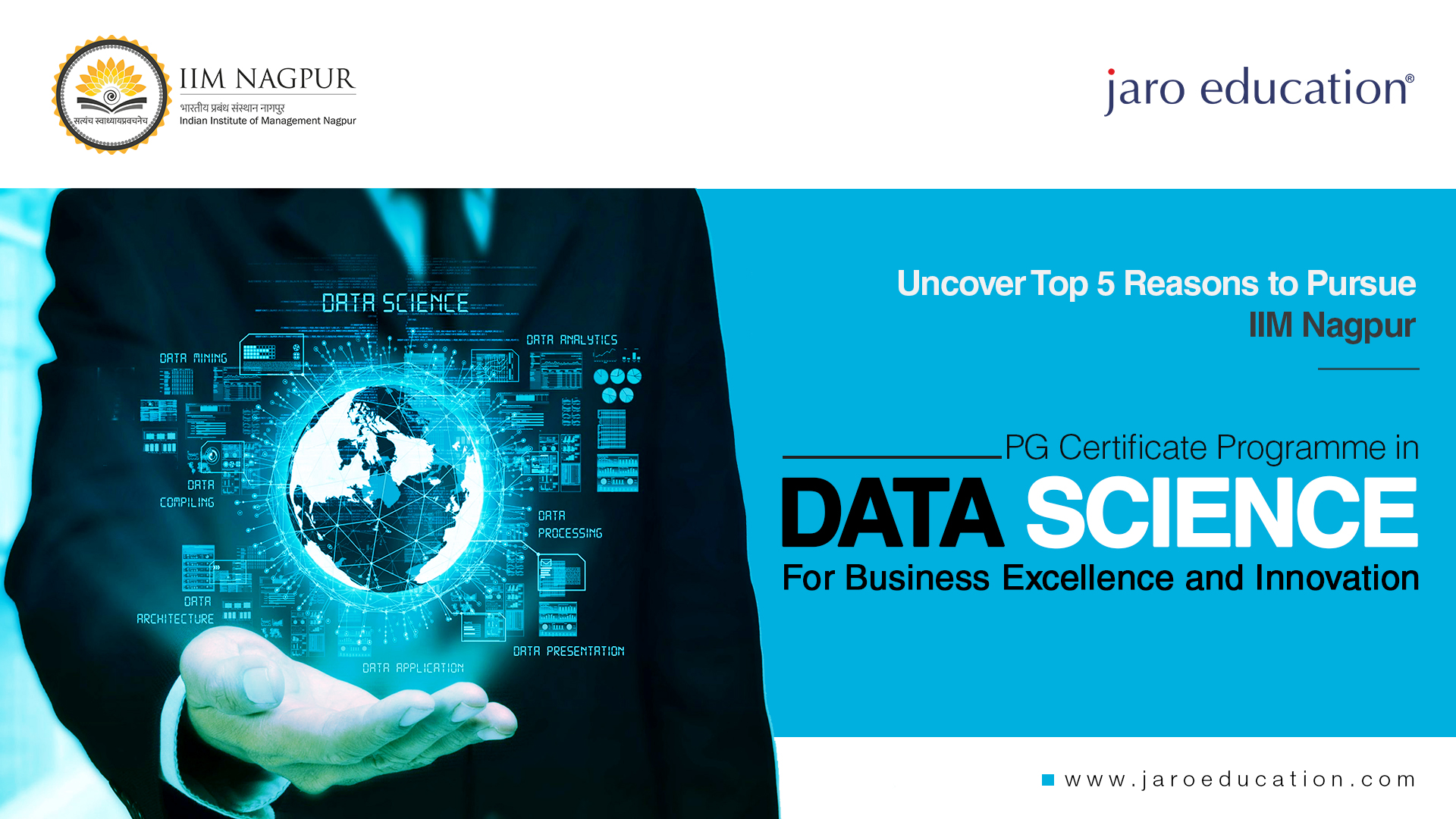 Top 5 Reasons to Pursue Data Science Certification Programme
Looking for the perfect Data Science Online Course?
Your search ends here.
PG Certificate Programme in Data Science for Business Excellence and Innovation is the data science certification you need to improve your career prospects and add value to your organization. This Data Science programme by IIM Nagpur in collaboration with Jaro Education.
Here are the top 5 reasons to pursue Data Science Certification Programme
Why is a data science certification course best suited for working professionals, business managers and learners looking to add valuable data skills to their resume and increase their value and potential to attract current and future employers.

1. It makes you job-ready for the post-pandemic economy
Post the pandemic more and more companies are getting digital-focused and embracing intelligent data analytics tools. Businesses have realized the potential of data-driven insights to transform and survive in the post-covid economy. These companies are leveraging digital tools to build resilience and agility within their organizations. These trends are accelerating the need to enhance workforce skills. Data Analytics, Machine Learning and Artificial Intelligence is delivering some of the most significant and disruptive innovations across industries. This PG Certificate Programme in Data Science for Business Excellence and Innovation equips you with technical skills, domain knowledge and real world experience needed to be a highly desirable data science professional.
2. It helps you be a part of IIM Nagpur's global elite alumni community
IIM Nagpur is one of India's highest ranked institutions dedicated to creating value-driven leaders, global managers, and entrepreneurs with strong conceptual foundations and analytical approach to help them be the best in whichever field they choose. It is known to attract the finest brains and enjoys a global footprint with a group of highly successful & talented scholars & business leaders as its alumni. After the completion of this program, you earn the prestigious alumni status of IIM Nagpur. Being part of a strong and welcoming alumni network always has a huge impact on the future of your career. You can leverage the ample resources and contacts that IIM Nagpur provides to get your foot-in-the-door at world-renowned companies.
3. It offers you a flexible learning opportunity
The main advantage of this PG Certificate Programme in Data Science for Business Excellence and Innovation is its flexibility. You can strike a perfect work-life balance without compromising on your educational goals. You can grasp core concepts at your own pace and ensure full comprehension before going forward. This allows you to create your own schedule, plan ahead and stay productive throughout the course.
4. It helps you drive business decisions
After the completion of PG Certificate Programme in Data Science for Business Excellence and Innovation, you will be able to approach any decision with an analytical mindset. You will be able to identify trends and draw insights from structured data to deliver better business outcomes. Fostering data literacy will ensure that you and your organization stay ahead of the competition. 
5. It sets you up for the next big move in your career
Whether you are looking to elevate your work title or seeking promotion, adding data skills to your work portfolio makes all the difference. The Data Analytics field is known to deliver personal career advancement and incredible results for organizations. A data science professional is an essential part of any business team and a combination of tech and business skills. 
Make the most of this invaluable learning opportunity and embark on a journey of self-growth with Jaro Education. 
To enroll for the course click here: 
Subscribe to our Jaro Education's blog and stay updated with the latest information.